How, oh how to cram London into a mere 3-day itinerary? It is tricky to cover so much history, culture and afternoon tea in just 72-hours. We shall just have to be frugal with time and fast on our feet – so without dilly dally, let's go!
Disclosure: I may earn compensation from the purchase of any product or service linked on this website, at no extra cost to you. I only link to products I use and love, therefore feel comfortable recommending.
London itinerary notes
A few notes before we get started to ensure you're prepared to take on this 3-day London itinerary:
There are great savings to be made with The London Pass, which I highly recommend purchasing if you intend to follow this itinerary. If you want to know how a multi-attraction pass like this one is right for you, then check out this post.
Wear comfortable walking shoes. You'll be covering a good amount of ground on foot and occasionally on the Underground to get between places faster – good walking shoes are essential.
The London museums in this itinerary are all "free", really meaning "a donation at your discretion". It is up to you what you choose to contribute. I recommend dropping the £1-2 requested when you pick up a museum map/guide as a minimum.
Day 1:
Big Ben and the Houses of Parliament
The Palace of Westminister, more commonly known as the Houses of Parliament, is the meeting place for the UK's two houses of Parliament and UNESCO World Heritage Site. Though the first palace on the site dates back to the 11th century, the current Gothic Revival building was constructed after a devastating fire in 1834 destroyed most of the medieval complex. Here you will also find the London landmark referred to as "Big Ben" though this is a misnomer, as Big Ben is the bell inside the clocktower named Elizabeth Tower. Don't' forget to also take in Parliament Square with its twelve statues to famous leaders. Take some pictures and let's keep moving…
Westminster Abbey
Westminster Abbey was established by Benedictine Monks in 960AD and the present day gothic structure was built during the reign of King Henry III. The Abbey is well known for the coronation of British kings and queens, lavish royal weddings and tombs alongside memorials to famous poets, writers and scientists. Be here right as it opens (9:30 on weekdays, 9:00am on weekends) to avoid long queues for tickets and to allow time for an audio tour through the chapels and cloisters, chambers and corners of this historic church before our next stop.
Buckingham Palace
Proceed across St James' Park to the front of Buckingham Palace for the Changing of the Guard, where the Queen's Guard in all their red tunic and bearskin hat glory are about to make a ceremonious change of shifts. The pomp and circumstance begins when the Old Guard forms up in the palace's forecourt at 10:45 which is the latest you will want to arrive and take up a viewing position.  Check the calendar here for dates. The Changing of the Guard is free – no tickets required. When the ceremony is over, take a closer look at the Palace from the front gate.
Churchill War Rooms
After lunch, return across St James' Park to the Churchill War Rooms. Here British Prime Minister, Winston Churchill, and his colleagues directed WWII from an underground bomb shelter. Allow about 90 minutes to delve into the fascinating Cabinet War Rooms and Churchill Museum that make up this facility, with a self-guided audio tour.
Whitehall
Follow Whitehall St from the Houses of Parliament to Trafalgar Square. Along the way you will see why this road is recognised as the centre of the UK government. Whitehall is lined with various departments and ministries in grand Neoclassical and Palladian style structures, along with a number of monuments and memorials. You will also pass the well-guarded and gated Downing Street, where the Prime Minister resides.
Trafalgar Square and the National Gallery
Once you arrive in Trafalgar Square, you can admire Nelson's Column, a 52m (169ft) ode to Admiral Horatio Nelson who died in the Battle of Trafalgar (part of the Napoleonic Wars) in 1805. Here you'll also find the National Gallery (and National Portrait Gallery) which are our last stop for the day. I find the best way to work through a Gallery of such immense size and impressive collection in a short time, is to pick up a highlights brochure and work your way through the must-see works of art chosen by the museum curators.
Day 2:
Tower of London
Allow a good part of your morning to discover the Tower of London, a royal residence, fortified castle and prison of the course of its almost 1000 years. The complex gets its name from the earliest structure, White Tower, constructed in 1078. It has been expanded over the years and evolved through many different functions. Today you can explore the many facets of the castle and the characters that lived or were imprisoned its walls. Take a tour from a Yeoman, who still live on-site here, see the superstitiously kept ravens and gleaming crown jewels. Be wary of time though, because this attraction alone could take you 3 days to explore if you let it.
Tower Bridge
You can choose to simply walk across Tower Bridge, or explore it from Walkway to Engine Room with the Tower Bridge Experience. Take an hour to investigate the inner workings, architecture and history of London's most recognisable bridge, with views of the skyline and Thames River.
Borough Market
Borough Market is a lunch stop-sightseeing combo. Discover the enticing fresh produce and artisan products alongside delicious prepared food and cafes, where you can enjoy a sit-down and refuel for the afternoon ahead.
Hint: Kappacasein Dairy has a reputation for the best cheese toasties (aka grilled cheese sandwiches) in London. I'm not a grilled cheese girl, but I have to say it was pretty good.
Shakespeare's Globe
Knowing this is a reproduction of Shakespeare's Globe Theatre, close to where the original stood, I admit I had some doubts about spending time here. Was it going to be too touristy? As it turns out, the answer is no. The Globe has been faithfully recreated with the greatest care for authenticity. Take a one-hour tour around the working theatre to learn how the current Globe brings to life the works of Shakespeare largely as the original would have in the 16th century. If you're travelling during the warmer months, you might even be compelled to catch a show here and see it in action.
St Paul's Cathedral
There are a plethora of high points to take in views of London including The View from the Shard, Sky Garden, London Eye and Tate Modern Viewing Level. However, my favourite was without question, the dome of St Paul's Cathedral. For those who are mobile and fit enough to take on 528 steps to the Golden Gallery of St Paul's Dome (or 378 to the Stone Gallery), then I unreservedly recommend it. The Dome rises just high enough above the skyline to offer an expansive view but is low enough to retain a feeling of intimacy with the city.
Once you're done with the Dome, tour the remains of the unbelievable Baroque Cathedral and its crypts. I recommend taking a multimedia guide to ensure you don't miss a detail of this breathtaking building.
Special note: If you can't make the stair climb to the top of St Paul's, the View from the Shard would be my next recommended, particularly if you have a London Pass (otherwise it's £35 for one adult visitor). With its 360-degree views, its great for those who can't make the stairs.
Monument to the Great Fire of London
After you've scaled St Paul's Dome, the top of the Monument to the Great Fire will feel a little lacklustre and the viewing platform is fenced in preventing you from taking great pictures. Save your now wobbly legs and enjoy the Monument from the ground, including the plaque in nearby Pudding Lane where the fire is said to have started.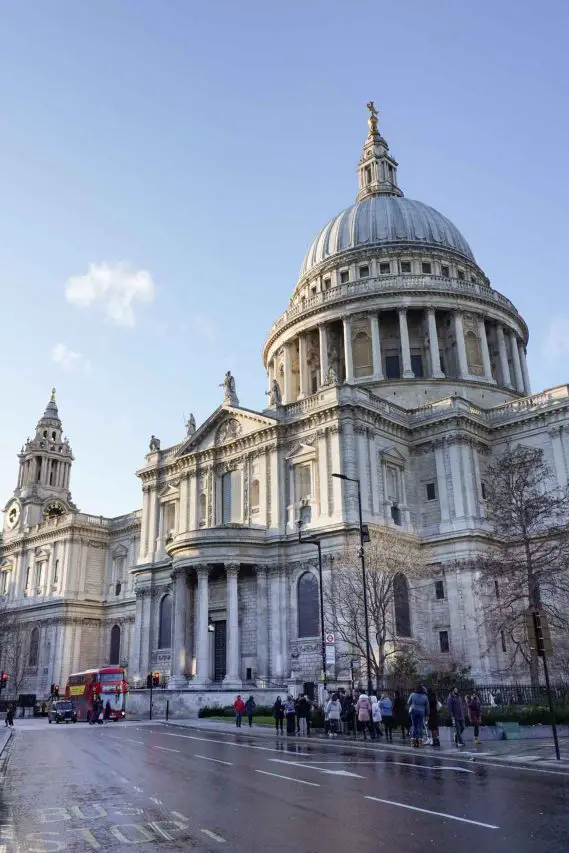 Day 3:
V&A (Victoria and Albert) Museum
The V&A Museum is an art and design mecca. It is said to be the world's largest collection of applied and decorative arts and design with a collection spanning architecture, costume, photography, furniture and much, much more. This is a design-lovers dream. Again, make sure you target the collection highlights on this brief visit.
Hyde Park
Make your way to Hyde Park via Royal Albert Hall, for a quick look at the iconic concert venue. Take a lap around the key sights of Hyde Park to work up an appetite for our next stop. Enjoy views of Kensington Palace and Garden, the Princess Diana Memorial and Speakers' Corner before crossing over to Green Park on your way to The Ritz.
Afternoon tea at the Ritz London
Let's substitute lunch for an early afternoon tea, I promise you'll walk out with a stomach beyond full. Ensure you are properly dressed for the occasion – men will need a jacket and tie, no jeans or sportswear allowed for anyone. Indulge in your 3-tiers (plus extras) of goodies in the elegance of the Palm Court, with silver service and a price to match – it's a treat afterall. Don't worry if The Ritz is out of your realm, there are plenty more affordable teas around the city.
British Museum
Jump on the Underground at Green Park Station and take a ride to Holborn Station, for a more express trip to the British Museum. Squeeze in an hour at the British Museum to see the highlights including the Rosetta Stone, Parthenon Sculptures and Lewis Chessmen.
Piccadilly Circus and West End
Top off your London adventure with an evening theatre performance in the West End. If you are leaving the British Museum, take the Underground from Russell Square to Piccadilly Circus Station. Akin to New York's Broadway Theatre District, West End can feel extremely over touristed with its in-your-face LED billboards, souvenir hawkers and overpriced restaurants (i.e. eat somewhere else before or after your show). However I recommend taking a look at the great intersection of Piccadilly Circus. Not named for the circus-like environment it is now, but for the incredible rounded or circle shaped traffic junction completed in 1819 that was described by Charles Dickens Jr as "the nearest approach to the Parisian boulevard of which London can boast."
3-day London itinerary map
Plan a trip to London
Find flight deals to London Heathrow (LHR), Gatwick (LGW), City (LCY) or Luton (LTN) airports using Skyscanner.
Wishing you a fun and fascinating exploration of old London Town. Please leave any queries in the comments below.
Peace, love & inspiring travel,
Madam ZoZo