Badlands National Park, located in South Dakota, is a breathtaking destination that offers visitors a chance to explore cool geologicaformations, expansive wildlife and dark skies perfect for star gazing. Whether you're an avid hiker or just looking for a scenic drive, this guide has everything you need to know to plan your visit to Badlands National Park.
Introduction to Badlands National Park
Badlands National Park spans over 244,000 acres and is best known for its namesake geologic formations, including layered rock formations, canyons, and spires. It gets its name from the Lakota Native American people who dubbed it "mako sica," translating to "bad lands". This was a reference to the unnavigable terrain, extreme temperatures and lack of water sources.
But wait, there's more… Visitors to the park can experience expansive mixed-grass prairies and spot diverse wildlife including bison, bighorn sheep, pronghorns, black-footed ferrets and coyotes. Also, the absence of light pollution around the Park allows star-gazers to view more than 7500 stars, plus planets and moons of the Milky Way.
Is Badlands National Park worth it?
Badlands-type geologic formations are not unique to South Dakota and occur in various parts of North America. In fact, there are badlands on every continent aside from Antarctica. Other US locations include North Dakota and Montana, through to the Canadian Badlands in Alberta and Cheltenham Badlands in Ontario, Canada.
So why Badlands National Park? Though I can't claim to have visited all of North America's badlands, I can say that the reason we chose Badlands National Park over similar destinations was its accessability and proximity to other attractions.
Badlands (with a capital B) lies an hour's drive from the closest airport and 1-2-hours from other attractions such as Wind Cave National Park, Minuteman Missile National Historic Site and Jewel Cave National Park. It's incredibly simple and efficient to see a whole lot in this corner of the South Dakota. For things to do near Badlands National Park, see this post and you can also string it all together with our 4-day road trip itinerary.
How many days in Badlands National Park?
The highlights of Badlands National Park can be seen in a single day. A fit hiker could easily cover all the trails in less than 3-days. However, if you want to spend some time stargazing, you need to spend at least one night in or close to the Park.
If you have more time in the area, the Stronghold (south) Unit is worth at least a drive through. There really aren't any facilities for visitors but we found just a drive through this unit of the Park and parts of neighbouring Buffalo Gap National Grassland, were rewarding. Take Bombing Range Road south of Scenic and you will find yourself effortlessly crossing in and out of these Parks. The White River Visitor Center is as far as you need go.
Getting to Badlands National Park
Badlands National Park is located in southwestern South Dakota, just 10-minutes drive from the small town of Wall and less than an hour from the closest airport in Rapid City. Note, there is no Amtrak service in South Dakota.
Rapid City Regional Airport (RAP) receives direct flights from the following cities. All other flights will require a connection.
Chicago, IL
Charlotte, NC
Dallas-Fort Worth, TX
Denver, CO
Las Vegas, NV
Minneapolis, MN
You could also fly into the State capital, Pierre which is under 2-hours drive from the Park. Pierre Regional Airport (PIR) receives its only direct flights from Denver.
Where to stay when visiting Badlands National Park
There are a few locations both in and outside the Park you might consider for accommodation:
The majority of travellers will base themselves in Rapid City which by far as the most amenities.
We stayed in the town of Wall, just 20-minutes from the northeastern entrance, to give us a jumpstart on the morning of our visit. Accommodation and food options are limited here as it is only a small town of about 700 people.
Just outside the Interior entrance to the Park, is the Badlands Inn. The Inn offers motel rooms with no dining options. You won't be in the Park, nor will you be in a town so you will need to travel for food or be self-sufficient. Note, Interior is even smaller and more limited than Wall.
The only accommodation inside the Park is Cedar Pass Lodge, which rents cabin-style lodging close to the Ben Reifel Visitor Center.
There are two front-country campgrounds with a total of about 118 sites available. Some of these sites have RV hook ups.
Back country camping is permitted, as long as its 0.8-km (0.5-mi) from a road or trail and not visible from either. Get more information on the National Parks Service website.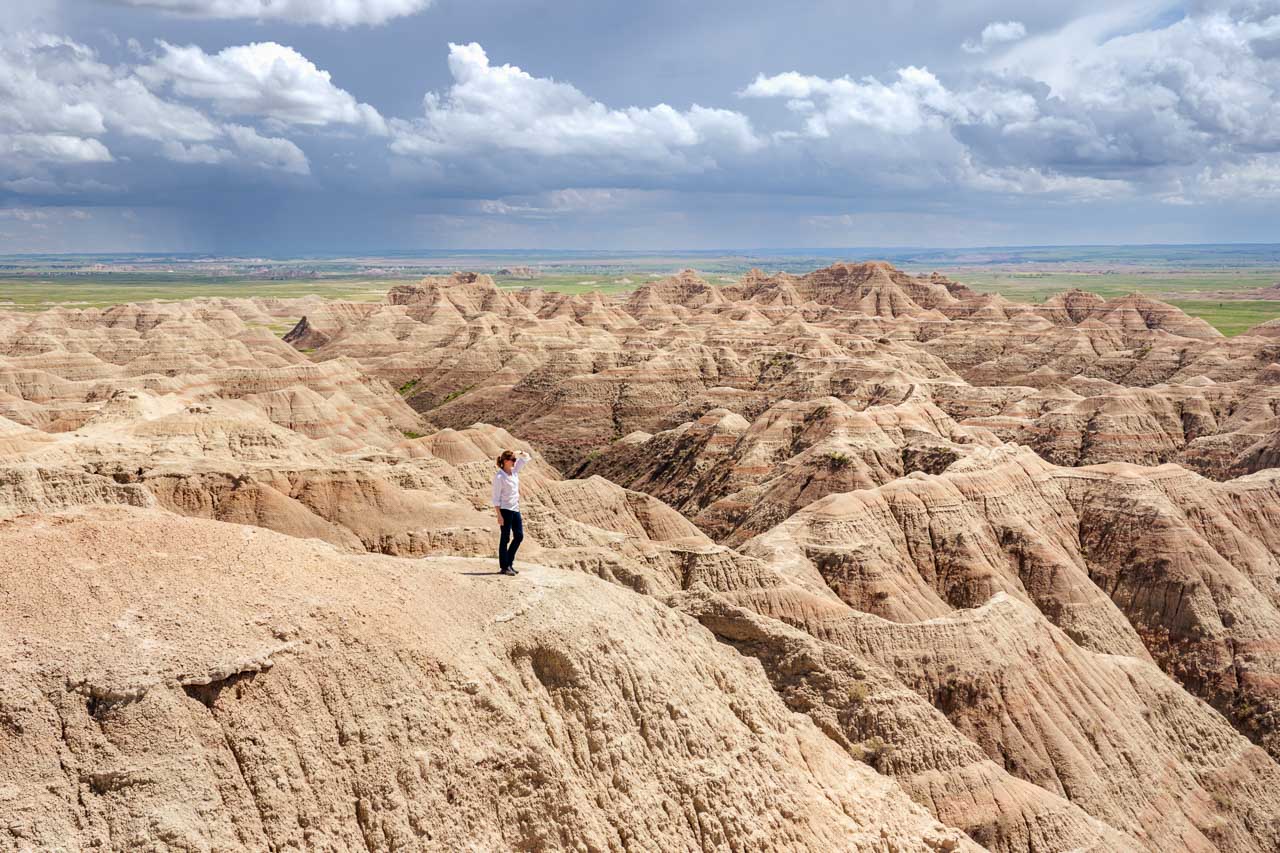 Best hiking trails in Badlands National Park
Badlands National Park offers a variety of hiking trails for visitors of all skill levels:
Window Trail is the shortest and easiest of Badlands' trails. The 0.4-km (0.25-mi) round trip boardwalk leads to a natural "window" in the Badlands Wall, presenting a view of the landscape beyond.
Door Trail is a quick intro into the badlands at 1.2-km (0.75-mi) round trip. The first 0.4-km (0.25-mi) is an accessible boardwalk. Beyond this point the it is an uneven trail through the rocky terrain with steep drop offs at points.
Notch Trail is a moderate 2.4-km (1.5-mi) round trip through a rocky canyon, terminating in a ledge with panoramic views over the White River Valley. There is a log ladder early in the hike which may be challenging for some. Also, the nature of the ladder means it can create a bottleneck on the trail, as people queue to go up and down. The adventureous and able might carefully ascend/descend a side trail, but beware the eroded landscape is extremely crumbly. The rest of this trail is fairly easy but there are steep drop-offs at points.
Saddle Pass takes you on a short and strenuous climb up the Badlands Wall. Though only 0.4-km (0.25-mi) return, it is straight up and straight down on crumbly, gravelly terrain. The view is worth it though! Also, Saddle Pass intersects the Castle Trail (more on that in a moment) and is the start/end of the Medicine Root Loop.
Castle Trail is the longest trail in the park, spanning 16-km (10-mi) round trip and offering some views of the Park's unique rock formations. If you are travelling in a party with more than one vehicle, you could do this as a shorter, one-way trail.
Wildlife viewing in Badlands National Park
Badlands National Park is home to a variety of wildlife, including bison, bighorn sheep, pronghorn antelope and coyotes. Visitors may also spot smaller animals such as prairie dogs, rabbits, and snakes. If you're in the Park before or after dark, you may even catch a glimpse of a rare and endangered black-footed ferret, which was reintroduced to the park in the 1990s.
The beautiful and consistent birdsong throughout the badlands area of the Park struck me. The Park's avian residents include golden eagles, prairie falcons, cliff swallows, Townsend's solitaires, cedar waxwings, black-capped chickadees and more!
For almost guaranteed prairie dog sightings, visit Roberts Prairie Dog Town along Sage Creek Rim Road. Most visitors turn back at this point to return to Wall or Rapid City. If you venture further along this stretch of road you'll have a better chance of encountering bison herds and pronghorn.
It's important to remember that these animals are wild and should not be approached or fed. Keep a safe distance and enjoy the beauty of these creatures from afar.
Suggested 1-day itinerary for Badlands National Park
Start out early in the morning before the heat of the day and the crowds start to build. Travelling from Rapid City or Wall along the I-90 E, you may choose to stop at the Minuteman Missile National Historic Sites along your way to the Northeast Entrance of the Park, as per our road trip itinerary.
Once you enter the Park, take a few minutes to stop at Big Badlands Overlook but don't linger too long, there's plenty more to see.
Continue another 5-minutes drive to a large parking lot on the lefthand side. This is where you will find several trailheads for the above recommended hikes: Door, Window, Notch Trails and Castle. I recommend hiking the Door, Window and Notch Trails.
Once you are done, drive a further 6-minutes and you will reach the Ben Reifel Visitor Center. Take a little time to explore the exhibits here, use the bathrooms and make sure you have plenty of water. There is also a picnic area and the Cedar Pass Lodge next door has a restaurant.
Continue on the SD-240 W through the Park. If you're up for a short but strenuous hike, Saddle Pass offers terrific views of the surrounding landscape on both sides of the Badlands wall.
Drive westward on the SD-240 stopping at the many overlooks along the way. You don't need to stop at them all, as many of the landscapes are similar.
Your final stop inside the Park will be Roberts Prairie Dog Town sans bison jams. Make sure you're wearing plenty of bug spray because the mosquitos here are something else. Observe the prairie dog colony as they dart in and out of their burrows.
There's two ways you can proceed from here depending on the location of your overnight accommodation. If you have plenty of daylight and gas, I recommend continuing on Sage Creek Road through to the township of Scenic. This lesser visited part of Badlands National Park is a really beautiful drive and as I mentioned, there's more chance to seeing bison and other large wildlife grazing on the prairies.
From Scenic you can drive back to Rapid City on the SD-44 W.
Tips for visiting Badlands National Park
A few last words of wisdom before you head out to explore Badlands National Park:
Make sure to bring plenty of water, hat, sunscreen, and appropriate clothing for the weather. If you are hiking in the Badlands, I recommend sturdy shoes and wear long pants in case you do slip and fall–the gravelly surfaces can really take some skin off.
The Park ranges from very hot in the summer to extremely cold in the winter, so check the forecast before you go.
A pair of binoculars is handy for wildlife viewing and a camera to capture the stunning scenery.
Mosquito repellant is a must, especially for exploring the prairies during the wetter spring months.
Take a packed lunch and snacks. There are very little opportunities to stop for supplies. Even Wall doesn't have great options. There are no cafes offering hikers' lunches and no grab-and-go pre-prepared I recommend stocking up in Rapid City.
The entrance fee for Badlands National Park is $30 per private vehicle for 7-days. Don't forget your National Parks Interagency Pass (e.g. America the Beautiful), if you have one already!
Finally, be sure to follow all park rules and regulations to help preserve this beautiful wilderness for future generations to enjoy.
Enjoy your trip to Badlands National Park and South Dakota. Don't hesitate to share any additional thoughts or feedback in the comments for our travel community below.
Peace, love & inspiring travels,
Madam ZoZo