Robert Burns, National Bard of Scotland, is celebrated annually on "Burns Night", the 25th January. The first Burns supper took place in 1801 and more than 200 years later it continues not just in Scotland, but around the world. The event, steeped in tradition, is a celebration of the poet and his works. It's simple to create your own Burns Night supper soiree, just follow this guide.
Disclosure: I may earn compensation from the purchase of any product or service linked on this website, at no extra cost to you. I only link to products I use and love, therefore feel comfortable recommending.
Who was Robert Burns?
Robert Burns (aka Rabbie Burns, Bard of Ayrshire and Ploughman Poet) was a poet and lyricist born in the modest village of Alloway on the southwest coast of Scotland. He has been dubbed the "National Bard/Poet" of his homeland through Burns' work is known and loved worldwide. Ever sung "Auld Lang Syne" on New Year's Eve? If your answer is yes, then you're acquainted with his work – Burns wrote the lyrics of the timeless classic to the tune of an old Scottish folk song.
Burns is regarded as a pioneer of Romanticism, an artistic and literary movement that originated in Europe towards the end of the 18th century. He wrote in Scots as well as English, composing poetry and rewriting Scottish folk songs as a side-hustle to farming and work as an excise officer (ie tax collector).
The part-time-poet was a patriotic Scot who opposed the monarchy and slavery. He covertly wove commentary on class inequality, gender roles, poverty, sexuality and anti-clericalism into his literary works. He was born into poverty and died with barely a penny to his name, therefore he had great sympathy for the poor and oppressed.
Burns also gained a reputation for his *ahem* romantic life. The bard fathered several children to a number of women out of wedlock. He finally married Jean Armour in 1788 after she already had 2 of his kids. Together, the couple had 9 children in total, of which sadly only 3 survived to adulthood. He died at age 37 in 1796.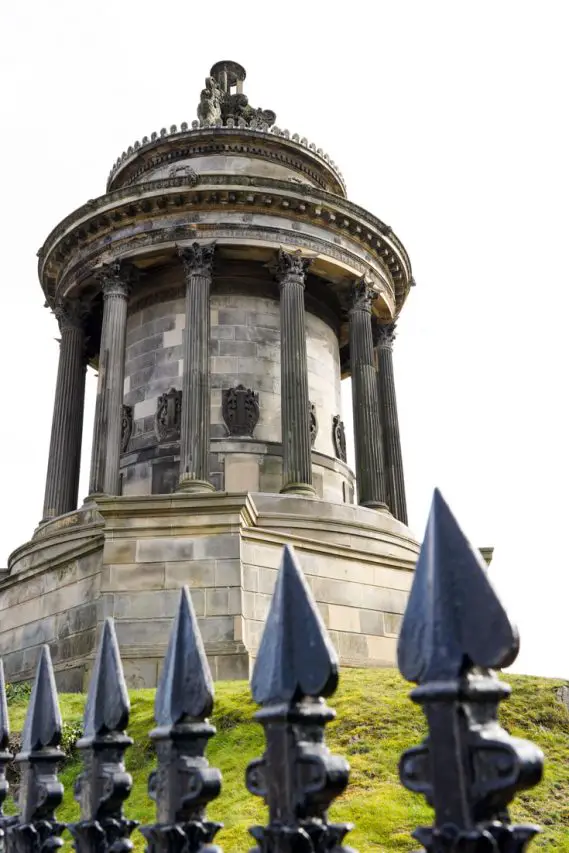 How to host a Burns Night supper
Burns Supper menu
I've combined traditional and contemporary items in my Burns Supper menu and offered up some alternatives to suit different palettes. Traditional haggis is banned from import into the US because it contains livestock lungs. So, whether you can't access authentic haggis or you just aren't too keen on the offal-based dish, there's plenty of options.
Drink
A wee dram (or three) of single malt scotch, neat or on the rocks is what we'll be sipping. If you haven't acquired a taste for whisky yet – it took me a couple of days tripping around the whisky region of Scotland to condition my palette – ease in with these contemporary Scotch-based cocktails.
First course
Begin with a traditional cock-a-leekie soup. A cullen skink is another highly appropriate soup starter.
If soups aren't your thing, maybe try an appetiser style starter like these smoked salmon on tattie scones.
Main course
Haggis, of course is the traditional main course on Burns Night, a favourite of Burns himself.
As I mentioned, true haggis is off the cards for us here in the US. However, you can order one of these slightly varied options from Scottish Gourmet USA, they even offer a vegetarian version.
There are also ways to hide haggis in plain sight for the more tentative guests, such as Balmoral chicken, crispy haggis balls, or this haggis, neeps and tatties version of a shepherd's pie. I made this super tasty, simplified haggis recipe and we had enough for leftovers the next day.
Getting away from haggis completely, you could try seared scallops and substitute the creamy mash with these neeps and tatties, for a traditional touchstone. Another option is steak pie with garlicky mash and buttered leeks.
Dessert
We'll be tucking into this simple Cranachan with raspberries, oats, whisky and cream for dessert. My tip is to replace the whisky with Drambuie, a Scotch infused with honey, herbs and spices for a little extra sweetness and flavour.
A Scottish cheeseboard complete with bannocks (oatcakes) is a more savoury alternative along with some more whisky.
Or, maybe a cup of Scottish Breakfast tea with some Scottish shortbread. Make it yourself or buy box of classic Walkers.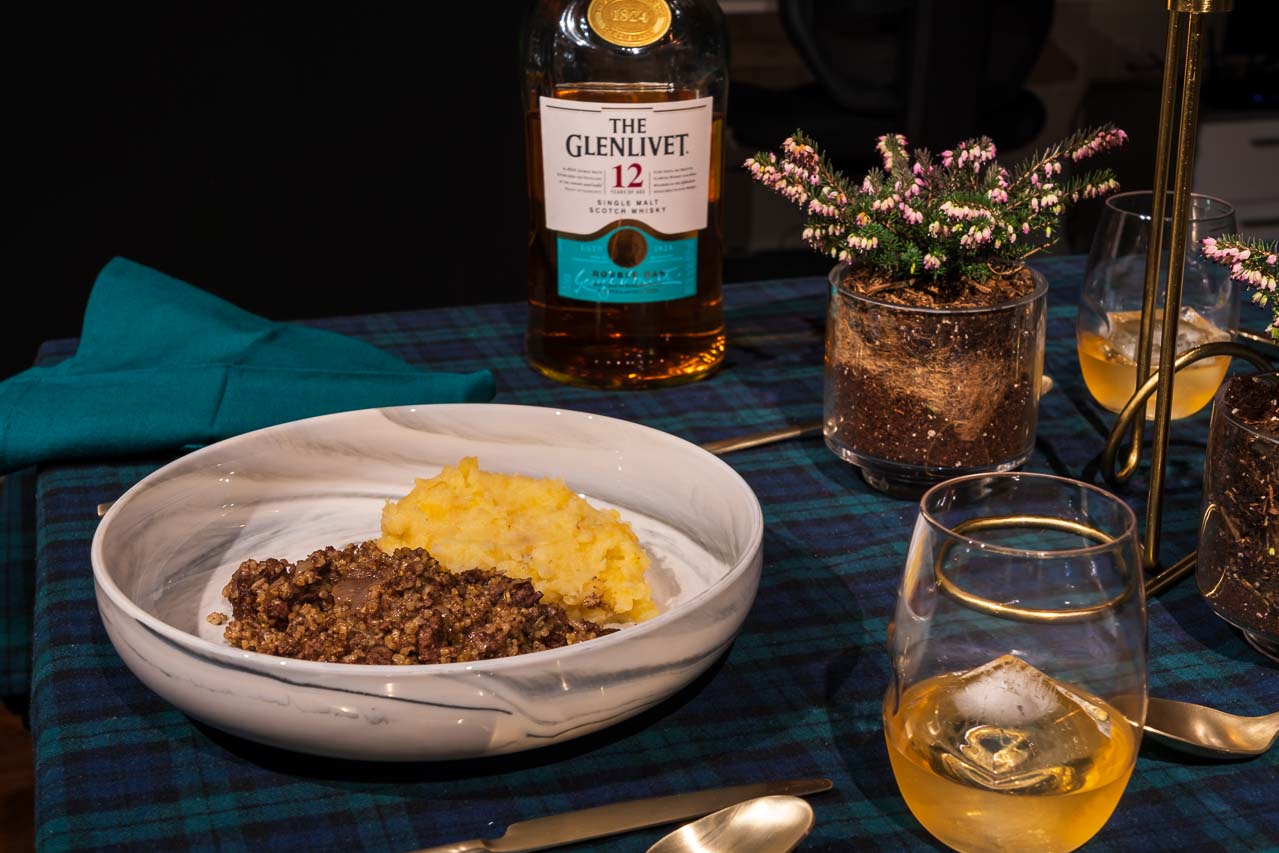 Burns Night table decor
Burns is regarded as a sept of Clan Campbell, so I've used the Campbell (aka Blackwatch) Tartan of predominantly blue, green and black for my colour palette and decor. Feel free to use any tartan décor you might already own and let that inform your Burns night colour scheme.
Starting with a Campbell tartan tablecloth (which is really just some fabric I bought by the yard as it was less expensive), I arranged place settings with flatware and napkins tied with matching tartan ribbon. The centre of the table was adorned with tapered candles in modern gold candelabras  – a contemporary reference to the candelabras that would have been used on a formal dinner table in Burns' era. I also added two small heather plants that I picked up at the nursery. Heather is a hardy plant that is not only found in abundance in Scotland but flowers in winter – perfect for your January 25 Burns Supper table.
If you have a fireplace it's cold enough, light it up! Otherwise, you can also tune into Netflix's "Fireplace For Your Home" for atmosphere.
Burns Supper order of ceremony
An authentic Burns supper program looks a little like the below. Take from it what you will and adapt it to your audience and their level of enthusiasm.
Guests gather for a first drink and catch up before they are invited to be seated at the table.
Once seated, the host recites a prayer – usually, the Burns-attributed Selkirk Grace which goes:
Some hae meat and canna eat,

And some wad eat that want it;

But we hae meat, and we can eat,

Sae let the Lord be thankit.

Robbie Burns
A bagpiper will play in the haggis as a chef presents the dish to the table. The song played is traditionally Burns' "A Man's A Man For A'That" which I've included in my Burns Supper Spotify playlist – here for the taking. A whisky-bearer may also follow to top up everyone's glass.
Next, a recitation of Burns' "Address to Haggis" is made (a recorded version is on the aforementioned playlist also). The Address is quite long – you can see it with an English translation here. It may be quite the amusement to listen to a tipsy guest of your choosing, or even the kids, try to navigate the poem written in Scots. My husband, for one, will relish the opportunity to put on an obnoxiously theatrical Scottish accent for his part.
Following the address, the piper, chef and reciter are toasted with a dram of whisky, and the haggis is sliced open.
The chef may return to the haggis to the kitchen to slice and serve, or it may be done at the table. The accompanying dishes, usually neeps and tatties (swedes and potatoes) are brought to the table.
A talented guest or entertainer will usually sing/play a few songs or recite a Burns poem. Alternatively, defer to that Spotify playlist again which includes a recitation of poems "To a Mouse" and "Tam O'Shanter".
At this point in the evening, the host delivers the Immortal Memory. This is usually a 15-minute tribute to the life and work of Burns but tailor it to your audience. This short video gives you a little insight into what a traditional Immortal Memory would contain.
Dessert, maybe a Clootie Dumpling which is a type of fruit cake, or Typsy Laird, a whisky trifle, are served at about this time.
Optional: At the completion of dessert guests may be asked to retire to another room for the remainder of the evening's program or remain at the dinner table.
Here we return to the entertainment: songs and poetry readings.
Next, Toast to the Lassies, usually a humorous but always complimentary appraisal of women's role in the world usually including selective quotations from one of Burns' works. Here's some insight from a Burns Supper pro.
A final song or poem concludes the evening's entertainment.
Reply to the Toast to the Lassies, is the lady's right of reply to the former toast. It is not unheard of for the two people making these speeches to collaborate, as the response should address specific points made in the original toast.
Closing remarks and another toast follow, with thanks given to the host, chef and piper.
The night is concluded with an all-in rendition of Auld Lang Syne, again, on my playlist.
What to wear to Burns Night?
If you want to go the whole hog and dress up for your Burns supper, traditionally men would wear a kilt and women shawls, in their family tartan. Really, any form of tartan will see you dressed for the occasion. You could also wear classic Scottish tweed – a blazer, full suit or just a cap.
I don't know about you, but I can't wait until Burns Night – it's making me feel all sorts of nostalgia for our Scotland road trip! Feel free to share your thoughts/experiences throwing a Burns Night bash in the comments below.
Peace, love & inspiring travels,
Madam ZoZo