Alaska has the highest concentration of glaciers in North America with 100,000-plus rivers of ice! There are many ways to experience these frosty and fascinating geographical features. One of the coolest is to go for a walk on the surface of a glacier. Glacier trekking is not your average hiking experience — it requires a little more preparation and guidance. So here is what you need to know to plan your glacier hiking in Alaska for maximum safety and fun!
Glaciers for hiking in Alaska
There are several glaciers in Alaska that you can walk on—the following are some popular examples:
Exit Glacier, Kenai Fjords National Park near Seward
Matanuska Glacier, Chugach Mountains near Anchorage
Knik Glacier, Chugach Mountains near Anchorage
Mendenhall Glacier, near Juneau
Root Glacier, Wrangell-St Elias National Park
Matanuska Glacier
After much research, we chose Matanuska Glacier. Why? Matanuska Glacier is popular with good reason. It is the largest Glacier in the US accessible by car. In other words, you can drive right up to the terminus (or toe) of the Glacier—located two hours out of Anchorage along the stunning Glen Highway.
Almost 6.5km/4mi wide at the terminus, it offers plenty to explore. It is also one of the few glaciers that is actually in a phase of growth, rather than retreat. Other popular options such as Exit and Mendenhall Glacier s are rapidly melting and becoming more difficult to reach over time.
Do you need a guide?
Yes, Matanuska Glacier used to be open to the public but accidents were frequent. The terminus is on private land, so access to the glacier is now by guided tour only. That said, I would absolutely recommend going with a guide anyway, especially if this is your first time in such an environment. There are plenty of crevasses and moulins into which you could fall and never return. There are also lots of fun things you can learn about glaciers when accompanied by someone knowledgeable who can point them out.
Crevasses, moulins and thixotropic mud, oh my!
Speaking of crevasses and moulins, let's nerd out for a moment on some cool glacial features that you'll likely see on your hike:
Erratic—A rock that has been transported by a glacier and deposited somewhere far from its original position. Erratics can range from the size of a pebble to that of a small house!
Moraine—A mound or ridge of sediment transported by a glacier. There are different terms for moraine, depending on where the glacier dumps its load. For instance, lateral moraine is found along the sides of a glacier, while terminal moraine is deposited at the end of a glacier as it bulldozes through the landscape.
Moulin—A narrow, vertical chute or crevasse where surface water penetrates the glacier. A moulin can lead to a system of tunnels within the glacier, through which water flows.
Terminus—I've already mentioned this one. The terminus is the toe or lower extreme of a glacier.
Thixotropic mud—When fine glacial silt is mixed with water it can become a quicksand-like mud. Thixotropic mud becomes more liquid with movement, and at rest behaves more like a solid. Yes, you absolutely get yourself stuck in this stuff.
Crevasse—A crack in the surface of the glacier that opens (and closes) as the glacier flows. Crevasses can be kilometres long and over 30m/100ft deep.
Suncupping—Suncups or suncupping is a cool texture on the ice or snow that looks like a regular series of depressions. Suncupping occurs when the sun melts the surface of the glacier.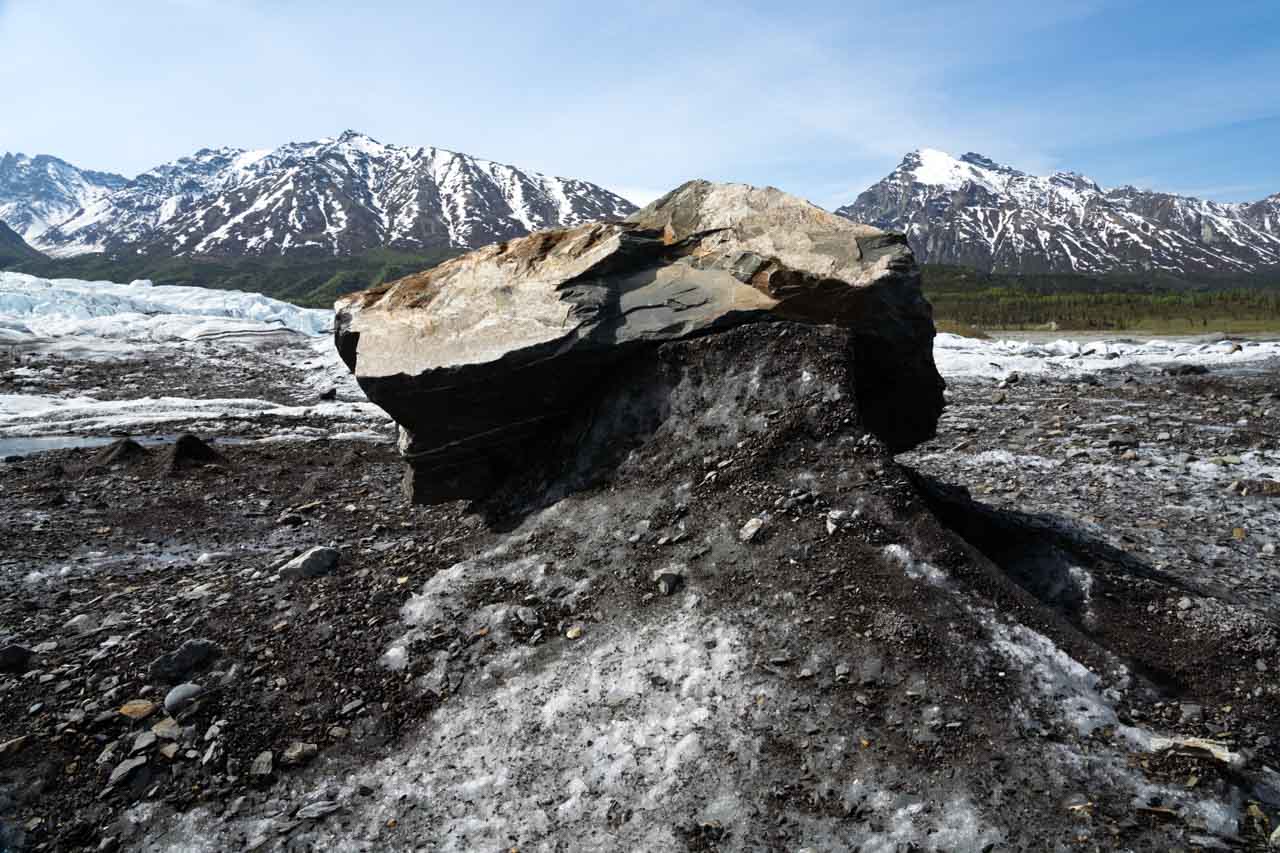 Terminus trekking or heli-hiking
There are a couple of options when it comes to glacier hiking in Alaska. Namely, whether you want to explore the terminus of the glacier, or get a helicopter ride somewhere further up to a higher, less visited area. There are a couple of local tour operators that offer both these options for Matanuska Glacier. You can also choose to learn some basic or more advanced ice climbing as part of your experience.
We were booked on a heli-hike that unfortunately had to be cancelled due to a sick pilot. So, we took a guided hike on the toe of the glacier which we thoroughly enjoyed. If you want to know what flying over a glacier and landing in an alpine area looks like, click through to this post about flightseeing in Denali National Park.
What to wear glacier hiking
Like all Alaskan adventures, layering is the key. The time of year will determine the weight or warmth of those layers. Why? Because you will be standing on a giant block of ice! However, hiking on a glacier also involves elevation gain and some scrambling which will raise your core temperature. Hence, layers are important in allowing you to adapt and remain comfortable.
Here are a few additional considerations and recommendations on what to wear glacier hiking:
Wear clothes that don't restrict your movement – you need to be able to move freely. The ice, particularly at the terminus, is quite irregular and you will be climbing up and down frequently.
Cotton, or linen for that matter, are never a good idea in these environments because they don't dry quickly enough. Being wet/sweaty for a prolonged time is dangerous in cold climates. Leave your jeans and cotton tees behind and wear wool or synthetics.
Always take a rain jacket even if it is a fine day. Alaskan weather conditions are highly changeable.
Check with your tour provider as to what gear you will need and what they provide, most will supply crampons and helmets at a minimum. The crampons will strap on over your shoes, so having comfortable, waterproof footwear is recommended.
For more tips on packing for Alaska in summer, see my packing guide and checklist.
Enjoy your glacier hiking whether it be Matanuska Glacier or one of the many other glaciers in Alaska.
Peace, love & inspiring travel,
Madam ZoZo