It's almost impossible to select a favourite piece from the Chicago Institute of Art. I would need a decade to gaze lovingly into the eyes of each portrait, wander the varied landscapes and dream up a home where I could welcome each exquisitely crafted piece of furniture and decorative item on display. While I'm inevitably drawn to the colours of Matisse, and wooed by Picasso's broken geometry, I discovered a number of new artists to flirt with, within the Institute's halls. These highlights from the Art Institute of Chicago include some familiar artists and artworks, along with lesser-known works by Russian avant-garde artist Nathalija Gontcharova, French sculptor Charles-Henri-Joseph Cordier and Norwegian landscape artist Thomas Fearnley. Here are my highlights of the Art Institute of Chicago!
Above: Oil on Canvas, Landscape at L'Estaque, is one of Georges Braque's early works as he was coming to the end of his Fauvist period in 1907. A visit to Pablo Picasso's studio in the same year sparked a change of style which put Braque at the forefront of cubism. In fact, the term "Cubism," was coined when French art critic, Louis Vauxcelles, described Braque's work as "bizarreries cubiques."
Left: A young and defiant Joan of Arc in gilt bronze, by Antonin Mercié.
Below: I just adored this Art Nouveau cabinet, made of walnut with gilt bronze and glass, by Lois-Désire-Eugéne Gaillard of France. The cabinet was once part of a dining room suite.
Right: Henri Matisse painted this post-impressionist still life, Apples, in 1916.
Below: Nightlife was painted by Chicago local, Archibald Motley Jr. The artist depicts African American culture in the context of a lively dance hall scene situated in Chicago's Bronzeville neighbourhood. Motley was inspired by Edward Hopper's Nighthawks (also pictured below), which had been added to the Art Institute of Chicago's collection the year before.
Left: Pablo Picasso's, The Red Armchair, was the first in a series of paintings that depicted his mistress of the time, Marie-Thérèse Walter. Picasso used industrial house paint known as Ripolin, mixed with oil paint, to create various textures. An example is the smooth black lines with barely perceptible brushstrokes.
Above: Norwegian, Thomas Fearnley, painted the Italian scene Pergola with Oranges, circa 1834. During this decade he travelled extensively throughout Europe, and spent three years based in Italy during which he created this oil on paper.
Right: Bust of an African Woman, was sculpted in 1851 by Frenchman Charles-Henri-Joseph Cordier. The bust was well-received upon its initial display at the 1848 Paris Salon, despite images of African people having rarely been publically exhibited at the time.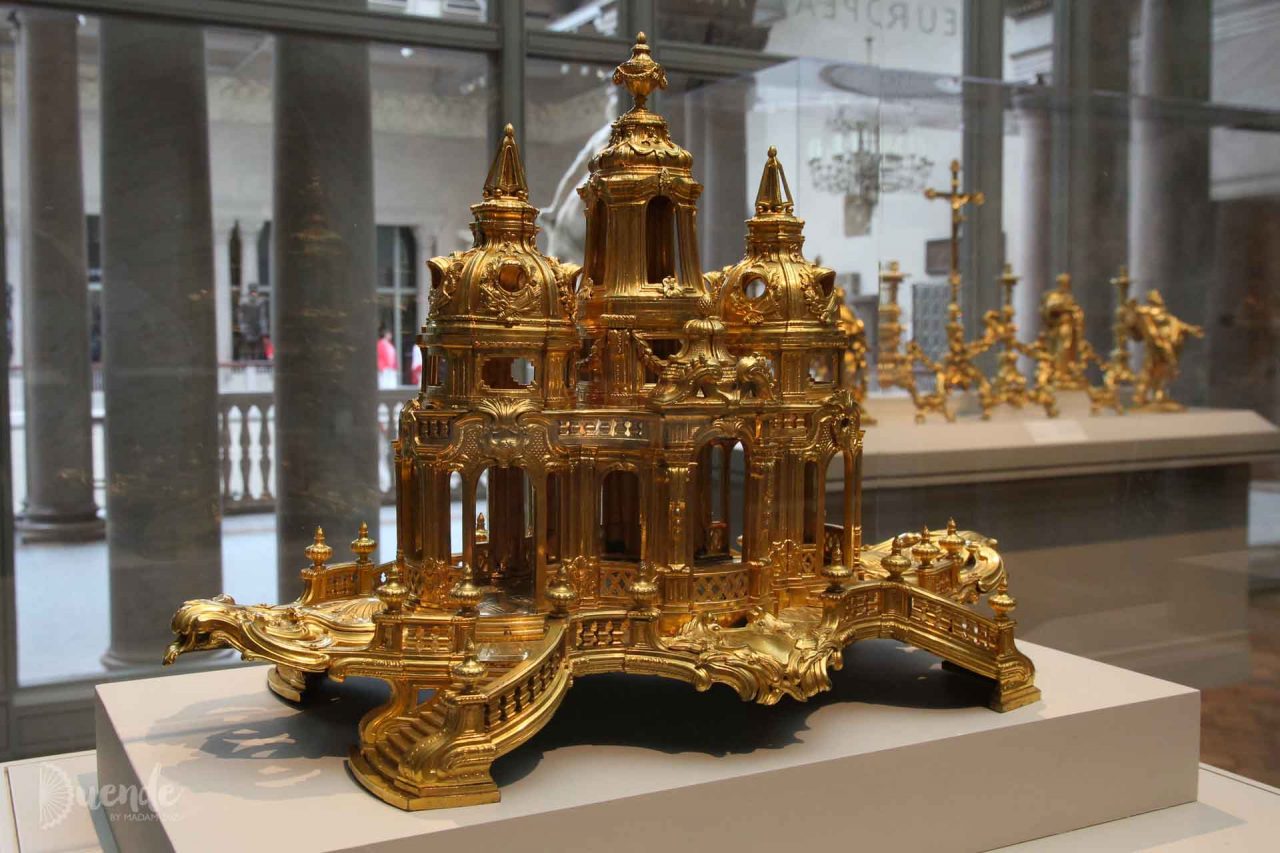 Above: There is no doubt in my mind that this golden palace table centrepiece has inspired more than one wannabe Disney Princess. The 3-story building or garden pavilion was cast in bronze in 1768, and inscribed with the name Gastecloux. The name has been tentatively linked to casters, engravers and bronze workers in Paris, London and Saint Petersburg during the 18th century.
Left: Londonderry Vase is the product of a collaboration between a designer, decorator, two painters and an unknown number of ceramicists. This monumental vase was commissioned by Napoleon himself around 1805. The vase was finally released from the Sèvres Porcelain Manufactory in 1814, after his exile. It became a diplomatic gift from King Louis XVIII to English foreign secretary, Viscount Castlereagh, second Marquis of Londonderry.
Above: This glass mosaic fireplace surround is the design of George Washington Maher and made by Louis J. Millet. Maher, an American Prairie School architect, is known for having used signature motifs to unite the interior and exterior of the homes he designed. He based these decorative details on local natural elements.
Right: The Tree of Life Window was designed by architect Frank Lloyd Wright and manufactured by the Linden Glass Company for the Darwin D. Martin House. Wright's geometric pattern of rectangles and inverted v-shapes, known as Chevron, form a stylised tree of life.
Below: Georges Seurat created 28 drawings, 28 panels and 3 canvases in preparation for the final A Sunday on La Grande Jatte. A wonderful reminder that Rome wasn't built in a day. Twenty-six year old Seurat debuted La Grande Jatte publically for the first time at the final Impressionist exhibition in May 1886. It was quite the scandal, as the painting marked the transition of Impressionism into Neo-Impressionism, a movement later renamed to "pointillism." Instead of mixing colours on canvas as the traditional Impressionists like Monet did, pointillists dabbed small blocks of colour next to each other on the canvas, creating a mosaic-like surface of shimmering colour.
Above: The American Windows, are the work of Russian-born modernist Marc Chagall.  After the enthusiastic reception of his Four Seasons mosaic, installed outside Chase Tower in Chicago during the early 1970's, Chagall was drawn back to the Windy City. Supported by The Art Institute, he created six panels of stained glass to celebrate the American Bicentennial and the U.S. as a place of cultural and religious freedom.
Left: This is Duende, so there was no passing by this Spanish Dancer with her white lace and fan, the creation of Russian avant-garde artist Nathalija Gontcharova.
Below: The Weaver, is a Diego Rivera tempera and oil on canvas, painted in 1936. The Mexican artist regularly painted indigenous themes, calling to attention political and social injustices. Weaver Luz Jiménez is pictured working on a backstrap loom, a centries-old tradition in Mexican culture.
Below: Air travel wasn't as common or affordable in Georgia O'Keefe's day – she took her first ride in an aeroplane aged in her seventies. She was fascinated by the view and began creating a series of paintings featuring sweeping fields of clouds. The depictions became more abstract and filled bigger canvases. Sky Above the Clouds IV is the culmination of her cloud series, filling a 24ft wide canvas that was painted in her garage because it was the only space large enough to work on such a monumental piece.
Above: Seasonal changes depicted in three of Monet's "Stacks of Wheat (End of Summer)" series. In all he painted about thirty of these pastoral scenes demonstrating seasonal changes in light, colour and decay. They are strewn all over the world from the National Gallery of Australia, to that of Scotland. The Art Institute of Chicago has five of these works created between the autumn harvest of 1890 and March of 1891, the largest concentration of the series in one museum.
Right: American Gothic is a beloved artwork by Grant Wood created in 1930. Wood was visiting the rural Iowa town of Eldon and was inspired by a white house in the "Carpenter Gothic" style. The painter thought it was "a form of borrowed pretentiousness, a structural absurdity, to put a Gothic-style window in such a flimsy frame house" and considered it very paintable. He made an initial sketch and returned the next day to paint the home in oil on paperboard. Later Wood added figures of the kind of people he imagined should live there using his sister and dentist as models for the buttoned up Victorian types he depicted.
I hope you found a few new artists to love in these highlights of the the Art Institute of Chicago. If you want more art, see Art Highlights of New York City and Indianapolis.
Peace, love and inspiring travel,
Madam ZoZo