I recently had a moment of déjà vu watching the Reese Witherspoon movie Wild. If you have been hiding under a rock, the movie is based on the memoir of Cheryl Strayed, who hiked 1609km (1100 miles) of the Pacific Crest Trail with virtually no hiking experience. In one of the opening scenes of the film Strayed is sitting on the edge of a steep decline, removing her shoes from bloodied feet. An unfortunate chain reaction suddenly sends one boot plummeting to an irretrievable place far below. This brought back a little shoe quandary of my own, and a big lesson I learnt on my 4-days hiking to Machu Picchu.
Pilgrimage To Machu Picchu
There are various options for getting to the incredible Incan city of Machu Picchu, high in the Peruvian Andes. You may be pressed for time or disinclined to walk, instead choosing to access the amazing archaeological site via train. Though if you want a real Inca experience you will take the trail, which is classically a 4-day trek (2-7 day variations exist). The 4-day trail is 43km (26 miles) and mostly above the 3000m (9800ft) elevation where altitude sickness starts to affect most people, therefore a number of preparations are in order. In this post. I will talk specifically about shoe-related groundwork and the pitfalls of failing to do due diligence.[/vc_column_text][/vc_column][/vc_row]
When things go wrong
I had chosen to wear a pair of near new hiking boots I inherited some years before from my sister-in-law and had barely worn. It was around hour 3 into the 4-day hike and I was suddenly aware that the ground felt strangely tactile, like the sole of my right foot had become very sensitive. Then I looked down to see the sole of my right shoe still several strides behind me.  Uh oh! Half an hour's walk from our morning rest stop I stuck it out until the break to dig out the role of green electrical tape in my backpack and have my husband, with his many years of sports injury tapping experience, do some surgery on my shoe and essentially tape it to my foot.
We set off again and it wasn't too much longer before I felt a familiar sensation, this time in my left foot. Furthermore, dirt had worked its way into the electrical tape on my right foot and it was slowly becoming ineffective. Ok, this was not funny anymore! Sometimes in life you have to decide whether to stay the road you are on or make a u-turn. Could I survive 4 days of trekking without soles on my hiking boots? If I turned back, I wasn't getting another shot at the hike as we had no flexibility in timing. The porters hike the trail every day in sandals made of old tyres, was I going to let this hiccup stand in my way?
Serendipitous solutions
The week before we left Australia I had a business meeting with a supplier and mentioned I would be away the following month in South America. As it happened she had not long returned from a trip around the continent herself and had a few pearls of wisdom to share. One, in particular, was to take a second pair of shoes on the Inca trail, as after hiking in one pair of shoes all day, she explained it would have been nice to wear something else around camp. She suggested flip flops, but in the few weeks between our respective holidays the temperature had dropped significantly, I wasn't confident a pair of thongs (as us Aussies call them) were going to be sufficient to keep my toes warm in the autumnal Andean night air. So along with the Haviana thongs (flip flops for non-Australians) I purchased in Rio, I threw in my new pair of Merrell walking sandals that I had bought with the intention of wearing in more urban environments, rather than hiking mountains in sometimes torrential conditions.
Dream saving Merrell walking sandals as it turned out, without them there was no way I was going to make it. The spare shoes were in my pack carried by the porters, so I had to wait until we caught up with them at lunchtime to change footwear. The incident was an excellent first-day icebreaker between us and the non-English speaking porters. They fell about laughing when I modelled half a pair of boots as I walked into camp. That night they very sweetly went to the closest village and tried to superglue them back together. When that failed, they tracked down someone who was willing to stay up all night and stitch the soles to the uppers. I hope they weren't offended when I chose to decline and trudge on in my walking sandals.
Rain, rain, go away
The closed-toe Merrell's didn't afford me the ankle support, nor the grip when the 70,866 stone stairs that line the mountain passes, turned to waterfalls in late wet season downpours, but they got me through to Machu Picchu. Along with the assistance of a very last-minute pair of walking poles, we purchased in the last small town before arriving at the KM82 checkpoint that marks the beginning of the 4-day trail. We decided to purchase just one pair of poles and take one each. On the downward slopes, my husband had to chivalrously hand over his pole so I didn't slide down the mountain in my slightly inappropriate shoes, while he skipped down like a mountain goat in his proper hiking attire.
Lessons learnt
What can you learn from my misfortune?
Invest in good quality boots, with soles that are stitched and/or cemented to the upper. There is an ultra-comprehensive guide to buying hiking boots here on ProfessionalCamping.com.
Inspect your boots before each trek, especially if you haven't worn them for some time. For more useful tips on caring for and storing footwear, see this post from Hiking Dude.
Whenever practical take a second lighter pair of shoes on longer treks, even just a pair of sneakers. Hiking Dude advises to take hiking sandals as a camp shoe and for water crossings – I second that!!
Early in my travels, just as Cheryl Strayed did, I overpacked with every item recommended to me. 10 years later my peg-less clothesline is still sealed in its packaging, but that role of electrical tape is all used up. Take the electrical tape, and keep it in your daypack, not just in your main luggage.
We arrogantly dismissed recommendations for hiking poles until the last minute. Thank goodness we changed our minds as those poles saved my coccyx from a few nasty interactions with hard stone.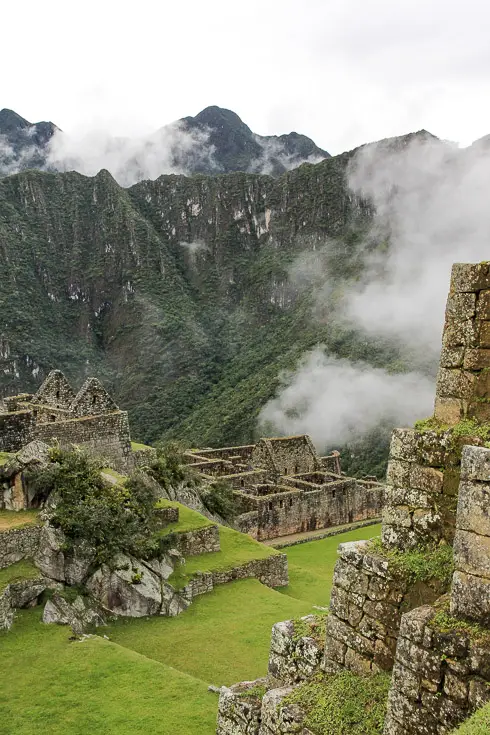 Experiencing nights in isolated Andean locations and walking in the footsteps of a pre-Columbian civilisation, make the trail well worth the effort with Machu Picchu being the pièce de résistance at the end. Just ensure that you take heed of the briefings from your tour company and double check your equipment.
Peace, love & inspiring travels,
Madam ZoZo