"And then we get to…" our guide Hector would pause, drop his voice and whisper dramatically… "Machu Picchu." He would do this every time he mentioned…. Machu Picchu. It turns out that he practised his English partially by watching nature documentaries (and also by singing along to the Beatles)—so he was bringing all the NatGeo-style drama! His enthusiasm was super endearing.
Hector whispered Machu Picchu the way most of us think about it: mysterious and breath-taking with an undefinable lure (Duende maybe?). So, if you're thinking of giving into the pull of this ancient citadel and hiking the Inca Trail to Machu Picchu, let me show you the way.
What is the Inca Trail and Machu Picchu?
The Incan Empire was the largest in pre-Columbian America. At its peak, it stretched from the southern tip of Colombia, through parts of Ecuador, Peru, Bolivia, Argentina and into central Chile. It was eventually destroyed by Spanish colonisation with the last Incan stronghold conquered by Spanish invaders in 1572.
The Inca's central government was located in Cuzco and their enormous Empire was connected by a sophisticated network of roads and trails. The Inca Trail, as it is referred to today, is a section of these ancient paths that joins Ollantaytambo and Machu Picchu – two major archaeological sites.
Machu Picchu is a former Inca citadel standing at about 2,430m (7972ft) above sea level on the steep, eastern slopes of the Andes mountain range in Peru. The complex consists of about 200 structures constructed of stone. It is believed to have been built in the 15th century and abandoned during the Spanish onslaught in the 16th century.
Machu Picchu was (re)discovered by the western world in 1911 when local indigenous farmers guided American explorer, Hiram Bingham, to the location. Bingham brought the archaeological ruins to the world's attention and in 1983 Machu Picchu was designated by UNESCO as a World Heritage site.
How long is the hike to Machu Picchu?
There are various options for getting to the incredible Incan city of Machu Picchu, high in the Peruvian Andes. You may be pressed for time or disinclined/unable to walk, choosing to access the amazing archaeological site via train.
However, those preferring to hoof-it chasqui-style (chasquis were Incan messengers who carried communications along the trail network), then let's talk about hiking to Machu Picchu.
The Classic Inca Trek is a 4-day, 3-night experience, but 2-7 day variations exist. The 4-day trail is 43km (26 miles) and mostly above the 3000m (9800ft) elevation where altitude sickness starts to affect most people.  Therefore a number of preparations are in order, but I will talk specifically about that in a minute.
When should I hike to Machu Picchu?
There are two seasons in the tropical, cloud forest where Machu Picchu is located: wet and dry.
Wet season is roughly November to March. It will likely rain several times per day and clouds will obscure some of the mountain views, particularly in the mornings. For obvious reasons, the wet season is a slower time for tourism. The Inca Trail is shut for a month annually in February (the second rainiest month of the year) for repairs and regeneration.
We hiked in mid-March on a particularly wet year and experienced two overcast/fine days and two rainy days, with mild temperatures. The major drawbacks were that the stone Trail becomes quite slippery in the rain—therefore good shoes and hiking poles are a must. Also, when we reached the top of Dead Woman's Pass on day two and the Sun Gate on day four, we couldn't see a thing because of the low clouds.
Dry season from May to October sees the highest volume of hikers. Machu Picchu is particularly busy during national holiday periods from late July to mid-August. Securing your permit well ahead of time becomes even more imperative and be prepared for cooler evenings too.
Do I need a permit for the Inca Trail?
Hiking to Machu Picchu is strictly regulated due to past overuse and damage to the Trail. You may only hike with a registered guide/tour operator and permit. There are 500 permits issued per day, broken down to roughly  200 visitors and the 300 guides/porters that will accompany them. Therefore, you need to nab your permit as far in advance as possible. This is done through your tour organiser.
The permit is personal, non-transferable and the cost includes your entry fee to Machu Picchu. You will need to provide your full name, passport number, age and nationality to your agent for them to secure a permit on your behalf. You will also need to carry your original passport on the hike so your details can be verified.
How do I need to prepare physically for hiking to Machu Picchu?
Given the high altitude of the Inca Trail and the physical nature of this adventure, there are a few areas of health and fitness we need to address in preparation for your hike to Machu Picchu.
Altitude sickness
Firstly, altitude sickness is caused by a lack of oxygen which causes symptoms such as headaches, nausea, vomiting, dizziness and shortness of breath. Consult a doctor before you make plans to hike the Trail. They can advise you on  risk factors, preventative medications etc.
Giving yourself a couple of days to adjust to the altitude before embarking on your hike is a must! You don't necessarily have to be at complete rest for those days, just plan to take it easy and give your body the time to catch up. We spent two days of gentle exploring in Cuzco and the Sacred Valley before setting off on our hike.
Coca tea is also helpful for most people. You can chew on coca leaves but most travellers find the tea more palatable. Our hotel offered complimentary coca tea in the foyer and I would have 2-3 cups each day, along with the preventatives prescribed my doctor, and had no issues.
Trail difficulty and fitness
It pays to be in relatively good shape for the hike. While most of us cannot practise at altitude, we can build our general fitness and endurance to ready our bodies for the trek. The Trail doesn't cover great distances (generally less than 15km per day), but varies from moderate to strenuous. Steep climbs and descents with uneven terrain are the main challenges. For instance, day two's hike over Dead Woman's Pass is notorious for it's steep, uphill climb. It is also the watershed moment of the hike—you may turn back before the Pass or not at all.
Proper attire
The stone paths and stairs that line the Inca Trail are uneven and can be slippery when wet, so a good quality pair of hiking boots or trail shoes are essential. I had a major shoe incident on the Inca Trail – you can read more about my misadventure and lessons learnt about choosing the best hiking shoes for Machu Picchu here.
Medication
You should carry any medication with you at all times. Do not leave it with the porters, as they will be ahead or behind you on the Trail most of the time. Note, that it is mandatory for all tour operators on the trek to carry a first aid kit, oxygen balloon, rescue ropes and water filters among other items.
What is the 4-day hike to Machu Picchu like?
Here is a brief overview of what to expect from each day on the Trail including approximate hiking distances, grade and additional sights to look forward to along the way. Note, there may be slight variations between tour operators.
Pre-departure
This will vary depending on the tour agency. Most companies dispense a guide or other representative a couple of days beforehand to your hotel in Cuzco. They brief you on the hike and answer any last questions. They may also provide small duffel bags for you to pack the items that the porters will be carrying on your behalf.
Day 1
Travel from your accommodation in the Sacred Valley to the trailhead at Km.82 (the entry checkpoint for the 4-day Trail). After getting your permit checked and novelty Inca Trail passport stamp, hike along the Urubamba Canyon to the first campsite outside the village of Huayllabamba. Along the way you will pass Llactapata (translating to 'high town'), a 16th-century archaeological site featuring the remnants of agricultural terraces and residences.
Distance: 11km (6.8mi)
Elevation gain: 350m (1148ft)
Difficulty: Moderate
Day 2
This is the most infamous day of the Inca Trail, with the traversing of Warmiwañusca "Dead Woman's Pass" to the second campsite. Warmiwañusca is the highest point on the Trail at 4200m (13,776ft) and with clear skies should offer views of the snowy peaks and valleys of Huayanay massif.
Distance: 12km (7.5mi)
Elevation gain: 1115m (3658ft)
Difficulty: Strenuous. This is the most difficult day of the trek.
Day 3
On this day you will pass three sets of scenic ruins on your way to the third campsite: Runkurakay, thought to be a rest station for messengers along the ancient trade route; Sayacmarca, believed to be an ancient village; and Phuyupatamarca, meaning "town in the clouds".
Distance: 15.5km (9.6mi)
Elevation gain: -1000m (-3280ft)
Difficulty: Moderate with some strenuous uphill sections.
Day 4
A very early start, about 3am, is required to reach Inti Punku "Sun Gate" for sunrise, the most spectacular view of the hike (unless its cloudy). You will also pass Wiñay Wayna, another ruin overlooking the Urubamba River. Though the clouds ruined our sunrise, by the time we reached Machu Picchu they had cleared and we were happy to have the place to ourselves and our closest 200 hiking friends before the larger crowds arrived.
Distance: 5km (3.1mi)
Elevation gain: 336m (1105ft)
Difficulty: Moderate
Return journey
After exploring Machu Picchu, you will take a shuttle bus ride to the nearby town of Agua Calientes. Depending on your arrangements, you may stay here overnight or board the train back towards Cuzco. More on the train coming up.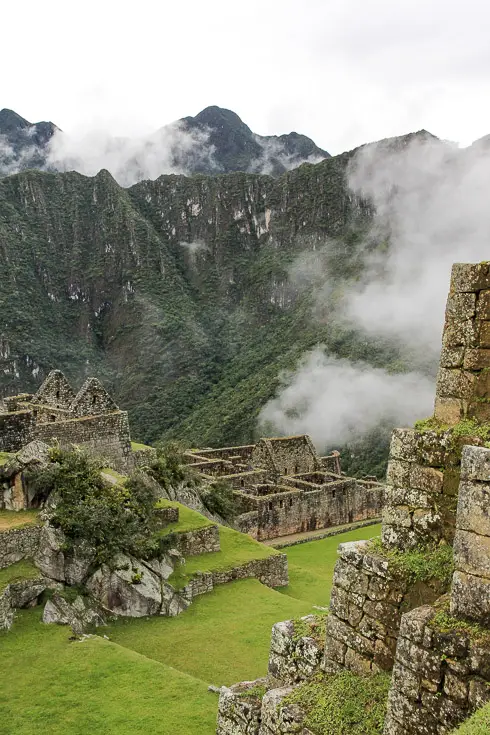 Inca Trail Map
What kind of accommodation can I expect on the Inca Trail?
There is only one type of accommodation on the Inca Trail–it's camping all the way. Two-person tents are shared either by couples/consenting co-travellers or an assigned person of the same gender. Though, you may pay extra to have your own, one-person tent.
Tents are carried, set up and dismantled by the amazing porters each day—it's quite luxurious in that sense!
There are variances between companies when it comes to the supply and carrying of sleeping equipment. In our case, the company supplied all equipment–tents, sleeping bags and mats—and the porters carried it all. I took a sleeping bag liner for hygiene purposes. For others, each hiker may be responsible for providing and/or carrying items such as their sleeping bag.
Wait, does that mean I have to carry my own camping equipment, food etc?
In addition to a guide (or two depending on group size) and a cook, porters will be assigned to carry most of your needs along the Trail. Each porter is limited to 20kg pack weight in order to protect their health and wellbeing. This includes all the tents, food, cooking equipment and 4kg each of their own personal items. They will also carry some of your personal goods so you can hike with just a day pack. That is why it is important for you to stick to the weight limit advised by your tour agency. Each porter is weighted at the start of the trail and again at the beginning of day two. They may receive fines for carrying too much.
Porters are usually Quechua people. They are mostly local farmers who are trying to earn some extra money while they wait for their crops to grow. They are generally sweet, soft-spoken people and in our experience don't speak any English and very little Spanish. Your guide will often speak all three languages and be your go-between.
Porters have been prone to mistreatment and exploitation in the past, hence minimum wages (about USD15 per day) and load limits have been instituted by the Peruvian government. Extend a hand of friendship by taking coca leaves on your hike and offering them to your porters. If you can, also learn a few words in Quechua to show your appreciation and respect for their difficult job.
Are there toilets and showers on the Inca Trail?
Sigh. Probably my least favourite part of the trek was the bathroom situation. Each campsite has facilities, typically in the form of squat toilets. Unfortunately, most were overused and under-cleaned.
The worst was the final evening. There were two regular toilets and two showers available, which got overrun early on, as 200 hikers vied for plumbing. An hour after we arrived at camp, the toilets were overflowing and unusable.
The terrific agency we hiked with had the porters bring us a bucket of clean, warm water each morning and even delivered it to the front of our tent. This was perfect for a modest wipe down that kept us relatively fresh compared to many of the other hikers.
They also carried a porter potty for those nights when the bathrooms were overwhelmed. Don't expect this from every tour provider though, especially if you are travelling in a large group.
Lastly, the bathrooms at Machu Picchu will cost you 2 sole to enter, so make sure you have the change read!
What is the food like? Where can I access drinking water?
We spent a month in South America on this particular trip, and honestly, some of the best meals we had were on the Inca Trail, hiking to Machu Picchu. This has been the sentiment of other trekkers I've talked to over the years, as well. It's evident the cooks that work the Trail are incredible! Ours created delicious, fresh and filling meals three times a day. Each morning we were also given us a little snack bag to carry on our hike. We never had a complaint or went hungry.
We carried reusable water bottles on the Trail and were supplied with safe drinking water to refill them each morning and evening at camp. If you want to drink something other than water and coca tea, you will need to purchase them in advance and carry these with you.
Should I tip my team?
Traditionally, porters receive tips on the last night of the trek because they take a more direct route back the following day. It is recommended that each porter receives 30-35 soles (USD8-10)—this is a combined amount from everyone in the group. Most groups will organise a collection at dinner and then present their tips in an informal thank you ceremony. Guides and cooks are usually tipped a little more, around 30-55 soles (USD8-15), contingent on how well you feel they did their job.
Which train should I take from Machu Picchu to Cuzco?
There are two rail providers that service the route: Inca Rail and Peru Rail. They are quite comparable so let's take a quick look at both.
Peru Rail
Peru Rail offers three classes of service: Expedition is your bare-bones no-inclusions train; Vistadome includes some snacks, a drink, and a short, live cultural show; while Hiram Bingham is your luxury version with all the frills including your ticket into Machu Picchu and is really intended for the day-trippers. We enjoyed the extra inclusions and comfort of the Vistadome after the hike. Compare Peru Rail services here.
I recommend booking the earliest train out of Aguas Calientes. After a 3am start on the Trail, you are going to be aching for a shower and a bed. It's quite a trek back to Cusco, so an earlier train is better (or you will end up snoozing on a bench at the train station like me).
Also, be aware that Poroy Station is actually about a half-hour drive outside of Cusco—so you need to ensure an extra transfer is booked to get you the final leg into your Cusco hotel, especially if you are getting in late at night.
Inca Rail
Inca Rail offers four classes of service: Voyager is the most basic including a snack and drink on some journeys; The 360˚ includes a boxed lunch and drink, with WIFI and InTrain entertainment system; and The First Class offers a "gourmet meal", bar and drinks, live music and your bus ticket to Machu Picchu. The fourth class is The Private – the kind of "if you have to ask how much, you can't afford it" experience. Compare Inca Rail services and see timetables here. Note: you can book Inca Rail tickets online but they need to be collected in person at either Cusco Airport, Plaza de Armas in Cusco, Ollantaytambo train station or the Aguas Calientes train station.
Inca Rail offers a bimodal (train and bus combo) option that connects in Ollantaytambo. This solves the connection hurdle that Peru Rail has with Poroy Station being located outside of Cusco proper. The downside of Inca Rail is that it doesn't run as many train services each day, so departure times are more limited than Peru Rail.
How much money should I take on the Inca Trail?
Tour inclusions vary. Here are a few items that you should budget for or at least check with your agency in advance.
Snacks and drinks.
Tips for porters, cooks and guides (more on that in a second).
Toilet entry at Machu Picchu – 2 sole (USD0.55).
One-way ticket on the shuttle bus from Machu Picchu to Aguas Calientes – 45 sole (USD12).
Lunch at Aguas Calientes.
Do I need travel insurance?
I never leave home on any international trip without travel insurance, let alone when we are doing something more adventurous like hiking to Machu Picchu. When shopping around for coverage, check that your insurer covers high altitude hiking. To cover our frequent travels, we take out an annual travel insurance policy with Seven Corners including their Hazardous Activities add on. Don't forget to take your insurance policy details with you on the hike, including policy number and emergency contact number.
Can I carry my luggage/backpack on the hike?
What is the acronym the cool kids are using these days? ROFL – that's the one. I'm not laughing at you, I'm laughing at the people who DIDN'T ask, or defied the advice they were given. Sure, you can carry your fully loaded backpack. Many a trekker has tried it. That's why there are some entrepreneurial porters who wait at the first day's rest stops for when you decide it was a REALLY bad idea and they can charge you extra to carry your pack. Seriously. Don't spoil the trip by insisting on carrying all of your gear—you don't need it and it won't save you any money.
If you're still with me after all that, I think you have shown the commitment needed to hike the Inca Trail! That should cover all your questions, but if you've got more, feel free to drop them in the comments below. My last word of advice is to ensure you book a day or two in your itinerary to recuperate afterwards.
Peace, love & inspiring travel,
Madam ZoZo