Explore two fascinating desert landscapes, the San Andreas Fault, an Old West movie set and more in a Joshua Tree day trip. This one-day itinerary will take you through the top sights and experiences plus how to prepare for your Joshua Tree National Park adventure.
Disclosure: I may earn compensation from the purchase of any product or service linked on this website, at no extra cost to you. I only link to products I use and love, therefore feel comfortable recommending.
Joshua Tree National Park primer
Joshua Tree covers areas of two deserts—the Colorado and Mojave. The Colorado Desert is a subregion of the Sonoran Desert, so you may see it referred to by either name. This is important to note because the eastern half of the Park that is the Colorado Desert, has different geology, flora and fauna to the western Mojave Desert and the difference is quite notable. Most importantly, you will only see the namesake Joshua Trees in the Mojave section of the Park.
Joshua Trees are not actually trees or cacti but a species of yucca, Yucca brevifolia, a member of the Agave family. Oft-repeated stories of "Joshua Tree" etymology speak of Mormon settlers crossing the Mojave Desert during the mid-19th century and seeing the tree's limbs as a reminder of a Biblical story where Joshua reaches his hands up to the sky in supplication. For those of you who prefer more historic accuracy, Joshua Tree resident and environmental reporter Chris Clarke challenges this story in this interesting read.
Getting to Joshua Tree
Joshua Tree National Park is easily accessible for a day trip out of many Southern California locations. The drive from Palm Springs is approximately 1hr, 2.5hrs out of Los Angeles and less than 3hrs from San Diego. You can also drive from Las Vegas in 3.5hrs but to me, that is crossing the boundary of a day trip distance and you may want to plan to spend overnight somewhere closer to the Park.
Joshua Tree day trip itinerary
Fault seeking – a morning detour
For those fascinated by earthquakes and who want to see the infamous San Andreas Fault, it isn't that obvious – that's the bad news. The good news is that one of the best ways to see and experience the fault is at Coachella Valley Preserve near the southern entrance of Joshua Tree. Within the Preserve is Thousand Palms Oasis, a grove of fan palm trees and other vegetation living off the water from a spring being forced to the surface through the San Andreas Fault. There are a number of walking trails within the Preserve and you'll have to tear yourself away to continue on to the main event: Joshua Tree National Park.
Joshua Tree National Park
Make your way through the southern entrance of Joshua Tree NP near Cottonwood Spring, stopping at the Cottonwood Visitor Center to purchase a Park Pass (if you don't have one already), pick up a map and get the latest Park updates such as closures and alerts. Depending on the time of year and how far you've travelled to get to Joshua Tree, you may want to take an easy, 10-minute leg stretcher to Cottonwood Spring, a 0.2km (0.1mi) wander to a fan palm oasis known for great birding. If you went to Thousand Palms Oasis, you can happily skip this without any FOMO and continue travelling by road through the Park.
A rock arch and a cactus garden
Follow Pinto Basin Road north, stopping at Cholla Cactus Garden and using the various pull-outs to take photos of the incredible landscapes along the way. Cholla Cactus Garden offers an easy 15-30 minute trail through a unique stand of Teddy Bear Cholla. Beware of those prickles and wear closed-toe shoes.
Arch Rock is another easy loop of about 0.8km (0.5mi) that takes you to a natural arch formation in Joshua Tree's glorious sandy-coloured granite. While the arch itself can't quite compete with Arches National Park in Utah (if you've been), this is undoubtedly a beautiful hike. I recommend getting there early if you want great pictures as this is a very popular spot. Also, you can take a short diversion to Heart Rock from this trail.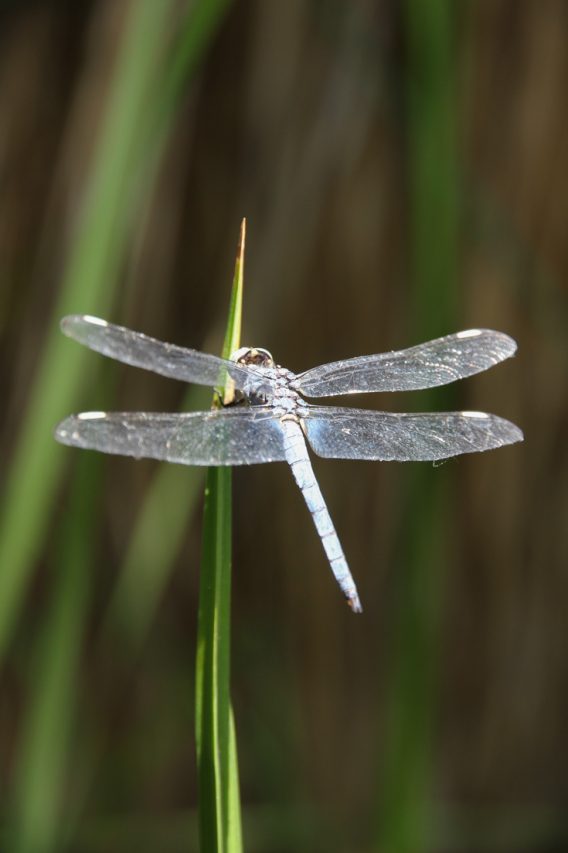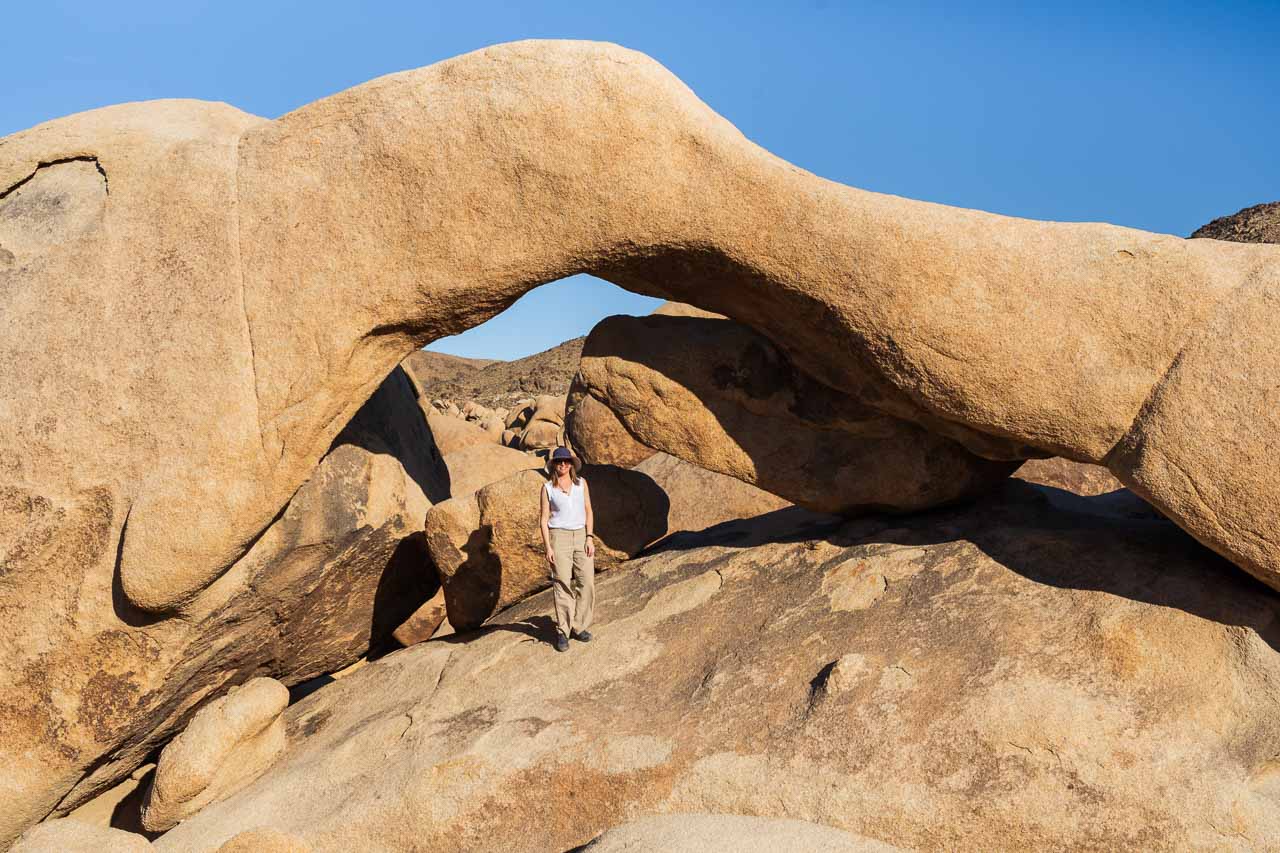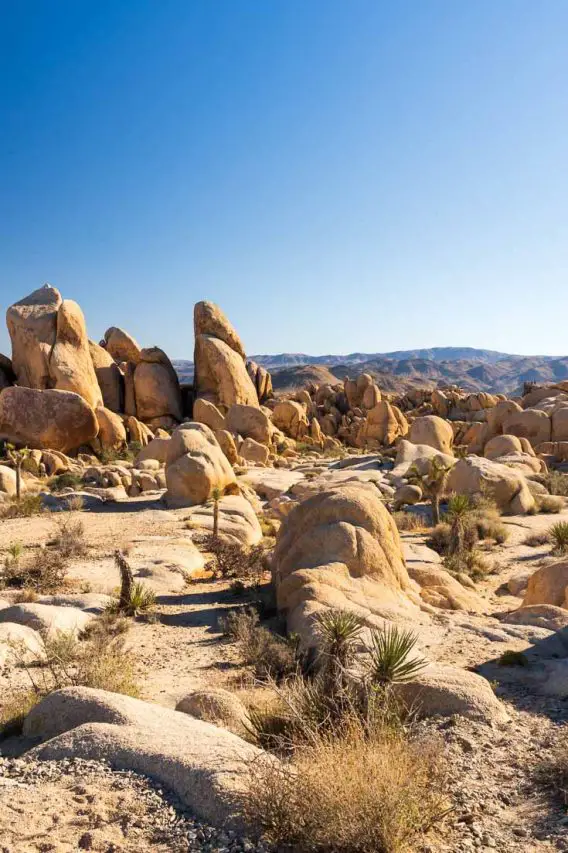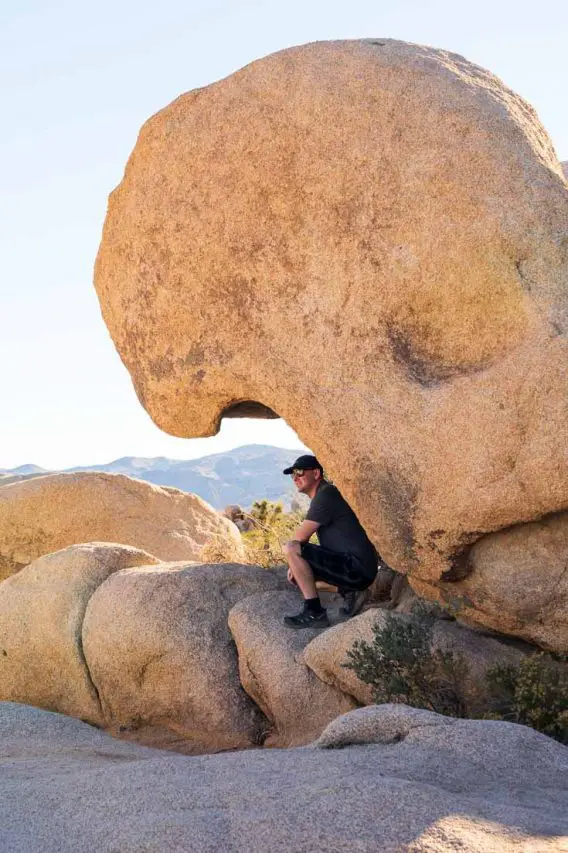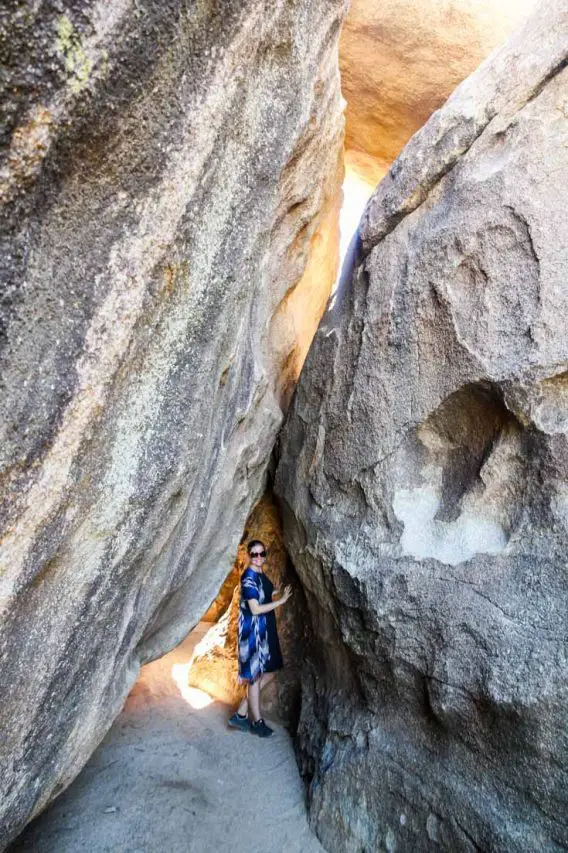 Boulevard through the boulders
Next, on your Joshua Tree day trip, take a left at Park Boulevard to see geological sights such as Split Rock, Skull Rock and Hall of Horrors for some fun scrambling over boulder mounds and taking in the surrounding views. As you have now transitioned from the Colorado Desert to the Mojave Desert you'll start to see Joshua Trees – yes, finally some actual Joshua Trees! Bypass Keys View for now (we will come back to that).
Hike my favourite spot in the entire Park, a short 1.6km (1mi) loop around Hidden Valley. The rock enclosed Valley feels like an intimate sanctuary in the great expanses of desert, but still offers the thrill of discovery. Hidden Valley and surrounds are obviously the inspiration for some of the beautiful desert landscaping we saw around Palm Springs homes, like the Kaufmann Desert House.
Should you still have time, Barker Dam is a close second to Hidden Valley with similar flora, fauna and geology but more expansive as it doesn't have the cozy, natural rock enclosure. The old dam itself is less than impressive, but the trail views are lovely.
The key to amazing sunset views
As sunset nears, it's time to double back to Keys View. Here you'll find spectacular vistas of the Coachella Valley and a distant view of the Indio Hills that line the San Andreas Fault. See this picture published on the Joshua Tree NP Facebook Page. If you are unfortunate like us on our first trip to Joshua Tree NP, your Keys View sunset may be foiled by aggressive bees! Seriously, they closed the road and we understood why after we came across one or two of these pugnacious insects in other locations – you definitely don't want to meet the whole colony. This is also a great reminder to check Park alerts and heed official warnings.
Old West movie sets
If you still have the energy or you're Keys View sunset didn't turn out here's a fun alternative to finish up your Joshua Tree day trip. Follow Park Boulevard out of Joshua Tree through the northern entrance, exiting left onto the CA-62 and then hang a right at Pioneertown Road in Yucca Valley. This detour will take you into a town created by Hollywood investors in 1946 for location shoots of Old West films. Take an exploratory wander around the "old west" streets before having dinner at Pappy and Harriet's Pioneertown Palace. We were exhausted by this point in the day and after a late lunch decided to skip dinner altogether, but this place has an undeniable reputation for good live music and famous faces popping up on occasions.
Things to take on your Joshua Tree day trip
Most of the hikes you will do on a Joshua Tree day trip will be brief, however, the dry air and heat is no joke. Here's what to wear and put in your pack:
Sturdy footwear with covered toes. Loose fitting, light-coloured clothing in breathable fabrics such as cotton and linen. Don't rely on sunscreen, wear something that covers your shoulders and arms.
Wide brim hat in summer and a warm hat in winter, sunglasses and sunscreen are also essential.
Map and compass, the internet is non-existent so relying on Google is futile.
Plenty of food and water. Park officials recommend 4L (1 gal) of water per person minimum. Our strategy was to pack two huge bottles of water in a cooler with ice that remained in the car and used them to top up our smaller water bottles which we carried around on the trails.
Rain gear and warm clothing depending on the season.
Matches and/or a lighter.
First-aid kit including any of your regular medications.
Flashlight/headlamp.
Shade – a beach umbrella, small canopy, whatever you have access to. Shade in Joshua Tree is all but non-existent.
Full tank of fuel.
Reflector or sunshade for your windshield to keep your dash, steering wheel and seats cool. Even just a towel to throw over your seat and the steering wheel help. It takes no time for them to become unbearably hot while you're out on a trail.
Binoculars and camera.
Remember to take nothing but pictures and leave nothing but footprints. Enjoy your Joshua Tree day trip and leave any questions in the comments below. If you are a U2 fan looking for THE Joshua tree, you can read more about that in A Desert Pilgrimage to U2's Joshua Tree.
Peace, love & inspiring travel,
Madam ZoZo