Every two-three years a special summer event happens. The Mosaïcultures Internationales de Montréal presents an exhibition of living sculptures beyond anything you've ever seen. The Canadian non-profit organisation is a leader in the artform of Mosaïculture. Their biennial showcase draws hundreds of thousands of visitors to a seasonal display of art cultivated with millions, literally millions, of living plants!
What is mosaïculture?
Mosaïculture, as the art form is called in French, involves bedding plants into mosaic-like forms to represent two- and three-dimensional images i.e. living sculptures.
The technique is historically rooted in embroidered flower beds that composed Renaissance gardens and grew in popularity through the Victorian period–imagine French formal gardens like the parterres of Versailles!
Though mosaïculture fell out of fashion during the early 20th-century it has made a recent return, evolving into ever more complexity and difficulty to execute.
Creating living sculptures
The photos in this post come from the 2017 exhibit, MosaïCanada 150, celebrating the 150th anniversary of Canada's confederation. To create the kind of larger-than-life figures like those featured in MosaïCanada 150, steel frames are formed and covered with mesh. The mesh supports a heavy layer of moss and soil that is seeded with plants. Water is delivered to the flora through an underlying network of irrigation channels.
Creating a living sculpture involves the plant knowledge of a horticulturalist; colour theory of a painter; and the understanding of structure and volume like a sculptor. Plants need to blossom in the right place, at the correct time to bring the sculptures to life. Annuals are used, as opposed to flowers, to ensure the sculptures are blossoming throughout the length of the exhibit. This is not an art form for the faint-hearted!
MosaïCanada 150
Upon arrival at Ottawa airport, our friendly cab driver was raving about MosaïCanada 150, but I struggled to grasp what it was really about. The next day I wandered over the Ottawa River to see for myself. What I saw, blew me away! Following the one-kilometre garden path, I witnessed a display of living sculptures immense in size and detail, representing Canadian culture.
From Anne of Green Gables, to the folklore of the First Nations people, thirty-three artworks represent Canada's ten states and three territories. There are also contributions from Beijing and Shanghai, China which do not fail to impress. This exhibit of living sculptures celebrating Canada's 150th anniversary took $10-million, 100 gardeners and 3 million plants to create!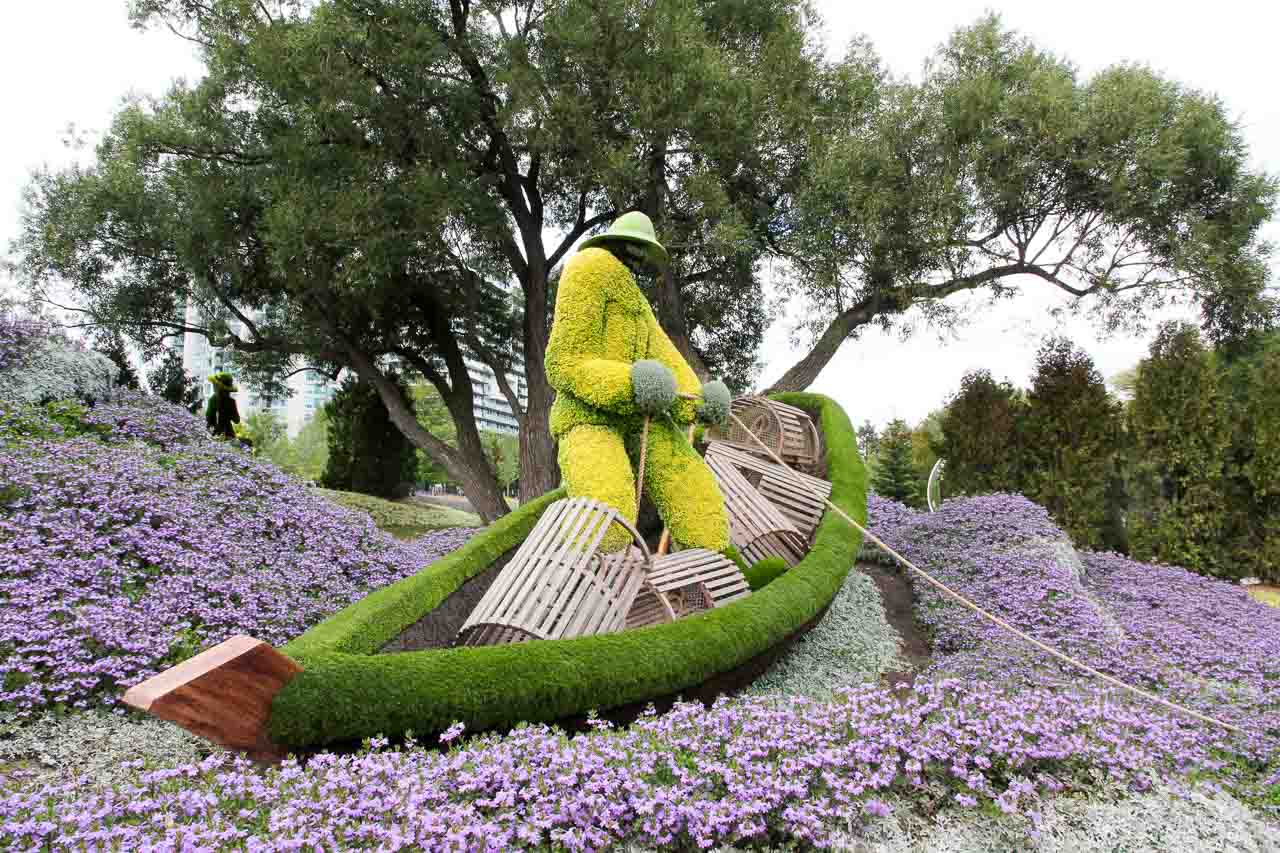 The summer 2022 Mosaiculture exhibit was hosted by Quebec City, so keep an eye out in 2024 for the next event. For things to do in Ottawa, pop on over to this City Guide for more on the Canadian capital.
Peace, love & inspiring travel,
Madam ZoZo