Mexico City and Oaxaca are two of the most vibrant and culturally rich cities in Mexico. With this 8-day itinerary, you can explore the best of both cities. From the architecture and museums of Mexico City to the markets and delicious cuisine of Oaxaca. Get ready for an unforgettable adventure!
Mexico City and Oaxaca Itinerary
Day 1: Explore Mexico City's Historic Centre
Begin with a walking tour of the Historic District (Centro Historico)—the perfect introduction to Mexico City. A walking tour through this UNESCO World Heritage urban space will provide you with some initial insight into the history, culture and architecture of the Mexico's capital.
A typical walking tour through the historical heart of Mexico City, will cover the iconic Zócalo (main plaza) including the Metropolitan Cathedral and National Palace. You'll likely walk the pedestrian-only Madero street with well-known buildings such as the House of Tiles, and pass by Templo Mayor, the remains of an Aztec temple in the heart of the city.
After lunch, get a top-down view of Mexico City from the 44th floor observation deck of the Torre Latinoamericana tower. On a day with good visibility (Mexico City can get smoggy), the viewing platform offers expansive views to the distant volcanoes. You can also pick out smaller architectural details of the buildings right below including the stunning Palacio de Belles Artes. The observation deck is open 9am-10pm and will set you back MXN180 (about USD10) for adults.
Next you have time to explore one of Mexico City's many museums. I have included the must-see National Museum of Anthropology in day two of this itinerary. Here are some other museums in the downtown area you might consider:
In the evening, enjoy a performance of the Ballet Folklorico at the Palacio de Bellas Artes or catch some Lucha Libre.
Day 2: Visit the Chapultepec Castle, National Museum of Anthropology and La Casa Azul
Start your day in Chapultepec Park (Bosque de Chapultepec). This 1695-acre green space encompasses botanic gardens, parkland and various museums. Begin by walking to the top of Chapultepec Hill to visit Chapultepec Castle. The Castle itself is a museum and houses the National History Museum. For more details on visiting the Castle, see this post: Chapultepec Castle: A Mexico City Must-See.
While you are still in Chapultepec Park, spend an hour or so in the National Museum of Anthropology. Here you'll discover Mexico's many indigenous groups and their fascinating cultures. One of the Museum highlights is a Colossal Olmec Head!
IMPORTANT NOTE: Museums in Mexico are closed on Mondays, and are generally free for Mexican citizens and residents on Sundays which makes them busier. Plan your itinerary accordingly.
Make your way to Coyoacán, a well-to-do neighbourhood of Mexico City. Explore the Mercado de Coyocán for a delicious lunch at one of the many vendors there.
Only a few streets away you'll find Museo Frida Kahlo aka La Casa Azul (The Blue House). The artist's childhood home and final resting place is open as a Museum. Book your tickets in advance to avoid the long lines and arrive nice and early for your time slot. Get more tips for visiting and a preview of La Casa Azul here.
Spend your evening exploring Mexico City's incredible culinary scene and maybe take in some Mariachi music at Garibaldi Square. Security tip: Get yourself an Uber or private taxi to/from Garibaldi Square – don't walk no matter how close it seems. Make sure you secure any valuables you may be carrying. Thieves are common in the area around the plaza.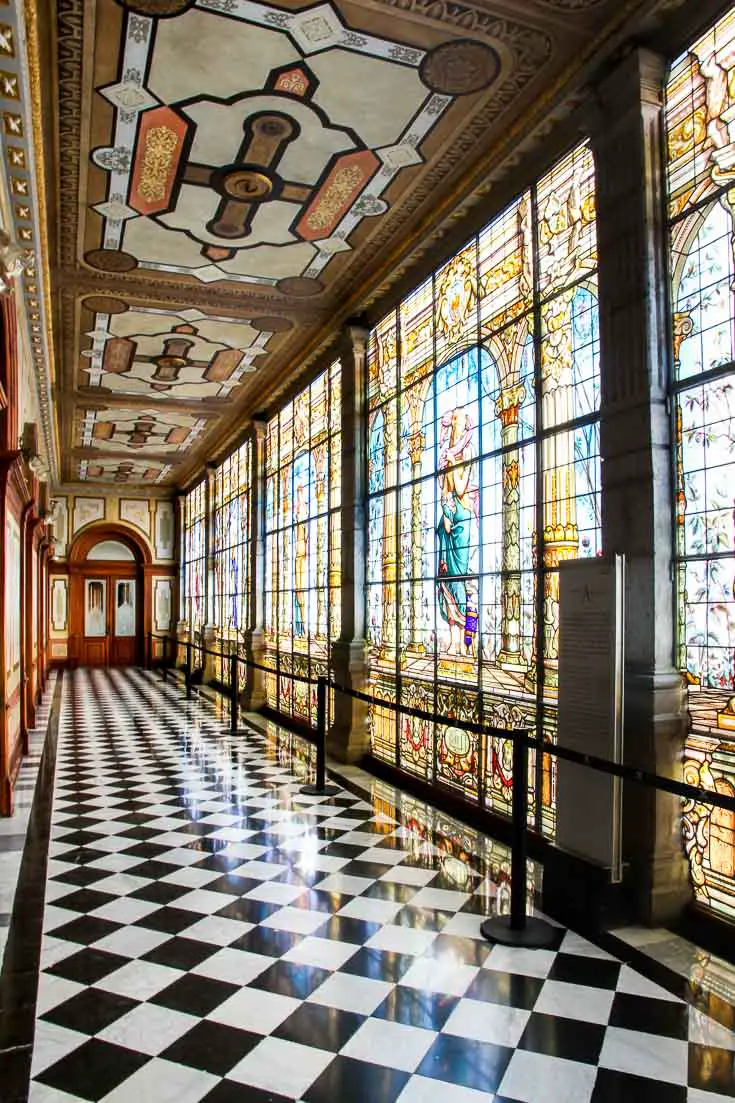 Day 3: Take a half-day trip to amazing Teotihuacan
On day three or our Mexico City and Oaxaca itinerary, make your way to Teotihuacan about an hour northeast. This archaeological site boasts one of the largest pyramids in the world. The ancient city was revered by the Aztecs who found it abandoned and even today, very little is known about its original inhabitants.
The complex officially opens at 9am and it's best to arrive right at opening time when the temperature is cooler and crowds are low. For a full visitors' guide, see these Fool-Proof Tips for Visiting Teotihuacan from Mexico City.
Return to Mexico City for a late lunch and spend the rest of the day revisiting any under-explored places from your first-day walking tour or take in another museum from the earlier list.
Day 4 – Introduce yourself to Oaxaca City
Check out of your Mexico City accommodation and fly to Oaxaca City, the capital of Oaxaca State. A morning flight is preferable to give you time in the afternoon for sightseeing. Upon arrival, check into your accommodation and get some lunch.
Spend the afternoon, taking a walking tour to get acquainted with the City's colourful streets and top sights. We took a great pay-as-you-wish tour with Raul from Oaxaca Free Walking Tour. He led us through some historic and architectural sights of his home city known mostly to locals and away from the typical tourist trail.
Enjoy an evening meal at one Oaxaca's wonderful food establishments. Oaxaca is the food capital of Mexico afterall, so you'll be spoilt for choice.
Day 5 – Take a cooking class and explore the City
Since we are in the foodie centre of Oaxaca, feed your appetite with a cooking class. I recommend a 4-5-hour class including shopping the local markets and learning about ingredients, participating in the kitchen and finally, sitting down to a glorious meal!
Walk off your delicious class with a wander around the Oaxaca zocalo and historic district. You might visit the small Textile Museum (Museo Textil de Oaxaca) or Contemporary Art Museum (Museo de Arte Contemporaneo de Oaxaca). Shop the City's many markets such as Casa de las Artesanias Oaxaca, Mercado 20 de Noviembre or Mercado Benito Juárez. Also, take a look inside the beautiful Templo de Santo Domingo de Guzmán. There are many beautiful churches in Oaxaca City, but this one has the most elaborate and impressive interior.
Day 6 – See a petrified waterfall and unique archaeological sites
For the remaining 3-days of this Mexico City and Oaxaca itinerary we will use Oaxaca City as a base for day trips to other parts of the State. There are many great sights within easy reach of the city including artisan villages and natural wonders. There are many companies running small bus tours with fairly similar itineraries, so shop around.
The first of our day tours will take you to El Arbol del Tule, Mitla and Hierve El Agua. El Arbol de Tule is a tree with an enormous trunk of 42.0 m (137.8 ft) in circumference. It grows in a scenic churchyard is just a short stop on the way to Mitla.
Mitla is considered a very important Zapotec archeological site. The Zapotec people established Mitla as a burial site but it also shows signs of Mixtec influence. The site is best known for its unique geometric panels and friezes made from cut and polished stone pieces fitted together in a mosaic without mortar. There are no other sites in Mexio that exhibit this kind of decorative work.
No doubt, you tour will also include a visit to a Mezcal distillery, as this is an inclusion of most tours in the region.
Day 7 – Tour Oaxaca's artisan villages
Next in our line-up of day tours is a trip to the artisan villages such as San Bartolo Coyotepec, San Martín Tilcajete, Santo Tomás Jalieza, San Antonino Castillo Velasco, Ocotlan de Morelos and Minas. All of these village specialize in a different type of craft.
For instance, in Santo Tomás Jalieza they are masters of creating textiles from a backstrap looms. While San Bartolo Coyotepec creates a unique black clay pottery and San Martín Tilcajete artisans carve and paint wooden sculptures called alebrijes.
It is ideal to schedule this tour for a Friday because this is when the weekly central market takes places in Ocotlan de Morelo. This market along with some of the sights around the town itself are a highlight of this tour, especially if you love people-watching.
Day 8 – Visit the ancient ruins of Monte Albán
On your final day in Oaxaca, make an outing to the Zapotec archaeological site of Monte Alban. The well preserved ruins are only about 20-minutes drive from Oaxaca City's historic district. Depending on the pace of your exploring, allow half a day.
You don't need a tour to visit Monte Alban, it is easy to get a shuttle bus ticket from Lescas Co Travel Agency, which run a regular return shuttle service. Book with them at their office on the zócalo, opposite the Cathedral of Our Lady of the Assumption. A return ticket for the shuttle bus will cost about MXN80 (approx. USD4.50) allows about 2.5-hours onsite. You can hire a guide at the entrance, or show yourself around, there is plenty of signage in English.
Notes on this itinerary
Let's run through a few practicalities and answer some common questions.
How much time do I need?
This is a 7-day itinerary but you will need to add a day or two on either side for transit to/from Mexico. The number of additional days will depend on your point of origin. You could easily fill more time in and around both cities if you have some to spare. This Mexico City and Oaxaca itinerary is the recommended minimum because you are going to fall in love with these destinations and there is soooo much to do!
How far is Oaxaca from Mexico City?
Assuming by Oaxaca, you mean Oaxaca City, they are about 6.5-hours apart by road, or a 1.25-hour flight.
How to get from Mexico City to Oaxaca?
You can rent a car and drive (not always the safest option); take a bus if you have the time; or fly for the fastest and most efficient inter-city travel. Depending on when you are travelling, a one-way bus ticket costs about the equivalent of USD30 and a one-way flight about USD50.
How to get around Mexico City?
Mexico City's Centro Historico is a flat and walkable. To get further afield to places like Chapultepec Park, you can take the Metro or rideshare. Taxis are not the safest, Uber is widely regarded as a better, more secure, way to get around by private car. There is no Lyft.
Getting from Benito Juarez International Airport (MEX) to downtown can be done by Metro, private transfer or rideshare (Uber, Bolt or Cabify). There are also select taxi companies who are licensed to operate within the airport and that have set, prepaid rates. You prepay for these taxis at a kiosk in the arrivals hall and use the official taxi pick-up area to get a licensed cab. Most drivers don't speak English, so it is helpful to have the name and address of your destination written in Spanish with you.
How to get around Oaxaca?
Oaxaca City itself is very walkable and you will most likely only need a ride to and from the airport or if you are out late at night. Note, there is no Uber or Lyft in Oaxaca.
Xoxocotlán International Airport (OAX) is a 15-20min taxi ride to the historic district. Only an authorized transfer service will get you out of the airport (you can take any taxi into the airport). A shared transfer to the historic district is MXN240 per person (approx. USD12), or MXN650 (approx. USD34) for a private service.
For day trips, you can book yourself on small tours as suggested above, or rent a car. Although consider carefully before driving yourself and do some research on driving conditions and safety.
What is the weather like?
Both Mexico City and Oaxaca City are sub-tropical in climate, and are located at altitude. Mexico City is about 600-metres (2000-feet) higher in altitude than Oaxaca City and further from the coast. Therefore it stays a little cooler and less humid year-round.
Mexico City weather
Mexico City is comfortable to warm during the day and cooler at night. May through October is the wet season, which is warm and often overcast with higher rainfall. May is generally the hottest month with average temperatures ranging from 13-26°C (55-79°F). During the dry season, November to April, temperatures are comfortable during the day, with cool evenings and partly cloudy skies. January is the coldest month with an average temperature range of 6-22°C (43-72°F).
Oaxaca City weather
Oaxaca City is generally warm to hot during the day and cooler at night. Through summer, June to August, is the wet season and average temperatures range from 13-31°C (72-89°F). Winter temperatures average 8-28°C (63-83°F) with less rainfall and clearer skies.
What is the best time to do this itinerary?
Generally, the transitional seasons are a good time for this itinerary. Spring (March to May) and autumn (October to November) offer a good balance of comfortable weather conditions and cultural events.
If you do plan your trip around one of the various holidays such as Easter or Mexican Independence Day, they may impact your itinerary. Sights and restaurants may be closed and accommodation will often book out, so do some research around your preferred dates and tailor this itinerary accordingly.
Enjoy these two amazing Mexico destinations and let me know how you enjoy this Mexico City and Oaxaca itinerary in the comments below.
Peace, love & tacos,
Madam ZoZo