Washington State's Olympic Peninsula is a diverse and exciting destination for nature lovers. Boasting one of USA's top 10 most visited National Parks, plus scenic historic townships, lavender festival and pop culture ties—there is so much to see and do! This 4-day Olympic Peninsula road trip will guide you around the region's highlights, all in the space of one unforgettable long weekend.
Disclosure: I may earn compensation from the purchase of any product or service linked on this website, at no extra cost to you. I only link to products I use and love, therefore feel comfortable recommending.
Where is the Olympic Peninsula?
Olympic Peninsula is located in the west of Washington State. It is a wide promontory surrounded on three sides by Puget Sound, Salish Sea and the Pacific Ocean.
What is the best time to visit the Olympic Peninsula?
The best time to visit the Olympic Peninsula is during late-Spring through to Autumn (May-October).
Winter is characterized by high levels of snowfall in the mountains and rain in temperate forests. Some of the roads, campgrounds and trails will be closed from October through to May.
Summer is the warmest and driest, but also the busiest tourist season. The limited accommodation becomes expensive and books up well in advance. There may be long queues to enter some parts of the National Park such as the Hoh Rainforest. July is the time to see lavender in bloom.
Spring weather can be unpredictable and still quite rainy until late in the season. The upside is fewer visitors, gushing waterfalls and active wildlife.
Autumn too is wet and temperatures drop off steeply in mountain areas. The rain is worth enduring for fall colours in October.
How to get to the Olympic Peninsula?
The nearest major airport to the Olympic Peninsula is Seattle-Tacoma International Airport. From there you can drive through the cities of Tacoma and Olympia to reach the Peninsula or utilise one of various ferry services to cut across Puget Sound.
Relevant ferry services run from Seattle to Bainbridge Island and Bremerton; or from Edmonds to Kingston. Taking the ferry may or may not be a shortcut depending on how busy they are. In peak periods, lines for the ferry can be as long as it would take to drive the entire way around, so book in advance or keep an eye on wait times via the Washington State Department of Transportations (WSDOT) website and/or Washington State Ferries Twitter.
Canadian visitors can take the Coho Ferry from Victoria, BC to Port Angeles.
Top things to do on the Olympic Peninsula
Visit Olympic National Park
Many of the Peninsula's top sights and experiences are located in Olympic National Park, including mountaintop vistas and hiking trails on Hurricane Ridge; various types of forest ranging from temperate rainforest to lowland old growth; scenic lakes perfect for kayaking, SUPing and other water-based activities; incredible driftwood-strewn beaches where you can view amazing sunsets; not to mention waterfalls galore! See a detailed guide to Olympic National Park here.
Engage with indigenous cultures
Nine Native American tribes call the Olympic Peninsula home. There are two large reservations where indigenous people reside on the Peninsula – Makah and Quinault. Visit the Makah Museum for more insight into First Nations history and culture on the Olympic Peninsula.
Note: Not all tribal lands are open to visitors. Check their websites before visiting: Makah Tribe, Quileute Tribe, Quinault Indian Nation, Skokomish Tribe, Squaxin Island Tribe.
Visit the USA's most northwesterly point
Cape Flattery is the contiguous United States' most northwestern point and is located on the Olympic Peninsula. The Cape is on the Makah Native American Reservation which is open to visitors. You will require proof of vaccination and a $20 Recreation Permit that can be purchased in Neah Bay.
Explore historic Port Townsend
This has to be one of the grandest small towns you'll ever come across! Port Townsend was once on its way to being the Northern Pacific Railroad terminal and a major trade port. Speculators commissioned Victorian mansions and grand commercial buildings at the waterfront before the Railroad's plan changed.
Hence, the historic district of Port Townsend is far more opulent than one might expect from a city with a population of little over 10,000 permanent residents. It's beautiful Sound-side location benefits from a rain shadow cast by the Olympic Mountains, making it sunnier than much of the rest of the Peninsula.
Stop for lunch or a coffee in the historic main street; drive by the mansions of yesteryear; and visit Fort Worden Historical Park.
See Sequim's purple haze in July
The town of Sequim (pronounced "skwim") claims the title "Lavender Capital of North America". Like Port Townsend, it sits in the rain shadow. It's dry climate and moderate temperatures make it perfect for growing lavender.
There are dozens of small farms across Sequim-Dungeness Valley and a number of them invite visitors to enjoy the summer bloom each July. You can wander the fields, pick your own bouquet and purchase lavender-based products. See my favourite Sequim lavender farms here!
Pick your own berries through the summer
From strawberries to raspberries, blueberries to loganberries, pick your own at Graysmarsh Farm in Sequim throughout the summer months. They also have a little lavender on the side, if you're looking for an all-in-one-stop.
See some pop culture origins
There are at least two notable pop culture sights on the Olympic Peninsula in the towns of Aberdeen and Forks:
Aberdeen is the birthplace of Kurt Cobain and his band Nirvana. The fishing town on the south of the Olympic Peninsula has a small Memorial Park honouring the late Nirvana frontman. You can take photos outside his childhood home at 1210 East 1st Street. Fans should see more Nirvana-related sights here.
Forks inspired the original setting of Stephenie Meyer's Twilight novels. Though it wasn't used in the filming of the movies, the former logging town, was selected by the author for its "vampire-friendly" PNW climate. Fans will recognize several locations around town used in the novel, and the town hosts an annual festival dedicated to the supernatural stories each September.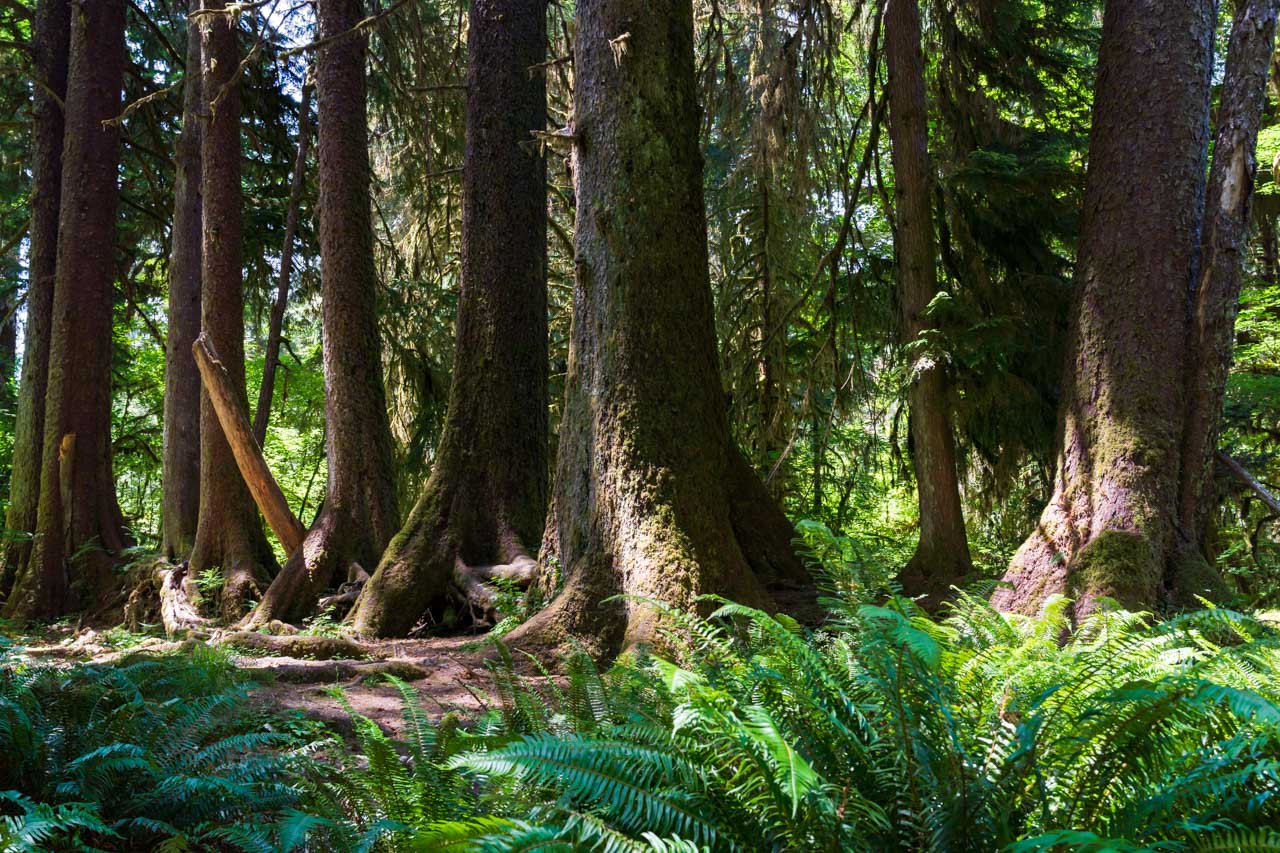 4-day Olympic Pensinsula road trip itinerary
Steal our 4-day, tried and tested, Olympic Peninsula road trip including National Park highlights plus some extra cultural sights and places of interest as mentioned above.
Pro traveller tip: If you are having trouble getting accommodation, try reversing the itinerary. Most people tour the Olympic Peninsula anti-clockwise, so you have more chance of nabbing accommodation in peak periods by travelling clockwise.
Day 1
Drive Seattle to Sequim. If you take the ferry, you should have time to detour through Port Townsend for lunch. Visit a lavender farm or go berry picking in Sequim (summer only) and catch sunset from Dungeness Spit.
Day 2
Hike Hurricane Hill or a shorter trail from Hurricane Ridge. Go to Lake Crescent for a picnic lunch and hike through the old-growth forest to Marymere Falls. Continue to Sol Duc Valley and hike to Sol Duc Falls. Spend the night in Forks.
Day 3
Visit Hoh Rainforest and Rialto Beach. Time your beach trip for low tide if you want to explore tidal pools or hike to Hole-in-the-Wall, a highly recommended 5.3 kilometre (3.3 mile) return hike along the beach (note that soft sand and pebbles make this more of a workout than it sounds – allow plenty of time). Spend the night at Lake Quinault.
Day 4
Take the Scenic Drive around Lake Quinault making various stops along the way, including the world's largest Sitka Spruce! Return to Seattle via Kurt Cobain's hometown of Aberdeen, for lunch.
Olympic Peninsula Map
Get this map! If you have a Google account, you can save a copy of this map to use and adapt for your trip. Click on the top right corner and it will open in a new window where you can save it to your Google Drive/Google MyMaps.
Enjoy your Olympic Peninsula loop and the wonderfully diverse landscapes it has to offer. For more National Park itineraries see here.
Peace, love & inspiring travel,
Madam ZoZo