Vibrant Vietnam is a country filled with bucket list-worthy sights and experiences. If you are wondering where to go in Vietnam, we have a shortlist of highlights for you. These amazing places to visit in Vietnam, showcase the Southeast Asian nation's fascinating history, rich culture, natural beauty and lip-smacking cuisine.
Disclosure: I may earn compensation from the purchase of any product or service linked on this website, at no extra cost to you. I only link to products I use and love, therefore feel comfortable recommending.
Special note for Vietnam travel
The one tip I give everyone planning a trip to Vietnam is to travel south to north if you can. The north of the country has seen significantly less Western influence than the south. This provides a more unique and immersive cultural experience. Though the south has plenty to offer, it also has more of that tourist hustle going on. Our itinerary was north to south because we chosen to cross the Mekong Delta into Cambodia rather than fly. But if we did it again, we would definitely reverse the direction.
1. Hanoi
Vietnam's capital lies on the banks of the Sông Hồng (Red River) in the country's north. Over time it has been occupied by the Chinese, French and Japanese, all leaving their indelible mark on the city. Among the best things to do in Hanoi include a wander around Hoan Kiem Lake and the Old Quarter, visit to the Ho Chi Minh Presidential Palace Historical Site, exploring the Temple of Literature and taking in a water puppet show.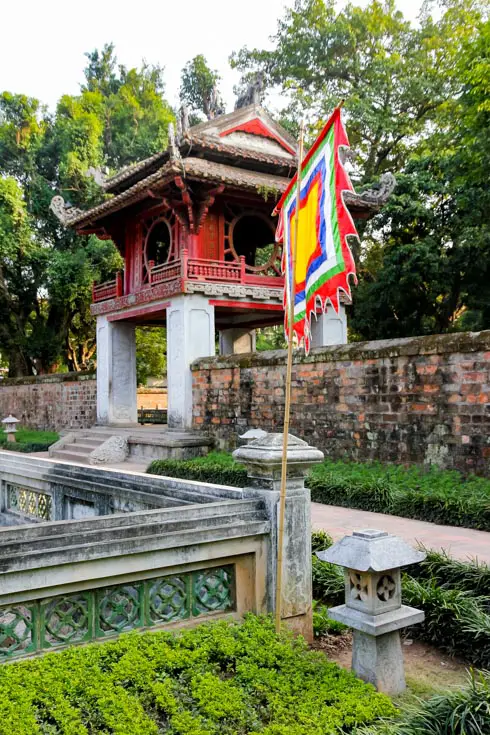 2. Halong Bay
Take an overnight cruise on Ha Long Bay to see the jade waters and vertical limestone islands of this UNESCO World Heritage Site. One of the iconic images of Vietnam, Ha Long Bay's unique national park is made up of an archipelago of roughly 1600 islands in the Bay of Tonkin. Ha Long, meaning "Where the Dragon Descends to the Sea", is the place to explore traditional floating fishing villages and limestone features such as Sung Sot "Surprise" Cave.
3. Hue
At the foothills of the Annamese Cordillera mountain range, just inland from the South China Sea, stands Hue. Let me tell you, Hue is one of the most interesting places to visit in Vietnam. Hue was once the seat of power in the time of the Nguyen dynasty's rule over Vietnam from the early-19th to the mid-20th century. A great legacy of that time is the Imperial Citadel.The remains of this impressive walled palace complex are now a UNESCO World Heritage Site. Other significant sights in the area include the elaborate tombs of various Emperors, Thien Mu Pagoda and Dong Ba Market.
4. Hoi An
Another place to visit in Vietnam is Hoi An – a former trading port where among others, Chinese, Japanese, Dutch, Portuguese, Spanish, Indian, French and British ships traded. Hoi An, nicknamed "Lantern City", was known for quality textiles as well as paper, porcelain, tea, sugar, nuts, pepper, mother-of-pearl and Chinese medicines. The UNESCO-listed Ancient Town showcases the diverse influences of traders visiting the region. From Indochine shophouses and a Japanese covered bridge, to ornate Chinese assembly halls. Some come for the nearby beach resorts. You'll gain more cultural insight with a walking tour of the Old Town, bike ride through the rice paddies and a cooking class.
5. Ho Chi Minh City
Formerly known as Saigon, Ho Chi Minh City (HCMC) is the largest city in Vietnam by population. It was the capital of French-occupied territory in the late-19th and early-20th centuries. Then again for almost a decade between 1945 and 1954. Ho Chi Minh City is the financial centre of Vietnam, and it shows, with a much more international vibe than the north. Honestly, HCMC has some very worthwhile sights but don't plan to spend more time there than necessary. Be sure to visit Ben Thanh Market, the French colonial architecture and the War Remnants Museum. Use HCMC as a base for day trips to the Mekong Delta, Cu Chi Tunnels and Cao Dai Holy See.
6. Mekong Delta
If you plan to cross the border into Cambodia by land or boat, you might find yourself exploring the Mekong Delta in more than a day trip. The Mekong River is the world's 12th largest river. It winds from its source on the high Tibetan Plateau, through China, Myanmar, Laos, Thailand and Cambodia, finally draining into the South China Sea via Vietnam. Along the way, you will find orchards bountiful in tropical fruits, Binh Thuy Ancient House, floating markets and Sam Mountain.
Getting to Vietnam
Fly
Vietnam has three major international airports: Noi Bai International Airport (HAN) in the northern city of Hanoi, Tan Son Nhat International Airport (SGN) in the southern capital of Ho Chi Minh City (formerly known as Saigon) and Da Nang International Airport (DAD) close to popular beach resorts about halfway down the east coast.
Most Asian countries offer direct flights into Vietnam. If you are travelling from beyond the Asian continent it is likely you will need to transfer flights in Hong Kong, Bangkok, Kuala Lumpur, Seoul or Singapore. Look for the best-priced flights using Skyscanner.
Train
It is possible to arrive in Vietnam by train from China via the Dong Dang Border Crossing which is 160km (100mi) from Hanoi.
Boat
As I mentioned, travellers continuing on or arriving from Cambodia might enjoy a trip up the Mekong – Phnom Penh, Cambodia to Chau Doc, Vietnam. The trip is made on a small speedboat ferry and takes about 5-hours.
Entry requirements
Most visitors to Vietnam will require a visa. Visa's can be acquired online in advance or on arrival (with or without preapproval by an embassy).
Travellers from 80 countries including Australia, Canada, United States and United Kingdom can get an e-visa, which allows entry into 8 of the country's international airports, 14 land crossings and 7 ports. The visa costs USD25 and allows single-entry for a stay of up to 30-days. It usually takes 3 business days to process. See more on applying for e-visas here.
For those needing multiple entries or plan to stay longer than 30-days, you will have to apply for a visa on arrival. You are required to arrive with a 4×6 passport photo, a completed visa application form, a passport with more than 6-months validity and USD25. Do not arrive without the cash as there are no ATMs available before you pass through immigration.
You can visit a Vietnamese embassy or consulate in your home location to submit your application and get a Letter of Approval in advance. This will help shortcut the process once you enter the country as the letter allows you to simply pick up your visa on arrival in Vietnam.  See more about visa applications on arrival at this website.
Are you ready to explore Vietnam yet? I for one have had my bags packed and ready to return since the day I left. It is truly an incredible part of the world and one of my personal favourites. I hope you get visit all of these amazing places in Vietnam and I have an itinerary that will help you on your way. Plus, see these detailed posts on Hanoi, Hue and Ho Chi Minh City.
Peace, love & inspiring travel,
Madam ZoZo