Trying local food and beverage when you travel is all part of the cultural experience and is a whole belly-full of fun. Food adds a dimension to cultural when you're in a destination, with the added bonus of being one you can take with you as a souvenir, whether it's a product, recipe, cooking technique or just a delicious memory. You may not be able to stuff Scotland's ancient castles, lovely lochs, green glens and towering bens into your suitcase, but you can certainly take home a box of buttery shortbread or a bottle of smooth single malt whisky. Let's delve into Scottish cuisine and the scrumptious experiences you can have while travelling this part of the British Isles.
Disclosure: I may earn compensation from the purchase of any product or service linked on this website, at no extra cost to you. I only link to products I use and love, therefore feel comfortable recommending.
Tattie scone
There's lots of mention of "tatties" around Scotland, and its simply a colloquial reference to potatoes. Potato or tattie scones are usually served as part of a full fry-up, otherwise referred to as a Scottish breakfast. Imagine a sort of flat, pancake-like bread made from mashed potato, flour and butter – a great substitute for toast.
Full Scottish breakfast
The Scottish version of an English breakfast, this artery-blocking morning meal is a full fry-up of eggs, back bacon, Lorne sausage, black pudding, baked beans, sautéed mushrooms, tattie scones and sometimes a serving of haggis. You won't need to eat again until dinner time!
Haggis
Haggis needs no real introduction to most people. Scotland's national dish is infamous for its nose-to-tail used of "sheep's pluck" a combination of finely chopped liver, heart and lungs which is mixed with oatmeal, suet and seasoned with herbs and spices then stuffed into sheep's intestines before being boiled or baked. Haggis is usually served with a side of the neeps and tatties – mashed turnips and potatoes.
Though I've expanded my eating of animal parts over the years in an effort to reduce waste and vary nutrition, I was still hesitant to try haggis. I had nothing to worry about though, if I didn't know what was in it, I could only guess it was some kind of meat – it really is delicious and worth trying.
Scottish salmon
One of Scotland's culinary gifts to the world is its top-quality salmon. Scottish salmon was the first fish and first non-French product to be awarded France's "Label Rouge" which the French Ministry of Agriculture says "certifies that a product has a specific set of characteristics establishing a superior level to that of a similar current product." Ooh la la!
You might have heard that bubbly labelled "champagne" must be from the Champagne region of France otherwise its "sparkling wine". This is called PGI (Protected Geographical Indication) status. Well the same goes for products labelled "Scottish farmed salmon" and "Scottish wild salmon" – they must be Scottish, because being a Scot in the salmon world, holds a lot of weight.
Fish and seafood
While we had to highlight the excellent salmon situation, Scotland produces amazing seafood and fish beyond our favourite pink source of omega-3 fatty acids.  Over half of Scotland's food exports are fish and seafood. Lobster, muscles, oysters, trout and pollock, the list goes on. If there's seafood on the menu, you're in for a treat.
Cullen skink
While we're on seafood, let's dive into a creamy bowl of Cullen skink, a soup of smoked haddock or salmon, potatoes and leek. When the moody Scottish weather is getting you down, curl up in a pub with this heart warmer.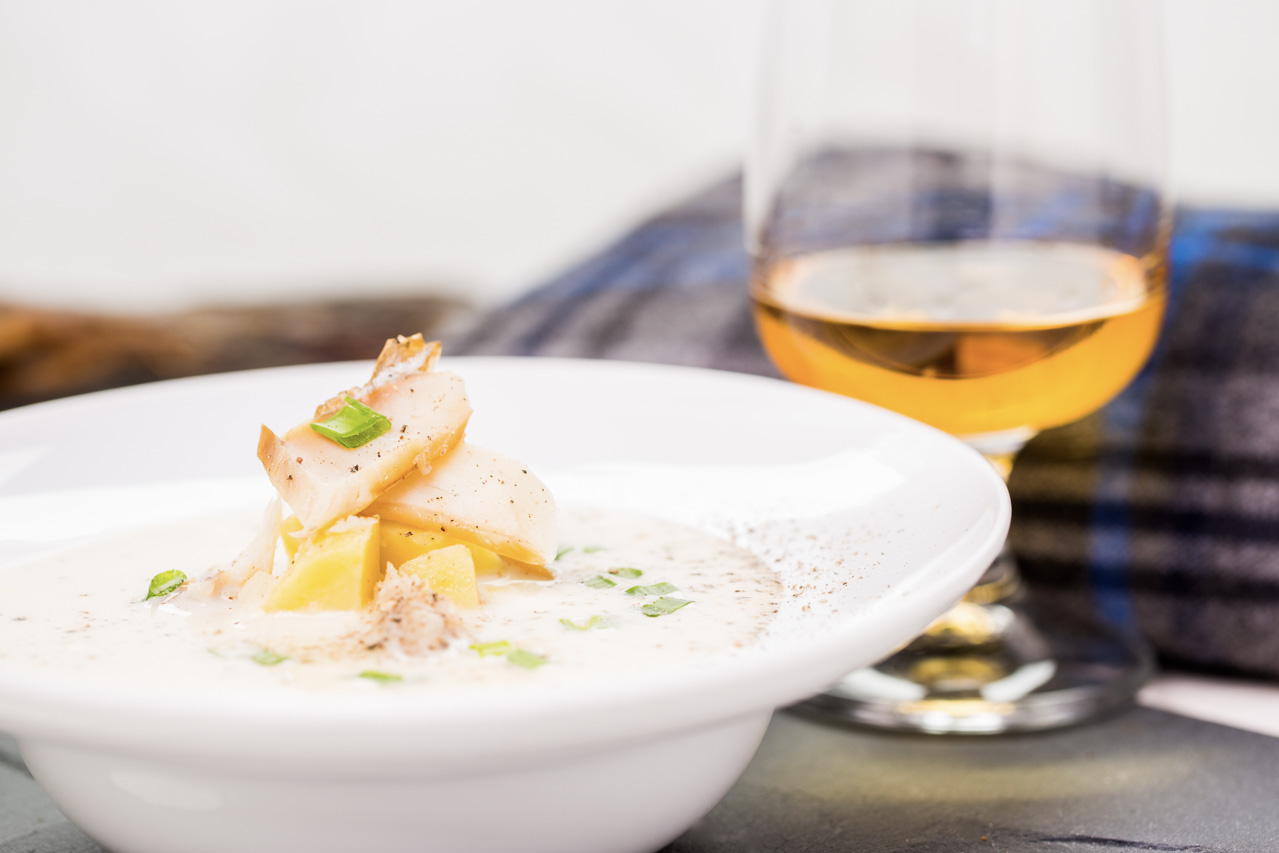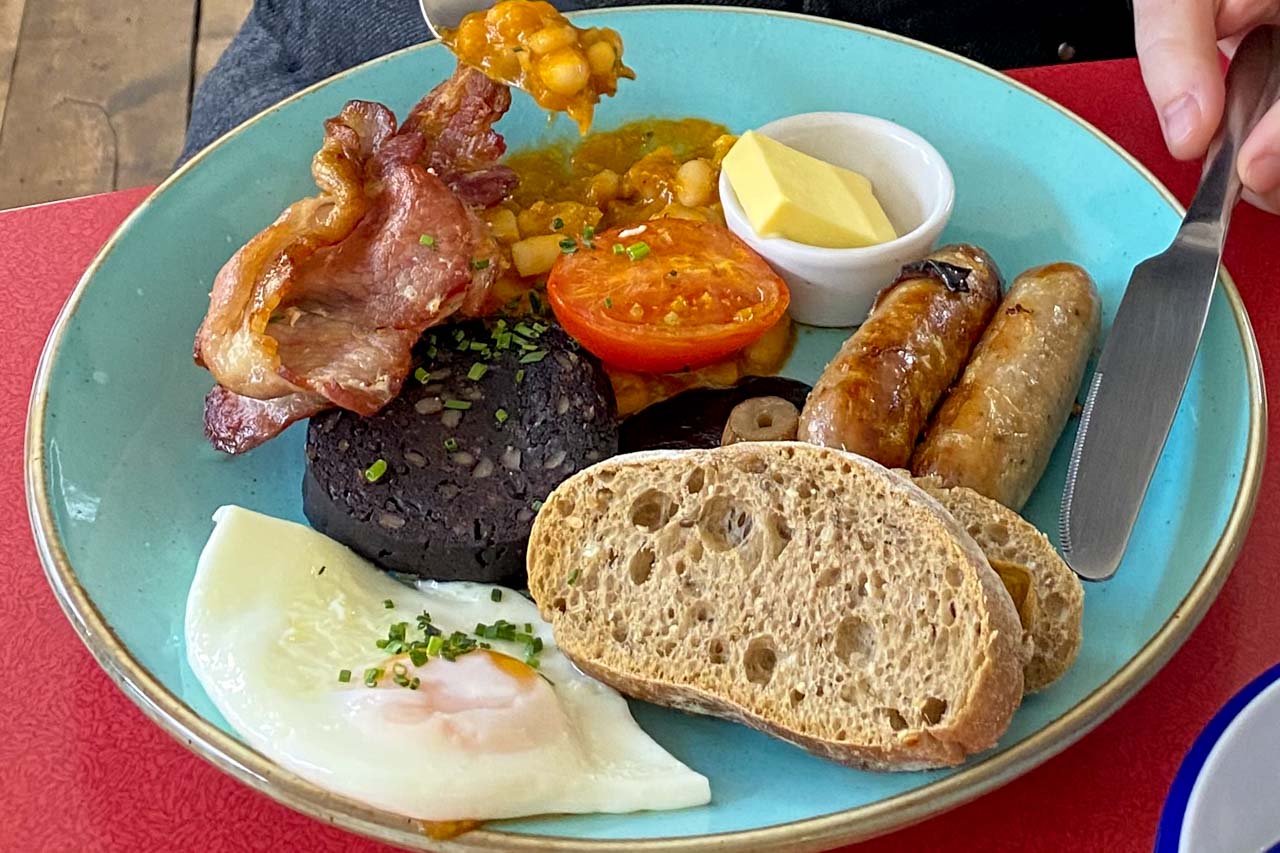 Grouse
In Australia "grouse" is slang for awesome, in Scotland it's a game bird. You'll likely come across the feathered relation to turkeys, chickens, partridges and quails, during hunting season running from the Glorious Twelfth (August 12) until mid-December. We were there in March, so I can't give you any personal tasting notes on the "moorbird", as it is sometimes referred, but it is a local delicacy usually savoured as a roast.
Stovies
Stovies are a potato-based stew with onions and meat. The closest comparison would be a hash or bubble and squeak. It developed as a way to use up leftovers. Every Scot has a different recipe, so don't be shy about tasting a few to find a favourite.
Cheese
Scotland's climate and geography are favourable for cheese-making. Along with its PGI-status salmon, Scotland produces a few cheeses that make the Protected list – Bonchester cheese (not currently in production), Orkney Scottish island cheddar and Traditional Ayrshire Dunlop cheese. Not to mention the other varieties that are more than satisfactory – cheddar to Criffel, brie to blue, Anster to Ailsa. A Scottish cheese board is usually served with oatcakes and chutney.
Whisky
I diligently researched Scotland's single malt whiskies on our trip through Speyside and beyond. Safe to say I've become a convert from non-whisky drinker to fangirl. Whether its Glenfiddich or Glenlivet, Talisker or Tomintoul – you'll quickly become a whisky connoisseur in this part of the world, especially if you're partial to a peaty distillation.
Shortbread
Moving on to dessert, we'll begin with some melt-in-your-mouth shortbread. Traditionally shortbread was an expensive treat particularly associated with Christmas, Hogmanay (new years eve) and weddings. These days, you can buy it any time of year. Shortbread developed from a hardened, bready rusk in the medieval era to the buttery biscuit we know today, with the first printed recipe dating back to the 1736 kitchen-toil of a Scotswoman known as Mrs McLintock.
Cranachan
Best described as the Scottish version of trifle, the layered dessert combines the cream, raspberries, honey and oats. You'll also find contemporary variations using whisky, rum, chocolate, shortbread and orange. Originally, Cranachan was a breakfast dish named "Crowdie" for its use of crowdie, a soft cheese, instead of cream. Raspberries would have been added only during harvest season around June.
Ith do shàth! (Eat your fill) and let me know your favourite Scottish cuisine in the comments below.
For more on travel around Scotland, see these brilliant places to visit and this steal-worthy road trip itinerary.
Peace, love & inspiring travel,
Madam ZoZo