San Francisco. Birthplace of fortune cookies (no they aren't Chinese), denim jeans, hippie counterculture, the LGBTQ pride (rainbow) flag and the United Nations among many other things. Its history and characters are woven into Western culture in places you might least expect. That's what makes The City by the Bay such a fun and fascinating place to explore. Like its East Coast counterpart – New York City – It would take nothing short of a lifetime to cover all the amazing things to do in San Francisco, so with an extensive amount of research (as always) and five days sightseeing under my belt, I present the top sights and experiences for an authentic first trip to San Francisco.
]Disclosure: I may earn compensation from the purchase of any product or service linked on this website, at no extra cost to you. I only link to products I use and love, therefore feel comfortable recommending.
Getting around San Francisco
San Francisco's neighbourhoods are generally very walkable (if you can handle the hills), however with so much ground to cover you are going to want to mix it up with some other modes of transport. Uber and Lyft are abundant around the city. Public transport is also comprehensive but can be a little complex to navigate. Here are the key things to need to know to get started:
BART refers to the subway/train system, while MUNI covers the streetcars, cable cars, light rail and buses.
BART and MUNI have different ticketing systems – the Clipper Card is your all-in-one solution if you want to have access to all modes of transport. A Clipper Card costs $3 and you add value to your card to spend on public transport fares. Cards can be purchased at Walgreens, Whole Foods Market stores, transit agency offices, and vending machines at certain stops. See more on the Clipper Card here.
I used the MUNI system only while in SF. With the help of the MUNI Mobile app you can plan your trip and pay your fare with a credit card or Paypal. You can purchase individual fares starting at $2.50, or purchase day passes. See more on MUNI fares here. I liked the efficiency of being able to download and add my credit card to the app before I even left home, so I was ready to go when I hit the ground. I only purchased fares when necessary, ie when my legs gave out, which saved having unspent money on my card when I left – a downside of the Clipper Card.
You can pay fares by cash to the driver, but you must have exact change and they are more expensive than if you use the app.
The historic cable cars are $7.00 per ride. I'll talk more about this later in the post.
Fun and fascinating things to do in San Francisco
Visit the birthplace of the United Nations
San Francisco hosted the Conference that gave rise to the United Nations in 1945. The War Memorial Opera House and Veterans Building aren't just gorgeous structures from an architectural standpoint, they were the venue for the Conference in which the United Nations Charter was ratified by 50 nations on the stage of the Veterans Auditorium (now known as the Herbst Theatre). The Opera House and Veterans Building lie opposite San Francisco City Hall, another stunning building. This historic spot is worth 10-15 minutes in your itinerary to pass by and take some photos.
Meet the Painted Ladies in Alamo Square
If you grew up in the late 1980's/early '90s watching Full House, then you're already well acquainted with "Painted Ladies". They are the ornate and colourful Victorian homes of San Francisco, built in the Queen Anne style. Many original mansions of this era located in the inner city were destroyed in the 1906 earthquake, while more modest row houses in the southern and western parts of the city were largely spared.
Historically they would have been painted white, however, a group of "colourists" in the 1960s and 70s, experimented with more vivid palettes. The Painted Ladies soon become an icon of the San Francisco cityscape. The most coveted row of homes for visitors are referred to as "Postcard Row" bordering Alamo Square. Their beautiful hillside position opposite a public park, allows you to capture the San Francisco skyline with the dollhouse-esque homes in the foreground.
Learn some hippie history in The Haight
Haight-Ashbury is a neighbourhood of San Francisco named for the crossroads of Haight and Ashbury Streets. "The Haight", as it is referred colloquially, is considered by historians to be the birthplace of the Hippie counterculture and was ground zero for the 1967 Summer of Love. While the residential streets have largely been transformed, with many of the Victorians restored into prim and proper Painted Ladies, the Haight St commercial strip retains some of its gritty, alternative vibes. After a stroll up and main drag lined with record stores, tattoo shops and vintage clothing outlets, pull up a window-side table in a coffee shop or eatery and enjoy this prime people-watching spot. Not all sightings are kid-friendly, so be wary if you are on a family trip.  Grateful Dead fans will also want to stop by 710 Ashbury St where the band once rented an apartment.
Explore the Palace and the Presidio
The Presidio is a public park located on the northern head of the San Francisco Peninsula. "Presidio" is the Spanish word for a fortified military settlement, and indeed the park is a former fort dating back to the early days of Spanish exploration. The Presidio contains numerous sights, such as the Lyon Street Steps, Walt Disney Family Museum, Crissy Field and Beach (Golden Gate viewing spot) and the Palace of Fine Arts. It's unlikely you will have enough time to cover all 1502-acres of the park, so I suggest you prioritise the Palace of Fine Arts and Chrissy Field.
The Palace is the remnants of the 1915 Panama-Pacific Exposition, which celebrated the opening of the Panama Canal. The structure was inspired by an engraving of an ancient Roman ruin, and was just too beautiful to tear down at the end of the Expo. I know what you're thinking, I'll go to Rome if I want to see a Roman ruin, right? However, the architecture and scale is so unexpected in the San Francisco setting, it is quite a delightful surprise that shouldn't be missed.
Play traveller versus tourist – Fisherman's Wharf and the alternative
I have a new rule instituted as of my visit to Fisherman's Wharf and similar locations around the world: if there is any combination of a Madam Tussauds Wax Museum, Ripley's Believe It or Not, and/or Hardrock Café, avoid the area at all costs. Fisherman's Wharf has the trifecta, and it was predictably horrible. Here is what I recommend instead…
Check out the historic ships on Hyde Street Pier. The Pier is part of the San Francisco Maritime National Historical Park and if you want to board the ships you will need to buy a ticket for $15.  There are a couple of smaller vessels that you can explore for free. Follow up with a stroll past the gorgeous streamline modern Maritime Museum and walk out along the Aquatic Park Pier to see what the local fisherman are catching while getting a lovely vista of the Bay, Alcatraz and looking back at the shore.
Follow up with fish and chips at The Codmother, a food truck on Beach St or go high end with Michelin-rated Gary Danko (ensure you have a reservation). From here you can make your way to the Powell/Mason or Powell/Hyde Cable Car Turnarounds all without going near that dreaded Fisherman's Wharf. You're going to do it aren't you… you're going to go there. Well, don't say I didn't warn you.
Alcatraz and The Bay
When they say book ahead for Alcatraz, they aren't kidding – book 2-3 months in advance. Due to a last-minute change to our trip dates we couldn't get tickets to Alcatraz but I wouldn't hesitate for an instant on taking a trip out to The Rock. If like us, you miss the boat—literally—there are plenty of harbour cruises available for enthusiastic seafarers. Just make sure you rug up, the Bay winds are icy and during winter Karl could appear at any moment.
Take a ride on a historic cable car
Cable cars are another San Francisco invention. Andrew Hallidie came up with the idea in 1869 based on the mechanics of mining conveyance systems used in the California Gold Rush and tested his first steam engine-powered cable cars in 1873. Following on from your time around-but-not-in Fisherman's Wharf is a great opportunity to take the Powell/Hyde cable car up Russian Hill passed Lombard Street and on to Nob Hill and Market Street. Alternatively take the Powell/Mason through Chinatown, and alongside Union Square to Market Street. A single ride will cost you $7, so I recommend getting as much value as possible travelling the cable car route end to end. If you plan to hop on and hop off, then get a 1-Day Passport instead of buying a single fare.
My experience was that the cable cars were very busy with long queues during the day and almost everyone wants to ride on the outside of the car which is, of course, impossible. The cable cars run from 6am to midnight, therefore try for an early morning or late evening ride for a less crowded experience with more chance of you being able to hang off the side of the car. Also, note that the best views are from the eastern side of the Powell cars, which translates to riding on the right-hand side if you are departing from downtown, and left-hand side if you are leaving from the Fisherman's Wharf end.
Photograph the world's most crooked street
I say "photograph" because you can't/shouldn't actually walk down the street – it's narrow and wiggly enough for the one lane of traffic, drivers don't need to be avoiding pedestrians as well! There are stairs down each side of the hydrangea-lined street snake so you can take in the road without being on it. Now American's have a penchant for making bold and unfounded claims like "world famous", "world's best", "World Series" etc, so I have verified the "world's most crooked street" with the Irish-founded, Canadian-published Guinness Book of Records. The basis of the claim is that only Lombard Street has eight hairpin turns in the space of 400m (0.25ml).
The unique streetscape came about because of the incredibly sharp incline of Russian Hill. The 27% grade slope was much too steep for vehicles of the 1920's, when property owner Carl Henry suggested that a series of switchbacks across the hill would reduce the grade to 16% – voila! The flower gardens planted by a local resident to beautify and prevent erosion of the Hill completed the postcard-worthy street. Now there are so many tourists, there is a traffic control officer on patrol! Go early and avoid the crowds (unlike me).
Enjoy Coit Tower and Telegraph Hill vistas
If you're an Aussie, you'll probably either giggle or cringe every time you catch a mention of Coit Tower. The Tower's namesake, Lillie Hitchcock Coit, was either unfortunate or an arsehole?! Poor jokes aside, what we do know is she was a patron of the city's firefighters. Dear Lillie passed away in 1967 leaving a large sum of money in the wealthy eccentric's own words "for the purpose of adding to the beauty of the city I have always loved."  The result was an art deco-style, concrete viewing tower on Telegraph Hill completed in 1933. The interior is lined with murals of California during the Depression. Due to long queues, sore feet and a visit to Top of the Mark planned (more on that to follow), I skipped the Tower itself, but I did hike up to Pioneer Park at the base of the Tower, so I could tell you how lovely the views are from up there. They are lovely, but largely shrouded in foliage.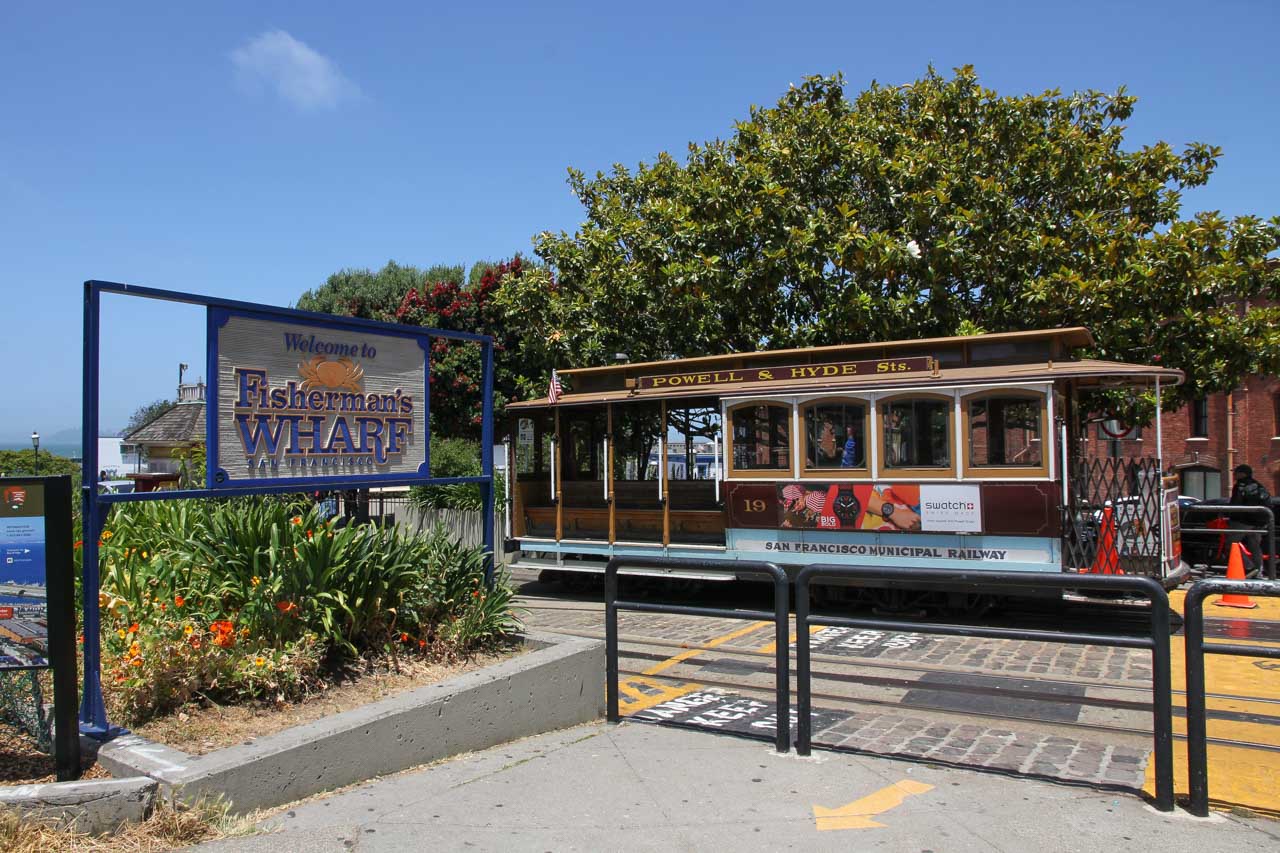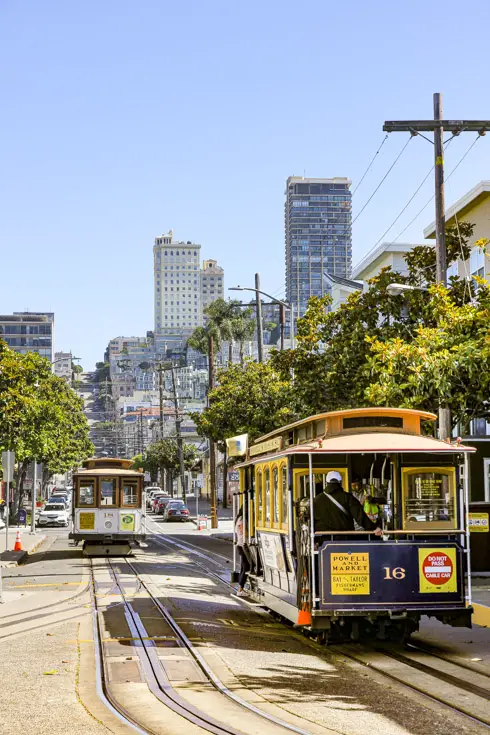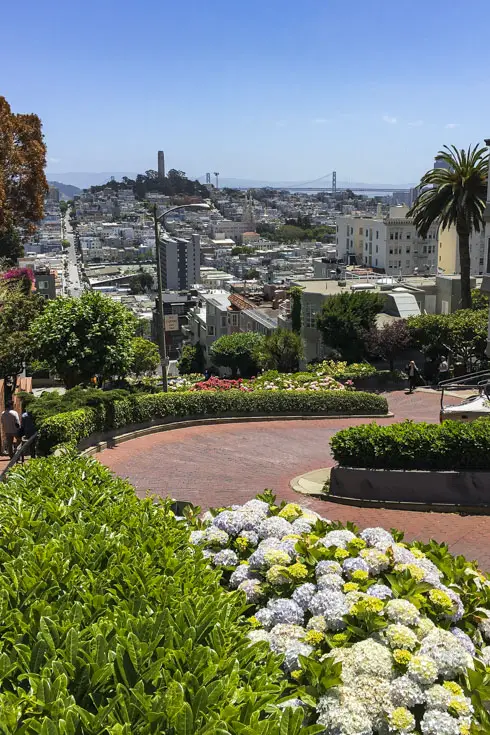 Sample North Beach, Little Italy and a bowl of cioppino
The place to go for coffee and homemade pasta – North Beach is home to San Francisco's Little Italy. Preceding the hippies of Haight-Ashbury, there were the Beatniks of North Beach circa the 1950s. Well before that, the area was a beach, as the name suggests, which was reclaimed with landfill in the late 19th-century. The docks and warehouses were destroyed in the 1906 quake and the rebuilt suburb became a hub of Italian immigrants in the early 1900s. Though the Italian-American population has subsided with greatly slowed immigration, a legacy of great espresso and nonna-approved, carb-a-licious bowls of pasta remains.
Little Italy is also the place to sample the uniquely San Franciscan dish, cioppino. While some will have you eating New England clam chowder out of sourdough bread bowls on overpriced Fisherman's Wharf, I suggest tucking into San Francisco's tomato-based seafood stew at Sotto Mare. Invented right here in North Beach by Italian fishermen, the catch of the day would be thrown into a pot with onions, garlic, tomatoes, herbs, wine and olive oil to become a scrumptious meal. If you are a fan of Bouillabaisse, chances are that you'll love cioppino.
Track down cultural cliches and fortune cookies in Chinatown
I'm not going to try and relay the history of San Francisco's Chinatown, the oldest in the USA, because one of my favourite podcasts, 99% Invisible, has already done it so eloquently. Check out these two episodes for everything you need and want to know about the history of SF's Chinatown. Then take yourself into Chinatown for a meal and cruise the Golden Gate Fortune Cookie Factory for dessert. The Cookie Factory is small and there is often a queue outside, but it moves fast. There is no charge to enter but 50c is charged for photography.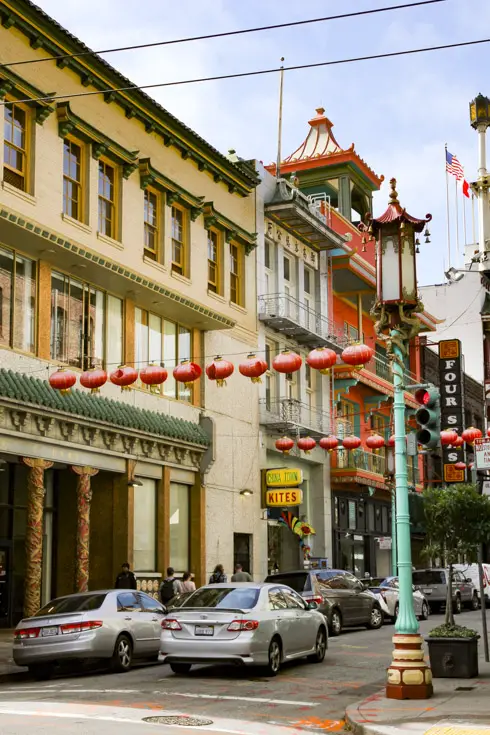 Grace Nob Hill with your presence
There are three places to visit on Nob Hill: Grace Cathedral, the Tony Bennett Statue at The Fairmont and Top of the Mark at the Intercontinental Mark Hopkins.
Grace Cathedral is a large French Gothic-inspired, Episcopalian church built over 37 years and finally opened with a sermon by Martin Luther King Jr in 1964. Look for the gilt, cast bronze Ghiberti Doors, stained glass, labyrinths and the AIDS Interfaith Chapel with its altarpiece created by Keith Haring
Barely a block away you will find two historic hotels. The first is The Fairmont, in which Tony Bennett first performed his famous rendition of "I Left My Heart in San Francisco". Outside the hotel, you will find a statue of Tony dedicated on his 90th birthday.
Across California St is The Intercontinental Mark Hopkins. Take to the 19th-floor bar, Top of the Mark for a cocktail or two with a spectacular view of the surrounds. The bar is looking tired and in need of a renovation, but the drinks are strong and the view is great. That is, as long as Karl isn't hanging around (did I mention the San Francisco fog has a name? It all started with this hilarious Twitter account). If you're pressed for time or money there is no need to do Top of the Mark and Coit Tower, just choose one or the other. The Tower is the more cost-effective and family-friendly option.
P.S. The martini is thought to have been invented in San Francisco, so it would be an entirely appropriate drink selection for you time at the Top of the Mark.
Soulful souvenirs of San Francisco
Looking to pick up some true-to-SF mementoes? Here are a few suggestions for soulful souvenirs:
Karl the Fog – The book. I personally can't get enough of Karl's dry, witty humour. This would make a really unique gift for friends back home.
Levi's – Buy a new pair or get favourite pair repaired/customized at the Levi's Tailor Shop. The Market St and Battery St locations both have Tailor Shops in-store.
Handmade fortune cookies – Purchase your bag of fortune cookies from the Golden Gat Fortune Company, handmaking cookies since 1962. Order in advance for customized cookies with your own personalized messages inside, to pick-up instore. Now that is a cool souvenir to share back home.
Pride/equality – Take home a wearable declaration of your support for equality. Drop into the Human Rights Campaign store in Castro for all your Pride support gear.
Did you find any of these fun things to do in San Francisco tickled your fancy? Did you learn something new about the City by the Bay? Tell us in the comments below.
Peace, love & inspiring travel,
Madam ZoZo