Trinidad, located in the central Cuban province of Santi Spiritus, is a character-filled town will that transport you back in time with its cobblestone streets, colonial architecture and absence of motor vehicles – cars are banned from the UNESCO World Heritage-listed historic core. That leaves a laidback soundtrack of clip-clopping horses and distant salsa to echo in the plaza and resonate off the picturesque rainbow of Spanish colonials. Trinidad, Cuba, has a laidback charm with many things to do, so plan to stay at least a couple of days.
Disclosure: I may earn compensation from the purchase of any product or service linked on this website, at no extra cost to you. I only link to products I use and love, therefore feel comfortable recommending.
Trace Trinidad history through the cobblestone streets
Trinidad flourished during the 18-19th-century sugar industry boom in the nearby Valle de los Ingenios (more on that in a moment). The wealth of slave-driving, sugar barons funded luxurious mansions and extravagant public buildings. Take a walking tour around Plaza Mayor and explore the Convento de San Francisco, Iglesia Parroquial de la Santisima Trinidad and Museo de Arquitectura Colonial among other outstanding colonial structures. Also, step beyond the core and wander down the side streets to discover local life including markets, musicians and men playing dominoes.
Visit the plantations and vistas of Valle de los Ingenios (Valley of the Sugar Mills)
UNESCO describes the Valle de los Ingenios as "a living museum of Cuban sugar production" which includes the remnants of mills, plantation houses, barracks and other artifacts of over 50 sugar mills that once operated there. After slaves in neighbouring Haiti revolted and triggered the Haitian Revolution in the late 18th century, Cuba took over as the world's biggest sugar producer. Many of the plantations were destroyed during the War of Independence and the Spanish-Cuban-American War. What remains is in various states of preservation.
Perhaps the most visited of the plantations is Manaca Iznaga. Known for its watchtower once used for spotting escaping slaves, is now climbed by tourists for 360-degree views of the surrounding Valley. While Manaca Iznaga is worth a visit, try to also see some of the less frequented plantations such as Ruinas de Ingenio San Isidro de los Destiladeros and Guáimaro. The later has a wonderfully preserved great house with Murano chandeliers, antique furniture and frescos painted by Italian Daniel Dall Aglio.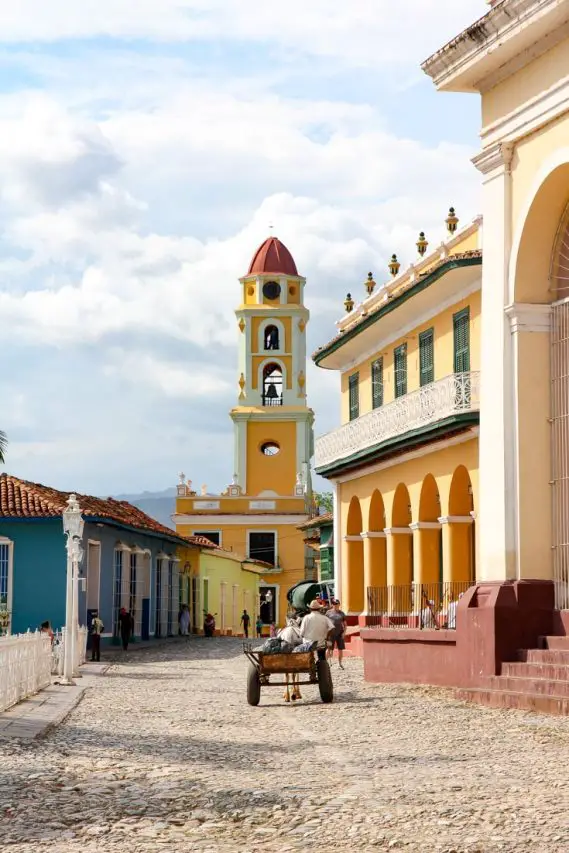 Laze in the sun on Playa Ancón
Having grown up on Australian beaches we have astronomical standards when it comes to coastlines, which have only been reinforced by visits to places like the Maldives, Fiji and the Philippines. So you may want to take this next statement with a grain of salt: Playa Ancón is ok. The sand is white and the water is clear. There are large, ill-maintained, Russian-owned resorts clouding the natural beauty of the area also. Concrete and glass blocks don't age in the charming way that the Spanish colonial buildings of nearby Trinidad have. The point is, if you just want to spend a lazy day soaking up some sun then Playa Ancón is going to satisfy that need.
Dance the night away at Casa de la Musica
Ok, maybe "dance the night away" is an overstatement as the live music only runs for an hour or so, but it is FREE! Tourists gather in the evenings at the steps leading to Plaza Mayor, where a band plays a short nightly set. You can practice your salsa moves or sip mojitos and enjoy the Cuban tunes. The party continues after at Disco Ayala, a nightclub in a cave. We were too exhausted were recovering from a cold, so chose to turn in for an early night instead.
For more on Trinidad and setting expectations for travel in Cuba, I recommend reading Colours of Cuba – How Cuba Taught Me to be a More Conscious Traveller. Also, check out these top things to do in Havana.
Peace, love & inspiring travel,
Madam ZoZo