Take a bite out of your Big Apple bucket list with this experience-packed weekend in New York City. Follow this two-and-a-bit day Itinerary from Friday night to Sunday evening taking in the some of the best of what NYC has to offer.
Disclosure: I may earn compensation from the purchase of any product or service linked on this website, at no extra cost to you. I only link to products I use and love, therefore feel comfortable recommending.
Friday
Upon arrival Friday evening, head straight to the Museum of Modern Art (MoMa) for their Free Friday Nights program that runs 5:30-9:00pm. The Museum recommends arriving after 6:00pm to avoid a long queue. Be warned, it gets crazy-busy at this time, but it's a great time to get an overview of the Museum with no admission. Think Monet's Water Lillies, Van Gogh's Starry Night, Warhol's Campbell's Soup Cans and Picasso's Les Demoiselles d'Avignon.
Follow up with an evening meal at Museum's restaurant: The Modern. Their Bar Room offers 3-courses for $75 which is great value for a 2-Michelin Star restaurant. It is best to book in advance.
Saturday
Grab a coffee (and breakfast) to go and take an early stroll around Central Park. I make use of the plethora of Pret a Manger and Bluestone Lane cafes for quick, relatively healthy breakfasts while I'm exploring NYC. Plot your route through Central Park to take in Strawberry Fields, Bethesda Terrace, Loeb Boathouse on The Lake, the Hans Christian Andersen Monument and Alice in Wonderland.
Next on your weekend in New York City itinerary should be to scale Top of the Rock and observe Manhattan and surrounds from the observation deck 70 floors up. Book a time in advance to bypass the often long lines. See this post on NYC to find out why I choose Top of the Rock of the Empire State.
While you're in the area, pop over to Grand Central Terminal and see what the fuss is about this beautiful, Beaux-Arts transport hub. From there, take the Subway to DUMBO (Down Under the Manhattan Bridge Overpass).
Once you arrive in DUMBO, find lunch at one of the many restaurants in the Water Street area. Explore the neighbourhood including great Manhattan skyline views and Jane's Carousel in Brooklyn Bridge Park. At sunset, wander back to Manhattan over the Brooklyn Bridge. This is a busy but beautiful time of day to experience this iconic Bridge over the East River.
Go directly to the East Village and find Crif Dogs. The phone booth in this diner leads into a speakeasy named Please Don't Tell, where you can get a cocktail to go alongside your New York City hot dog. Make sure you get there early as the speakeasy fills up fast.
Sunday
Begin the last day of your weekend in New York with a round trip on the free Staten Island Ferry from Whitehall Terminal, for splendid views of the Statue of Liberty. Allow 60-90 minutes for the full return trip because you must alight the ferry at Staten Island Terminal and queue to re-board the ferry returning to Manhattan. If the line is significant, you may have to wait until the next ferry, hence the variable timeframe. Fortunately, the ferry runs 24/7, so the earlier you travel the less likely you'll need to wait.
Make your way to the 9/11 Memorial and Museum, observing Charging Bull and Wall Street along the way. Explore the 9/11 Memorial at the foot of One World Trade Center and check out the incredible Oculus at Westfield World Trade Center both inside and out. Architect Santiago Calatrava designed the Oculus to look like a dove, representing peace at the site of the 2001 terrorist attacks.
Hop on the Subway up to Chelsea Market for lunch. Here you'll find something to satisfy everyone's tastes. I'm a fan of Num Pang's banh mis and never miss a chance for ice cream with halva for dessert at Seed + Mill.
Finish your New York weekend trip with a walk up the High Line from Chelsea Market to Hudson Yards. The High Line is a historic, raised railway that was repurposed into a public park and walking trail. You'll enjoy elevated views of the Manhattan streets, gardens and public art along your route.
I've intentionally left off mid-afternoon, as those flying in/out of New York City for the weekend will need time to get to the airport 3-hours ahead of their flight. Getting to NYC airports can be quite a hassle, so make sure you have a plan on how you're getting to there and leave plenty of time.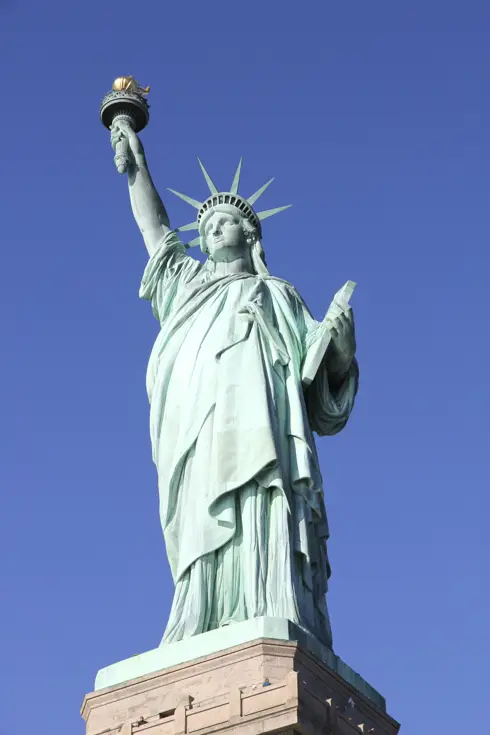 Weekend in NYC Map
Getting to New York City
Fly
The three largest airports near NYC are John F. Kennedy International (JFK), LaGuardia Airport (LGA) and Newark Liberty International Airport (EWR) – the latter is technically in New Jersey. International visitors will likely arrive into JFK or Newark, while domestic travellers have the option of all three.
Personally, after having experienced all of them, I choose LaGuardia as my first preference. Even with all the construction going on there now, it is so much closer to Manhattan than the others and most easily accessible by train. You can easily spend half a day in traffic transferring between the other two airports and the city, or a ridiculously long public transport ride. To me, LaGuardia is the most efficient choice, especially if you only have a weekend in New York City.
Train
Wherever possible I take the train in and out of NYC and avoid airports altogether. New York City has two main railway stations in Midtown Manhattan which is probably where you'll be staying: Grand Central Terminal and Penn Station. Interstate commuters will generally be looking for an Amtrak service in/out of Penn Station.
Bus
Megabus, BoltBus and Greyhound all have services into NYC from various cities including Washington, Philadelphia, Baltimore, Wilmington and Toronto. Buses are best for those nearby and/or on a budget buy you may have to contend with NYC traffic depending on the time of day you travel.
You can grab a copy of this map for yourself by clicking in the top right-hand corner and saving a copy.
Where to stay New York City
As far as locations go, Midtown makes the most sense for people visiting New York City which is why you'll find the highest concentration of tourist hotels there. As the name suggests it's in the middle and therefore a central location for basing yourself during your stay.
Accommodation doesn't come cheap in NYC. I've stayed in a variety of hotels including Hilton Garden Inn, Novotel New York Times Square, Row NYC and Roger Hotel. As you can see I'm not committed to one hotel, I try to balance the best price with good reviews for each stay. I would stay in all of these again except Row NYC, which was a loud, dirty, cheap, party hotel.
If you have more than just a weekend in New York City, check out these things to do for first-time visitors, and more for second…third…fourth-time visitors.
Peace, love and inspiring travel,
Madam ZoZo