San Francisco is a city of multiple personalities, noteworthy historical moments, cultural curiosities and social movements. With oodles of stuff to do and experience, I'm happy to help you narrow the field for your weekend trip to San Francisco.
Until I researched my first trip there, I had no idea how much I still had to learn about SF. Though I'd absorbed a lot through movies and television, there were so many things that I might have missed if I hadn't done some reading before creating my itinerary – so, I'm glad you're doing the same. Read on for a San Francisco weekend getaway curated to include the most unique things about the City by the Bay. If you have more than a weekend, see this comprehensive list of things to do in San Francisco.
Disclosure: I may earn compensation from the purchase of any product or service linked on this website, at no extra cost to you. I only link to products I use and love, therefore feel comfortable recommending.
Getting around San Francisco
San Francisco's is a very walkable city, but if you want to make the most of your weekend trip, it would be best to consider other forms of transport such as public transport and rideshare services: Uber and Lyft. San Francisco public transport is comprehensive and can feel overwhelming at first. I wrote a more complete explanation of the system in this post about San Francisco. Here, I'm just going to give you the short, need-to-know stuff for this particular itinerary:
MUNI, short for "municiple", refers to the systems of streetcars, cable cars, light rail and buses.
The MUNI Mobile app allows you to plan your trip and pay your fare with a credit card or Paypal. You can buy individual fares starting at $2.50, or 1,3 and 7-day Passports. See more about MUNI fares here. I downloaded the app and added my credit card in advance of my trip, so that I was ready to hit the ground moving.
You can pay fares by cash to the driver, but you must have exact change and they are more expensive than if you use the app.
"Cable cars" are the ye olde, 19th-century looking cars running down: California, Powell/Hyde and Powell/Mason. Don't confuse these with what is referred to as the "historic streetcars," which are the more retro-looking vehicles that run the E and F lines along Market St and the wharves.
A single ride on the cable car will cost you $7.00, so if you plan to hop on and hop off (which I suggest later in this post) you'll pay $7.00 every time. In this case, it's more cost-efficient to buy a 1-Day Visitor Passport, which will give you unlimited rides on Muni, Muni Metro, historic streetcars and cable cars for the day.
Where to stay on your weekend trip to San Francisco
The InterContinental Mark Hopkins is a historic property located centrally on Nob Hill, putting you within easy reach of several attractions we'll cover in this post. The Hotel has a historic charm, with small but comfortable rooms.
For a more contemporary, design-led experience, try the Kimpton Buchanan just outside San Francisco's Japantown. The boutique hotel has style and space going for it. Their complimentary, afternoon happy hour is also a great bonus to staying in this property.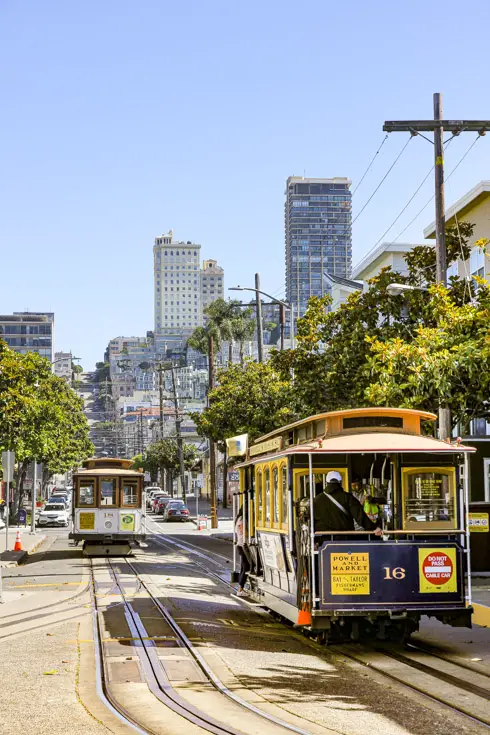 San Francisco weekend itinerary
Friday night
Upon arrival on Friday evening, head to the Top of the Mark for cocktails with a view. If you are staying at the InterContinental Mark Hopkins, you'll be pleased to find that this sky-lounge is on the 19th floor of your accommodation. Here you can check off your first San Francisco-invention – the martini!
Saturday
After breakfast, let's head straight for Chrissy Field and Beach for a great view of the Golden Gate Bridge. Chrissy Field is located within the Presidio, a public park located on the northern head of the San Francisco Peninsula. The Presidio also contains the Lyon Street Steps, Walt Disney Family Museum (which you'll have to save for another weekend trip to San Francisco) and our next stop, the Palace of Fine Arts.
The Palace of Fine Arts is all that remains of the 1915 Panama-Pacific Exposition celebrating the opening of the Panama Canal. It's like turning the corner into another world when you reach this ancient Roman ruin-inspired sight. Allow an hour to wander around and take photos before we move on.
I'm not a fan of Fisherman's Wharf proper and I've offended plenty of people (bar actual San Franciscans) by saying so. If you feel the need to visit this tourist atrocity for yourself, go for your life. Alternatively, check out the historic ships on Hyde Street Pier, which is part of the San Francisco Maritime National Historical Park. Take a wander past the gorgeous, streamline modern Maritime Museum and out on Aquatic Park Pier to see what the local fisherman are catching, all with views of Alcatraz.
While you're in the area, fuel up for more sightseeing around San Francisco, with fish and chips at the well-known secret, The Codmother, a food truck on Beach St or book yourself a Michelin-star meal at Gary Danko.
This will put you in the vicinity of the Powell/Hyde cable car turntable. Take the Powell/Hyde Line up over Russian Hill and on to Chinatown. Along the way, hop-off at Lombard St, the "world's most crooked street" for pictures (remember what I said above about getting a 1-Day Visitor Passport for saving when using the cable car more than once). Though this time of day isn't ideal crowd-wise, you only have a weekend in San Francisco, so carpe diem! You can also check off your second SF invention: the cable car invented by Andrew Smith Hallidie circa 1873.
The next must-do on your weekend trip to San Francisco is to visit the USA's oldest Chinatown and the birthplace of the fortune cookie. Yes, the "Chinese" fortune cookie was created by Chinese immigrants in SF (based on a Japanese baked good – how melting-pot perfect is that?!) and you can visit one of the original factories where they still fold the cookies by hand. Entry to the small, Ross Alley factory is free with the purchase of some of their product and why wouldn't you!?
Now that you're in Chinatown, let's do dinner – dim sum maybe? Finish up the evening with cocktails in the most delightfully kitsch venue I've been to in years… The Tonga Room & Hurricane Bar. Don't ask, just go and if you're staying at the Mark Hopkins InterContinental you're again in luck, because after a few Mai Tais (yep they were invented in the Bay area too – Oakland specifically) you can just cross the road and you're back at your hotel.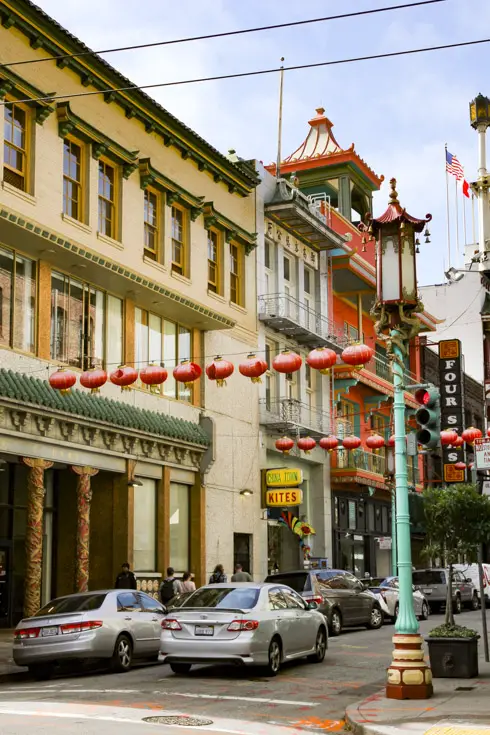 Sunday
Sunday morning is the time for a whip around the sights of Nob Hill. There are two places I recommend you visit in this brief tour: Grace Cathedral and the Tony Bennett Statue at The Fairmont. Grace Cathedral is the French Gothic-inspired, Episcopalian church you can't miss. Opened with a sermon by Martin Luther King Jr in 1964 it has various points of interest including the cast bronze Ghiberti Doors, stained glass, labyrinths and the AIDS Interfaith Chapel with its altarpiece care of the renowned street artist, Keith Haring. Then make a brief stop in front of The Fairmont for a pic of the Tony Bennett statue celebrating where he first performed his famous rendition of "I Left My Heart in San Francisco".
Next up, we meet the Painted Ladies in Alamo Square. "Postcard Row" is the line of vibrantly painted Victorian homes which you've seen countless times in the movies and on tv, especially if you grew up watching Full House. Take in these beauties from the park opposite which also offers great views of the San Francisco skyline.
Proceeding to Haight-Ashbury, we check out the neighbourhood that gave rise to the Hippie counterculture and was the epicentre of the Summer of Love in 1967. Property prices in "The Haight" have sky-rocketed since those days, but the commercial strip withholds some of its gritty, alternate vibe. After a stroll by the record stores, tattoo parlours and some fabulous vintage shopping, pull up a window-side table at a cafe and enjoy some people-watching while eating lunch. See here for addresses of some of The Haight's famous, former residents such as Janis Joplin, Jimi Hendrix and the Grateful Dead.
Finish your weekend trip to San Francisco on a high note, with a final SF invention… the cioppino. The tomato-based seafood stew was the creation of Italian fishermen in North Beach back in the day. If you're a fan of Bouillabaisse, you'll almost certainly love tucking into a cioppino. North Beach is SF's Little Italy, so this is the best place to seek out an authentic version of the dish and see one last neighbourhood before you depart.