Colombia's largest port city has always been targeted for its rich treasures. Even today Cartagena is favoured by visitors for its fascinating history, colonial architecture and Caribbean coastal location. Here is how to spend 3-days in Cartagena, exploring highlights of the fortified city and the natural beauty of its nearby islands.
Disclosure: I may earn compensation from the purchase of any product or service linked on this website, at no extra cost to you. I only link to products I use and love, therefore feel comfortable recommending.
A brief history of Cartagena
Cartagena was established in 1533 by Spanish Commander Pedro de Heredia, on the site of a former Calamari indigenous settlement. It was the second city founded on Colombia's northern coast after Santa Marta, and quickly became an important port for exporting South American riches back to Europe.
Valuable raw materials sitting in the port tempted pirates and colonial rivals, bringing the city under repeated fire. Cartagena also became a hub for the slave trade, further adding to its wealth. Therefore, in the late 16th-century, it was clear the city needed fortification. An 11km wall and a series of forts were constructed in stages over the next 208 years.
In 1811, Cartagena was the first city to make an attempt at independence from Spain. They finally achieved sovereignty during the War of Independence in 1821. Cartagena managed to sidestep much of the violence of the civil wars and remains the country's largest port today.
Day 1 – Centro Historico and Choco Museo
Cartagena now spills far beyond its colonial built walls, but the UNESCO World Heritage-listed historic district (Centro Historico) continues to be the sightseeing centre. Take a free (pay-as-you-wish) walking tour to learn about the history and architecture of the fortified city. We took a fun and informative wander with a guide from Free Tour Colombia and would recommend their tours that run twice per day.
If you read my post on the Art and History of Chocolate in Guatemala, and you are interested in visiting a Choco Museo, they have a branch in Cartagena. Colombia is another great cacao producer, and I highly recommend the experiences that Choco Museo offer.
Follow up with sunset at Café del Mar on top of the wall. Drinks are expensive and from all reports the food is average, so the Café is more of a landmark for where to find a west-facing position along wall to watch the sun go down.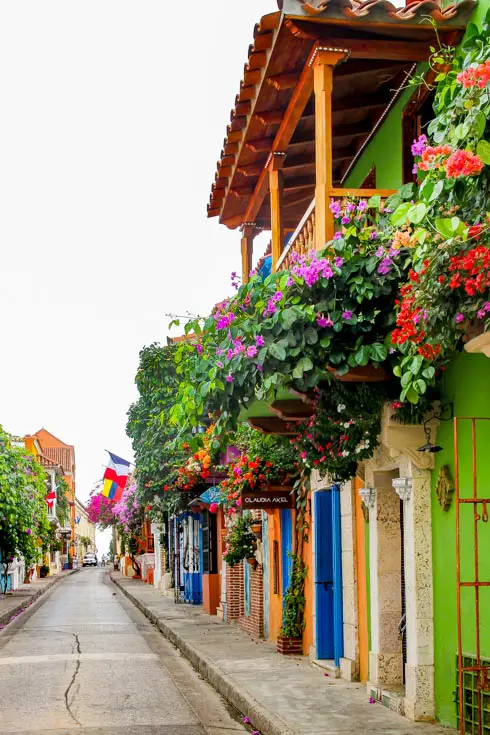 Day 2 – Rosario Island cruise
After much research and reading about people's less than stellar experiences taking cheap boats out to the Rosario Island day resorts, we decided to upgrade! For COP258.000 (roughly USD83) per person, we took a luxurious 6-hr cruise around several spots in the Islands including lunch, non-alcoholic beverages and snorkelling gear. Bona Vida Catamaranes is a relatively new service with a sparkling vessel and lovely staff. We had a delicious seafood lunch onboard and bought ourselves an extra serving of lobster from a passing fisherman – because we could.
The Rosario Islands are lovely and just what we needed at the end of another long Ohio winter, but they aren't the Maldives or the Cook Islands. If like us, you have super high standards for tropical beaches/islands, temper your expectations just a tad and you'll enjoy your time out there on the water. Book your Rosario Islands visit as early in your trip as you can, so there is time to reschedule if the weather is bad.
Day 3 – The Convent, the Castle and Getsemani
Visit Convento de la Popa
For one of the best views of Cartagena and surrounds, head for the highest point around (you can't miss it). Convento de la Popa "Convent of the Stern" located 150m above sea level on the peak of Mount Popa, was established by Augustine fathers as a wooden chapel in 1607. It was later replaced by a sturdier, stone chapel and convent. The location offers stunning 180-degree views of Cartagena from the cruise port to airport and everything along the coast in between for COP12.000 (less than USD4) with Uber. Though you can walk to the top, it isn't recommended for safety reasons. There is no public transport, so an Uber or taxi is your best bet.
Castillo de San Felipe de Barajas
Named after Spanish King Philip IV, the Castillo de San Felipe de Barajas is not really a castle at all but a large fortress built to defend Cartagena, withstand heavy attacks and last long sieges. My first impression of the Castillo was "that looks like a mountain of stone". Well, indeed it turned out that impressive construction began in 1657 on the top of 40m high San Lázaro Hill, and the fortress expanded over time eventually dominating the entire peak. The fortification has the capacity to house 500 soldiers and shields a complex of tunnels that link strategic points and were used to transport supplies. Though it was never tested at this full capacity. An earlier, smaller version of the Castillo was enough to repel a large British strike and scare off subsequent attackers. You can walk to Castillo de San Felipe de Barajas from the Historic District and Getsemani. We tied it into our round trip to Convento de la Popa and only walked the last leg from the fort back to the Centro Historico.
Getsemani architecture and street art
Getsemani falls just outside the historic district and shares its colonial architecture. The upcoming neighbourhood attracts a hip creative class and is a good place to look for budget accommodation and meals within a stone's throw of Centro Historico.  Not only will you find cool boutique hotels, eateries and nightclubs in this area, but its hip residents and visitors are artistically inclined as well – cue awesome street art!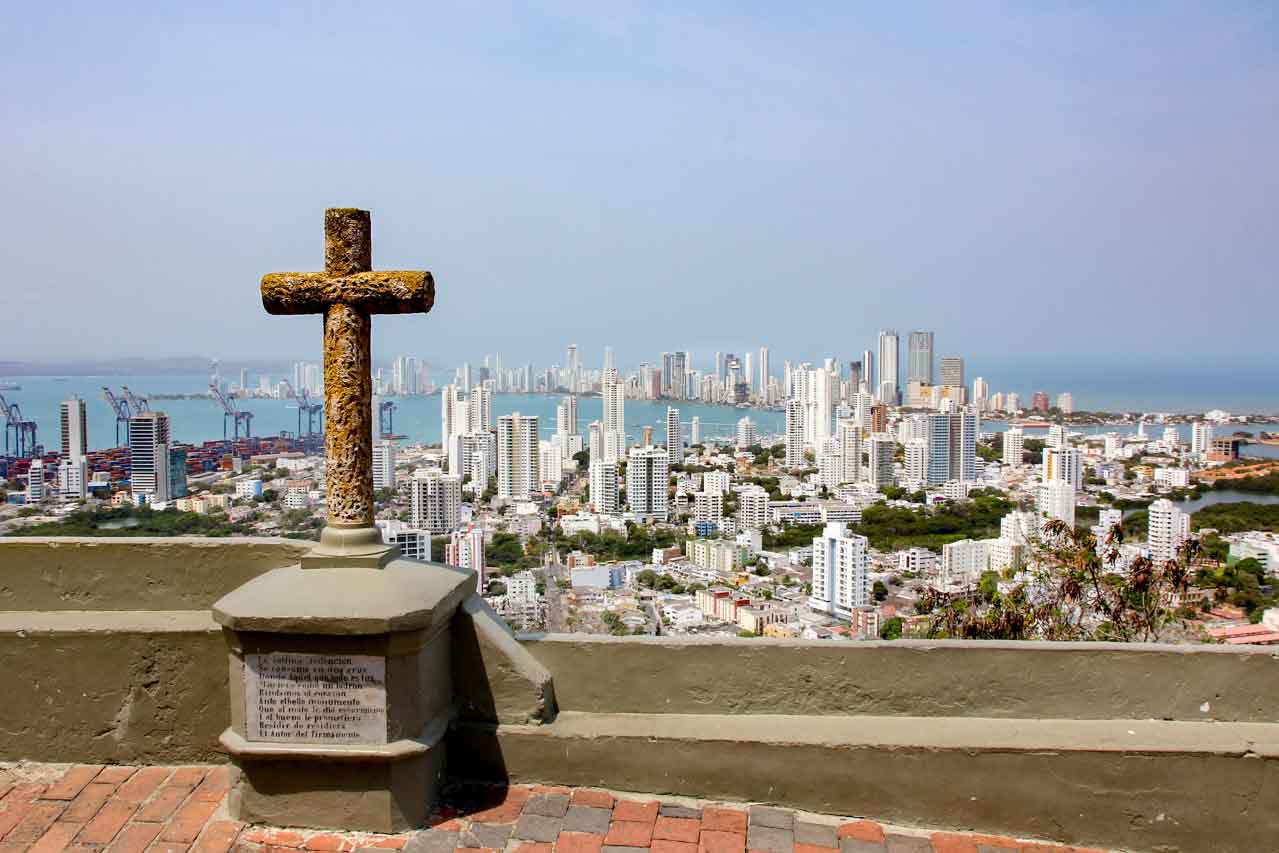 Eating in Cartagena
You'll be spoilt for choice when it comes to food and drink during your 3-days in Cartagena. Though Cartagena isn't cheap by Colombian standards, there are still some really good value meals to be found. Here are some of our favourites:
Café Stepping Stone, Getsemani – Amazing Aussie-style brunches and good coffee, served up at a social project making a big difference in the lives of their local staff. Three Australian's founded Café Stepping Stone with hopes to provide skills training and employment opportunities to disadvantaged youth in Cartagena.
Beiyu, Getsemani – A tiny café serving up slow food with a focus on Acai. They have a long menu of sandwiches, salads and juices, with plenty of options for vegetarians and vegans.
Interno, Centro Historico – Interno claims to be the world's first restaurant inside a fully operating female prison and run almost completely by inmates. The restaurant aims to help prisoners learn skills that will help them reintegrate into society once they are released. The 60-seat eatery opens for dinner each night with a prix fixe menu of fresh, Colombian-inspired dishes.
La Cevicheria, Centro Historico – I'm obsessed with ceviche, so of course this is the first place we ate upon arriving in Cartagena. Following in Anthony Bourdain's footsteps (his pic is on the menu), we sampled their rightfully recommended lobster ceviche.
Getting around Cartagena
If you base yourself in Centro Historico or Getsemani, which I highly recommend you do so, you walk anywhere on this itinerary besides Convento de la Popa. Uber is technically illegal in Colombia, but this is mostly to keep the taxi mafia at bay. It is widely published around the interweb that people use Uber, so we went ahead and Uber-ed around except to/from the airport.
Enjoy your 3-days (or more if you're lucky) in Cartagena, and don't forget to pack sunscreen and a big hat. Drop any questions in the comments below, I'm happy to help.
Peace, love & inspiring travel,
Madam ZoZo