Planning a getaway to Bora Bora, French Polynesia? Get answers to the top questions here, all in one place! This helpful information will help you determine if Bora Bora is the right destination for you; when to travel; and how much to budget for your trip to the "Pearl of the South Pacific".
1. Where is Bora Bora located?
Bora Bora is an island in the nation of French Polynesia (French: Polynésie française; Tahitian: Pōrīnetia Farāni). French Polynesia is both a country and an overseas territory of France. It is made up of 121 islands and atolls in the South Pacific Ocean. Papeete is the capital city of French Polynesia and is located on the island of Tahiti.
The islands are divided into five groups: Society Islands, Tuamotu Archipelago, Gambier Islands, Marquesas Islands and Austral Islands. Bora Bora is one of the Society Islands, which also includes the islands of Tahiti and Moorea. Vaitape is the largest town on the island of Bora Bora.
2. What is Bora Bora known for?
Bora Bora is famous for soft, white-sand beaches; a crystalline lagoon bordered by a stunning coral reef; its lush, volcanic interior; year-round warmth; and luxury resorts.
In addition, broader French Polynesia has gained a reputation for various aspects of its indigenous cultures including a long tradition of tattoos—the origin of the word "tattoo" comes from the Tahitian word "tatau". The Islands have also gifted the world exceptional vanilla and unique black pearls.
3. Is Bora Bora worth it?
There is no doubt honeymoons and holidays in Bora Bora cost a pretty penny, but are they worth it? French Polynesia is a fairly remote group of islands, so there is additional cost in reaching the islands versus similar Pacific-island destinations such as Hawai'i or Fiji. Similarly, every good you consume there that is not produced in French Polynesia also incurs the cost of shipping to this isolated spot.
Additionally, Bora Bora is one of the most famous islands in French Polynesia and therefore demands a higher price tag. So, it depends on what kind of experience you are seeking. You can travel to French Polynesia and not visit Bora Bora if you want to save some moolah. Staying on Tahiti, Moorea or one of the other islands may provide more value for you with an experience that isn't THAT different from Bora Bora.
4. How to get to Bora Bora?
Faa'a International Airport (PPT) is located near the French Polynesian capital of Papeete, on the island of Tahiti. This is where the majority of non-cruise visitors will arrive in the archipelago. Air France, Air New Zealand, Air Tahiti Nui, Aircalin, French Bee, Hawaiian Airlines, Latam Airlines and United Airlines all run flights to Papeete. From Tahiti you can then take a short domestic flight or a long boat ride to Bora Bora:
Domestic flights to Bora Bora are conducted by the Air Tahiti and usually start at USD400 for a return ticket—unless of course you have the money to charter a flight. The Bora Bora airport code is BOB and the trip is about 45-minutes one way.
The express ferry service between Tahiti and Bora Bora will cost around USD100 one-way and takes about 8-hours one direction.
Note, if you're planning to take a cruise around French Polynesia, there are strict rules for protecting the fragile marine environment of the islands. There is also only one break in the lagoon surrounding the island, that is deep enough for large vessels, limiting traffic. Therefore, only vessels with 1200 passengers or less can visit Bora Bora.
Tip: Air Tahiti flights between islands have free seating. If you want a great view of Bora Bora from the plane, make sure you get to the airport a full 1.5-hours before your flight as recommended. Then choose a window seat on left side of the plane. During the flight you'll also catch a glimpse of several more islands including: Moorea, Maia'o, Huahine, Raiatea and Taha'a.
5. How to get from Bora Bora Airport to your resort?
Bora Bora Airport (BOB) is on a motu (islet) separate from the main island. Many resorts offer boat transfers direct from the airport to their accommodation, however these are exorbitantly priced unless you get a package deal.
The most cost-effective option is to take the free airport ferry to the main town of Vaitape of Bora Bora, and take a taxi to your resort from there. It's easy and much cheaper. The ferry is scheduled for flight arrivals so you don't have to wait long if at all. It's about a 20-minute ride across the lagoon to Vaitape where taxis will be waiting at the ferry terminal. A taxi transfer is fairly standardized at USD20-25 (some taxi drivers will charge USD2.50 per large bag).
On your return trip, the ferry is scheduled to leave the Vaitape terminal 1-hour 30-minutes prior to each departing flight.
6. When is the best time to visit Bora Bora?
Bora Bora, French Polynesia is beautiful at any time. The best time to visit Bora Bora depends on what you're hoping to get out of the experience and how much cash you have to splash:
The best time to go to Bora Bora overall is during the two, short shoulder seasons in April and November. The weather is transitioning between in/out of rainy season and there will be fewer other travellers to share your slice of paradise with. Water visibility is still good and winds are lower during these times, which makes the shoulder seasons good for diving and snorkelling.
The best time to travel to Bora Bora to save money is December through to March. This period is low season in Bora Bora due to warmer temperatures and higher rainfall. The weather is usually more unpredictable at this time of year, but the upside is quieter islands and lower hotel rates.
The best time to visit Bora Bora, French Polynesia to swim with humpback whales is between July and October each year.
The best time to visit Bora Bora for cooler, drier weather is May through October (southern hemisphere winter). However, be prepared for high season volumes of fellow travellers. August is particularly popular with European visitors.
7. How much does Bora Bora cost?
The cost of travelling to Bora Bora and French Polynesia varies throughout the year. While it is never a cheap destination, there are ways to make it more affordable, such as travelling during low season, booking well in advance and looking for holiday packages that combine flights, transfers and accommodation.
Flights to Bora Bora
International flights to Papeete will vary depending on your starting point. Direct flights starting on the Pacific Rim such as Seattle, San Francisco, LA, Auckland and Tokyo, will start at roughly USD800 return. Direct flights from Paris are upward of USD1700 return. In high season you will be looking at closer to USD2500 return.
Indirect flights from London lift off at USD1600 and New York departures (with one to two stops) will begin at closer to USD1200 for a return fare.
Domestic flights between Tahiti and Bora Bora are operated by Air Tahiti, and start at USD400 return. If you are planning to visit more than one island, consider Air Tahiti's Multi-islands Pass to save you some dough.
Bora Bora resorts and lodging
Bora Bora accommodation tends to be more on the luxury side than other French Polynesian islands. An overwater bungalow will set you back an absolute minimum of USD600 per night. Beach/garden bungalows will cost a little less and luxury overwater suites run into the thousands.
Guesthouse called Pensions (pronounced pone-see-owns), in French Polynesia, offer a more affordable accommodation option. They vary in quality and overall tend to be simple and rustic. Pension amenities range from no hot water and a shared kitchen through to hot water, wifi and meals cooked by the host.
Those familiar with the Island and who visit regularly, tend to book Airbnbs and vacation rentals to save money.
Food
If you want to save money on food, eat what is produced locally such as rice, potatoes, pork, chicken, seafood and tropical fruits including bananas, papaya and pineapple. Expect an average meal to set you back USD30-70, and eating in your resort will cost more than at local restaurants. Cocktails start around USD20 and a local beer is roughly USD9.
Tip: If you want to dine outside your resort for dinner, most of the mid to higher end restaurants on the main island of Bora Bora offer a shuttle service in the evenings (generally after 5pm). You will need to book in advance, and request the shuttle service when you do. Some restaurants charge a fee that is added to your restaurant bill, others do not.
Activities
Budget half-day tours of the island start at about USD60, everything else is significantly upward from there. We took a full-day, group, snorkelling tour which included three stops and a buffet lunch, which cost USD150 per adult.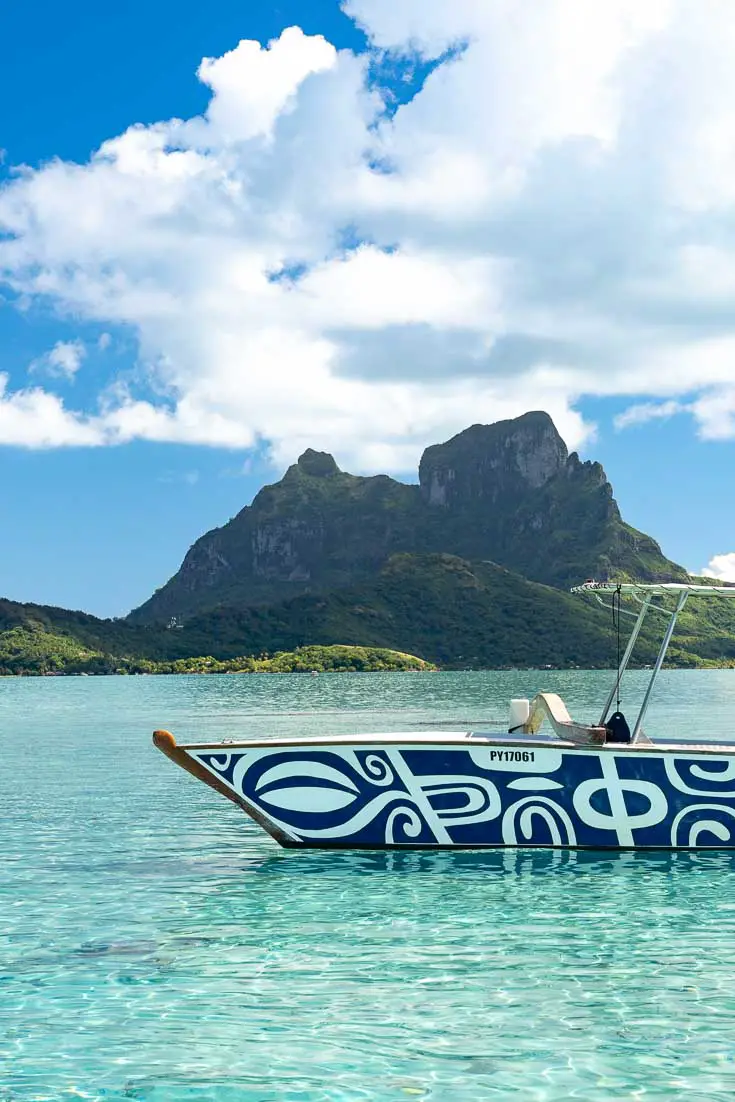 8. What currency is accepted in Bora Bora and French Polynesia?
The currency used in Bora Bora and broader French Polynesia is the Pacific Franc (XPF or CFP). The Pacific Franc exchange rate is fixed to the Euro: EUR1 = XPF119.33 (or XPF1 = EUR0.00838). The Pacific Franc comes in denominations that follow:
Coins – 1, 2, 5, 10, 20, 50 and 100.
Notes – 500, 1000, 5000 and 10,000.
There are exchange services and ATMs at Faa'a International Airport that can convert foreign currency to XPF when you arrive in French Polynesia. There are also international banks in Papeete that can exchange cash for you. International hotels may also offer this service but do so at a less favourable exchange rate.
Generally, if you have a credit card with no foreign exchange fees, it is recommended to use this as your primary form of payment. A small amount of cash may be required for taxis or making purchases at small businesses on Bora Bora.
Some sources say US dollars, Australian dollars and Euros are accepted, but this is limited to places where cruises dock on a regular basis. If foreign currency is accepted, it will usually be at a less favourable exchange rate than from a bank or ATM, so it's best to have a little local currency on you.
Tip: A quick way to roughly convert prices in Pacific Francs to US Dollars in your head, is to drop the last two zeros. For example, XPF1000 is about USD10.
9. How much cash should I take?
From USD100-500 per couple, per week should suffice. We found USD200-equivalent in cash was more than enough for our week-long trip. Any leftover cash you have at the end of your stay can be used to pay down your hotel bill, and you can settle the remainder by credit card.
10. Is tipping customary in French Polynesia?
Tipping in Bora Bora and French Polynesia is not traditionally part of Polynesian culture. However, with more North American visitors it is becoming more common. While not expected it is always appreciated.
Restaurant bills include a service charge, so there is no need to tip in this circumstance.
11. What power supply and plugs are used in French Polynesia?
Electricity in French Polynesia is supplied at different voltages and frequencies: you will find voltages of 110/220 V and frequencies of 60/50 Hz. Therefore, you may need a power convertor as well as an adaptor, depending on where you come from in the world and your home power supply.
As an indicator, North America's standard is 110V/50Hz, while Australia, most of Asia, Europe and Africa supply 220-240V/60Hz.
Check each of your electronics, if the label reads 'INPUT: 100-240V, 50/60 Hz', the appliance can be used across both voltages and frequencies. This is usually the case for modern phones, laptops, cameras and tablets; less so for hairdryers, flatirons and other devices.
Power plugs and sockets in French Polynesia are type A, B and E. Note, that if you are staying in an overwater bungalow the number of power outlets is generally fewer than other types of accommodation.
12. Is Bora Bora tap water safe?
Generally, tap water is safe to drink in Papeete (the city, not the entire island of Tahiti) and on Bora Bora. However, check with your accommodation when you arrive and ensure you pack a reusable water bottle. It has been an environmental initiative of Bora Bora to have potable water, in order to cut down on single-use plastic bottles used around the island.
Tip: If you order still water at a restaurant, it will generally be to purchase. I noticed many savvy diners at hotel restaurants brought their own water bottles to dinner.
13. What language is spoken in Bora Bora, French Polynesia?
French is of course, the official language of French Polynesian. Many locals across the Society Islands also speak Tahitian, the indigenous language of the archipelago. Most guest-facing hospitality staff speak a degree of English, apart from housekeeping and maintenance workers.
If you don't speak French, open with the local greeting "Ia Orana" (pronounced: yo-rah-nah). When we opened with "Bon Jour" it tended to confuse people, as it was assumed we spoke French. It was simpler to begin with "Ia Orana", which didn't set any expectation. Another useful word in Tahitian is "Maururu" (pronounced: mah-roo-roo), meaning thank you.
In French, "Parlez-vous anglaise?" (pronounced: par-lay-voo on-glay) is used to ask if someone speaks English.
14. Which is better Bora Bora or Maldives?
Having been to both Bora Bora and the Maldives, you can't go wrong either way. Both are equally beautiful and offer wonderful seascapes, sandy beaches and balmy, tropical weather. Both destinations are expensive and remote. The biggest points for comparison are landscapes, culture and travel time from your point of origin.
The Maldives
The Maldives is an archipelago of small, low-lying islands and atolls. This means that many of the Maldives resorts (aside from those on Malé) inhabit the entirety of their small island and there is no option to dine or do activities beyond what is offered by the resort itself. The bubble of the island resorts keeps you from experiencing much of the local culture in the Maldives. However, you will see it expressed in the food offering as cuisine tends more toward Asian influences. See more about the Maldives here.
Bora Bora, French Polynesia
On the other hand, French Polynesia has tall volcanic peaks with larger land masses. Each major island has multiple hotels and resorts, with more independent businesses including restaurants and tour companies offering options to visitors. There are more hiking, ATV and other land-based activities in French Polynesia and culture, in particular food, is much more French-influenced.
Lastly, consider the commute and how much time/money you want to spend in transit. The Maldives is about 10 to 11-hours direct flight from Europe and half that from much of Asia (e.g. 5-hours direct flight from Singapore). French Polynesia is 9 to 10-hours direct flight from the West Coast US, and from East Coast Australia (via NZ).
Bora Bora is exquisite! You won't regret blowing your hard-earned savings on this Pacific paradise. If have any further questions about Bora Bora, French Polynesia, please drop them in the comments below.
Peace, love and palm trees,
Madam ZoZo