Of the USA's 63 National Parks, Olympic National Park consistently ranks in the top 10 most visited. The million acres of wilderness ranges from soaring mountain peaks to dramatic, driftwood littered beaches. The diversity of landscapes encapsulated within this one Park is guaranteed to satisfy all nature lovers. Let's take a hike through the highlights and I'll show you how to map the best sights into your best Olympic National Park itinerary.
Disclosure: I may earn compensation from the purchase of any product or service linked on this website, at no extra cost to you. I only link to products I use and love, therefore feel comfortable recommending.
Where is Olympic National Park?
Olympic National Park is located in the west of Washington State, on the Olympic Peninsula—a wide piece of land that peels away from the mainland, surrounded on three sides by the waters of Puget Sound, Salish Sea and the Pacific Ocean.
How many days do you need in Olympic National Park?
If you want to cover the three key ecosystems encompassed by Olympic National Park—glaciated mountains, rugged coastline and temperate rainforest—then you should allow at least 3-4 days depending on how quickly you travel and the proportion of driving you want to do each day.
What is the best time to visit Olympic National Park?
Olympic National Park is open year-round but the best time to visit is late-Spring through Autumn (May-October).
Winter is characterized by high levels of snowfall in the mountains and rain in temperate forests. Some of the roads, campgrounds and trails will be closed from October through to May.
Summer is the warmest and driest, but also the busiest tourist season. The limited accommodation becomes expensive and books up well in advance. There may be long queues to enter some parts of the National Park such as the Hoh Rainforest.
Spring weather can be unpredictable and still quite rainy until late in the season. The upside is fewer visitors, gushing waterfalls and active wildlife.
Autumn too is wet and temperatures drop off steeply in mountain areas. The rain is worth enduring for fall colours in October.
How to get to Olympic National Park?
The nearest major airport to Olympic National Park is Seattle-Tacoma International Airport. From there you can drive to the Olympic Peninsula through the cities of Tacoma and Olympia.
Alternatively, you can jump on one of the various ferries: Seattle-Bainbridge, Seattle-Bremerton or Edmonds-Kingston and sail straight over Puget Sound. Taking the ferry may or may not be a shortcut depending on ferry queues. In peak periods, lines for the ferry can be as long as it would take to drive the entire way around, so book in advance or keep an eye on wait times via the Washington State Department of Transportations (WSDOT) website and/or Washington State Ferries Twitter.
Canadian visitors can take the Coho Ferry from Victoria, BC to Port Angeles.
Navigating Olympic National Park
The Park is skirted by a loop road—Hwy 101 – which connects various Olympic National Park entrances and access points. There is no road across the centre of the Park, so getting around to the various ecosystems takes time.
Top things to do in Olympic National Park
See blockbuster mountain vistas
Get closer to heaven on Hurricane Ridge where you'll have spectacular views of the Olympic Mountain peaks. Visit the Hurricane Ridge Visitor Center and/or go for a hike on one of the various trails ranging from 1.6-25 kilometres (1-16 miles) return. In summer you'll find wildflowers, mountain goats and marmot in grassy alpine meadows that will make you want to break into a rendition of the Sound of Music.
Hurricane Ridge is also a great place to enjoy sunset as long as you don't mind descending the steep, winding mountain road in the dark.
Hike a wonderland of forests
Olympic National Park harbors various types of forest. For temperate rainforest dressed in moss and lush with ferns, head to the Hoh Rainforest or Quinault Lake. Experience lowland old-growth forest in the Sol Duc Valley, Elwha River Valley and around Lake Crescent.
The Olympic Peninsula is also home to a few of the largest known specimens of certain tree species, including the largest Western Red Cedar, Sitka Spruce and Douglas Fir in the world!
Languish by a glacial-carved lake
Lake Crescent and Lake Quinault (pronounced "kwi-nolt") are large, scenic lakes that were carved by glaciers and are popular for boating and kayaking.
The Quinault Rainforest Scenic Drive is a 50 kilometre (31 mile) loop that will take you around the Lake and a little way up the Quinault River. There are a couple of short to medium distance hikes leaving from trailheads around the loop, as well as roadside waterfalls and the aforementioned, world's largest Sitka Spruce.
Go chase some waterfalls
The Olympic Peninsula has waterfalls for days. There's even an "Olympic Peninsula Waterfall Trail" you can follow, but if you don't have time for them all there are a couple of easy-access waterfalls you shouldn't miss:
Sol Duc Falls is possibly the most unique of all the Falls, with its triple (sometimes quadruple depending on water volume) drop. The trail is an easy 2.6 kilometre (1.6 miles) return through old-growth forest.
Marymere Falls is a straight drop and the trail takes you to vantage points high and low to view the 28 metres (90 foot) plunge. The trail is roughly 3 kilometres (1.8 miles) return from the Storm King Ranger Station.
Escape to the beach
Sea stacks, epic driftwood and black sand make Olympic National Park beaches quite dramatic. Though it's unlikely you'll feel the need to get in the water (it's too cold), you can still enjoy the scenery and explore tidal pools. Spot migrating whales from the beach in April through May and October through November, as well as other ocean life such as otters, sea lions and harbour seals.
Some beaches are accessible by road and others you will need to hike. Rialto Beach is a popular choice with drive-up access (good for short timeframes), while Second Beach (La Push) and Ruby Beach are also revered for their beauty, but require you to hoof it. Just make sure you check the tides when making your itinerary and again before you set out for the day.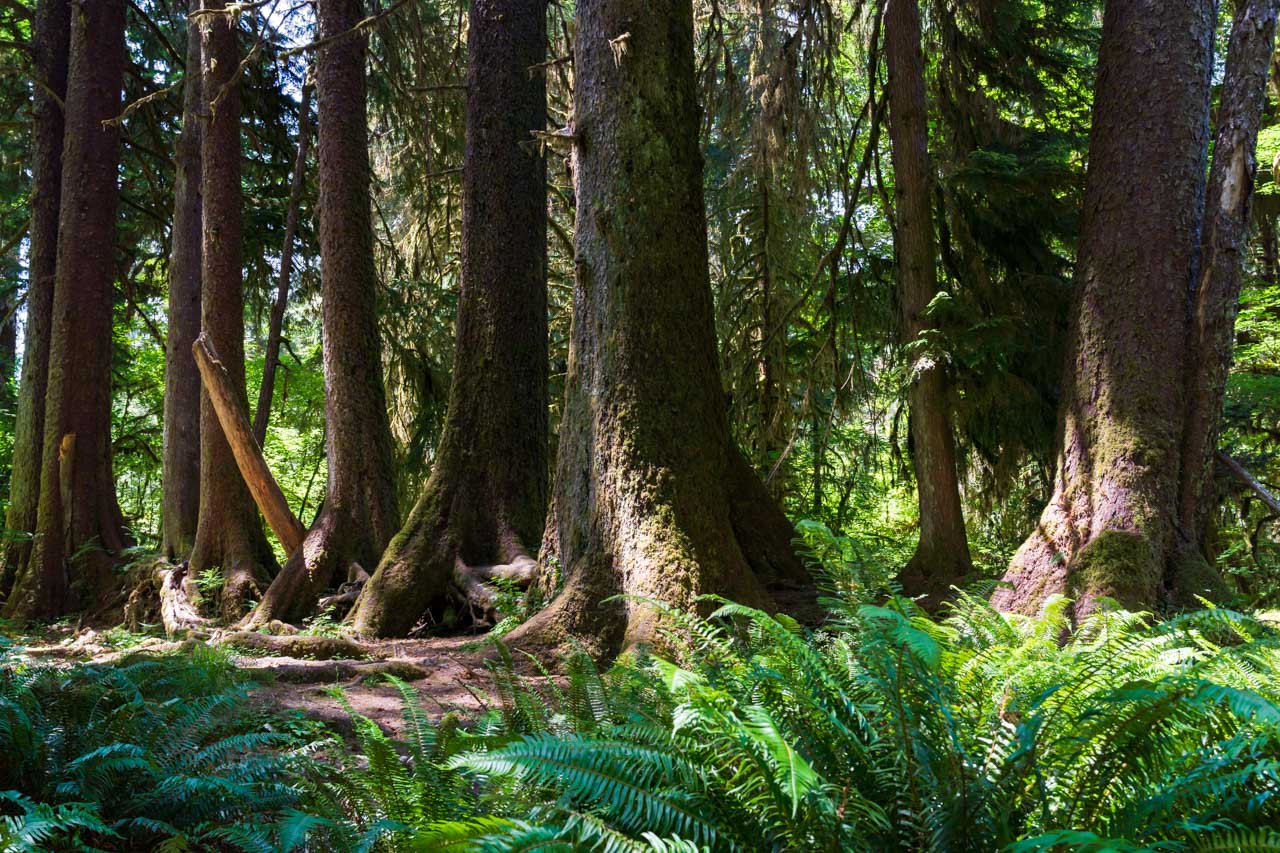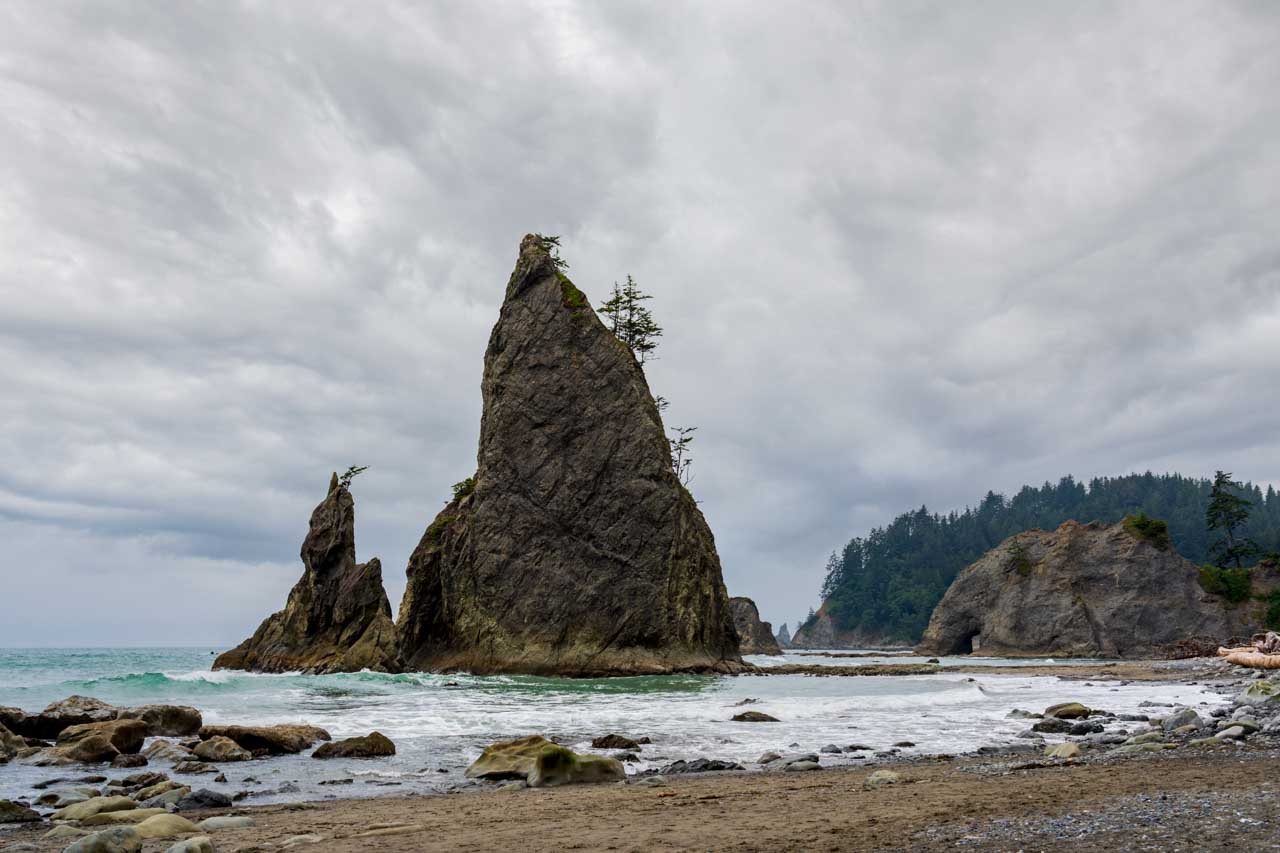 Things to do on the Olympic Peninsula (outside the National Park)
Go vintage in Victorian Port Townsend
This has to be one of the grandest small towns you'll ever come across! Once upon a time, Port Townsend was on the way to being the "City of Dreams". By the late 19th century, the busy port was set to be the end of the Northern Pacific Railroad and an important intersection for trade. Speculators built grand Victorian homes and commercial buildings at the waterfront before the bottom fell out. The Depression of 1893 drained the capital needed to continue the Railroad and the town's population plummeted. Fortunately for us, no one had the money to tear down and rebuild, so the historic district was preserved and is a major drawcard for tourism. This Sound-side town is a worthwhile detour on your trip to or from Olympic National Park. Stop for lunch or a coffee, wander the boutiques and watch sea otters at play from the wharf.
Wander the lavender farms
Sequim (pronounced "skwim") claims the title "Lavender Capital of North America". In contrast with its rainy Pacific Northwest surrounds, Sequim sits in a rain shadow and receives only about 10-15 inches of precipitation per year. Its dry climate and moderate temperatures make it perfect for growing lavender. There are dozens of small farms across Sequim-Dungeness Valley and a number of them invite visitors to enjoy the summer bloom. You can wander the fields, pick your own bouquet and purchase lavender-based products from soap to ice cream. Get your camera ready for all the purple-y goodness!
Pick your own berries
Strawberries, raspberries, blueberries, blackberries, loganberries… ALL the berries! Pick your own at Graysmarsh Farm in Sequim throughout summer. They also have a little lavender on the side, if you're looking for an all-in-one-stop.
Explore a new culture
There are 9 Native American tribes who call the Olympic Peninsula home, most of which still recognize and retain a connection with areas of the Park. There are two large reservations where indigenous people reside on the Peninsula – Makah and Quinault. Visit the Makah Museum for more insight into First Nations history and culture on the Olympic Peninsula.
Note: Tribal lands are currently closed to non-indigenous people due to the pandemic.
Visit the northwesterly point
Add this geographic superlative to your itinerary: Cape Flattery – the contiguous United States' most northwestern point. Note, Cape Flattery is located on the Makah Native American Reservation which is currently closed due to the pandemic.
Connect with some pop culture
There are at least two notable pop culture sights on the Olympic Peninsula in the towns of Aberdeen and Forks:
Aberdeen is the birthplace of Kurt Cobain and his band Nirvana. The fishing town on the south of the Olympic Peninsula has a small Memorial Park honouring the late Nirvana frontman and you can take photos outside his childhood home at 1210 East 1st Street. If you're lucky, you might run into the original Nirvana drummer (pre-Dave Grohl), Aaron Burckhard, hanging out around these spots. Fans should see more Nirvana-related sights here.
Forks inspired the original setting of Stephenie Meyer's Twilight novels. Though it wasn't used in the filming of the movies, the former logging town touted as the "rainiest place in America", was selected by the author for its "vampire-friendly" PNW climate. Fans recognize several locations around town used in the novel, and the town hosts an annual festival dedicated to the supernatural stories each September.
Olympic National Park itinerary 4-day summer itinerary
Here is our 4-day itinerary taking in at least one of each of the Olympic National Park ecosystems plus some extra cultural sights and places of interest as mentioned above.
Pro traveller tip: If you are having trouble getting accommodation, try reversing the itinerary. Most people tour the Olympic Peninsula anti-clockwise, so you have more chance of nabbing accommodation in peak periods by travelling clockwise.
Day 1
Drive Seattle to Sequim. If you take the ferry, you should have time to detour through Port Townsend for lunch. Visit a lavender farm or go berry picking in Sequim (summer only) and catch sunset from Dungeness Spit.
Note: If you are relying on restaurant meals, opening times in summer 2021 are limited due to lack of staff post-pandemic. We found most restaurants were closed by 8-9pm, so you may have to pack a picnic if you are intending to watch sunset while the days are still long.
Day 2
Hike Hurricane Hill or a shorter trail from Hurricane Ridge. Go to Lake Crescent for a picnic lunch and hike through the old-growth forest to Marymere Falls. Continue to Sol Duc Valley and hike to Sol Duc Falls. Spend the night in Forks.
Day 3
Visit Hoh Rainforest and Rialto Beach. Time your beach trip for low tide if you want to explore tidal pools or hike to Hole-in-the-Wall, a highly recommended 5.3 kilometre (3.3 mile) return hike along the beach (note that soft sand and pebbles make this more of a workout than it sounds – allow plenty of time). Spend the night at Lake Quinault.
Day 4
Take the Scenic Loop Drive around Lake Quinault taking in the various stops including the world's largest Sitka Spruce. Return to Seattle via Aberdeen for lunch.
Olympic Peninsula Map
Get this map! If you have a Google account, you can save a copy of this map to use and adapt for your trip. Click on the top right corner and it will open in a new window where you can save it to your Google Drive/Google MyMaps.
Enjoy your time on the Olympic Peninsula and the wonderfully diverse landscapes it has to offer. For more National Park itineraries see here.
Peace, love & inspiring travel,
Madam ZoZo