There's no place quite like the Galapagos Islands for nature lovers and wildlife enthusiasts. While cruising is the traditional way to see the archipelago, a land-based Galapagos itinerary is a great alternative. Island hopping offers a similar experience for less money and with more flexibility. Here I share our 7-day Galapagos itinerary including some of the most coverted wildlife and landscapes.
The best way to see the Galapagos
Cruising and island-hopping through the Galapagos both have their merits. I compare the two options in more depth in this post, but to very briefly sum-up:
Cruising will take you to further, less frequented reaches of the archipelago. Depending on which boat/cruise you sign up for, it is generally a more luxurious option. However, cruises are less flexible in terms of timing and are more costly.
Island-hopping allows you to cover sights within day trip-range of your land base. While the locations are less remote, you can still experience the broad biodiversity and spectacular landscapes that Galapagos offers. Land-based travel is also more flexible and budget-friendly.
Galapagos island-hopping basics
The Galapagos Islands are a National Park and a UNESCO World Heritage Site. There are three Islands on which humans are permitted to stay: Isla San Cristobal, Isla Santa Cruz and Isla Isabela. Each Island offer's proximity to different day-trip destinations.
Including two islands in your land-based Galapagos itinerary is ideal. Staying on only one island may be too limiting, and visiting all three is unnecessary due to an overlap of sights/wildlife.
This 7-day Galapagos itinerary, includes: Isla Santa Cruz and Isabela. If you want to read more on choosing which Islands to visit, see the advice in this post.
Booking your land-based Galapagos itinerary
When it comes to day trips, be aware that there are lots of providers and they can be hard to wade through and compare. Naturalist guides are appointed centrally by the National Park authority, so this is not a point of comparison. What will vary between providers is the quality of boat/vehicle, equipment e.g. snorkelling gear and food provided.
In addition, you may need to juggle the order of day trips in this itinerary according to availability, particularly if you are not booking well in advance. As I discussed in more detail here, we sent this itinerary to a local tour company and had them do the schedule shuffling and booking on our behalf. Their local knowledge helped ensure we were booked with reliable service providers from hotels to day trips.
Galapagos 7-day itinerary
This itinerary is 7-days actually in the Galapagos Islands. Depending on your point of origin, you'll need to tack on 1-2 days travel time on either side. I highly recommend spending an extended layover in Quito, as it is a beautiful city with lots to explore – see my Quito city guide here.
Day 1
Fly from Quito or Guayaquil to Seymour Airport on Isla Baltra (the airport for Isla Santa Cruz). Transfer to Puerto Ayora, the main town on Isla Santa Cruz, and check into your accommodation.  Spend the afternoon exploring independentally – here are some suggested activites:
Tortuga Bay
Take a short hike to Tortuga Bay, which is about 2.5-km (1.5-mi) distance one-way, and relatively flat. You will find the trail by going to Charles Binford Street and following the signs to Tortuga Bay. Along the paved trail you'll spot birds and lava lizards scuttling about between the giant Opuntia cacti (aka prickly pears), Palo Santo trees and saltbrushes.
Once you reach Tortuga Beach (Play Tortuga in Spanish), you'll find marine iguanas, Sally Lightfoot crabs and pelicans. During some season there are also nesting sea turtles and blue-footed boobies, along with flamingos in the lagoon that is adjacent to the Beach. Tortuga Beach experiences strong currents and isn't recommended for swimming.
Note: There is little to no shade on this walk, so ensure you pack plenty of water and use sun protection. Insect repellant is also advisable. See more on dressing for your Galapagos adventure in this packing list.
Laguna de las Ninfas
Another spot to visit just outside of Pueto Ayora, is Laguna de las Ninfas (Nymphs Lagoon). This is a tidal lagoon where you can view various bird and fish species. There is an interpretive trail that will take an hour or less to explore.
Giant tortoise breeding centre
Visit the Fausto Llerena Tortoise Centre on the western side of Puerto Ayora to learn about their efforts to recover the tortoise population on islands where they are endangered or extinct. You will see many tortises at various stages of maturity. The Centre is open daily 6am-6pm. Don't worry if you don't make it here in time, there is another opportunity to visit a similar breeding centre on Isla Isabela in this Galapagos itinerary.
Day 2
On day two of your Galapagos island hopping, take a full day trip to Isla Santa Fe and Playa Escondida. On this excursion, you'll take a short land hike and do some snorkelling. There's a good chance of observing blue-footed boobies, Sally Lightfoot crabs, eagle rays and whitetip sharks. You'll snorkel with tropical fish and playful sea lions in stunning aquamarine waters.
Day 3
Check out of your accommodation on Santa Cruz and transfer to Puerto Villamil, the main town on Isla Isabella. Taking an early morning boat usually means less wind, calmer waters and a smoother ride. However, this is not guaranteed. If you are prone to motion sickness, it may be worth spending the extra money to take the small plane between islands.
In the afternoon, take a half day snorkelling tour to Las Tintoreras, a small group of islets not far off the coast of Isla Isabela. Las Tintoreras are rocky, lava formations that shelter a range of wildlife but is most known for sharks, although the tend to leave the area during the middle of the day. There's a better chance you'll see sea turtles, marine iguanas, sea lions, blue-footed boobies and rare, Galapagos penguins.
After your trip to Las Tintoreras, take wander to the Arnaldo Tupiza Tortise Center (Centro de Crianza Tortugas Gigantes Arnaldo Tupiza Chamaidan). On your way you'll pass Pozas Salinas de Puerto Villamil, where wild flamingos gather. At the Tortise Center you will find a breeding facility with giant tortises at different stages of maturity.
Day 4
Ever wanted to stand on the flanks of a volcano? This is your chance. Sierra Negra is the second largest caldera in the world and one of the most active volcanos in the Galapagos. A guided hike will take you up the crater to peek inside!
The rugged terrain and climb to the rim of the crater makes this a moderately strenuous hike that takes approximately 5-hours return. Most of the elevation gain is in the first third, as you make your way up the crater Once on top, the trail levels out and you have panoramic views of the crater's interior on one side and the lava fields on the other. You then descend through the lava fields around Volcan Chico.
You do need some base-level fitness to make this hike, particularly if you are not used to tropical heat and humidity. Again, ensure you have plenty of water and sun protection–there is no shade up on the volcano. If you're not in shape, it is worth doing a little training leading up to your trip because the Sierra Negra hike is an incredible experience.
If you still have some energy left after your hike, take yourself on a self-guided visit to Conch de Perla on the edge of Puerto Villamil. You can observe various land and marine species along the boardwalk through the mangrove forest.
At the end you'll reach a reef-skirted lagoon where you can do some snorkelling without a guide. Within the sheltered lagoon you may find sea lions, penguins, marine iguanas and sea turtles. Remember to respect all wildlife by giving them a wide birth.
Note: Be realistic about your swimming capabilities and only swim in the designated area. There are no lifeguards and strong currents just outside the lagoon, if you stray too far.
Day 5
This morning, take a half-day snorkelling tour to Cabo Rosa, also known as Los Tuneles (The Tunnels). A series of collapsed lava platforms has created a unique landscape that is fun to explore both in and out of the water. The rocky caves and tunnels shelter marine species such as whitetip sharks, seahorses, sea turtles and sea lions, making it a terrific snorkelling location. On land, you'll find cacti and birdlife including blue-footed boobies.
On our return boat ride from Los Tuneles to Puerto Villamil, we also saw enormous manta rays leaping from the water.
In the afternoon, take transfer back to Isla Santa Cruz. You can take the boat, although winds are generally higher in the afternoons creating an uncomfortable ride. I would highly recommend taking the plane for this one.
Day 6
On day six of your Galapagos Island-hopping itinerary, join a full-day tour to North Seymour Island and Bachas Beach. North Seymour is a wildlife hotspot with land iguanas, sunbathing sealions, nesting frigatebirds and blue-footed boobies.
Onward to white-sand, Bachas Beach, you'll snorkel and sight more wildlife including crabs, marine iguanas, sea lions, sea turtles, lizards, pelicans and other birdlife.
Day 7
On your final day in the Galapagos Islands combine a highlands tour with your transfer back to Seymour Airport. A highlands tour usually includes a visit to El Chato Reserve to observe magnificent giant tortoises roaming free. The Reserve also has abundant birdlife including Darwin tree finches and short-eared owls. In addition, you can descend into a huge lava tube on the 12-ha property, a remnant of the Island's volcanic past.
In the afternoon, return to Seymour Airport and take an afternoon flight back to Quito or Guayaquil.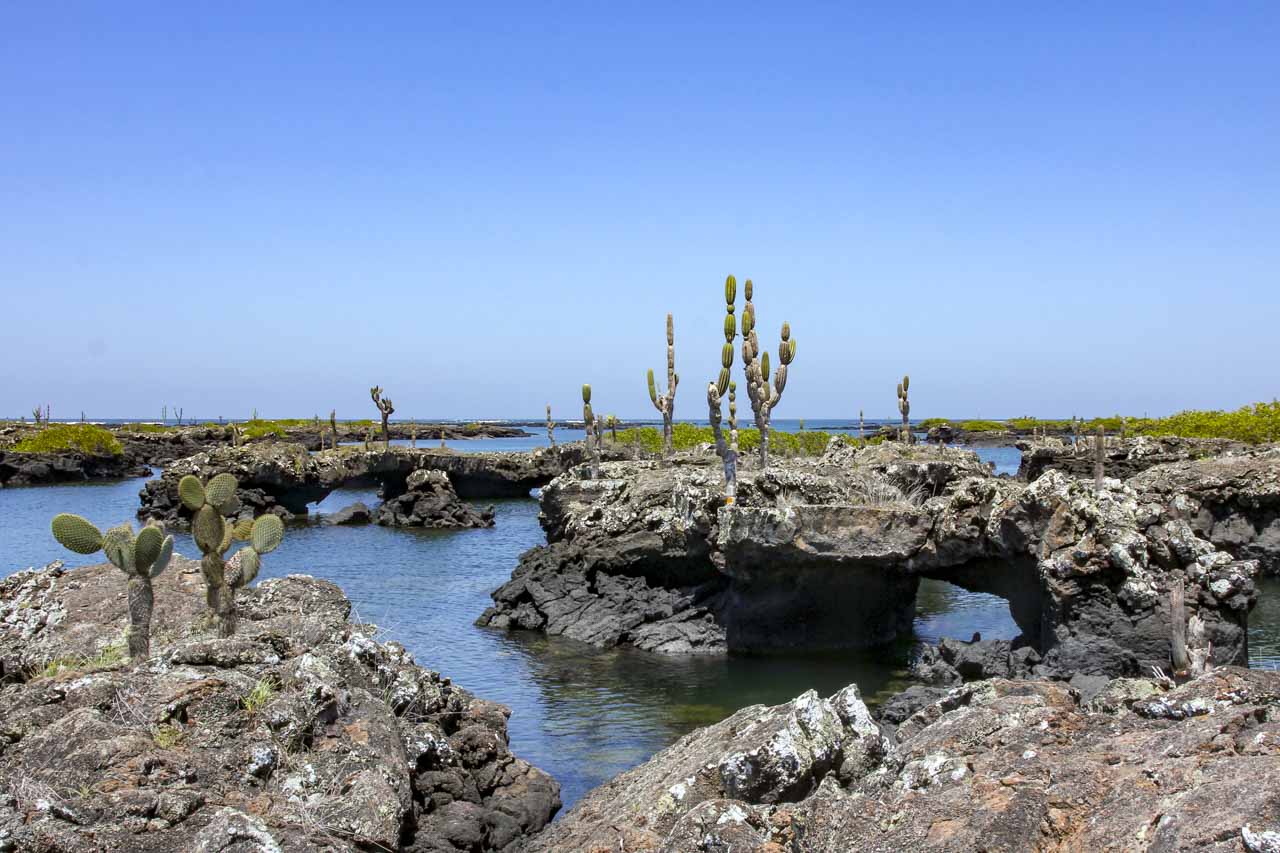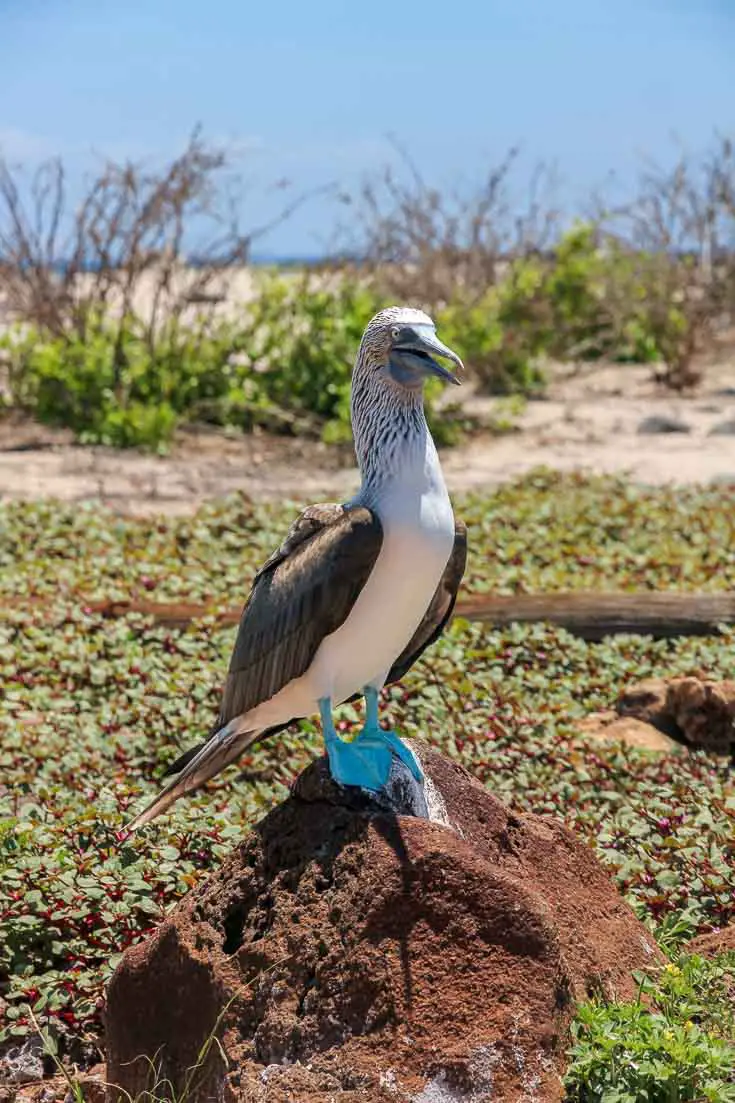 Use this land-based 7-day Galapagos Islands itinerary as a jumping off point to help create your own bucket list vacation. Remember, it is likely to need tailoring and working with a local expert is highly recommended. For more tips on planning your Galapagos trip, see this comprehensive post.
Peace, love & inspiring travel,
Madam ZoZo