The Galapagos Islands is a bucket list destination for wilderness lovers, animal enthusiasts, geology geeks and curious minds the world over. The volcanic archipelago of 127 islands off the coast of Ecuador, is an evolutionary wonder and designated UNESCO World Heritage Site. Got questions about how to travel to the Galapagos Islands? We've got answers. Let's jump in!
Why visit to the Galapagos Islands?
The Galapagos Islands lie the Pacific Ocean about 1000-km (620-mi) from Ecuador, the South American country that laid claim to them in 1832. The Islands are an Ecuadorian National Park and are inscribed as a UNESCO World Heritage Site.
The isolation of the islands, combined with their location at the convergence of three major ocean currents, has allowed unique forms of flora and fauna to evolve there. These include marine iguanas and giant tortoises. UNESCO describes the Galapagos Islands as a "living museum and showcase of evolution."
British naturalist, Charles Darwin, visited the Islands in 1835. He was recruited to make scientific observations during an expedition to chart the coast of South America aboard the HMS Beagle. The ship stopped at the Galapagos Islands on its return route to England. Observations Darwin made there and throughout the expedition led to his development of his natural selection theory which was a major contribution to evolutionary biology.
Planning a trip to the Galapagos Islands
Given their remote and protected status, it can be tricky to work out how to visit the Galapagos Islands. They make for slightly more complicated and expensive vacation planning – but believe me its worth every minute of preparation and dollar spent.
Planning our Galapagos Islands trip was a long process involving A LOT of research. After beginning with plans to take a cruise—the traditional way to see the islands—we found that a land-based "island-hopping" style vacation would work better.
Land-based tourism is relatively new to the Galapagos, but growing at a rapid rate. Therefore, this guide is focused on how to travel to the Galapagos Islands on a land-based style trip with recommendations on how to cut through the plethora of options available, and successfully run the gauntlet of price markups.
When should I visit the Galapagos?
Wildlife in the Galapagos Islands is abundant at all times of the year. However, if you have a specific interest, I recommend planning a trip to the Galapagos during the season when that species is most visible or active. This is expecially pertinent for migratory species, for example humpback whales are best viewed in June.
The other consideration is weather, including air temperature, sea temperature, wind and rainfall. You will be spending quite some time on boats and in the water, so you want to be as comfortable as possible. We chose April because sea temperatures are their highest; it is the beginning of the dry season; and wind is low. The tradeoff is that it is also one of the warmest months with an average maximum air temperature of 31°C.
Intrepid Travel put together an awesome infographic that provides a month-by-month snapshot of weather and wildlife in one – see it here.
How long to visit the Galapagos Islands?
A well-travelled friend who is also an experienced South America tour guide, recommended no less than 7-8 days in the Galapagos Islands. In our experience, this is spot on. Given the expense of getting to the Islands, you don't want to leave feeling you didn't spend enough time or see everything you wanted to. If you have the budget and inclination to stay longer, by all means do. Up to 15-days is enough to see everything.
In addition, depending on your point of origin, you will need at least two travel days either side of your time in the Islands. Due to the international-domestic flight connections, it is likely you will need to spend a night in Quito or Guayaquil on either side. More on that in a minute.
Are the Galapagos Islands worth it?
Yes, absolutely. But you need to go with the right expectations and objectives. They may be tropical islands but you're not going to find luxury resorts or poolside bars here. We heard other travellers complaining about the lack of amenities. Remember, the Islands are first and foremost a National Park!
The Galapagos aren't a "lay on the beach, drinking a cocktail" destination–there are many places much better suited to a relaxed tropical vacation. This is an adventure travel destination for people who love the natural world and want a really unique, once-in-a-lifetime experience.
How to get to the Galapagos?
International flights
There are no direct flights to the Galapagos Islands from outside Ecuador. This is to ensure all the proper checks are done to protect the Islands. Therefore, you first need to make your way to either the Ecuadorean capital of Quito or the coastal city of Guayaquil.
There are direct international flights to Quito (UIO) from the North American and European cities of Miami, Ft Lauderdale, Atlanta, Houston, Amsterdam and Madrid. Direct flights to Guayaquil (GYE) depart New York, Miami, Houston, Ft Lauderdale, Amsterdam and Madrid.
Layover
For those flying into Quito, you will likely need to spend the night there before transferring to a Galapagos-bound flight the following morning. I recommend the staying at an airport hotel for your brief stopover, as it's about a one-hour ride into the centre of town. Airport hotels generally offer a free shuttle to collect and return guests to the airport. For those getting in late and leaving early, call and ask for a half-day rate to save a few dollars.
Downtown Guayaquil is only about 20-minutes drive from the airport, so you may choose to stay in town rather than the airport.
Domestic flights
From Quito or Guayaquil, flights to the Galapagos Islands are offered by airlines Tame, Avianca and LATAM (formerly LAN). Flights will take you to either Seymour Airport on Isla Baltra (next to Santa Cruz) or San Cristobal Airport on Isla San Cristobal.  Flight duration from Quito to Isla Baltra is approximately 2-hrs, and from Quito to Isla San Cristobal, about 3.5-hrs.
Before checking into your flight for the Galapagos you need to purchase an INGALA Migration Control Card for US$20 cash per person and have your bag scanned for materials banned from the National Park. You can pre-register for your Card online, which will save some time as your details will already be in their system.
Arrival and ground transport
On arrival in the Galapagos Islands, you will have your bags inspected again, and pay a US$100 per person National Park Fee to enter. When arriving in the Galapagos Islands through Seymour Airport, you will need to take a bus down to the coast where a barge operates the small passage between Isla Baltra and Isla Santa Cruz known as Itabaca Canal.
From the Santa Cruz dock, it is another hour ride to Puerto Ayora—the tourist hub of the island—via your organised transfer. Our tour company arranged for us to be met at the airport and accompanied through the entire process, which was extremely helpful.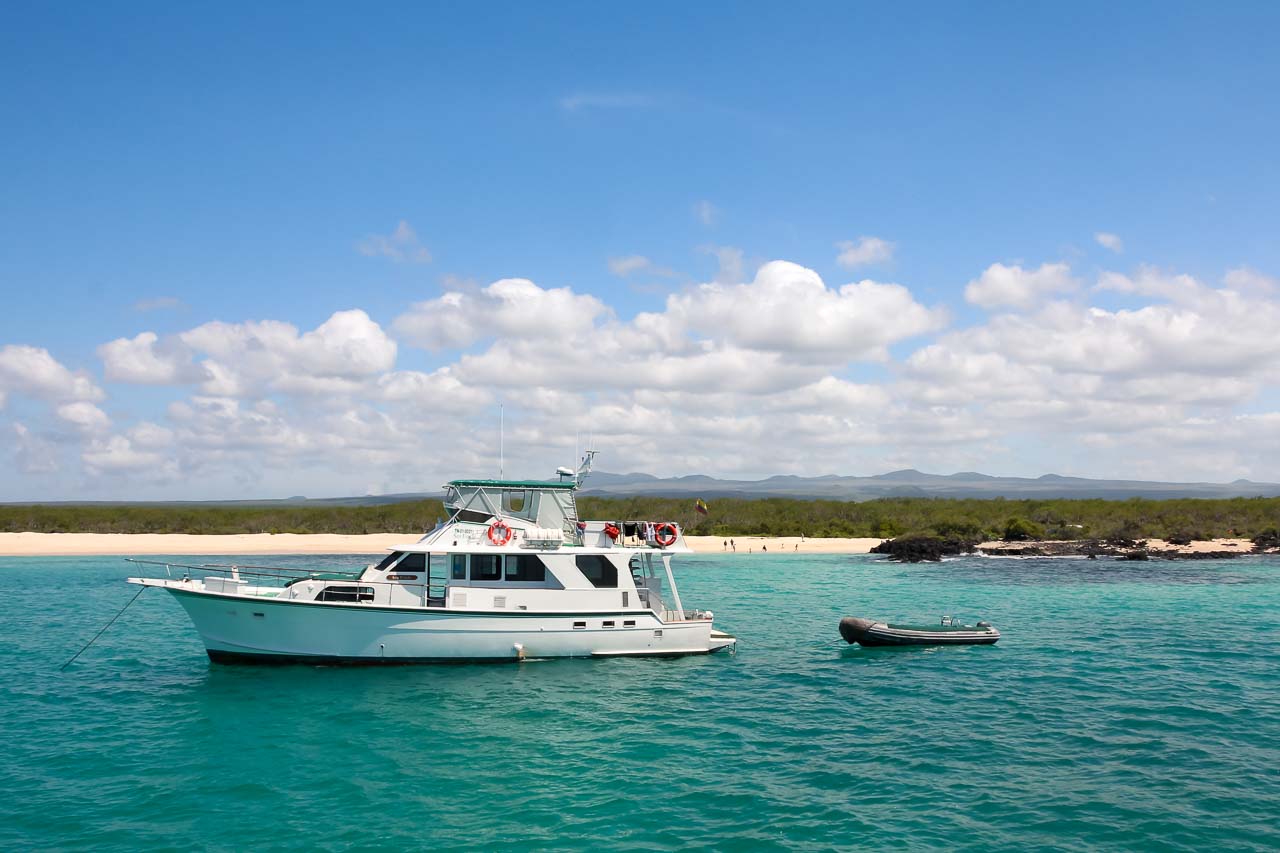 Galapagos cruise or island-hopping?
Cruising
The Galapagos cruise schedules and itineraries are determined by the National Park authority to prevent overcrowding. This means they are structured and easy to compare.
The main difference between cruises is the size and comfort of the boat; number of passengers etc. These factors all have a bearing on the end price. You can compare prices for different ships at websites such as Adventure Life and Galapagos Islands.
Cruises depart on set dates and can sell out. Therefore, should you have a specific window of time to travel, it is a good idea to book early. We found that the cruises which fit our timeframe/dates sold out and we had to look at a land-based option.
One benefit of cruises over a land-based visit, is that they can reach further corners of the Islands. Their ability to be constantly on the move allows greater distances to be covered and therefore you may see more remote areas of the archipelago. On the flip-side, some landbased activities are limited by how much time you have to spend ashore.
Island-hopping
There are three human-habited Galapagos Islands where you can stay: Isla San Cristobal, Santa Cruz and Isabela. From these islands, day trips are available to explore many of the uninhabited islands and islets.
Island-hopping is generally less expensive because you can choose from a range of accommodation, eat at a variety of local food outlets and shop around for day tours from different providers.
You can choose any arrival/departure dates where there are flights available and string together day trips in any order (pending availability) to fit your schedule. This means you have more flexibility.
As mentioned above, there are a few locations that are out of the day trip-range and are only available by cruise. However, there are places within day trip-reach to satisfy most, if not all, of your wildlife sighting and landscape desires. Conversely, there are longer land-based day excursions available to island-hoppers.
Lastly, if you are prone to sea-sickness, you will be spending less time on the water. Though day trips often involve boat rides, you at least know you have the reprieve of being on land overnight.
Should I use a professional tour company?
Once you have a sense of what you really want to see and experience, you'll needed to decide which Islands to stay on; how long to stay on each; how to reserve inter-island transfers; and which tour companies to book for our day trips. This is a job for someone with local knowledge. We sent a detailed brief to a number of providers prioritising those that were actually based in the Galapagos (check the physical addresses listed on their websites).
Given the disparity in costs between quotes for the same itinerary; the dubious nature of some operators; and the outright refusal of some companies to book the itinerary we asked for, we had no other choice but to send our brief out to a second round of tour companies. It became obvious that many of these businesses subcontract one another and with each layer of subcontracting another markup is added to the price.
We finally found a provider who quoted a fair price (not the absolute lowest we received, frankly they were too dodgy). Our final choice was also responsive to emails and flexible with our requests. As previously mentioned, itineraries and schedules—even for day tours—are determined by the National Park. Therefore, you're going to have to leave your to-do list in the hands of your local tour operator to juggle the day, availability and departure location to make it work.
Can I plan my own trip to the Galapagos?
If you have a more leisurely amount of time in the Galapagos Islands, you can always book your day tours directly with operators when you arrive. However, looking at the numerous options and having spoken to people doing this, it seems they struggled to determine the best priced and most reliable companies, especially if your Spanish is not up to scratch.
Note, that when comparing providers for day tours, all guides are naturalists allocated by the National Park. This means it is not up to the day trip operators to decide who their guides are and is not a fair comparison point. What is within day trip providers' scope is transport, equipment, timeliness and meals—quality of these items varies.
Another option, if you are still keen to cruise the islands and have plenty of time, is to find cheap accommodation and check with tour providers daily. When a ship is close to departure and still has berths available, budget travellers have been able to score cruises at hugely discounted prices.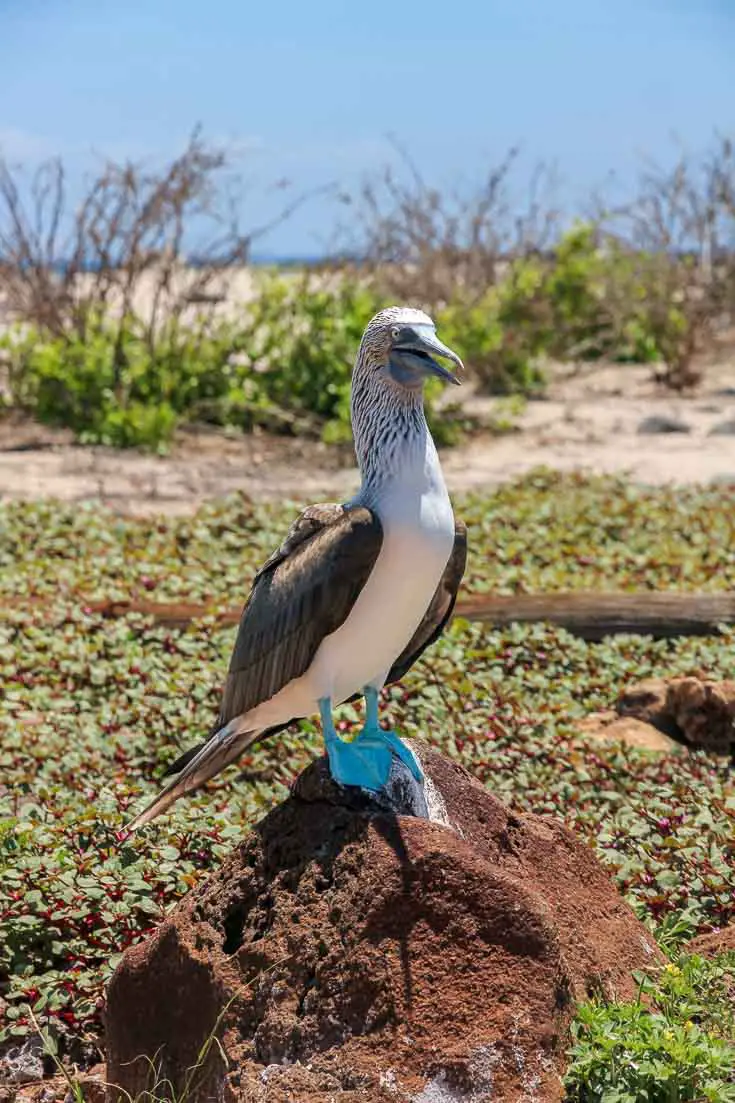 How to decide which Galapagos Islands to visit?
As I mentioned above, there are three human-inhabited Galapagos Islands: San Cristobal, Santa Cruz and Isabela. You can, in theory, base yourself on just one island. However, different day tours leave from different Islands so you will be missing out on some wildlife experiences and landscapes.
This is an excellent map to reference when looking at the different wildlife each island offers. Use this to determine which day trips to take and therefore which Islands you will need to stay on.
Isla Santa Cruz
Day tours from Puerto Ayora include Santa Fe, Playa Escondida, Bartolome Island (Pinnacle Rock), North Seymour and Bachas Beach. There are a number of land-based activities on the Island including a self-guided walk to Tortuga Beach, and the Charles Darwin Research Station. There are also lava tunnels and El Chato Tortoise Reserve to explore, but you will need transportation and a guide for those.
Isla Isabela
Isabela is a must visit! The Island and surrounding waters hold 60% of the biodiversity of the entire archipelago, making it a great all-rounder. Day trips from Puerto Villamil include Las Tintoreras and Cabo Rosa (Los Tunneles). Take a self-guided tour of Villamil Lagoons, Giant Tortoise Breeding Center and the Wall of Tears. Guided land tours offered include hiking Sierra Negra and Chico Volcanoes.
Isla San Cristobal
We didn't visit San Cristobal because of the length of our visit. Also, we were able to cover our list of must-sees from the other two islands. However, if you are interested in surfing, San Cristobal is said to have the best surf spots of the three inhabited isles.
Day trips leaving from Puerto Baquerizo Moreno include Espanola Island, Leon Dormido (Kicker Rock), Isla Lobos, Ochoa Beach, Las Tijeretas and Punta Corola Beach. Land excursions offered are: Highlands tours including options on horseback, Santa Rosa, Punta Pitt, and Sardina Bay among others. San Cristobal has a Giant Tortoise breeding centre (similar to the other two Islands), and an Interpretation Centre for learning about Galapagos history, wildlife and geology.
How do I transfer between Islands?
There are two options to get between islands: air and water. The boats take about 3-hours and are reasonably small. At times they can be crowded. When the ocean gets a little rough, there are a lot of seasick passengers. Our trip one way was fine, however the return journey was regretable–the experience is highly weather dependent. Given our time again, we would pay the extra to fly.
The flight between the two Islands is only 30-mins. However, we worked out the overall travel time would be roughly the same as taking the boat, considering you have to reverse the process of getting to Seymour Airport across the Itabaca Canal. If you structure your itinerary to go directly to Isla Isabela first, then you could avoid this.
It is also important to note that if you are flying between islands, there is a luggage weight limit of 20-kg (44-lb). Consider this when packing for the Galapagos Islands.
What can I expect for accommodation and meals?
Of course, this is highly dependent on your budget. We stayed on Isla Santa Cruz for four nights and Isla Isabela for two, in top-tier accommodation and ate at a variety of local restaurants. The experience varies slightly between islands.
Isla Santa Cruz
As the closest Island to Seymour Airport (Isla Baltra), Santa Cruz is where most visitors begin their Galapagos adventure. Travellers are well catered for with accommodation and restaurant options, however, internet access is limited and expensive. My advice is to plan for Galapagos to be a digital detox and don't rely on internet connection at all.
Isla Isabela
Puerto Villamil is somewhat less developed than Puerto Ayora, for example the roads are not paved. Accommodation varies, but as a whole is slightly more rustic. Rooms were still clean, air-conditioned with a comfortable bed and a good breakfast. Food outlet options are fewer, but the fresh seafood is excellent anywhere you go in the Islands! Internet connection is virtually non-existent. You may be able to check your email, but don't expect upload your holiday snaps to Facebook or Instagram.
Isla San Cristobal
Again, we didn't stay on San Cristobal, so I can't provide any first-hand knowledge. Puerto Baquerizo Moreno is the capital of the Galapagos. The Island has a port and naval base therefore expect a more developed offering like that of Isla Santa Cruz.
What should I pack?
You can find my top to bottom packing list for the Galapagos right here.
If you reached the end of this post, congratulations! It was a long, but hopefully helpful one which will save you time in the bigger picture. If you still have questions about how to travel to the Galapagos Islands – drop me a line in the comments below.
Peace, love & inspiring travel,
Madam ZoZo