The Peranakan culture is a melding of Chinese and Malay/Indonesian traditions, creating an aesthetic that is eye-catching, colourful and exquisitely detailed. The Peranakan shophouses of Singapore stood out to me immediately when I arrived in Southeast Asia. Years later I continue to uncover the wonders of the Peranakan people from their intricate embroidery and beading techniques to their stunning porcelain dinner sets and divine cuisine.
Disclosure: I may earn compensation from the purchase of any product or service linked on this website, at no extra cost to you. I only link to products I use and love, therefore feel comfortable recommending.
Introducing the Peranakans
The Peranakan culture evolved from foreign traders settling in Southeast Asia between the 14th and 19th centuries, particularly major ports such as Singapore, Sumatra, Penang and Malacca. Here they married local women and the new generation born of these unions were known as Peranakan, meaning "locally-born" in the Malay language of Bahasa Melayu.
While there are various smaller sub-groups of the culture, determined by where the traders originated (some came from India and Europe), the dominant group are the Chinese Peranakans. Peranakan culture therefore largely draws from Malay and Chinese influences, combining them into a unique blend of rich tradition.
Nyonyaware
Peranakan cuisine is a fantastic fusion reflective of its originators' ethnic diversity and is often complex and time consuming to prepare. Day to day, the Peranakans ate from common blue and white porcelain dishes. For special occasions such as weddings, birthdays and new year celebrations, food was served on Nyonyaware. Nonya is the term used for Peranakan women, and they preferred porcelain made in Jingdezhen, China for presenting their delicious speciality dishes at the family table.
Nyonyaware, as the porcelain vessels became known, is vividly coloured and decorated with auspicious motifs appropriate to the special occasions they were used to celebrate. While the decorative motifs have a strong, feminine Chinese heritage such as peonies, butterflies and phoenixes, the colours are distinctively Peranakan. A combination of rose pink and turquoise were most popular, though the flamboyant cultural colour palette didn't end there, also including golden yellows, cobalt and regal purples among others. Production of Nyonyaware ceased after World War II, so any surviving dishes are highly prized.
Embroidery and beading
Nyonya's were expert embroiderers and beaders. Their stitchwork equals the vibrancy and intricacy of the Nyonyaware designs, along with the patiently skilful workmanship required to produce their recipes. Sewing skills were handed down from women to their daughters who were well-practised making items such as shoes, purses, and household decorations. The crafts of embroidery and beading are thought to have reached Peranakan ports from Europe, and developed locally by Nyonya's in their own style to form part of the culture's identity.
Certain traditions have died over the years, but there a few dedicated Nyonyas and Babas-Peranakan men-upholding beadwork customs in the form of clothing and accessories, predominantly beaded slippers. A typical pair takes upward of 100 hours to make, and the few craftspeople left still practising the art mean that the waiting period for a custom pair of shoes can be four years, and the cost up to SGD$1000. Or of course, if you have the eyesight, patience and passion you could try your own hand at creating these heirloom-worthy beauties.
Sarong kebaya
The sarong kebaya, now know as the traditional dress of Peranakan women originated in Indonesia in the 1920s and soon spread among the Straits communities. The skirt or sarong was originally worn under a long tunic which derived from Malay women's attire. The sarong is usually made from Batik, a fabric printed using wax to manipulate the die into wonderful patterns and designs.
The tunic was abandoned in the 20th century for the cropped, figure-hugging style of the kebaya, a sheer blouse with a front opening that is kept in place by a three-segment brooch. The kebaya is worn over a camisole and is colourfully embroidered with ornate motifs including flowers, butterflies, phoenixes, dragons and insects. For more on this stunning traditional dress piece, see How to wear a Nyonya Kebaya.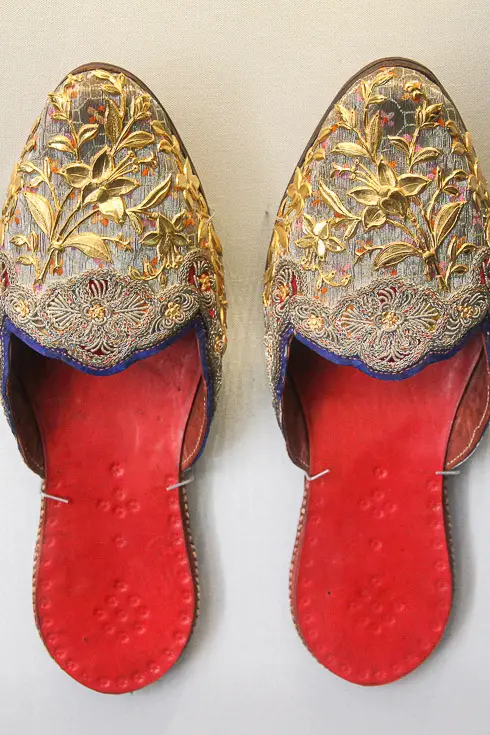 Architecture
Always attracted to vivid hues, the rows of Peranakan shophouses were an endearing standout amongst the modern mega-malls, soul-less skyscrapers and concrete public housing blocks that greeted me in Singapore. Providing the ultimate in time-saving commutes, shophouses are just that, businesses at street level with living quarters above. While their popularity and value has waxed and waned over Singapore's history, they have finally found their place as heritage treasures. Peranakan shophouses of Singapore catalogue a timeline of styles that evolved from the 1840s to the 1960s. Most of the remaining houses have been restored to Singapore's Urban Redevelopment Authority Conservation Standards and form colourful streetscapes that are a favourite among photographers and artists along with tourists and locals alike.
See this fabulous infographic illustrating the key architectural styles that marked shophouse evolution over the 120 year period that they were constructed. Styles vary including eclectic mixes of classical European, traditional Chinese and mid-century modern, minimalism. One aspect of the shophouses that has inspired decorative items and souvenirs produced in their image are the decorative tiles imported from Europe to decorate their facades. The ornate tiles have inspired many a product representing the Peranakan culture from wearable accessories to vivid tabletops.
Experience Peranakan culture
Chances are that if you haven't spent time in Southeast Asia, you've probably never heard of the Peranakans. Let me assure you that it is a culture worth spending some time discovering, from its cuisine to its elaborate decorative style. To round it out this week's post, here are 6 places to discover Peranakan culture in Singapore:
The Peranakan Museum at 39 Armenian St, 179941. If you only have time to go to one location, make this the one!
Once you have finished exploring the Museum, pop next door to True Blue, and taste authentic Peranakan cuisine inside an old shophouse at 47/49 Armenian Street, Singapore. 179937. Alternatively, try the Michelin Star rated Candlenut.
Drop by Little Shophouse in Kampong Glam to see shoes being beaded by hand and buy authentic Peranakan wares. 43 Bussorah St, Singapore 199461
Swing through the suburb of Joo Chiat, down Koon Seng Road is a neighbourhood of colourfully revived Peranakan shophouses.
Shop reproduction Peranakan style goodies such as beautiful porcelain pieces, along with heritage fashion and beaded accessories at Rumah Bebe, 113 East Coast Road, Singapore 428803
As of November 2019, Kim Choo Kueh Chang will be opening a Singapore Visitors' Centre at 111 East Coast Road Singapore, from where they will be hosting heritage walks of the neighbourhood, Peranakan beading technique workshops and boutique tours that include Peranakan food sampling.
If you can't make it to Southeast Asia, here is my Peranakan-inspired gift guide with ideas for bringing a little Peranakan-pretty into your life or that of a loved one.
For more on Singapore see my favourite things to do and locals' secrets plus top food recommendations.
Peace, love & inspiring travels,
Madam ZoZo