Singapore, affectionately known as the Red Dot, is unique to the world as the only island city-state. The island nation known for Chicken Rice and Tiger Beer is worth a brief visit, but you need to know what you're looking for – that's where I'm here to help. The following are my top recommendations for things to do in Singapore. For my insider tips and money-saving-tricks on planning your trip, see this Singapore travel guide.
Disclosure: I may earn compensation from the purchase of any product or service linked on this website, at no extra cost to you. I only link to products I use and love, therefore feel comfortable recommending.
Why visit Singapore?
There are many things to love and hate about Singapore. On the positive side it is extremely safe; mostly squeaky clean; the tap water is drinkable, and English is one of its three official languages. The island nation has an extremely efficient airport and continually works to make itself more attractive to visitors. On the downside, it is expensive due to the small land area and dense population. Its conformist society lacks the grit and creativity I prefer in a destination.
My conclusion, after over three years of living in Singapore, is that it makes an excellent two to four-day stopover rather than a final destination. There are definitely some gems and if you know where they are, you can cover the highlights quickly. Singapore is also a great place to get your feet wet if you have any trepidation about travelling through Asia or you are solo female traveller.
1. Gardens By The Bay
Gardens by the Bay is one of my absolute favourite corners of Singapore. So much so, I wrote an entire post about Gardens by the Bay, its iconic Supertrees, towering indoor waterfall, beautiful conservatories and more.
2. Marina Bay
If you're looking for Singapore's signature skyline or its mythical national creature the Merlion, you need to visit Marina Bay. Choose your perspective: from down low on foot or a bumboat seat on the water; alternatively, on high from Marina Bay Sands' SkyPark or the Singapore Flyer (Ferris wheel). Lesser-known opportunities for a top-down view are restaurants such as:
Lighthouse at Fullerton Hotel
JAAN on level 70 of the Swissôtel The Stamford (1 Michelin Star)
Level 33 in the Marina Bay Financial Tower, who also claims the world's highest urban craft brewery
NOTE: You will need to book these restaurants in advance.
For those interested in the Marina Bay Sands SkyPark Observation Deck, you have two options:
Pay $26 for an adult, $20 for a child. You can wander freely around the northern part of the Deck and down the rear side with views to Singapore Strait.
Pay $0 – tell them you are going to have a drink at the bar. You will be restricted to the bar area and you will have to buy a drink per person, but even SG$8 for a can of soft drink is cheaper than the entry fee, if you're on a strict budget.
NOTE: THAT infinity pool (you know the frequently Instagrammed one overlooking Marina Bay and the Financial District that featured in the closing scenes of Crazy Rich Asians) is exclusively for guests of Marina Bay Sands Hotel. So even if you pay to access the SkyPark, forget bringing your swimsuit.
3. Chinatown and Telok Ayer
Singapore is over 76% ethnically Chinese, so it makes sense to visit Chinatown. However, I recommend Chinatown not for its many cheap souvenirs and polished tourist fronts, but for the one-offs like the Buddha Tooth Relic Temple and Museum; Red Dot Design Museum; Thian Hock Keng Temple; and the beautiful Peranakan shophouses that extend to Amoy Street.
Maxwell Food Centre is thought to be the Chicken Rice mecca, for those looking for Singapore's best version of the dish. You will also find trendy, delicious (and expensive) cafes on Duxton Hill and in Club Street. If you happen to be travelling during Chinese New Year, Chinatown is the epicentre of celebrations in the country.
4. Singapore Zoo
I'm not a big fan of zoos. I don't enjoy seeing wild animals locked in cages, no matter what effort has been put into making them feel at home (except of course when this is the only way to preserve an endangered species). I decided to try Singapore Zoo's Night Safari because it is unique to see animals in the dark, many of which are nocturnal and inactive when viewed in daytime zoos. The surprising plus of the Night Safari is that it has been designed so that many of the enclosures melt into the darkness and you can be forgiven for thinking that there isn't anything standing between you and some of the animals.
Second to the Night Safari is Breakfast with the Orangutans – who could resist?! It's expensive, but this buffet breakfast at the Zoo allows you the opportunity to get really close to these lovely creatures and snap a pic unhindered by bars or glass. Following Breakfast, make your way around the rest of the Zoo (entry fee included in Breakfast ticket) and you will catch a rare glimpse of some animals being served their morning meal, like the polar bear below.
5. Satay Street
Eating is Singapore's national sport. I've barely met one Singaporean that couldn't be considered a foodie. While there's lots of great local dishes to try, this one is more of an experience. Each night Boon Tat St is closed off to traffic, as Lau Pa Sat hawker centre spills into the street. Grills and plastic outdoor tables invade the bitumen to create an outdoor fair of beer and satay that is both delicious and cheap!
6. Kampong Glam
Singapore's Arabic quarter is one of my absolute favourite parts of the country. Here you will find Lebanese, Turkish and other Mediterranean/Middle Eastern cuisine; independent boutiques rather than the repetitious Orchard Road chains; and revel in fabric stores galore!
7. East Coast Park
As its name would suggest East Coast Park stretches along most of the east coast of Singapore. You can walk almost from the airport all the way to the CBD if you dare (and have the time), or rent a bike at one of the many outlets along the way. The park is an easy stroll or ride, being mostly flat and paved. There are food and beverage outlets along the way where you may stop to take in the view of Singapore Strait, dotted with an astounding number of ships.[/vc_column_text][vc_column_text]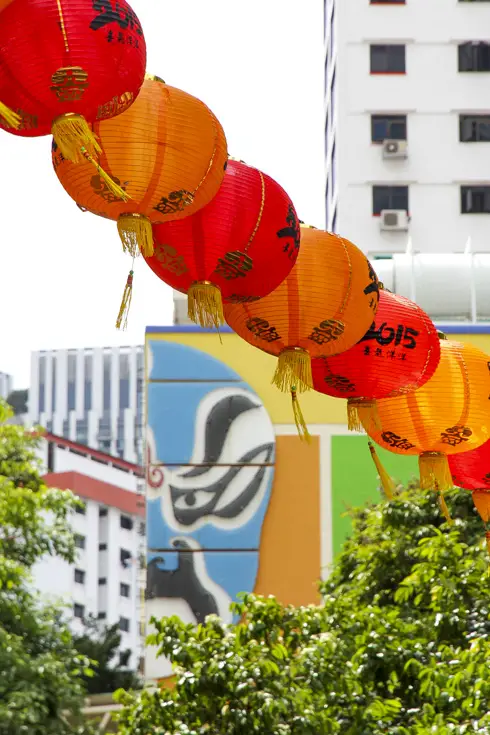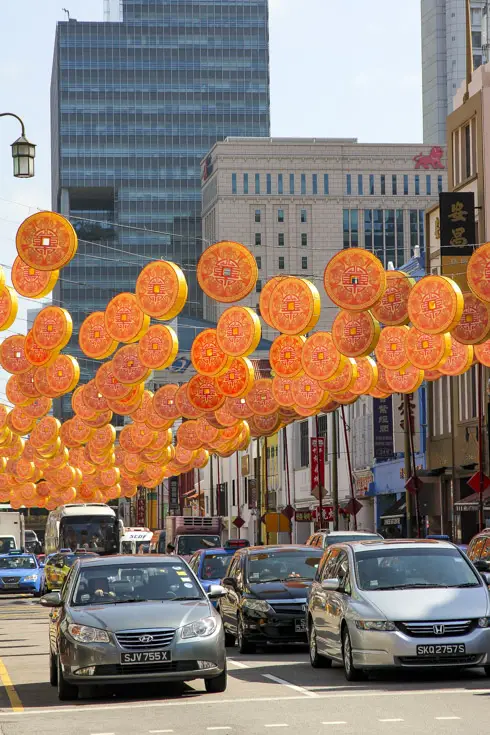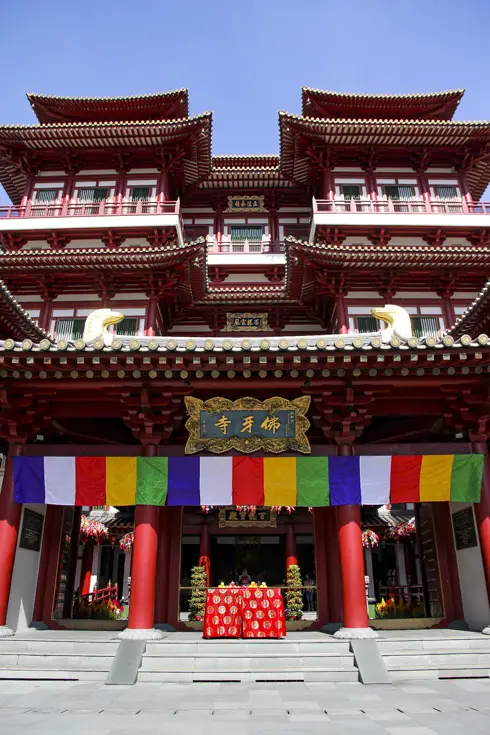 8. Civic District Art Trail
For a little art, history and architecture rolled into one, walk the Civic District Art Trail. The Trail links many historical points of interest, displaying some of Singapore's best colonial architecture along the way. Many of these buildings have been transformed into museums, galleries and hotels including the famed Raffles Hotel where you may partake in a Singapore Sling at the Long Bar or afternoon tea in the Tiffin Room.
9. Mount Faber
If you need to walk off all the delicious food you are eating during your stay, hike up Mount Faber and admire the view over the shipping channel and Sentosa Island. The hike is a section of the Southern Ridges Trail, which is a nine-kilometre trail connecting four parks across hills of Singapore's south. Replenish at one of the hilltop restaurants then, take the cable car down to Harbourfront, where you can take the MRT to your next destination (which may be number 10 on this list). Alternatively, continue on the trail as far as your heart desires.
10. Haw Par Villa (Tiger Balm Gardens)
In my opinion, this place is nothing short of hideous, which is exactly why you should go. The founders of Tiger Balm built Haw Par Villa or the Tiger Palm Gardens to celebrate their Chinese heritage and folklore. The park is easily accessible by the MRT and is free to enter. Though past its heyday, Haw Par Villa is a spectacle that you won't forget as you wander through the graphic dioramas of Chinese mythology and tradition. If you were a Monkey Magic fan in your childhood, you will probably enjoy the story that inspired the show.
11. Discover the Peranakans
The Peranakan culture is the result of historical trade in Southeast Asia, as traders from China and other countries moved into the region and married local Malay, Indonesian and Singaporean women. The descendants of these marriages are known as Peranakan "locally-born" and they have many unique traditions to explore. Visit the Peranakan Museum, and take in the variety of beautiful Peranakan shophouses you will see around town. For more about the Peranakan people and how to explore their colourful culture, see this post.
12. Singapore Botanic Garden
Arguably Singapore's best, all-outdoor green space is the UNESCO Heritage Listed Botanic Garden. You can treat yourself to some visual inspiration, plus read more about the history and significance of the Botanic Garden here.
13. National Museum of Singapore
If you still have time, the National Museum of Singapore will easily take up a few hours of their time with excellent exhibits investigating the country's history and culture. The National Museum is housed in a Neo-Palladian and Renaissance building opened in 1887 to coincide with Queen Victoria's Golden Jubilee.
I hope you enjoy exploring the Little Red Dot with these things to do in Singapore. For more advice on saving money and getting the best from your visit, see my Singapore Travel Guide and these packing tips for Southeast Asia. If you have any questions, drop them in the comments below.
Peace, love & inspiring travels,
Madam ZoZo