After 3.5 years of living in the Little Red Dot as an expat, I have a few locals' secrets to share. This guide, whispered Strait from the Merlion's mouth (wink, wink, nudge, nudge), is full of insider tips for Singapore travel, so your stay is more enjoyable, affordable and authentic. Also, see these super things to do in Singapore.
Planning Singapore travel
Singapore allocates two official holidays for holy days belonging to each of its major religions: Hinduism, Buddhism, Islam and Christianity. This may affect the opening times of some attractions.
Depending on the timing of your trip, seek out one of Singapore's many festivals. With about 76% of the Red Dot's population being of Chinese descent, Chinese New Year is by far the biggest celebration of the year. My personal favourite is Thaipusam that occurs in January/February each year – check dates here.
The Singapore Grand Prix takes place in September each year. Prices for flights and accommodation are a lot more expensive a week either side of the race.
Arrival in Singapore
Alcohol in Singapore is hugely expensive. Buying duty-free alcohol at the airport on your way in is usually the most economical way to access liquor, particularly for spirits.
You can take a taxi or the MRT (train) from the airport to your accommodation depending on where you are staying. If you are taking a cab into the CBD area, tell them to take the ECP (East Coast Parkway), and insist on that route despite what they may try to tell you about the traffic. In 99% of cases, it's still faster and cheaper. You will also sound like someone who knows their way around, so are less likely to be taken on the roundabout route to bump up the fare.
Singapore is clean and safe largely because it strictly enforces its laws. Avoid jaywalking, don't litter or graffiti and leave your chewing gum at home – these are all fine-worthy offences. Absolutely, under no circumstances have anything to do with illegal drugs or transporting them into the country – you risk the death penalty and ignorance is not a defence.
Where to stay in Singapore
I know you want to swim in THAT infinity pool – the world's largest by the way – which is located at Marina Bay Sands (the three towers with the boat-shaped deck across the top). In order for that to happen, you need to be a hotel guest. Even if it's just for one night of your stay. I don't think the hotel is worth what they charge for it, so go for the pool and then find somewhere else to reside for the rest of your time in Singapore.
I recommend the Rendezvous Hotel Singapore because it's not only a very comfortable hotel which has consistently high Tripadvisor reviews but has a super accessible location. From its position on Bras Basah Road, you can walk to many of Singapore's attractions including Raffles Hotel, the National Museum, Orchard Road shopping district and Marina Bay. You also have access to four train lines across Dhoby Gaut and Bencoolen MRT (Mass Rapid Transport) Stations, a short walk from the hotel door. We had three different visitors (including my parents) from Australia stay there, and they all agreed it was a great hotel and location.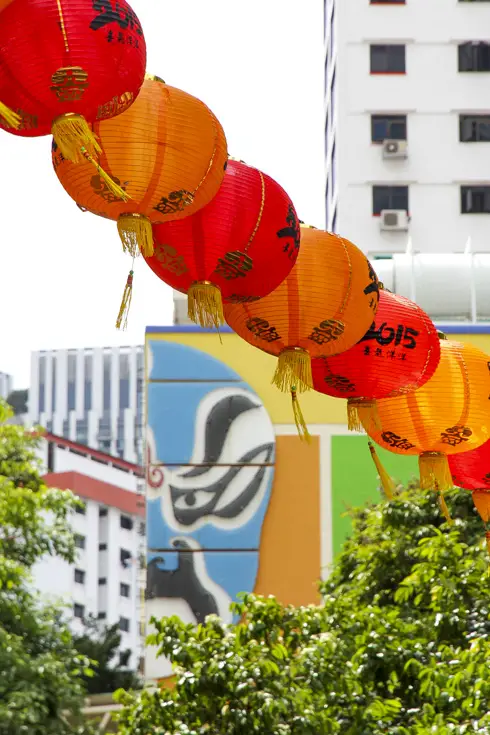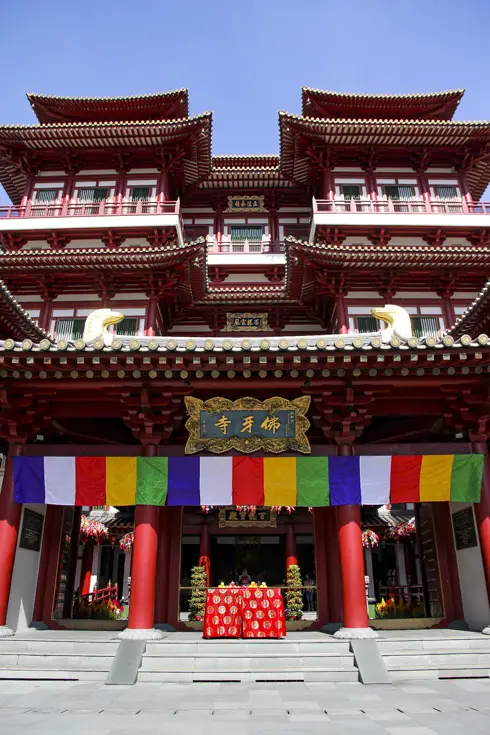 Eating in Singapore
Affordable, local hawker centres can be found all over Singapore. A hawker centre is essentially a food court with individual booths (hawker stalls), each specialising in a select number of dishes or type of food. Don't know where to start? Begin with these top Singapore dishes.
There are hawker centres in most malls but are often not signposted. Don't be fooled by the food court signs directing you to the westernized, chain-filled food court. You'll find cheap and delicious local cuisine in out-of-the-way places such as the basement or very top level of most malls.
On the street, you'll also find standalone hawker centres such as Maxwell Road Hawker Centre and Lau Pa Sat.
If you are tentative about trying local cuisine, start out with a meal at Straits Kitchen at the Grand Hyatt on Orchard Road. Straits Kitchen is an upscale version of what you will find in a typical hawker centre and although it will cost you a lot more, it is a good place to get your feet wet.
Some of my other personal favourite places to eat were:
See my recommendations in Peranakan: A Colourful Cultural Collision for places to sample Peranakan cuisine.
Reference Fullerton Hotel vs. Raffles Hotel for a review of afternoon tea experiences in two top Singapore hotels housed in amazing British colonial buildings.
"When in Rome" or Singapore as it might be, you are probably wanting to partake in a Singapore Sling. Traditionally this would be done at the Long Bar at Raffles Hotel which was the birthplace of the Sling. However, be warned it will set you back roughly SGD30 per cocktail. I recommend doing it just once for the experience and then find somewhere less expensive to drink.
Getting around Singapore
Singapore is an extremely walkable city, but sometimes it's just too hot or mid-tropical downpour. Look for underground tunnels that link the MRT (train system) with local attractions, and channel pedestrian traffic under major intersections. Sometimes you will be surprised how far you can get in these cooler underground pathways.
The MRT is great for long distances and is extremely affordable. You can buy a temporary pass to top up as you need.
If all else fails, take a cab, they are relatively cheap.
Enjoy your Singapore travel experience and please let me know any questions in the comments below. Don't forget to check out these super things to do while you're on the Little Red Dot.
Peace, love & inspiring travel,
Madam ZoZo