Breeze through significant historical sites, natural delights and cultural highlights of America's northeast with this 8-day New England road trip itinerary.  This route will take you to five states – Massachusetts, New Hampshire, Maine (just), Rhode Island, Connecticut – with a sixth, New York, depending on your choice of airports and the optional detour.
NOTE: We trialled and travelled this itinerary in seven days and it's possible but high speed. I've made some tweaks and added a day to give it a more comfortable pace. Of course, it will depend on how many of the sights and activities you decide to include.
Day 1
Arrive in beautiful Boston and check into your accommodation, ideally a centrally located downtown near Faneuil Hall. Put on some comfy walking shoes and make your way to the Visitors Center at Faneuil Hall. From here we will take the north arm of the Freedom Trail.
If you're hungry, grab some food at the Marketplace before following the red line around some of Boston's most important and interesting historic sites including Paul Revere House and Bunker Hill.
Once you reach the far north end of the trail at Bunker Hill, make your way back again. I recommend stopping in North End on your return journey to sample Little Italy's finest for dinner (my food recommendations are at the end of this post).
Note: We held off picking up our rental car until Monday to save money. We were able to access most sights in Boston from our accommodation at Hilton Faneuil Hall on foot and using public transport or Uber.
Driving distance:  Local driving distance depends on accommodation location and chosen activities.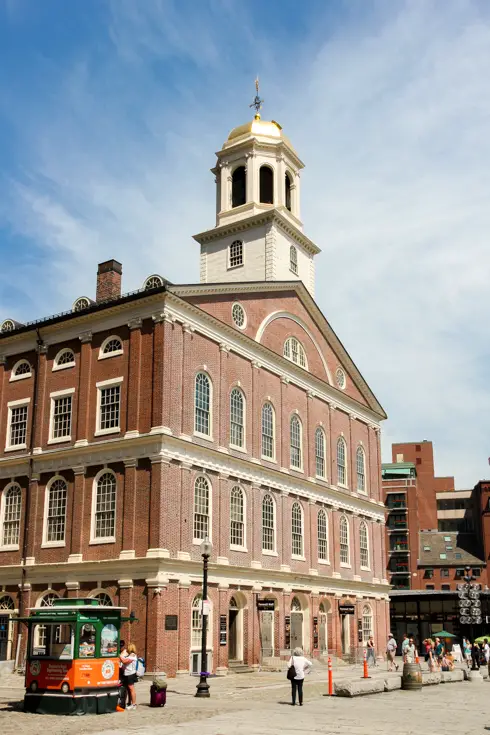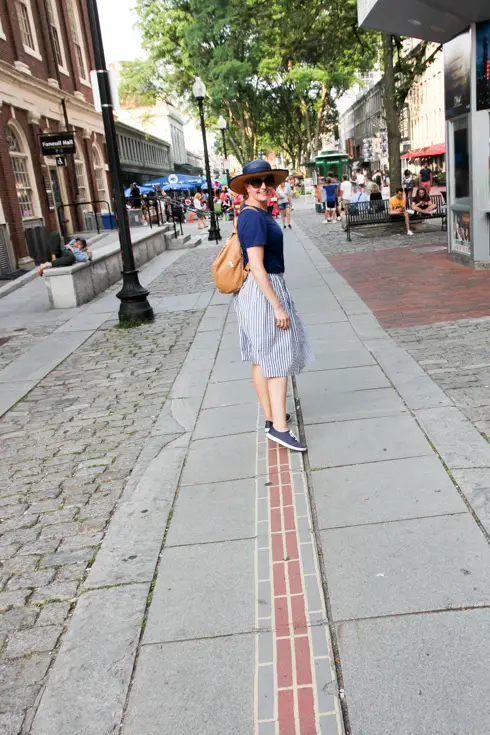 Day 2
Spend the morning tackling the southern portion of the Freedom Trail, ending in Boston Common. From here I recommend making an extra 20-minute walk to Copely Square for the incredible architecture of Boston Public Library and Trinity Church. Find some lunch in this area before grabbing an Uber or taking a train/bus to the Museum of Fine Arts, Boston.
Alternatively, skip the architecture and make your way to Boston's pop culture icon – the bar that inspired the television show Cheers! You will probably have to make a booking at the former Bull & Finch at 84 Beacon St, now known as Cheers The Original – because there is a replica at Faneuil Hall.
Depending on your interests I suggest continuing your art education a 6-minute walk away at the Isabella Stewart Gardner Museum, or visiting sports fans might prefer walking 10-minutes to Fenway Park, home of the Boston Red Sox. Alternatively, ride back into town and explore the Boston Tea Party Ships and Museum.
Driving distance:  Local driving distance depends on accommodation location and chosen activities
Day 3
Pick up your rental car first thing and head north to Salem, the next stop on your New England road trip. Here I recommend a visit to the House of Seven Gables. Next, drive down Chestnut St to see some maritime mansions and finally, learn about Salem's infamous witch trials at the Salem Witch Museum. Depending on your interests, you could spend an entire day exploring historic Salem sights. However, for the timeline we have set ourselves, this will give you a good taste of the town, its history and significance.
From Salem, drive to Rockport for shopping and a late lunch in the arty, seaside town. Then continue north to Portsmouth, New Hampshire. You may choose to stay here the night or continue another 15-minute drive north over the Maine border to the smaller and more affordable accommodation in scenic, seaside York.
Driving distance:
Boston to Salem MA 36km (approx. 22mi), 40mins. 
Salem to Rockport MA 37km (approx. 23mi), 40mins.
Rockport to Portsmouth MA 95km (approx. 59mi), 4hr 5mins.
Day 4
Spend the morning exploring the historic center of Portsmouth. If you found yourself in York, Maine, go for a morning coastal walk before returning to Portsmouth to continue on our New England road trip.
Drive to Plymouth and let the helpful people at the Visitors Information Center (cnr Water St and Memorial Dr) chart you a walking trail of the town's most significant historic sights including of course, Plymouth Rock. Spend the night in Plymouth.
Driving distance: Portsmouth NH to Plymouth MA 188km (approx. 117mi), 2hrs. 
Day 5
Start early and drive to Newport, Rhode Island. Have breakfast in the historic downtown and see the impressive boats at Bannister's Wharf. The wharf is buzzing with wealthy mariners and tourists on a summer's day, so thought it offers shopping and restaurants, they are at the expected heightened prices.
Take a drive down Bellevue Avenue and observe imposing Newport Mansions of the gilded-era. Stop in for a tour of at least one.  The mansions include the former Vanderbilt family summer home – The Breakers – found on Ochre Point Avenue, not far off Bellevue.
Continue driving to Mystic for the evening.
 Driving distance:
Plymouth MA to Newport RI 98km (approx. 61mi), 1hr 20mins. 
Newport RI to Mystic CT 78km (approx. 48mi), 1hr 5mins.
Day 6
Spend the morning sightseeing in and around Mystic, Connecticut. You might spy the Mayflower II, which on our visit was undergoing restoration at Mystic Seaport in preparation for the 400th anniversary of the Pilgrims' landing at Plymouth.
After lunch, drive to Stockbridge, Massachusetts.
Driving distance:  Mystic CT to Stockbridge MA 204km (approx. 48mi) 1hr 5mins.
Day 7
Spend a day exploring The Berkshires with these ideas:
Driving distance:  Local driving distance depends on accommodation location and chosen activities.
Day 8
From here you may choose to return to Boston Logan Airport for your flight out, or a little further to Newark Airport in New Jersey. If you do choose to exit via Newark, may I suggest a detour?
Bethel Woods Center for the Arts, in Bethel, NY, is located on the original 1969 site of the world-famous Woodstock music festival. The property is now a live music venue, arts education campus and has a museum documenting and preserving the magic and misery of Woodstock. If you are a music fan, I thoroughly recommend a detour to Bethel to see the site and museum.
Driving distance: Stockbridge to Boston MA 210km (approx. 131mi), 2hrs 10mins.
Stockbridge MA direct to Newark NJ 283km (approx. 176mi), 2hrs 45mins.
Stockbridge MA to Bethel NY 237km (approx. 147mi), 2hrs 32mins.
Bethel NY to Newark NJ 178km (approx. 111mi), 2hrs.
Places to eat, drink and be merry
I'm not kidding when I say we ate a lobster roll every single day we were on this road trip! Take advantage of lobster season and all the other delicious bites with these places we ate, drank and loved while on our New England road trip.
Boston
Equal Exchange Café (coffee)
Southend Buttery (brunch)
Monica's Mercato (sandwiches)
Carmelina's (dinner)
Bostonia Public House (dinner)
Mike's Pastry (dessert)
Other New England favourites
Derby Joe, Salem MA (coffee and sandwiches)
The Lobster Pool, Rockport MA (lunch)
Clay Hill Farm, Cape Neddick ME (dinner)
Bob's Clam Hut, Kittery ME (lunch)
Lobster Hut, Plymouth MA (lunch or dinner)
Scratch Kitchen, Newport RI (breakfast or lunch)
Meg's Milk Bar, Newport RI (brunch and coffee)
S&P Oyster Co., Mystic CT (dinner)
Red Lion Inn, Stockbridge MA (dinner)
Bethel Market Café, Bethel NY (lunch)
New England road trip map
Soulful souvenir ideas
Along our New England road trip route, I kept an eye on locally made products and stores with unique souvenirs. My top picks for genuine, beautiful, soulful souvenirs from New England are:
Use this guide to tailor yourself a fabulous New England road trip this summer. If you have an extra day, I would suggest splitting it between Boston and Salem. Spend the night in Salem or Rockport and continue to Portsmouth the following day.
Have feedback or questions to share?  Please drop them in the comments below.
Peace, love and inspiring travel,
Madam ZoZo