One of the things we love about living in Seattle is the plethora of places to explore within a few hours drive. Check off this list of the best weekend getaways from Seattle, ranging from the adventurous to the romantic.
Disclosure: I may earn compensation from the purchase of any product or service linked on this website, at no extra cost to you. I only link to products I use and love, therefore feel comfortable recommending.
Leavenworth
You may have seen pictures of this cute Bavarian-themed town cross your Insta feed. When the local logging industry went into decline and the railway moved away, the community decided to leverage its Alpine-esque environment to recreate a slice of Bavaria in Washington. The town of a mere 2000 permanent residents now welcomes over a million visitors per year. It is especially popular around its Oktoberfest celebrations and Christmas Lighting Festival.
Spend a weekend indulging in bratwurst, gingerbread, local beer and mountain scenery in this quaint village. Hike Tumwater Canyon, a beautiful spot to enjoy the autumn foliage. In summer, take a river tubing trip down the Wenatchee River.
Driving distance: Seattle to Leavenworth 219km (136mi) 2.5hrs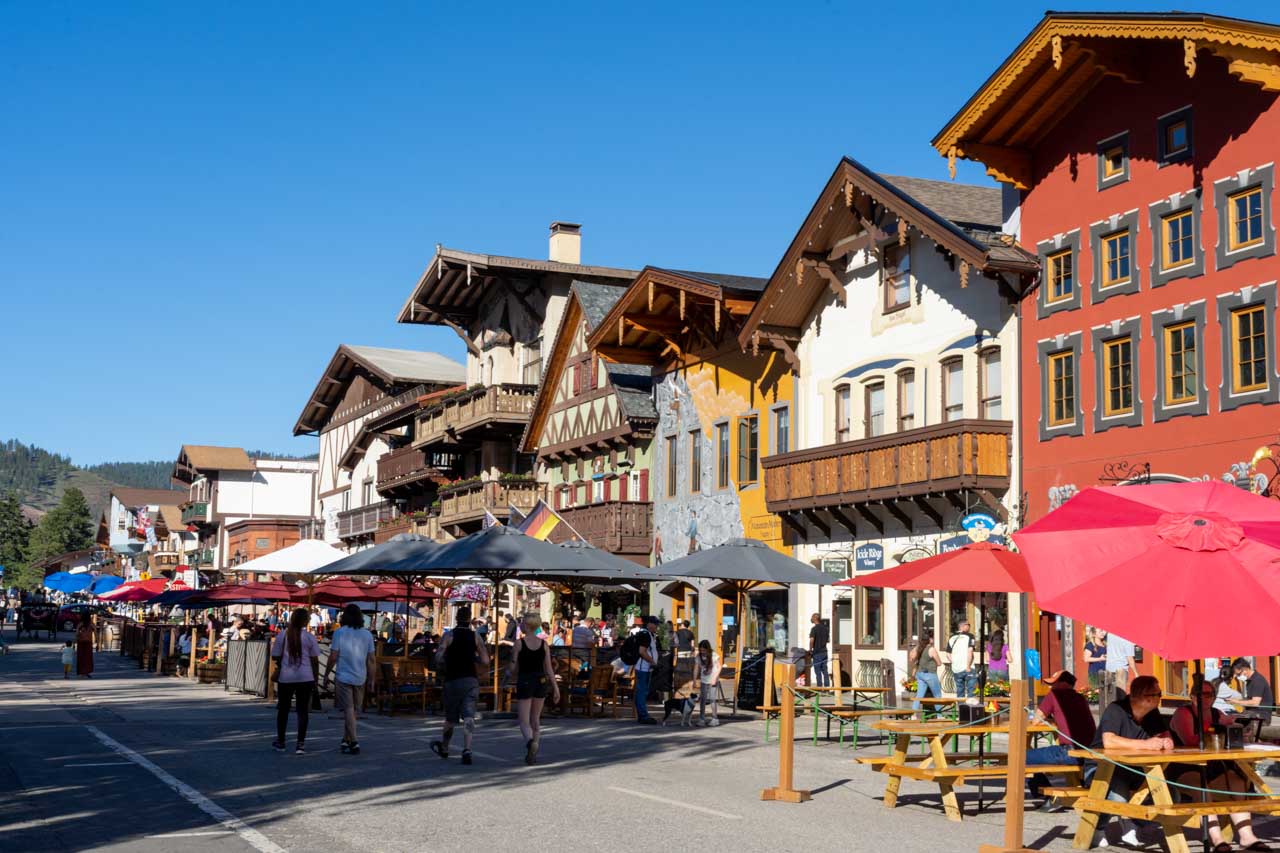 Lake Chelan
This scenic, glacial-carved lake is the third deepest in the United States. It is also at the centre of a fruit-growing region that includes an official American Viticulture Area (AVA) with more than 30 vineyards.
If you're looking for a romantic getaway from Seattle, this is it! Spend a weekend in the township of Chelan at the bottom of the Lake. Hike and boat your way around the Lake's great scenery followed by an afternoon of wine tasting and food at vineyards such as Siren Song and Mellisoni.
You can also take a ferry ride to Stehekin at the top of Lake Chelan for an overnight cabin stay or day trip on the fringe of North Cascades National Park.
Got a long weekend? Tie together Leavenworth, Lake Chelan and Wenatchee with this Central Washington weekend itinerary.
Driving distance: Seattle to Chelan 290km (180mi) 3.25hrs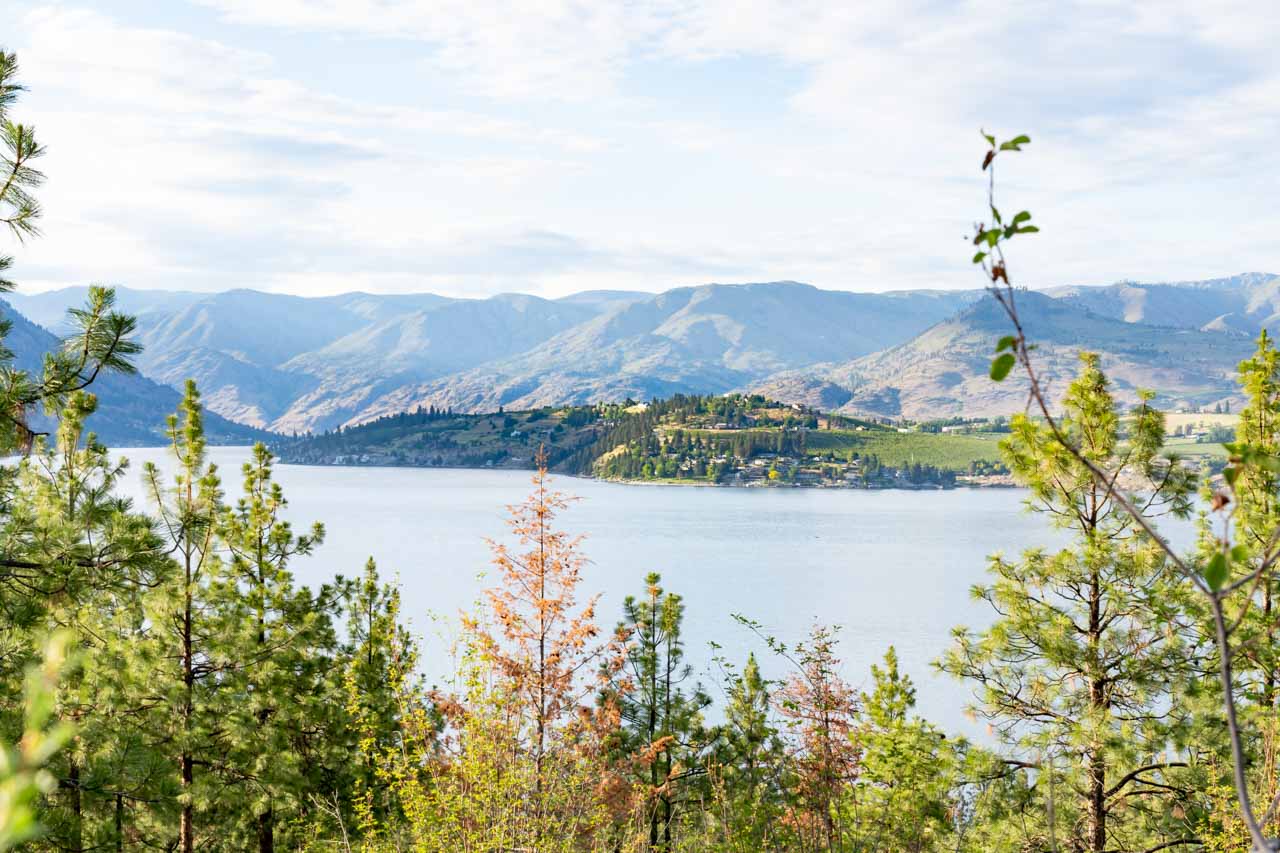 Bainbridge Island
Less than an hour ferry ride from downtown Seattle, and you can be at your weekend destination: Bainbridge Island. There isn't much to do on the Island, which is what makes it the perfect relaxation and romance.
Eat and drink your way through the main street of Winslow; take a wander along the Waterfront Trail around Eagle Harbor; visit the Japanese American Exclusion Memorial; hike around Grand Forest and Gazzam Lake Nature Preserve; then follow up with some wine tasting at the Island's vineyards.
If you want to do some guided exploring (without an actual guide) that doesn't require a car, try a Mystery Picnic experience with the AmazingCo.
Driving distance: Seattle to Winslow 17km (10.3mi) 1hrs including ferry
Whidbey Island
Foodies, history buffs and nature lovers will all appreciate a weekend trip from Seattle to Whidbey Island. Enjoy whale watching, hike beautiful Deception Pass State Park and explore historic villages and forts.
Whidbey Island is located in the rain shadow of the Olympic Mountain Range and receives about half the annual rainfall of Seattle. That makes Whidbey Island a great place to seek out sunnier skies during a PNW winter. Take more inspiration from this Whidbey Island weekend itinerary from Seattle.
Driving distance: Seattle to Whidbey Island 48km (30mi) 1.25hrs if you take the ferry from Mukilteo to Clinton at the southern end of the Island. Should you choose to drive through Burlington to the north end of the Island, it is a 130km (81mi) 1.5hrs trip.
Mount Rainier National Park
During summer, get up close and personal with the Cascade Range's tallest mountain and active volcano, Mount Rainier. Explore endless glacial vistas, mountain lakes, waterfalls, wildflower meadows and ancient forests in Mount Rainier National Park.
You can experience the National Park in a long day trip, but you will see more of the Park's spectacular scenery in a full weekend trip from Seattle.
Driving distance: Seattle to Mount Rainier National Park's Nisqually Entrance 144km (89mi) 2hrs
North Cascades National Park
It's hard to believe that North Cascades National Park is one of the least visited National Parks in the United States, even though it's a little over 2-hours drive from Seattle.
Wind your way through the mountains from the Visitors Center outside Newhalem, to Winthrop on the eastern aspect where most visitors overnight. Make a stop at ALL the overlooks and take some day hikes around the Diablo Lake and Ross Lake areas.
Driving distance: Seattle to North Cascades Visitor Center at Newhalem 187km (116mi) 2.25hrs
Mount St Helens National Volcanic Monument
Mount St Helens is a weekend getaway from Seattle not to be missed! Explore the active volcano in southern Washington and you will be amazed at what you find. See evidence of the explosive and deadly eruption that happened over 40 years ago, forever altering the landscape. Learn the stories of those who experienced the history-making event and hike this fiercely beautiful landscape.
Follow my Mount St Helens weekender guide to see the highlights of the National Volcanic Monument in a weekend.
Driving distance: Seattle to Mount St Helens 260km (160mi) 3.5hrs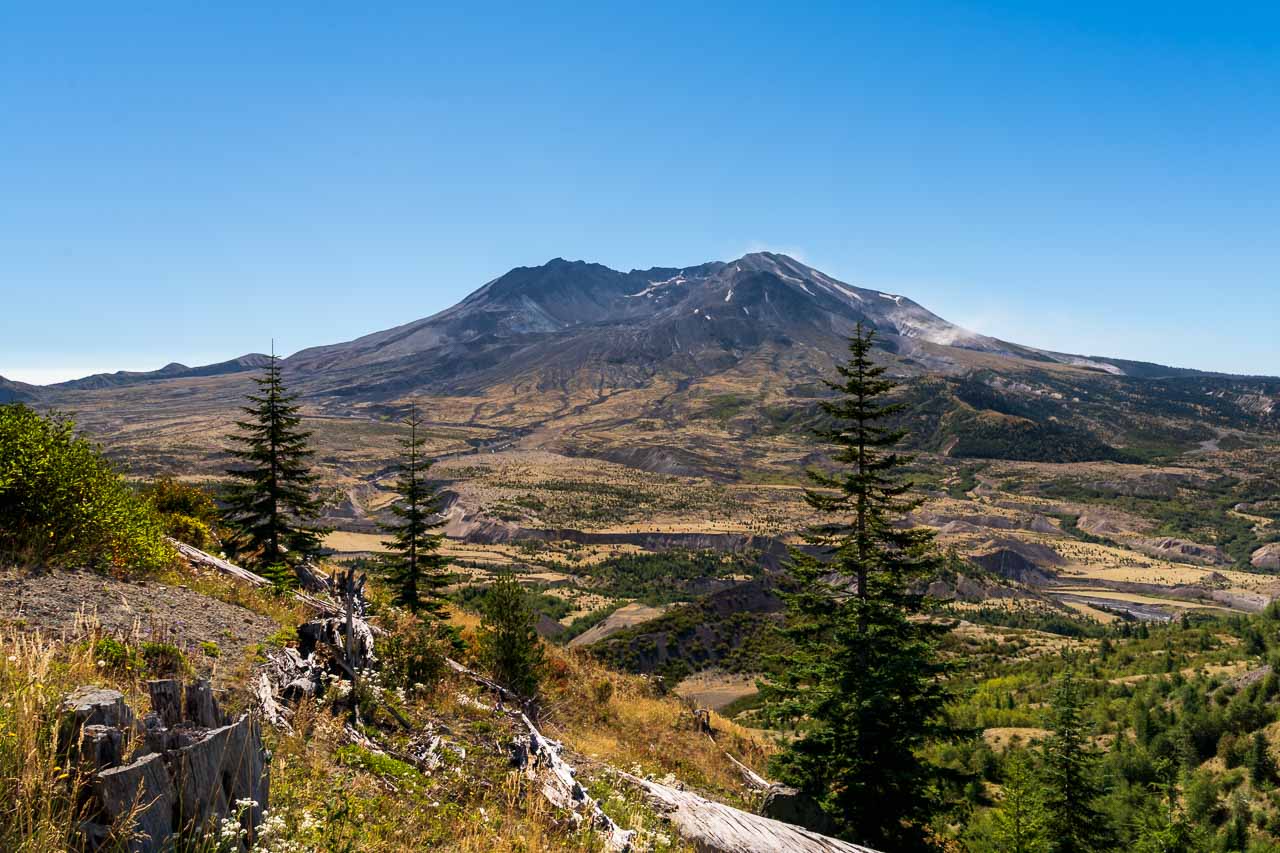 San Juan Islands
Another spot to seek sun in the Olympic Mountain rain shadow is the San Juan Islands. The archipelago is made up of 172 named islands and reefs. The three main islands where you will find hotels and restaurants are San Juan Island, Lopez Island Orcas Island. Each has its own unique flavour.
San Juan Island is the most developed. There you'll find the most historic and cultural attractions of all the islands.  Orcas Island and its hills are an outdoor adventurers' delight. Hike, bike and swim your way through Moran State Park. Lopez Island, the least populated of the three islands, is a place to chillax. Cycle around the beaches, parks and historic sights at your leisure.
Driving distance: Seattle to San Juan Island 172km (107mi) 3.5hrs including ferry
Portland, Oregon
Skip over the border to Portland, Oregon for a weekend getaway from Seattle that is still close to home. Enjoy street art, city parks, Mt Hood views and brewpubs in the city that claims the world's largest independent bookstore and the United States' smallest park. Additionally, Oregon charges no sales tax so you might save 5 to 10 percent by shopping while you're in Portland. 
Public transport in Portland is excellent, and it's a very walkable city so you can feel comfortable leaving your car at home and taking the train from Seattle. However, if you want to see sights outside town, you will need a vehicle.
See some of the weird and wonderful things to do in Portland here.
Driving distance: Seattle to Portland, Oregon 280km (174mi) 3.25hrs or 3.5hrs by train with Amtrak.
Port Townsend
This has to be one of the grandest small towns ever! In the late 19th century, Port Townsend was a busy port and set to be the terminal of the Northern Pacific Railroad. Speculators built Victorian mansions and beautiful commercial buildings at the waterfront before the bottom fell out. The onset of the Depression in 1893 saw the railroad stop in Seattle and the town went into decline. Now that Victorian architecture is a major drawcard for visitors. But wait, there's more…
On a clear day, you'll be able to view the Olympic Mountains and the North Cascades from downtown. Pop out to nearby Fort Worden Historical State Park for more gorgeous views including Mount Rainier. Explore the hundred-plus-year-old coastal defence system known as, "The Triangle of Fire" and visit the 1914-completed Point Wilson Lighthouse. You will need a Discover Pass per vehicle to spend time in the State Park.
Port Townsend, on the Olympic Peninsula, is well worth spending a chilled weekender. Eat, drink, admire the architecture and spot sea-otters from this Puget Sound-side location. It also has the benefit of being another rain shadow destination when you're desperate for some blue sky.
Driving distance: Seattle to Port Townsend 90km (57mi) 2.25hrs or 3.5hrs to drive around through Olympia. The timing is approximately the same if you take the ferry to Bainbridge Island and drive from there.
Sequim
Spend a July weekend touring the lavender fields of Sequim, pronounced "skwim". The land around Sequim was historically dairy pasture and in the last 30-years, it has transformed into the "Lavender Capital of North America". Once again, that rain shadow comes into play and affords Sequim a drier Mediterranean climate that is perfect for growing the purple-flowered herb.
The town celebrates peak bloom in July, with a Lavender Festival, followed by the cycling event Tour de Lavender. A number of farms open to the public for free. While they aren't the rolling acres of lavender you see in Provence, France, they sure are a delight. My favourite farms are Purple Haze, Rain Shadow Lavender Farm, B&B Family Lavender Farm and Jardin du Soleil.
While you're in Sequim, drive up to Hurricane Ridge for views over the Olympic Mountains, eat plenty of Puget Sound-fresh seafood, hike out to Dungeness Lighthouse or maybe even go wing-walking! But definitely sample all the lavender ice cream and get yourself some locally made lavender products to take home.
Driving distance: Seattle to Sequim via Bainbridge Island using the ferry service is about 122mi of driving and takes around 2.5hrs. As with Port Townsend, you can also drive around the long way instead of using the ferry. Travel time is similar, it is just different scenery and a varied experience to cross Puget Sound on the ferry.
There are so many places to explore within a stone's throw from Seattle, make sure you get out there and see more of what Washington State and the Pacific Northwest have to offer.
I'll be growing this list over time, and publishing detailed itineraries as we road test them. Make sure you check back for more weekend getaways from Seattle in the future.
Peace, love & inspiring travel,
Madam ZoZo