Foodies, history buffs and nature lovers will all get something out of a trip to Whidbey Island—whether it's wildlife watching, hiking the scenic State Parks or exploring historic villages and forts of yesteryear. If you live in or around Seattle, Whidbey Island is worth a visit. Soak up the serenity and experience the highlights of Whidbey Island with this itinerary for a long weekend from Seattle.
For another long weekend from Seattle idea, also see: Bigfoot to Bavaria: A Central Washington Weekender
Disclosure: I may earn compensation from the purchase of any product or service linked on this website, at no extra cost to you. I only link to products I use and love, therefore feel comfortable recommending.
How to get to Whidbey Island from Seattle
There are two easy options to get to Whidbey Island from Seattle. Either way you are going to need a car because the Island is large and sights are spread out.
Ferry
First, you can drive north from Seattle on Interstate 5 and exit at WA-525 N/WA-99 (Mukilteo Speedway). Follow signs to the Mukilteo Ferry Terminal and queue for the next ferry to Clinton, a community on the southeast of Whidbey Island. Depending on ferry queues, this route will usually take about 2 hours.
There are no bookings for this ferry so check the ferry schedule here and be aware of the best (i.e. less busty) times to travel. Generally, ferries leaving before 8am or after 6pm are less likely to fill than those in the middle of the day.
Road
If you prefer to drive, take Interstate 5 all the way to Burlington and take exit 230 for WA-20. When you reach the 2-lane roundabout on Fidalgo Island, stay in the left lane and take the second exit to continue south on SR 20 W. After about 4-miles you will reach Deception Pass Bridge which connects Fidalgo Island with Whidbey Island. This route takes about 1 hour 40 mins to 2 hours depending on traffic.
Whidbey Island itinerary notes
You will need a Discover Pass to enter the Historic Sites and State Parks on this long weekend from Seattle. You can buy it online in advance (allow 2-weeks for delivery) or grab one on arrival at the first Park. I recommend buying an annual pass if you are going to follow this itinerary over the 3-days or plan to take more weekend trips from Seattle. Also, note that if like us you make your weekend getaways using GIG Car, your rental includes a Discover Pass which is usually laminated to the windscreen.
Due to the pandemic, many restaurants and cafes are struggling to fulfil staff needs. Expect queues, wait times, shortages and reduced hours. In other words, be patient and where possible, self-sufficient. Whidbey Island is a great place to grab some takeout or pack a picnic and eat al fresco in the plethora of public parks and spaces.
Whidbey Island long weekend itinerary
Day 1 – Langley, Greenbank and Fort Casey
Depart Seattle early and take the ferry to Clinton on Whidbey Island. Once you are on the Island take SR 525 to Bayview. If you haven't had breakfast, the Flower House Café at Bayview Farm and Garden is a lovely spot for weekend brunch. The Café has lots of outdoor seating among the plants, which is perfect for social distancing – check out their menu here.
Next, take Bayview Road to the historic township of Langley. Call in at the Langley Whale Center for an update on the latest local whale sightings. Just a block away is the whale bells in Thomas Hladkey Memorial Park (don't ring it unless you actually see a whale) which also provides access Seawall Park where you can take a waterside stroll. Double back down the main street of the historic district with its cute shops, cafes and art galleries.
There is also a neat little gourmet grocer in town if you need to stock up on picnic supplies.
Head back to the SR-525 and continue up to Greenbank. Drop into Greenbank Farm and Whidbey Pies Cafe for a snack or to pick up dessert for later.
Further up the SR-525, turn left into Wanamaker Road and follow the signs to Fort Casey State Park. Here you'll find the historic Fort Casey and Admiralty Head Lighthouse, with beautiful views out to the Olympic Mountains. This is a great place to end the day with a picnic and watch sunset.
Day 2 – Fort Ebey, Coupeville & Oak Harbor
Drive into Coupeville for a casual breakfast from the Little Red Hen Bakery and coffee out on the end of Coupeville Wharf. Take some time to look for whales and ring the bell if you spot one.
Coupeville is right on the Penn Cove, reputed locally for its shellfish, so you might want to pick up some of those for later or look for them on Whidbey Island restaurant menus. Explore more of this cute, historic village before we continue on to Fort Ebey State Park.
Moving on to Fort Ebey, take your pick from the extensive network of walking and biking trails in the 645-acre State Park. For a longer walk with lovely coastal scenery, take the Ebey's Landing Trail, an 8.3km (5.2mi) loop.
After your hike, make your way to Oak Harbor. I recommend a seafood lunch at Seabolt's Smokehouse. It's a modest, family-friendly joint that isn't likely to come up in your Instagram feed, but what it lacks in style it makes up for in delicious seafood. We split a Captain's Platter and the halibut was to-die-for.
Finish the day with a walk down the historic Oak Harbor downtown and see the murals that were created as part of the Allgire Project.
Day 3 – Deception Pass State Park, Anacortes, Swinomish and La Conner
IMHO this is the best day of the trip because Deception Pass is the most dramatic and beautiful of the State Parks. Deception Pass is the narrow passage between Whidbey Island the Fidalgo Island.
On the Whidbey Island side, visit West Point and hike the Goose Rock Summit-Goose Rock Perimeter trail as a loop. Then, if you don't mind heights, walk across the Deception Pass Bridge before you drive across to reach the Fidalgo Island side.
At the Fidalgo Island end of the park, drive out to Rosario Head where you can take a short walk around the headland for stunning vistas of the San Juan Islands to the northwest and looking back at Bowman Bay to the east. There are plenty of picnic tables here and I highly recommend you make this your lunch spot.
If you didn't pack a picnic, don't worry, because there is food just up the road. From Deception Pass, make your way to Anacortes. There are plenty of food outlets to choose from in the historic downtown area – but pass on dessert because our ice cream stop is coming.
Drive up to Cap Sante Park, where on a clear day, you'll enjoy stunning 270-degree views from the San Juan Islands to the Cascade Mountains.
Leave Anacortes via SR-20 E and make a right at Reservation Road. In less than 30-minutes from Anacortes, you'll find yourself in Swinomish. Swinomish is located on Fidalgo Island divided from the mainland by the Skagit River. On the mainland side of the River, directly opposite is the historic town of La Conner. Both are worth a stop.
Go for a walk along the riverside park in Swinomish to learn more about the indigenous residents of the region. Here you'll also find three large outdoor pavilions shaped in the form of traditional cedar hats woven by the Swinomish people. Across the river are views of the historic waterfront of La Conner with the Cascade Mountains in the background.
Continue across the Rainbow Bridge into downtown La Conner. Explore the historic architecture, museums and boutiques. If you haven't eaten yet, you will be spoilt for choice in La Conner.
The last stop on your long weekend from Seattle is the Snow Goose Produce farm stand. Grab one of their huge cones of Lopez Island Creamery and Cascade Glacier ice cream or pick up some fresh produce for the week ahead.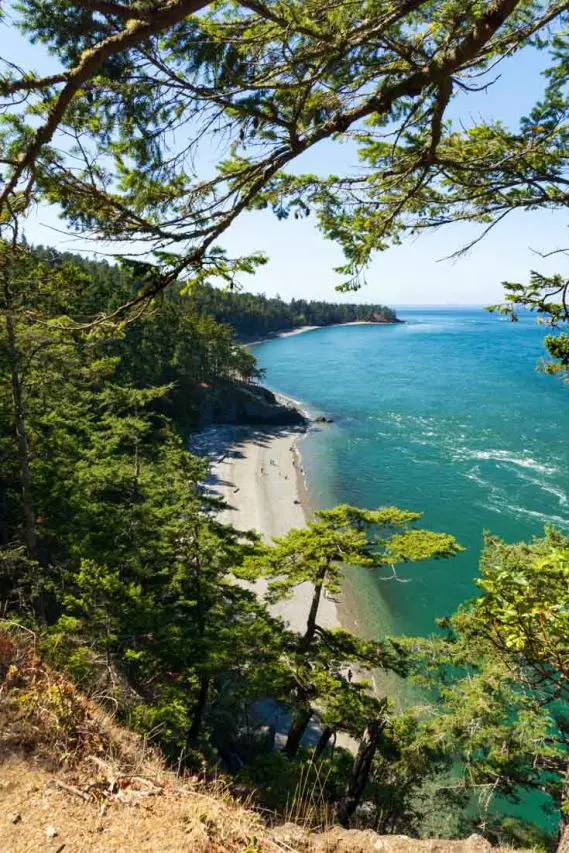 Whidbey Island itinerary map
Enjoy your weekend trip from Seattle and let me now your favourite thing about Whidbey Island in the comments below.
Peace, love & inspiring travel,
Madam ZoZo