Hike, bike, float, sip and savour your way through this 3-day Central Washington weekend getaway near Seattle. Sample the best of the region from the eastern foothills of the North Cascade Mountains to the Columbia River Basin. Oh, and we'll throw in some movie and television locations as well.
Full Disclosure: I may earn compensation for my endorsement, recommendation, testimonial, and/or link to any products or services from this website. I only recommend products/services that I use and love, therefore feel comfortable recommending.
Best time to travel
This particular itinerary is intended for late spring through summer (late May through September). It is always best to double-check conditions and availability before you set off. This time of the year is extremely popular with accommodation and some attractions commonly selling out, so make sure you book well in advance.
Central Washington weekend itinerary
Day 1 – Stevens Pass and Leavenworth
Setting off from Seattle or thereabouts early on Saturday, make your way over Stevens Pass on US-2. Before you reach the Pass itself, we'll make a couple of fun stops…
But first, coffee (and Bigfoot)!
The Espresso Chalet right on the highway at Index might seem familiar to 80s movie buffs. That's because it is an official location for the film Harry and the Hendersons. Stop here for your morning coffee, a Bigfoot cookie and the views of Mt Index and Bridal Veil Falls from out the back.
Deception Falls
Second, stretch your legs at Deception Falls. The interpretative trail is only a 1.2km (0.75mi) loop, but it packs a punch. The powerful Deception Creek cascades down the multi-tiered waterfall, makes a 90-degree turn at a granite wall, tears through rock a canyon and rages on through the forest. There are log bridges over calmer offshoots and creeks, with beautiful moss-laden forest along the trail.
The Pass
Stevens Pass feels all but abandoned at this time of year. On Memorial Day, there were but a few late skiers hiking up the melting slopes to make a last run. We pulled over briefly for a photo of the Pass sign, but nothing much to see here at this time of year, I'm afraid.
Tumwater Canyon
East of the Pass you'll enter into Tumwater Canyon as the road shadows the Wenatchee River into Leavenworth. If you feel like another short hike, the Tumwater Pipeline Trail is a brief 3.8km (2.4mi) stroll along the Canyon just outside Leavenworth known for its spring flower blooms and autumn foliage.
Leavenworth
When you arrive at today's destination, the Bavarian-themed town of Leavenworth, you're sure to be hungry. Pick up a bratwurst at München Haus and grab dessert at the Gingerbread Factory.
Browse the Nutcracker Museum ($5 adult admission) before the last entry at 4:30 pm. The Museum showcases the private collection of weird and wonderful, antique nutcrackers from around the world.
Drop into Kris Kringl to top up your Christmas décor supplies and sample some local ciders with a flight from Leavenworth Cider House.
While there's still daylight, load up on bug spray and head down to Waterfront Park for an evening walk along the 4.8km (3mi) Trail with views of the Wenatchee Mountains.
Driving distance: Seattle to Leavenworth 189km (117mi) – about 2hrs 20 mins plus stops.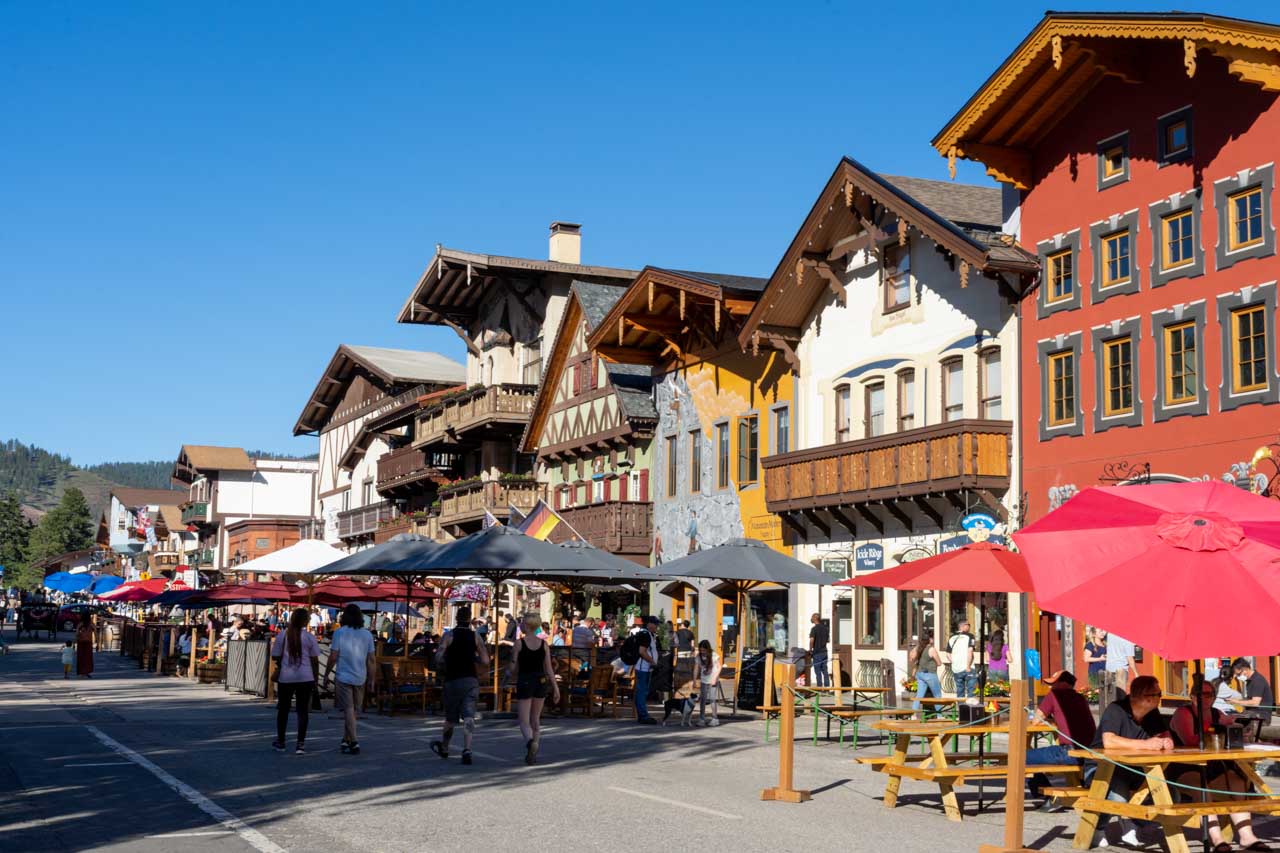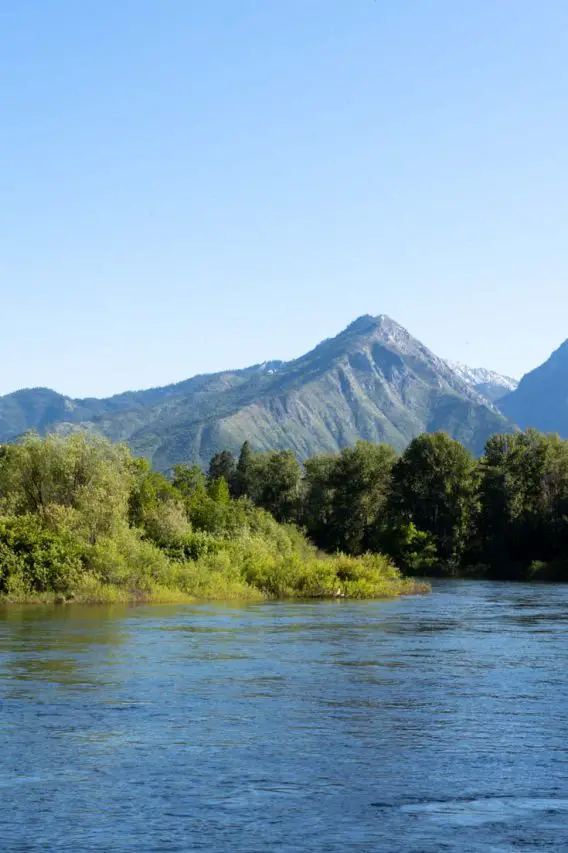 Day 2 – Lake Chelan and Stehekin
On day two of our Central Washington weekend itinerary, we'll visit the United States' third deepest lake. Glacial carved, Lake Chelan, stretches 82km (51mi) long by 3.2km (2mi) at its widest point. At a maximum depth of 453m (1486ft), the Lake fills a valley deeper than the Grand Canyon!
The name "Chelan" derives from the indigenous Salish word "Tsi – Laan" translating to "deep water" or "deep notch". Its shores are the centre of fruit growing in the region including an official American Viticulture Area (AVA) with over 30 vineyards.
Stehekin
Jump on the Lady of the Lake in the township of Chelan at the southern end of the Lake and make a day trip up to the remote community of Stehekin. The small town and gateway to North Cascades National Park, cannot be reached by road so you'll either need to catch the boat or take a long hike.
Lady of the Lake offers day trips with varying layovers. Choose one that aligns with your interests. You will need 4-6 hrs to do any reasonable hiking/exploring. The moderate 7km (4.4mi) Rainbow Falls loop and easy 8.8km (5.5mi) Agnes Gorge Trail are a good place to start.
Chelan
If you are planning late and miss out on a boat ride (as we did), I suggest a leisurely drive up to Manson to explore the fruit farms and Lake scenery, then some local hiking. Here are some highly recommended easy-moderate trails under 16km (10mi) to try:
Little Bear Trail: Bitterbrush Loop 3.7km (2.3mi) Easy – Lake Chelan State Park (Discover Pass required)
Beebe Springs Natural Area Loop 3km (1.9mi) Easy – Bebe Springs Wildlife Area
Waterbar Heaven and Bergman Gulch 7km (4.3mi) Moderate – Okanogan-Wenatchee National Forest
Big Critter and Litter Critter Loop 4.7km (2.9mi) Moderate – Okanogan-Wenatchee National Forest (Echo Ridge Recreation Area Trailheads)
Following your return to Chelan, shower and change for an evening of good food and wine tasting. Watch the sun go down from the lovely terrace of Siren Song Winery (no booking required current as of 2021) or Mellisoni Vineyards (booking required).
Driving distance: Leavenworth to Chelan 87.2km (54.2mi) – about 1hr 5mins plus local driving to chosen trailheads/vineyards etc.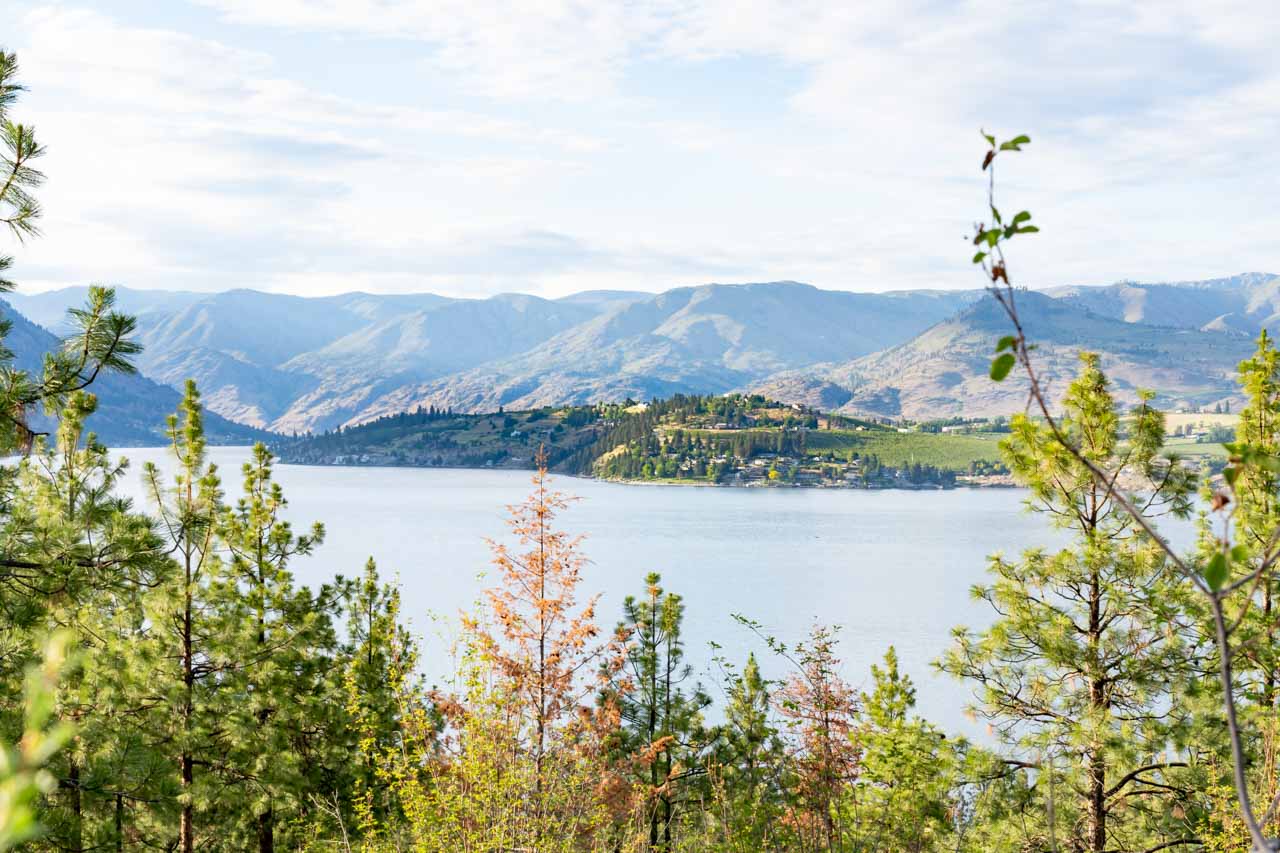 Day 3 – Wenatchee, Roslyn and Snoqualmie Pass
Wenatchee
Start day three of your Central Washington weekend by enjoying brunch at Wenatchee's Pybus Public Market with views over the Columbia River. Pybus Market incorporates both farmers market and permanent cafes, with a deck on the eastern side overlooking the River.
Next, we'll explore Wenatchee on two wheels. Rent a bike from Arlberg Sports at the southern end of the Market (2hrs for $15) and cycle the scenic 16km (10mi) Apple Capital Loop Trail. The Trail is an easy ride for casual cyclists and provides great views of Wenatchee and its surrounds, so leave time to make some photo stops. There are bathrooms and picnic tables along the way. Make sure you wear sunscreen and cover up, as there is not much shade along the eastern section of the Trail.
Roslyn
Begin your return to Seattle via the I-90, making a lunch stop in the town of Roslyn. The former coal-mining community is most known for providing the location for the fictional Alaskan town of Cicely in the 90s tv show Northern Exposure. Its historic buildings and the downtown core are on the National Historic Register and there are plenty of places to eat and drink on your stopover.
Snoqualmie Falls
Our final stop on the route back west is Snoqualmie Falls. The 82m (270ft) Falls was featured in the opening sequence of the 90s tv series Twin Peaks and more than 1.5 million visit the natural beauty annually. From here it's an easy 46km (29mi) trip back to Seattle. If you want to savour the end of your long weekend exploring Central Washington, have dinner overlooking the Falls at Salish Lodge & Spa.
Driving time: Chelan to Seattle via Wenatchee, Roslyn and Snoqualmie Falls 313km (194mi) – about 3hr 55mins
Central Washington weekend map
Places to eat, drink & be merry
A few recommendations for places we ate, drank and enjoyed on our mini road trip around the Cascades and Central Washington:
Espresso Chalet, Index (coffee)
München Haus, Leavenworth (lunch)
Gingerbread Factory, Leavenworth (dessert/snacks)
Siren Song Wines, Chelan (lunch or dinner)
Riverwalk Café, Chelan (brunch)
Goldies, Chelan (smoothies and acai bowls)
McGlinn's Public House, Wenatchee (dinner)
Mela Roasting Company, Wenatchee (coffee)
Café Columbia, Wenatchee (brunch and coffee)
Red Bird Café, Roslyn (lunch)
Enjoy your Central Washington weekend and let me know any feedback on this itinerary in the comments below. If you're from outside Seattle and want to add a few days in town, see these great things to do.
Peace, love & inspiring travel,
Madam ZoZo