Seattle is a magical combination of cosmopolitan city and glorious green, mountain bound landscape with endless water views—I've never visited a city that felt so integrated with nature! The leafy streets are great for those who love to explore on foot, and for burning off delicious fresh seafood meals. Once you see it, you won't question why Seattle is nicknamed the "Emerald City."
Disclosure: I may earn compensation from the purchase of any product or service linked on this website, at no extra cost to you. I only link to products I use and love, therefore feel comfortable recommending.
Top things to do in Seattle
Go underground and learn Seattle's history
I thoroughly recommend beginning with an underground tour of Seattle. The tour takes you back to the very early days of white settlement in the area and that historic background is a nice way to begin your city exploration. Dive into a network of underground passageways that reveal some of what Seattle was like in the mid-19th-century before they raised the street level to combat issues with tidal flow and sewerage. Despite the fact that the tunnels themselves aren't much to look at, the guides were so entertaining and informative, that I feel compelled to recommend this unique experience. There are several underground tour outfits, I went with Bill Speidel's Underground Tour.
Explore Pioneer Place
Following your time underground, explore street level in the historic part of Seattle—Pioneer Place. You'll find leafy squares, quaint restaurants and lovely historic architecture that contrasts steeply with the remainder of the city. If you want some more details on the Klondike Gold Rush and its impact on Seattle, visit the Klondike Gold Rush National Historic Park. The free museum is run by the National Parks Service and is worth a short stop if, like me, you really don't know anything about the stampede. Architecture lovers should also take a few extra minutes to pop into Union Station and see its beautiful interior.
Shop Pike Place Market
Pike Place Market is a historic marketplace dating back to 1907. It claims to be "one of the oldest continuously operated public farmers' markets in the US". Pike Place only approves vendors who are farmers, small businesses and craftspeople, ensuring you will get something fresh and/or locally produced. Wander the multi-level rabbit warren and see what you find, like a secluded rooftop garden growing food to feed the underprivileged.
Note: I'm an Australian coffee snob, and we avoid Starbucks like the plague. But if "the mermaid" is your thing, then be aware that the shop they call "The Original Starbucks" is not the actual location of the first Starbucks (which was in a building that has been demolished). However, Starbucks did establish itself in Pike Place Market which is why it is the only big business allowed to operate there.
Another great option for learning about Seattle's history is MOHAI – Museum of History and Industry – in Lake Union Park. This moderately sized Museum is a hidden gem you won't see on most Seattle must-do lists, the word is still to get out! The Museum has a wonderful timeline exhibit that walks you through the evolution of Seattle from its indigenous people to modern-day. Other exhibits showcase the industries that have played a key part in building the city from logging to tech. If you're fortunate enough to be visiting on the first week of the month, time your visit for Thursday when admission to MOHAI's permanent exhibits is free. Keen mariners will also want to check out the neighbouring Centre for Wooden Boats.
Scale the Space Needle
See Seattle and beyond from "that flying saucer" 158m (520ft) off the ground. Built for the 1962 World's Fair, themed "the age of space", the Space Needle began as a blobbish doodle on a napkin by a hotel executive. It was transformed by architect John Graham into the Modernist, swoon-worthy structure that has become the signature of the city's skyline. Given Seattle's propensity to by grey and drizzly, it is best to make a beeline for the Space Needle when you see a clear sky and renegotiate the rest of your itinerary around it. If you're not sure, check the Space Needle's webcam before you buy a ticket. Also note, queues are much shorter on weekdays.
Be enchanted by the work of Dale Chihuly
You may not recognize the name "Dale Chihuly" but you will almost certainly recognize his art. The Tacoma native has been making enchanting glass sculptures for decades. In the shadow of the Space Needle, within the Seattle Center, is the Chihuly Garden and Glass. The museum showcases some of Chihuly's most popular exhibits. You'll find his work all over Seattle, but visiting this museum is a must—it's like stepping into Alice's Wonderland! If you plan to do the Space Needle and Chihuly Garden and Glass, save a few dollars by purchasing a combined ticket. The only catch is that you will need to do both on the same day (see note above about clear weather).
Wander the waterfront
I've strategically placed this suggestion following attractions at the Seattle Center because I recommend starting your wander of the waterfront from the far end. Begin in Olympic Sculpture Park, a free outdoor gallery, and work your way along the pier back towards the city. Ignore the touristy stuff and enjoy the views of Puget Sound and the Olympic Mountains. By the time you hit the lineup of fresh seafood restaurants, you'll be ready to eat—and I highly recommend you do!
Seattle possesses extraordinary landscape advantages in having a great abundance and variety of water views and views of wooded hills and distant mountains and snow-capped peaks.

Olmstead Brothers, 1903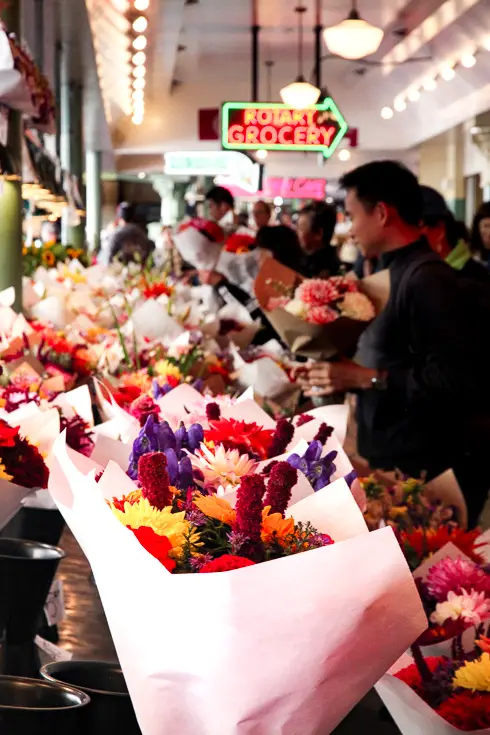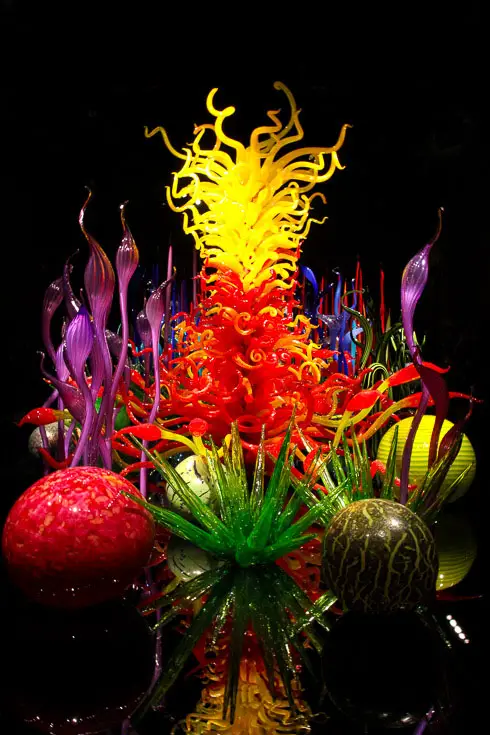 See a sunset
If the skies are looking clear and "the mountain is out" – local speak for, Mount Rainier is visible – then make your way to Kerry Park in Queen Anne for a fantastic shot of the Seattle skyline with its resident volcano looking on. See this list for more top places to spot Mt Rainier from Seattle.
Explore Seattle's neighbourhoods
Capitol Hill has a reputation for great restaurants and nightlife. Pike/Pine Corridor and Broadway are the best places to look for food and entertainment. Pike/Pine is where you'll also find the Jimi Hendrix statue (Hendrix was born in Seattle FYI).
Volunteer Park offers high ground for city views and beautiful green space. For those martial arts fans, you may also be interested to note that Bruce and Brandon Lee are buried side by side in Lake View Cemetery, next to Volunteer Park.
Second on my list of neighbourhoods to prioritise, is Fremont. Try for a Sunday if you can and enjoy the street market. Wander the suburb in search of the Lenin Statue and Fremont Troll. Gas Works Park is not what it's cracked up to be, picture rusted industrial equipment, graffitied and surrounded by large fences—not as artistic as they make out! What it does offer, is a great Seattle skyline view across Lake Union.
Places to eat and drink in Seattle
These are some of the places I ate, drank and loved in Seattle:
I was delighted to stumble across La Parisienne French Bakery when I was in dire need of some breakfast. It's always a good sign when you walk into a "French bakery" and you hear the proprietor and some of her customers parler français. Their baked goods thoroughly lived up to expectations.
Cherry Street Coffee House made the best latte I had all trip and is a great place for a casual breakfast. Don't take my word for it, the place was packed! I recommend the spinach and feta borek. UPDATE: Sadly,  Cherry Street folded during the pandemic.
Salad lovers, Evergreens is the Seattle equivalent of Sweetgreen. Get your veggie fix at any one of their 11 locations across the city. Good for casual lunches on the go.
While you're on the waterfront, Ivar's Seafood Bar is a delicious stop for lunch. This casual, counter-service joint adjoins the restaurant—Ivar's Acres of Clams—if you are looking for a more formal, sit down meal. Clam chowder and Dungeness crab cocktail? Yes, please!
You can't go passed Macrina when it comes to bakeries and they serve great coffee too. There are several branches and the most central is not far from the Space Needle.
FareStart offers culinary programs for youth and adults under the poverty line to acquire skills in foodservice. They have a number of cafes and restaurants around Seattle to support the program and offer real-world cooking experience to participants. I recommend their Guest Chef Night, which offers a 3-course set menu every Thursday at their Virginia Street location. For more details and bookings see the FareStart website.
For a special dinner, Shaker & Spear is an upmarket seafood restaurant with lovely cocktails and delicious share plate options. Best to book in advance.
By the time we got to Barque Brontes Bakery Café, my flu had completely taken away my sense of taste. My travel companion Rachel, assures us the cheesecake is good!
Cafe Hagen and Portage Bay Cafe in South Lake Union are decent brunch options, though opt for Hagen if you want decent coffee.
Catch Piroshky, Piroshky at Pike Place, or their food truck at the Fremont Sunday Markets.
Din Tai Fung, because xiao long bao (soup dumplings) are life!
Finally, when you need a macaron fix, drop into Lady Yum.
Coffee in Seattle
Please don't go to Starbucks for coffee. There are so many small, independent coffee shops and local chains that make a much better brew. If you want a REAL coffee in Seattle, here are a few smaller local chains and cafes to look for:
Analog, Capitol Hill
Overcast Coffee Company, Capitol Hill and Pike/Pine
Victrola Roasters, various locations
Cafe Ladro, various locations
Caffè Umbria, various locations
Monorail Espresso, various locations around Dowtown and Belltown
When to visit Seattle
You might have heard that it rains a lot in the Pacific Northwest and that is kind of true. If we want to get technical though, New Orleans, Miami, Memphis, Orlando, New York, Houston, Nashville, Atlanta and various other major cities that don't have a rainy reputation actually get more annual precipitation than Seattle. The difference is Seattle rain comes in slow drizzle rather than short downpours, and it mostly rains rather than snows because of its moderate temperatures. So it has 149 days rainy days per year versus New Orleans which gets about 63 days and New York with 50.
What I'm trying to say is, don't get put off by the rain. Sure, aim your visit for July through September when you are more likely to get warm temps (average highs of 19-22°C/66-71°F) and blue skies (3-6 days of rain per month). But if you can't make it over the summer, don't let that discourage you. Just pack your best looking rain boots and consider it part of the ambience.
Getting to Seattle
Find flight deals to Seattle-Tacoma Airport (SEA) with Kayak
. You can get from the airport to downtown using either the bus or Link light rail.
More of a train person? Amtrak has three major lines running through Seattle:
Amtrak Cascades connects Seattle with Vancover, Canada as well as the US cities of Tacoma, Portland, Salem and Eugene.
Empire Builder runs all the way from Chicago, through St Paul/Minneapolis, Spokane and Portland.
Coast Starlight is your Portland-Los Angeles connection.
Getting around Seattle
Pack your comfy shoes because Seattle is extremely walkable and I found it easy to hoof it around all the downtown attractions. Be aware that the city is also quite hilly, with topography rather like San Francisco. Of course, there is also that persistent Pacific Northwest drizzle for much of the year, therefore a raincoat is essential.
If you're looking to get somewhere further afield or give your legs a break, the public transport system is very good – buses, streetcars, monorail, subway, ferries, ride-sharing, car-sharing, bike-sharing…. the Emerald City has it all. There is absolutely no need to rent a car – which is a relief with the current shortage.
Get yourself an ORCA card and use that to pay fares on bus, ferry, rail or train. An ORCA card costs $5 and you will need to load it with a dollar value or pass (daily or monthly). For a short stay, I recommend adding a monetary value rather than a pass, unless you intend to use public transport A LOT.
It is best to top up your ORCA card at an ORCA customer service location, retailer or the easiest to find, ticket vending machines, where the value is immediately loaded onto your card. If you choose to top up online, do so well in advance, the value may not appear for 48hrs (I know, I learnt the hard way).
When all else fails, there is always Uber. I barely had to wait for 5-minutes for an Uber at any time of day or night.
Where to stay in Seattle
Find hotels with free cancellation for your Seattle getaway using Tripadvisor
. I found the Crowne Plaza Downtown to be a very friendly and comfortable hotel, in an excellent location for walking to all downtown attractions and accessing the bus network.
What to pack for Seattle
As I mentioned, rain gear is a good idea. Locals don't use umbrellas, so if you don't want to stand out leave your brolly at home. Raincoats and Goretex-waterproofed shoes are always welcome. Generally, Seattleites are a casual, outdoorsy crowd so you will look quite the part in your Colombia/Patagonia/REI best.
Pack layers even in summer, as mornings and evenings are cool even on warm days (except for the occasional heatwave). As soon as the sun hits the horizon Seattle drops a few degrees.
Also, summer days are long with daylight from about 5:30 am- 9:00 pm. I recommend bringing a sleep mask if you want to snooze past dawn.
Enjoy your time in the Emerald City and please, leave all your questions/suggestions about things to do in Seattle in the comments below.
Peace, love & inspiring travel,
Madam ZoZo