Wondering where to find take the best views of Mount Rainier from Seattle? Pack a picnic, invite a friend and don't forget your camera because I've found the best, free vantage points from around Emerald City to soak in the views.
On my first visit to Seattle, I couldn't figure out if I'd seen Mt Rainier or not. I had seen a few mountains during the week, as the clouds rolled in and out. I'd looked out from the top of the Space Needle and yet still I wondered, have I seen it!? Which mountain is Rainier? I began to question just how special this mountain actually was.
Now having lived in Seattle, let me tell you something: when you've seen Mt Rainier, you'll know. It is unmistakable. A 4392m (14,410ft) looming presence over the region. It is a beautiful beacon and the hallmark of a sunny day in the rainy Pacific Northwest. Hence the local phrase "mountain's out!"
Due to its immense size, there are lots of opportunities to glimpse this Pacific Northwest wonder. If you're looking for an extra spectacular spot to get some great photos, here are places with the best views of Mount Rainier. This post will cover viewpoints outside the National Park. for vantage points inside the Park, see my upcoming day trip itinerary.
Fast facts about Mount Rainier
Mount Rainier is not just a mountain but a volcano, last erupting in 1854. It is located in the Cascade Mountain range, which forms part of the Pacific Ring of Fire. Mount Rainier is also the highest volcanic peak in the contiguous U.S.A, and possesses the world's largest volcanic glacier cave system.
The volcano was originally named "Tahoma" or "Tacoma" by the Native American Puyallup people, which translates to "mother of waters". Later, Captain George Vancouver of the British Royal Navy gave Mount Rainier its colonial name. The Captain observed Tahoma from the Pacific coastline in 1792 and named it after his mate Rear Admiral Peter Rainier – not for the "rainier" weather, but I like to think the double entendre was intentional.
Mount Rainier was officially designated a National Park in 1899, becoming the fourth National Park in the USA after Yellowstone, Sequoia and Yosemite. The Park is 236,381 acres (369mi2/957km2) encompassing the mountain with all its glacial goodness, along with valleys, alpine meadows and old-growth forest.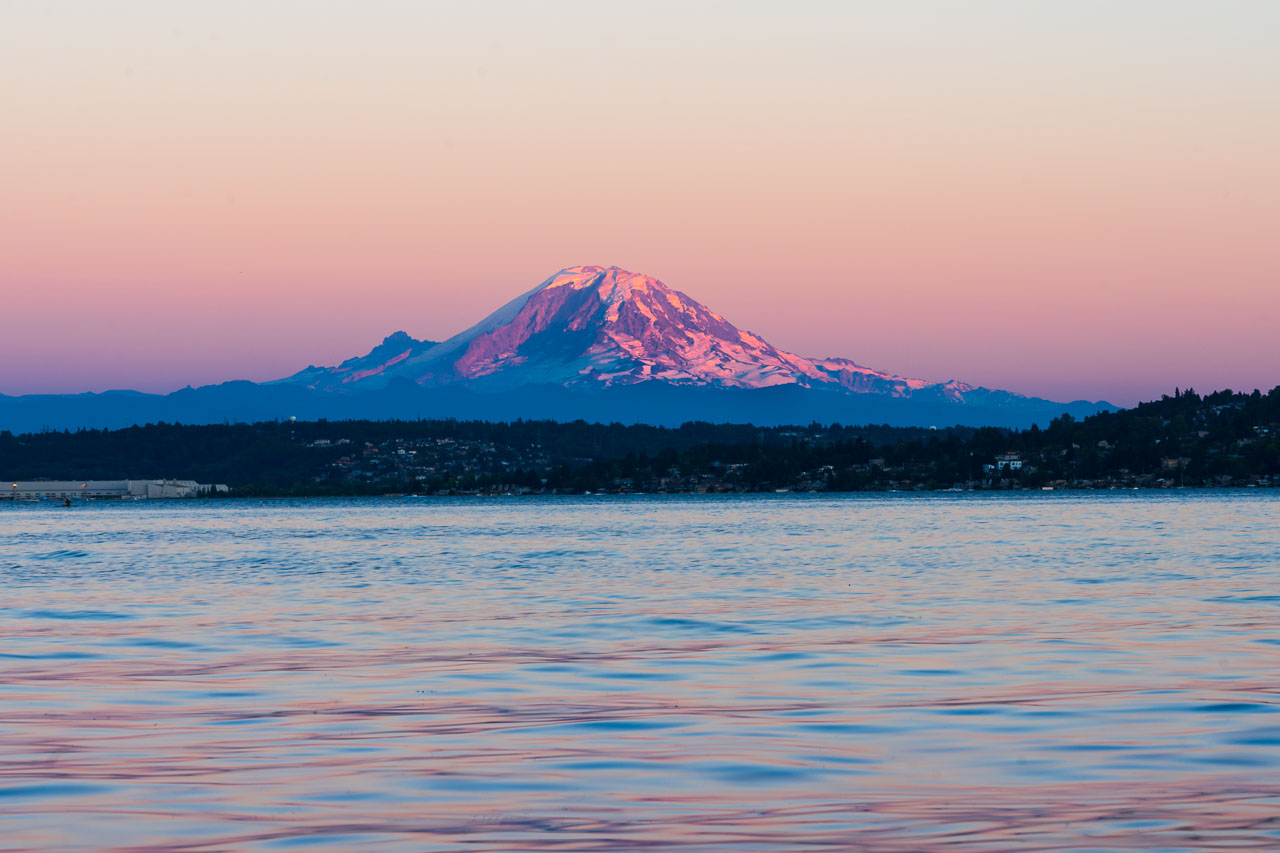 When to view Mount Rainier
The best time to view Mount Rainier is primarily dependent on Seattle's weather, which experiences about 150 rainy days per year. Check the Space Needle WebCam before setting off to view the mountain to ensure you will have visibility. The rainiest months are November through March. During the drier, summer months of July through September is when you have the best chance of a clear sky.
Sunset is the best time of day to view Mount Rainier from Seattle. Given Seattle's north-westerly position relative to the volcano, sunset light shines back on the mountain. When you get one of those colourful twilights, it reflects off Rainier's glacial peak giving the mountain a pink hue.
Best views of Mt Rainier from Seattle
Without further ado, here are the best spots to view Mount Rainier around Seattle:
Seward Park (5900 Lake Washington Blvd S) – Not only is this a gem of a park and a great spot for a picnic on the shores of Lake Washington, it has uninterrupted of Mount Rainier. Bring your insect repellant if you are staying for sunset here.
Kerry Park (211 W Highland Dr) – Whenever the weather is good, there is sure to be a crowd at this Queen Anne neighbourhood favourite. There isn't a better choice for views of the Mountain AND Seattle skyline due to its angle and higher viewpoint.
University of Washington Drumheller Fountain (W Stevens Way NE) – Rainier Vista aka Drumheller Fountain on the UW campus provides a beautiful foreground to the mountain. This spot is best in spring when combined with the cherry blossom bloom, but any clear day will do.
Magnolia Viewpoint (2301-2395 Magnolia Blvd W) – Magnolia Viewpoint offers exceptional views of Mount Rainier across Puget Sound, as well as the Olympic Peninsula. The Port of Seattle provides an industrial foreground if you zoom up on mighty Tahoma.
Discovery Park (3801 Discovery Park Blvd) – Once at Discovery Park, head to Discovery Park Beach and out towards West Point Lighthouse. The further out towards the Point, the better the view. This option may require more walking depending on road closures in Discovery Park.
Enjoy your time gazing at Washington's iconic peak. For more awesome things to do in Seattle, check this list.
Peace, love & inspiring travel,
Madam ZoZo