Before you depart on your incredible Galapagos Islands adventure, make sure you're packed for maximum safety, comfort and adventure! The world-renowned archipelago is a National Park and Natural World Hertiage Site with limited amenities. Therefore travel can be a more rustic affair that requires careful planning and being somewhat self-sufficient. Make sure you know what to wear in the Galapagos Islands and are fully prepared for your trip with this Galapagos packing list. For more on planning your trip to the Islands, see – How to Visit the Galapagos Islands.
This Galapagos Island packing guide is based on my experiences with a land-based, island-hopping itinerary. If you are cruising the Islands, much of this still applies but I recommend comparing it to a specific cruise packing list also to ensure you are completely covered.
Disclosure: I may earn compensation from the purchase of any product or service linked on this website, at no extra cost to you. I only link to products I use and love, therefore feel comfortable recommending.
Climate
Activities and sights in the Galapagos Islands are outdoors in the elements including tropical humidity, intense sunlight, with potential for rain and wind. Much of the Islands' wildlife can best be viewed from the water, so you are also likely to spend a lot of time swimming and snorkelling. Therefore one of the most important things to consider when deciding what to wear in the Galapagos Islands, are the weather conditions.
If you're planning your pack well in advance, check the typical conditions for your scheduled travel dates including water temperature and rainfall. As it gets closer to the date of your departure, make sure you look at the actual forecast for your specific dates to ensure there is no unseasonable weather predicted. Below are yearly averages to get you started.
| | | | | | | | | | | | | |
| --- | --- | --- | --- | --- | --- | --- | --- | --- | --- | --- | --- | --- |
|   | JAN | FEB | MAR | APR | MAY | JUN | JUL | AUG | SEP | OCT | NOV | DEC |
| Avg Temp High °F | 84 | 86 | 88 | 86 | 82 | 78 | 76 | 74 | 76 | 77 | 78 | 80 |
| Av Temp High °C | 29 | 30 | 31 | 30 | 28 | 26 | 24 | 23 | 24 | 25 | 26 | 27 |
| Avg Temp Low °F | 70 | 74 | 74 | 72 | 72 | 68 | 66 | 64 | 62 | 64 | 66 | 68 |
| Avg Temp Low °C | 21 | 23 | 23 | 22 | 22 | 20 | 19 | 18 | 17 | 18 | 19 | 20 |
| Avg Sea Temp °F | 74 | 76 | 76 | 76 | 74 | 74 | 72 | 66 | 68 | 70 | 72 | 74 |
| Avg Sea Temp °C | 23 | 24 | 24 | 24 | 23 | 23 | 22 | 19 | 20 | 21 | 22 | 23 |
| Avg Rainfall (inches) | 1 | 1 | 2 | 1.5 | .75 | .25 | .50 | .25 | .50 | .25 | .50 | .50 |
| Avg Rainfall (cm) | 2.5 | 2.5 | 5 | 3.8 | 1.9 | .635 | 1.27 | .635 | 1.27 | .635 | 1.27 | 1.27 |
Currency
The official currency of Ecuador and the Galapagos Islands is the US dollar. Most small businesses in the Islands don't have credit card facilities and if they do, charge fees at 5-10%. It is best to bring cash in small denominations ($20 bills or under).
There are ATMs located in Puerto Ayora on Isla Santa Cruz and Puerto Baquerizo Moreno on Isla San Cristobal. However, these can run out of cash when it is busy. Therefore, it's best to ensure you leave mainland Ecuador with enough cash to get by. Remember to account for the National Park and Transit Card fees discussed here.
Electronics
Ecuador's power supply is 110V and 60Hz frequency—the same as the US. Power plugs and sockets are Type A & B. Depending on where you are travelling from and what kind of appliances you are bringing, you may need an international adapter and or converter. Generally, modern phones, tablets and laptops are made for both 110V and 220-240V, but it pays to check this detail.
Environment
Help preserve this next-to-pristine environment of the Galapagos Islands by minimizing packaging and disposables you take with you. All waste on the Islands has to be carefully managed so as not to contaminate the environment. Therefore it is helpful to avoid single-use plastics as much as possible – these guides will help: 8 Essential Eco-Friendly Travel Products and 5 Steps to More Sustainable Travel.
Etiquette and culture
As a land-based traveller you are likely to interact with more locals than in a cruise environment. You will be staying in local accommodation, eating and shopping at local businesses and generally spending more time around Galapagos residents.
Consider that Ecuador is socially more conservative and a predominantly Catholic nation. While it is fine to wear a bikini on the beach or on a boat, wear a coverup in towns and villages to avoid unwanted attention. When dining out in the evening, dress smart casual and be wary or revealing too much skin.
Fabrics and colours
A tropical climate like the Galapagos Islands calls for lightweight, breathable fabrics. The best materials to wear in a tropical climate are cotton, linen, hemp and maybe some silk. Viscose or Tencel are also somewhat breathable. Synthetics such as polyester and nylon will make you sweat and should only be worn as rain gear, swimwear or other specialist clothing.
In terms of the colours to wear in the Galpagos Islands, pack light, neutral hues. This is for two reasons:
1. Mosquitos are attracted to some darker and bolder hues.
2. Wildlife is alerted to danger partially by colours that do not belong in the landscape. If you want to get up close to the animals, make yourself look as unthreatening as possible by blending with the surrounds. Wear colours that are as close to nature as possible.
Health
Check the CDC Travel Health webpage and consult a doctor well before your trip to the Galapagos Islands to find out what innoculations and other precautions you should take.
For instance, there is a risk of mosquito transferred diseases such as Zika Virus, Dengue Fever and Malaria in Ecuador and the Galapagos Islands. Pack an insect repellent that contains recommended amounts of DEET, picaridin or other scientifically proven product e.g. RID Tropical Strength or OFF Deep Woods.
Cover up at sunrise and sunset when mosquitoes are most busy looking for a meal. As I already mentioned, there is some evidence that mosquitos may be attracted to certain darker, bolder colours. Therefore, wearing light, neutral-coloured clothing may also be of benefit.
You may also want to take anti-motion sickness medication for boat travel. Consult a doctor/pharmacist and check with Ecuador authorities for any prohibited substances/ingredients.
Luggage
If you're wandering what kind of lugagge to pack for the Galapagos Islands, they are not a destination for roller bags. Luggage wheels don't move so smoothly across sand, uneven surfaces and stairs. A backpack or duffel bag is an easier, more convenient option.
Ensure you also have a day pack for activities and tours. A drybag may be useful for keeping valuables from getting wet during water-based excursions.
Security         
Don't take expensive jewellery or valuables to Ecuador or the Galapagos Islands. While crime in the Islands is low, you don't want to lose anything valuable while hiking or snorkelling. My husband's wedding band slipped off his finger in the water when he removed his snorkel mask once, so it does happen!
If you are spending any time on mainland Ecuador, crime rates are higher and tourists may be targets of theft and petty crime. Consider wearing a money belt or other secure pocket to carry cash, passport etc while sightseeing. Read this post for more basic travel safety and security tips.
Travel documents
Passport – International travellers, ensure your passport has at least 6 months validity and plenty of blank pages for your new passport stamps.
COVID-19 vaccination card and your Yellow Book if you have one (this an internationally recognised book or card often issued by travel health clinics that records your vaccinations).
Visa – Check if you need a visa for entry. This will depend on which country issued your passport and the length of your stay.
Itinerary, reservations and tickets – It is best to pack a paper copy of these items just in case internet is not available or your device battery goes flat. You can also opt to download a copy to your phone so you aren't reliant on internet connection.
Travel insurance – Pack a copy of your travel insurance policy and emergency contact details for your insurer. I also program the international dialling number in my phone so it is ready to go if something bad were to happen.
What not to take to the Galapagos Islands
If you plan to take your own snacks, there are restrictions on the types of organic materials that can be taken onto the Galapagos Islands. Check the official list here – unfortunately it is only available in Spanish. You tour operator or travel agent should be able to help you with a current list in English.
As a general rule, do not plan to take any fresh fruit, vegetables, meat, dairy products or seeds. These have the potential to carry agricultural diseases or pests into the protected Islands.
Galapagos Packing List
Here is a full Galapagos Island packing list with additional notes. You can download a one-page, printable version by clicking the button at the end of this post.
Basics
Underwear
Socks
Sleepwear
Shirts – one for each day, as between the sweltering heat, sunscreen, and salty water, you will probably prefer not to recycle shirts as you might in other, cooler destinations. A mix of t-shirts and light, long-sleeved shirts with collars, will allow you to adjust your clothing to the activity and sun intensity. If you have very pale skin like myself, long-sleeve is the way to go, as there is not enough sunscreen in the world to keep the burn at bay.
Several pairs of shorts and/or light pants that will be cool, provide sun protection, and be comfortable for light hiking. At least one pair of zip-off style cargo/khaki pants are ideal, particularly if you are doing longer treks such as the Volcan Sierra Negra walk.
One pair of light, long pants or maxi skirt/dress for evening activities when mosquitos and other biting insects are on the hunt. I recommend packing one pair of light pants or maxi skirt that will cover your legs while walking about town in the evenings. They can be re-worn night-to-night as they won't be exposed to sweat and sunscreen in the way your day pants will.
A light jumper (sweater) is a safe plan B for cooler, rainy evenings. I didn't wear a jumper my entire time in the Galapagos from getting off the plane to boarding it again. However, as I have a tendency to freeze during air travel, I did have a jumper in my bag, which was a suitable warm layer if I had needed it.
Rain jacket or poncho
A swimsuit, or two. In the humidity, everything takes a long time to dry out, so if you prefer to put on a dry suit in the morning, alternate a couple.
A wetsuit is another non-essential depending on the time of year and the tour provider. We took our own to wear purely for sun protection. A rash vest would also do the job.
Sarong or cover-up to keep you sun protected and modest between and after snorkelling sessions.
Toiletries 
Deodorant
Toothpaste and toothbrush
Shampoo and conditioner
Aloe vera – doubles as sunburn relief and body moisturizer
Vitamin E – I use pure vitamin E gel at night only (because it's photosensitive) layered over aloe vera to prevent sun damage on my face and chest. I've found it very effective for fighting hyperpigmentation from sun exposure. Warning: it's thick and sticky, another good reason to put it on at night only, right before bed.
Face wash
Body wash
Moisturizer
Hair accessories (ties and pins)
Menstrual products
Shaving kit
Light makeup and perfume – I didn't use either of these, but I had a small travel-sized mineral face powder and brush in my bag as a just-in-case.
Laundry soap – I pack a cake of laundry soap as a standard for all travel, so I can wash underwear and socks in the hotel basin if need be.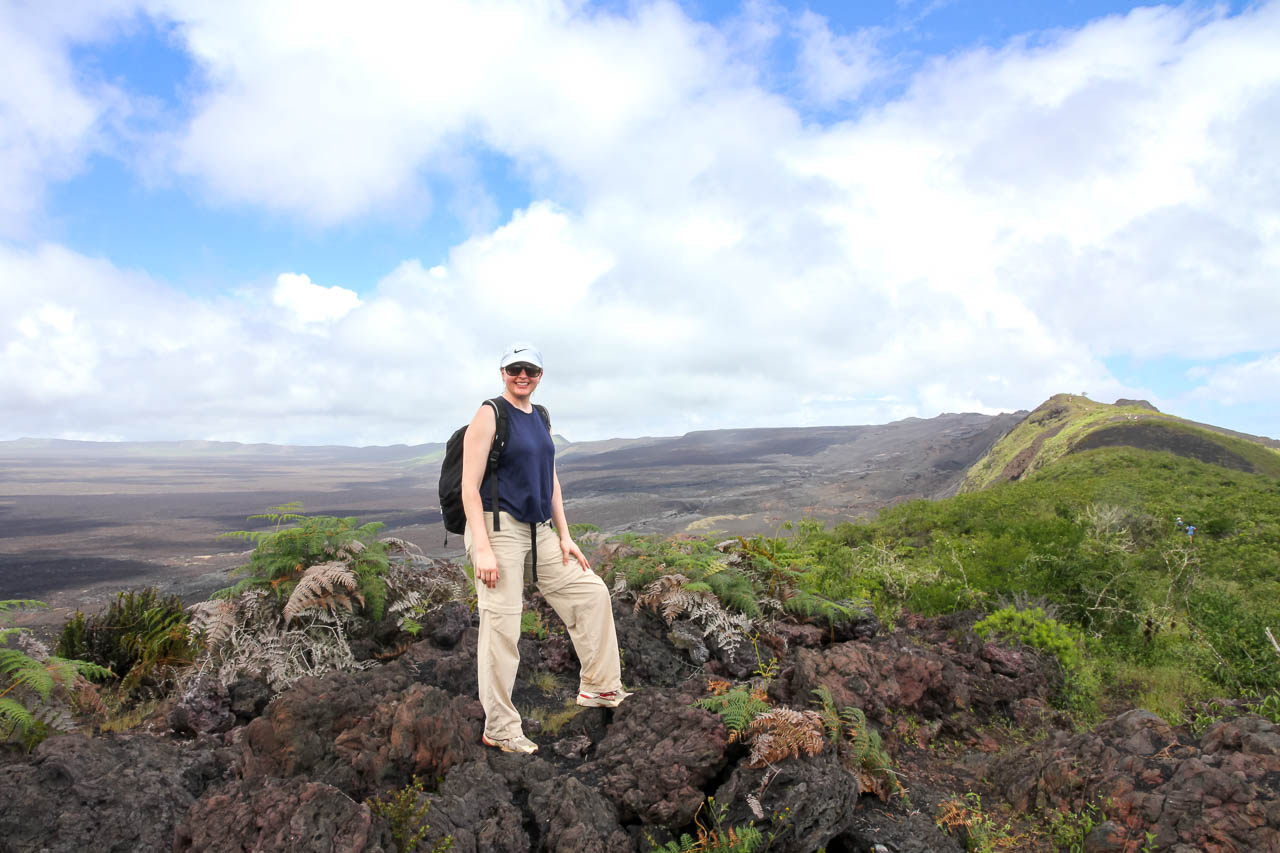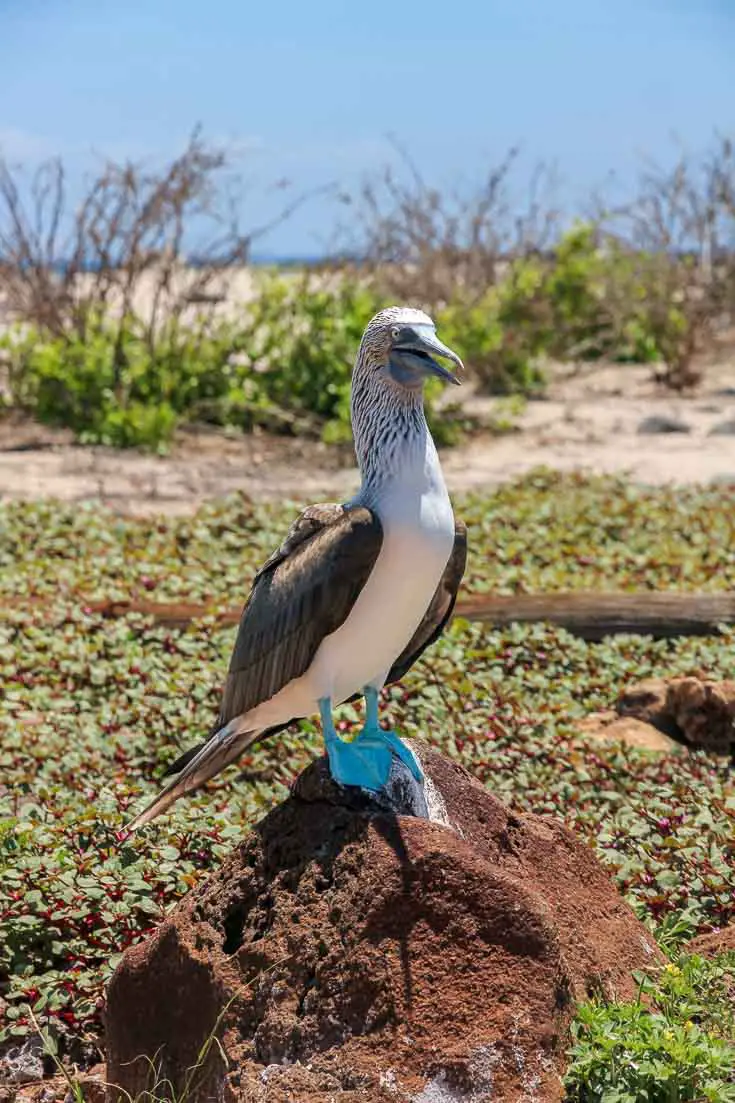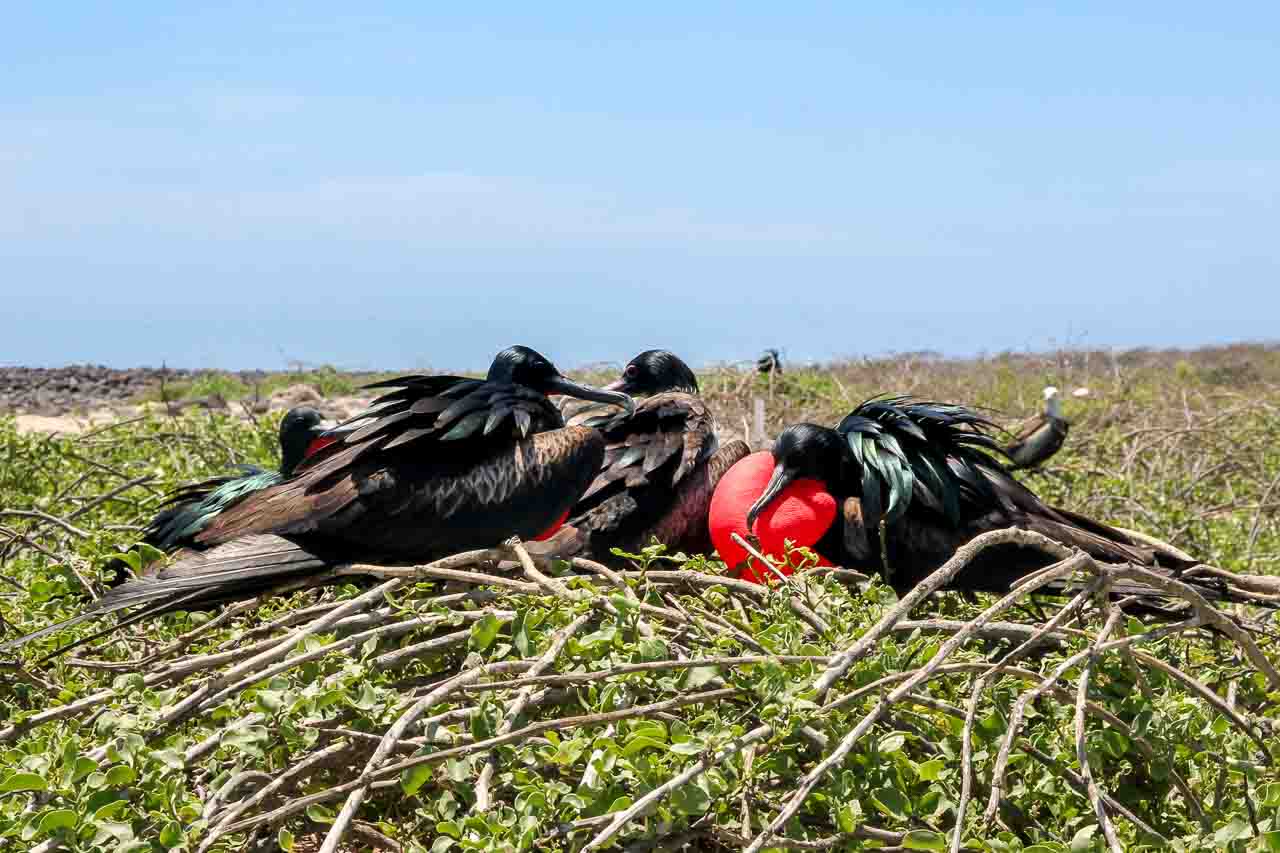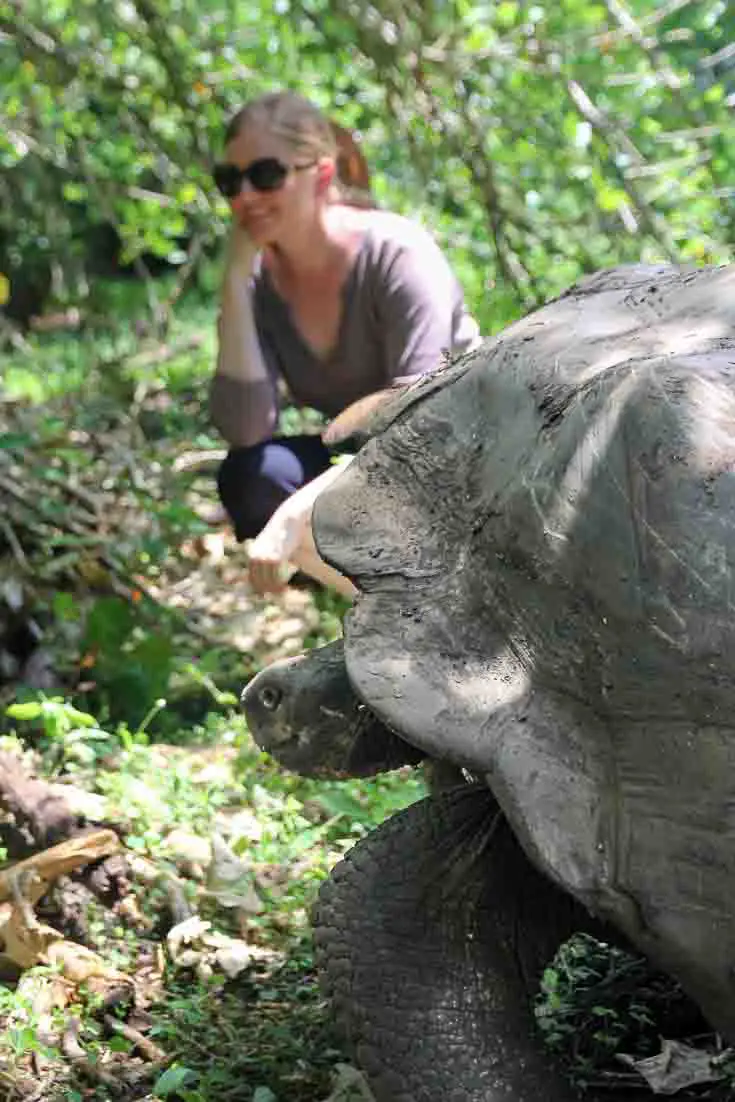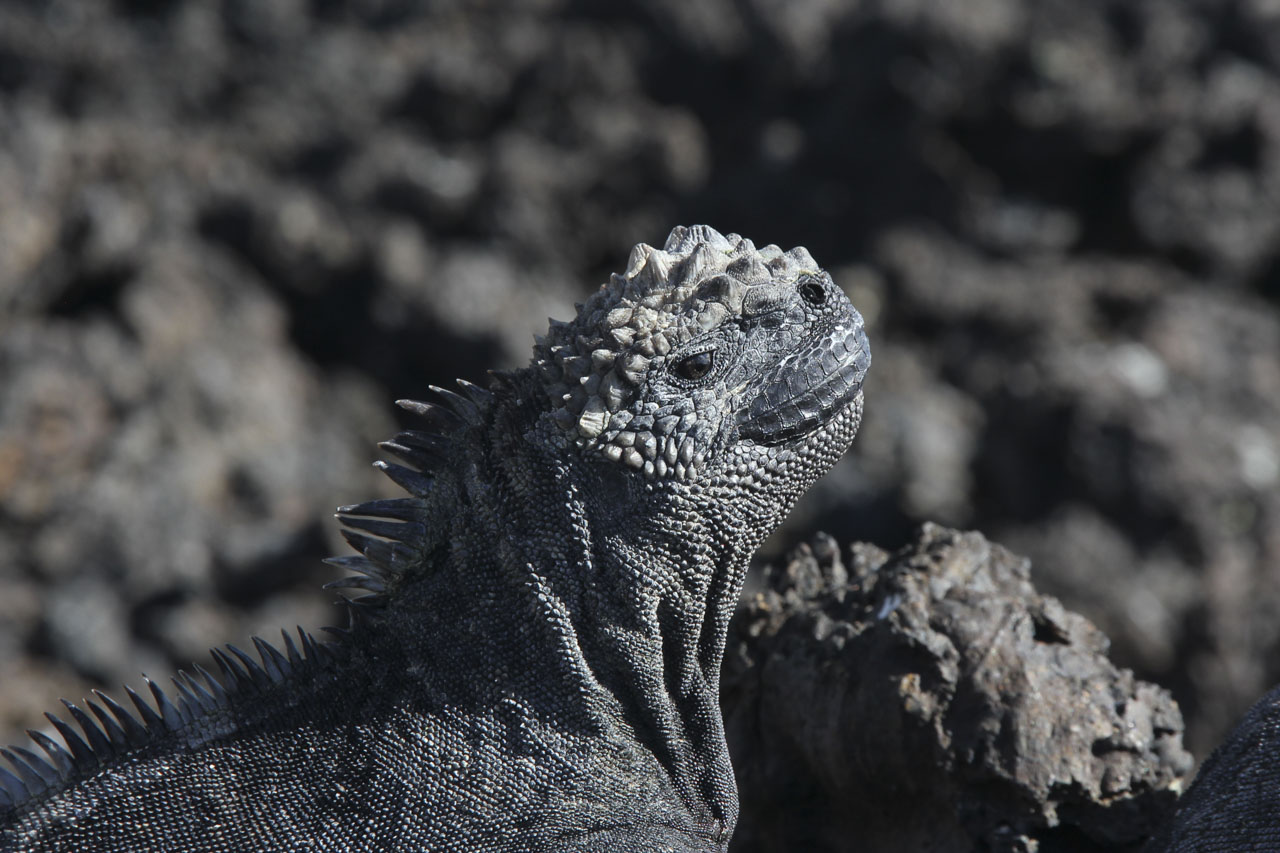 Day bag/ backpack
Refillable water bottle
Waterless handwash (aka hand sanitiser)
Bandana/cloth napkin
Toilet paper in a ziplock bag to keep it dry
Headphones
Binoculars
Sunscreen – SPF30+ minimum
Lip balm – SPF 15+ minimum
First aid kit
Medications and prescriptions
Seasickness medication – This is a must if a sometimes rolling, pitching boat makes you queasy. Beware, they might make you drowsy. I opt for keeping my face in the breeze, staring at the horizon and chewing on crystallized ginger as a natural alternative.
Dry bag for keeping your camera, phone and other water sensitive valuables dry, particularly during wet landings.
Any hat is better than none, but a snug-fitting wide-brimmed hat (maybe with a chin strap), is the most practical. You need the all-round protection of a wide brim and a fit that won't blow off with a breeze or movement of a boat.
Sunglasses, preferably UV rated to protect your eyes and polarized to cut glare and help you spot wildlife in the water.
Gadgets
An international adapter, ideally with a USB socket, and chargers for your camera and other electronics. 
A camera and accessories including charger, spare batteries, SD cards, and tripod. Polarizing and neutral density filters for your DSLR would also be helpful for the harsh tropical light.
A waterproof camera is a must for diving, snorkelling, kayaking etc.
Phone and charger.
Other items
Snorkel, mask and flippers aren't essential. Most day tours provide them where appropriate. We found the gear ranged in quality and condition so preferred to take our own.
Book
Sketch pad and pencils/paint
Notebook or diary
Tablet device
Playing cards or travel games – Remember there won't be much internet availability on this adventure.
Inside my suitcase
The following items are (mostly) what I packed with a few corrections I would make if I had a do-over:
Kathmandu Kanching Women's Zip-off Pants
Strand Australia Sky Blue Popover Shirt Dress
Jets Parallels Surf Suit
Jets Parallels Low Back Infinity One Piece
Everlane cashmere crew in navy
Woolerina Short Sleeve Crew
Patagonia Mainstay Tee
Columbia Women's Arcadia II Rain Jacket
Abeo Brynn Sandal
Aleader XDrain Water Shoes
Salomon XA Kuban Trail Runners
Joyce Oh So Spotty scarf
Conner Hiker Bucket Hat
Tori Burch polarised sunglasses (gifted by a friend, no longer available)
Sill wondering what to pack for the Galapagos Islands? Drop me any questions in the comments below, I'll be happy to help. Enjoy your Island adventure and remember to take only photos, leave only footprints.
Peace, love & inspiring travel,
Madam ZoZo