Alaska is awe-inspiring! It's a place of extremes that must be witnessed, but those same extremes mean you need to plan your Alaska packing list carefully. This guide will walk you through what to wear in Alaska for land-based travel (i.e. not a cruise), and all the considerations you need to make, from weather to mosquitos. I'll give you a peek inside my suitcase and you can download a printable copy of my full men's and women's packing list.
Full Disclosure: I may earn compensation for my endorsement, recommendation, testimonial, and/or link to any products or services from this website. I only recommend products/services that I use and love, therefore feel comfortable recommending.
General packing tips for Alaska in Summer
Activities
Alaska is an adventure-seekers dream! If you are doing any activities such as kayaking, ice climbing, glacier hiking, regular hiking or whitewater rafting, you will probably require free movement. Reconsider any restrictive garments. Also, check with your outfitter or tour provider to confirm what they provide and what you need to wear/bring with you for any specific activity.
I also recommend wearing light, neutral-coloured clothing where possible. Mosquitoes are a menace during Alaskan summers and they are attracted to dark and bright colours.
Another reason to dress in more neutral colours is wildlife viewing. I learnt this trick while in the Galapagos Islands. Animals are alerted when they see a colour that isn't normally in their environment, and they will try to avoid you. If you want to get as close as it is safe to do so, try to blend with the natural surroundings.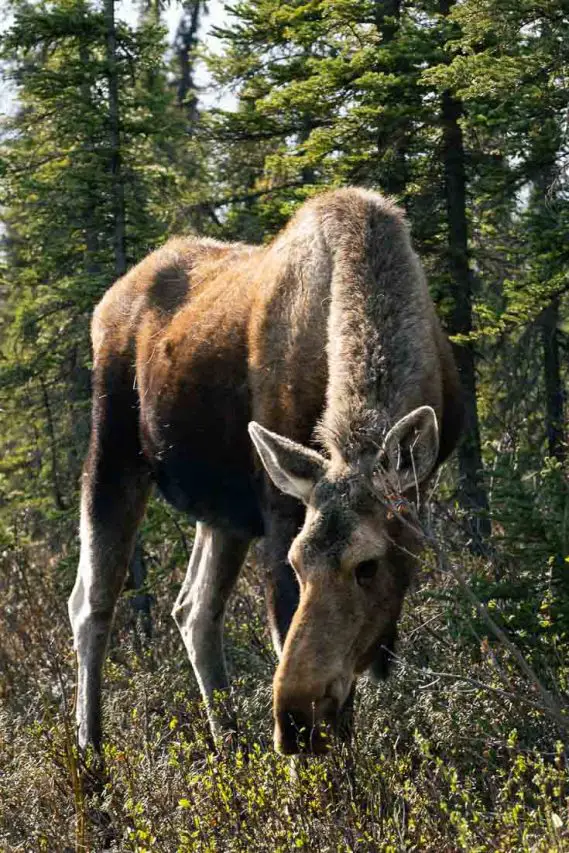 Climate
Alaska is a BIG state with four distinct climate zones. This means that depending on where you are travelling, you could experience very different conditions. Therefore, it's important to check climate data for your specific destinations.
I've included climate information for the most popular destinations in the tables below. Average climate data like this is helpful in planning how to pack for Alaska in advance (more than a week out).
Once you get within a week of your trip, I also recommend looking at the specific weather forecast in case Alaska is experiencing unseasonable conditions, so you can make any necessary tweaks.  
Note: For the purposes of this post, we've defined summer as May to September to also cover the shoulder seasons.
Southcentral and Interior
Southcentral region includes Fairbanks, Anchorage, Girdwood, Kenai Fjords and Denali National Parks.
| | | | | | |
| --- | --- | --- | --- | --- | --- |
|   | High ˚F/˚C | Low ˚F/˚C | Daylight Hours | Rainy Days | Clear Days |
| May | 54 / 12 | 39 / 4 | 17 | 7 | 11 |
| Jun | 62 / 17 | 47 / 8 | 19 | 8 | 10 |
| Jul | 65 / 18 | 51 / 10 | 18 | 12 | 9 |
| Aug | 63 / 17 | 48 / 9 | 15.5 | 15 | 9 |
| Sep | 55 / 13 | 41 / 5 | 12.5 | 14 | 10 |
Inside Passage
The Inside Passage region covers many Alaska cruise destinations including Juneau, Skagway, Sitka and Ketchikan.
| | | | | | |
| --- | --- | --- | --- | --- | --- |
|   | High ˚F/˚C | Low ˚F/˚C | Daylight Hours | Rainy Days | Clear Days |
| May | 55 / 13 | 38 / 3 | 17 | 17 | 8 |
| Jun | 60 / 15 | 45 / 8 | 19 | 15 | 7 |
| Jul | 64 / 18 | 48 / 9 | 18 | 17 | 8 |
| Aug | 62 / 17 | 47 / 8 | 15.5 | 18 | 9 |
| Sep | 55 / 13 | 43 / 6 | 12.5 | 20 | 6 |
Far North/Arctic
Including Nome, Gates of the Arctic National Park and Barrow, the Far North region is only accessible by plane.
| | | | | | |
| --- | --- | --- | --- | --- | --- |
|   | High ˚F/˚C | Low ˚F/˚C | Daylight Hours | Rainy Days | Clear Days |
| May | 24 / -4 | 14 / -10 | 17 | 4 | 3 |
| Jun | 38 / 3 | 30 / -1 | 19 | 5 | 3 |
| Jul | 45 / 8 | 33 / 0 | 18 | 9 | 3 |
| Aug | 42 / 6 | 33 / 0 | 15.5 | 11 | 1 |
| Sep | 34 / 1 | 27 / -3 | 12.5 | 11 | 1 |
Southwest
Southwest encompasses Kodiak, the Aleutian Islands, Homer, Whittier, Seward, Katmai National Park and Lake Clark National Park.
| | | | | | |
| --- | --- | --- | --- | --- | --- |
|   | High ˚F/˚C | Low ˚F/˚C | Daylight Hours | Rainy Days | Clear Days |
| May | 49 / 9 | 37 / 3 | 16.5 | 17 | 8 |
| Jun | 56 / 13 | 44 / 7 | 18 | 15 | 9 |
| Jul | 60 / 15 | 48 / 9 | 17 | 15 | 9 |
| Aug | 62/ 17 | 48 / 9 | 15 | 14 | 11 |
| Sep | 57 / 14 | 43 / 6 | 12.5 | 16 | 11 |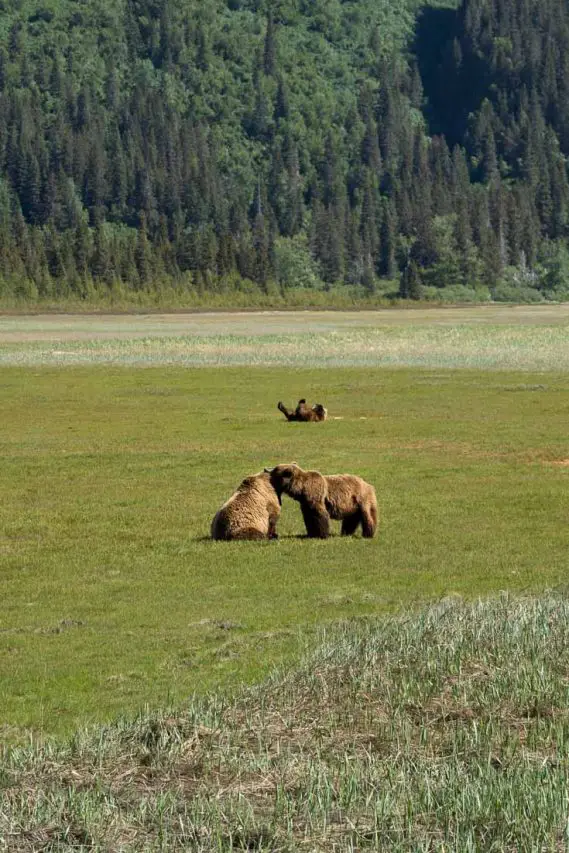 Clothing and comfort
Alaska's weather can be highly variable especially if you are at altitude or travelling across the State. It is best to pack and wear layers so you can adjust according to temperature fluctuations.
A waterproof outer layer is also important. Remember, down becomes much less effective if it becomes wet, so ensure you pack a coat that can stand getting damp e.g. synthetic down or a waterproof shell layer to put over your down jacket. Wool, specifically Merino Wool is also a terrific option as it is warm, yet breathable and light rain will bead up on the surface so you can brush it off.
Currency
Alaska is the 49th State of the USA and therefore you will be using US dollars (USD). For international visitors, withdrawing local currency from an ATM on the ground can be the best option for getting a favourable currency conversion rate.
Alaskan cities and towns are generally card-friendly but you will need cash in small bills to cover some instances, particularly if you are on a road trip. There are various scenic stops where parking can only be paid in cash.
Electronics
International visitors, please note that electricity in the US is delivered at 110/120 volts, 60Hz. Depending on where you are travelling from and what kind of appliances you are bringing, you may need a voltage converter. Generally, modern phones, tablets and laptops are made for both 110-127V and 220-240V, but it is best to check.
The USA uses Type A and B plugs and sockets, so you will almost certainly need an international adaptor.
Environment
Think about minimizing packaging and disposables as much as possible – these guides will assist: 8 Essential Eco-Friendly Travel Products and 5 Steps to More Sustainable Travel.
Etiquette
Due to the extreme conditions and outdoorsy nature of Alaska, it is generally a very casually dressed destination.
Travel documents
Domestic travellers, you will need a state-issued ID such as a driver's license to board your flight. Remember as of May 2025, a REAL ID is required for air travel.
International travellers, ensure your passport has at least 6 months of validity and plenty of blank pages for your new passport stamps. Check whether you require a visa for entry into the USA – it will depend on the country of your passport. There is a Visa Waiver Program for nationals of some countries, but even if you fall in this category, you will still need an ESTA (Electronic System for Travel Authorization) to enter.
All travellers, don't forget to pack copies of your travel reservations, details of your travel insurance, Covid-19 vaccination record and your National Parks pass if you already have one.
Security
Like most larger US cities, Anchorage has areas that are less safe than others. Drug-related muggings are the most common crime in these areas.
Pickpocketing and petty theft low risk but it pays to be mindful especially when you are on public transport or in crowded areas.
Keep your valuables to a minimum. Ensure your bag is zipped up and secure (cross body bags and backpacks are ideal). See this post for more, general travel security tips.
Alaska packing list for summer
Clothing and accessories
Underwear and bras – Pack just a week's worth and wash in the shower or bathroom sink if you are staying for longer.
Sleepwear – In summer, Alaska experiences up to 20 hours of sunlight, so a sleep mask is an absolute must. Most accommodation has blackout curtains, but if you are sensitive to light when trying to sleep, I highly recommend a mask.
Base layer – Moisture-wicking base layers are essential, especially if you are going to be active. For our May trip I wore full-length, midweight Merino wool base layers most of the time (I feel the cold). In high summer you likely only need a lightweight, short-sleeved base for evenings or particularly cool days.
Tip: Having grown up in the sub-tropics of Australia, I used to struggle to estimate how much warm clothing I needed and was fearful of being underdressed because I absolutely loath being cold. After six years of living across Ohio and Washington, I find it necessary to wear full-length thermals for any temperature under 5˚C/41˚F, sometimes slightly warmer if there is a wind chill. On the other hand, my much warmer-bodied husband rarely wears a base layer, so take into account your own personal thermometer!
Shirts – Pack 1 long sleeve shirt for every 1-2 days of your trip. Remember that Alaskan summers are fraught with mosquitos so, despite the warmth, long sleeves in a light fabric are recommended.
Sweaters – Pack a polar fleece or sweatshirt that will layer over the previous two items.
Pants – Pack 1 pair of long pants, hiking pants or leggings for every 2 days of your trip. I don't recommend shorts because of the mosquitos. I chose a combination of zip-off khakis, leggings, tracksuit pants and one pair of jeans for the evening. Make sure your pants, including leggings, have room to wear your base underneath if required.
Outerwear – 1 puffer jacket or similar outerwear for warmth.
Rain jacket and pants – A final waterproof outer layer.
Shoes and socks  – Depending on the activities you have planned, you need a pair of comfortable walking shoes with a good grip. I recommend waterproof shoes. Warm, well-cushioned socks are also essential for keeping your feet warm and avoiding blisters – wool, again is highly recommended.
Sunglasses – UV rated to protect your eyes and polarizing to cut glare when spending time on water or ice/snow.
Scarf, gloves and warm hat – Pack 1 scarf, a thin pair of gloves and warm hat. Add a wind-secure, sun hat for sunny days.
Some tour operators provide gloves, but you will likely want a pair of liners of your own to wear inside them.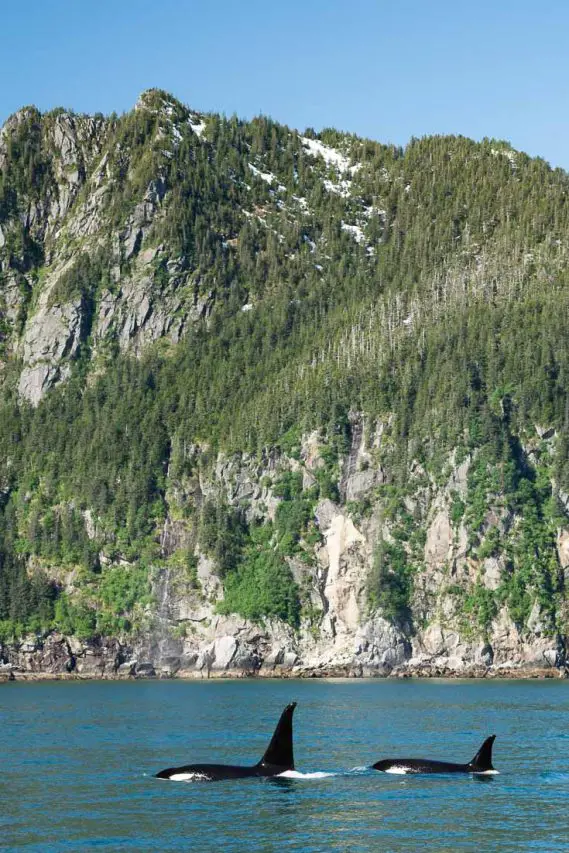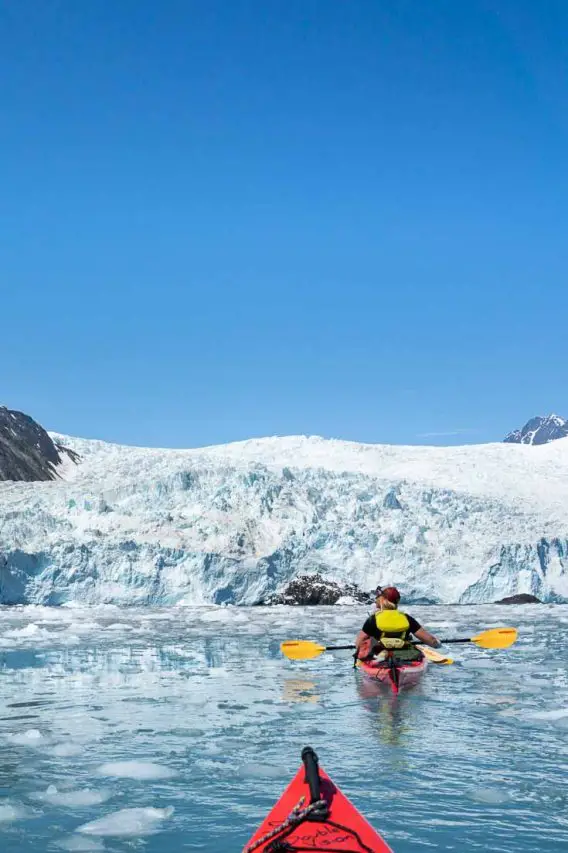 Toiletries
Deodorant
Toothpaste and toothbrush
Shampoo and conditioner
Face and body wash
Moisturizer
Hair accessories (ties and pins)
Menstrual products
Razor and shaving cream
Light makeup and perfume for evenings if you desire.
Laundry soap – a cake of laundry soap is great for washing your smalls in the hotel basin and doesn't add to your liquid/powder count if you're travelling carry-on only.
Day bag
Camera – Camera with accessories such as charger, spare batteries; SD cards; and tripod. A waterproof camera or weatherproof phone/camera case is also ideal.
Phone – Phone including accessories such as a charger. An additional power pack for charging on the go is a must if you are using your phone as your camera.
International adaptor – Where required for international visitors.
Refillable water bottle – Some communities in Alaska do not have recycling services, so a refillable water is a great way to minimize single-use plastic consumption.
First aid kit – A basic first aid kit that you can take out hiking.
Hand sanitiser and masks
Headphones
Medications and prescriptions
Sunscreen and lip balm with SPF 15+ or higher
Insect repellant
Guidebook
Headlamp or flashlight
Pharmaceuticals and prescriptions
Dry bag
Binoculars
Making memories and filling spare time
Book
Sketch pad and pencils/paint
Notebook/diary
Tablet device
Playing cards or travel game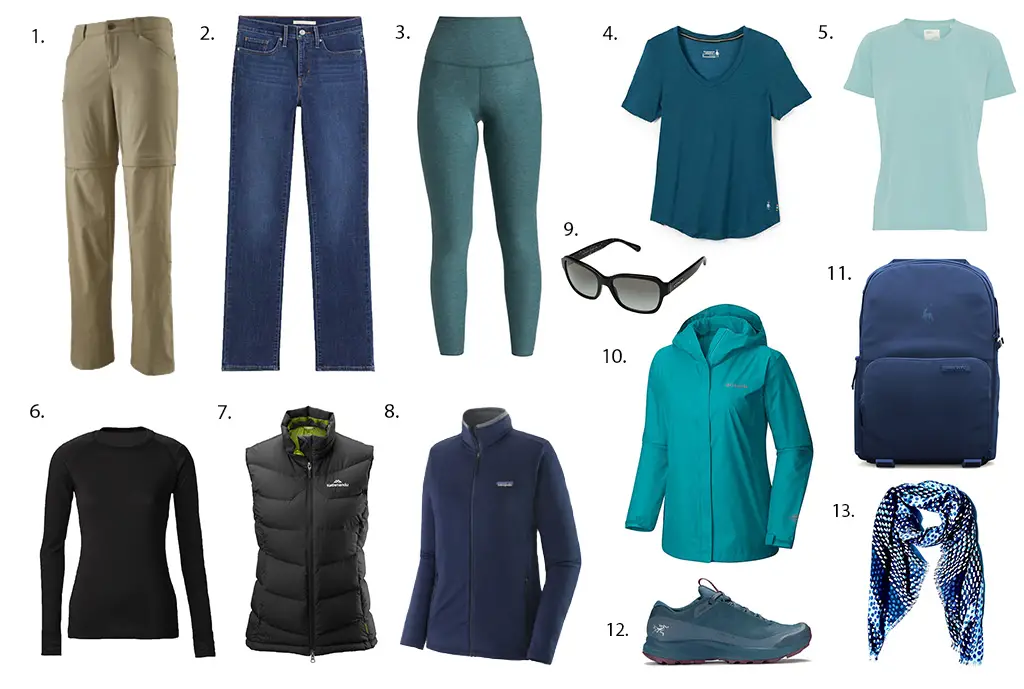 What to wear in Alaska – inside my suitcase
Below is a list of the key items I packed for Alaska. If you read through this list, you'll notice I have spent quite a lot of money on gear – in fact, it sounds very bougie! However, you'll also notice several of those pricier items I bought 5+ years ago now and I'm still using them. Many of these items get everyday use too, not just when I travel.
I always discourage people from spending big money on an item for a single trip. Shop your own wardrobe first, borrow from others second and thrift the gaps wherever you can. If you have to buy something new, buy the best you can afford and it will pay for itself in the years to come.
Additional items not pictured above:
Solbari Resort Sun Hat – I like this hat for adventure travel because it has all the bells and chin straps you need to keep it on your head. Plus if it gets wet, it won't be ruined like a straw hat will – I speak from experience.
Smartwool Classic Base Layer Bottom – I layer these thermal bottoms under everything including my leggings.
Smartwool Classic Hiking Socks – These socks have just the right amount of padding for hiking, but not too much for everyday use.
If you are still planning your trip to Alaska, be sure to check out our 10-day road trip itinerary and more travel resources.
Peace, love & inspiring travel,
Madam ZoZo