You don't have to look far to find inspiring things to do in Antigua, Guatemala—a UNESCO World Heritage Listed city in the country's south. Guatemala's former capital is set in a valley overseen by towering volcanoes, and was once all but abandoned after a number of disastrous earthquakes. However, it stands revived today with its vibrant, colonial Spanish architecture, cobblestone streets, and a few earthquake-ruined buildings to tell the story of its past.
Disclosure: I may earn compensation from the purchase of any product or service linked on this website, at no extra cost to you. I only link to products I use and love, therefore feel comfortable recommending.
A brief history of Antigua, Guatemala
Antigua was established by the conquering Spanish in 1524 as Santiago de Guatemala and had a number of false starts and relocations before it stuck. Antigua version 1.0 was burnt down by rebelling indigenous people, and Antigua 2.0 was reduced to rubble by earthquakes, then smothered by a subsequent mudslide.
They say "third time's a charm," and Antigua 3.0 in its current location stuck around for 230 years through floods, volcanic eruptions and earthquakes. However, the destruction wrought by the 1773 Santa Marta earthquakes drove the Spanish to establish Guatemala City as the new capital. At this point, Santiago de Guatemala became referred to as "La Antigua Guatemala," meaning "Old Guatemala City". The city was almost abandoned until the mid-19th century when agriculture, particularly coffee and grain, sparked renewed interest in the area.
Inspiring Things to do in Antigua, Guatemala
Hike a live volcano
Located on the Pacific Ring of Fire, Guatemala has 37 official volcanoes, three of which are active at the time of this post—Fuego, Pacaya and Santiaguito. Volcanoes Fuego and Pacaya are both a stone's throw away from Antigua. Local tour companies offer a range of experiences from half-day hikes to overnighters allowing you to feel the power of mother nature up closer than most first-world countries would deem safe. See more about our experience roasting marshmallows on Pacaya's lava flows here.
Shop for beautiful handicrafts
Approximately 40% of Guatemala's population is indigenous people who are descendants of the ancient Maya. Many of these indigenous people produce textiles and handicrafts by largely traditional methods. Their aesthetic is bold, colourful and rich in symbolism. You will find Antigua abundant in pottery, bead jewellery, textiles, art and other artisan products to fill your suitcase. See my recommendations on soulful souvenirs from Guatemala and where to buy them here.
Make your own chocolate, the Mayan way
Nothing will satisfy your sweet tooth like a trip to the Choco Museum. Here you can wander through the Museum for free and sample products made from local cacao, or get interactive with one of their various workshops that guide you through making your own divine treats true to traditional Maya techniques. We took the 45-minute Mini-Workshop and left, minds boggling with our new, chocolatey wisdom. Not to mention a bagful of cacao products including our self-moulded and flavoured bonbons. I shared some of the fascinating history and art of making great chocolate here.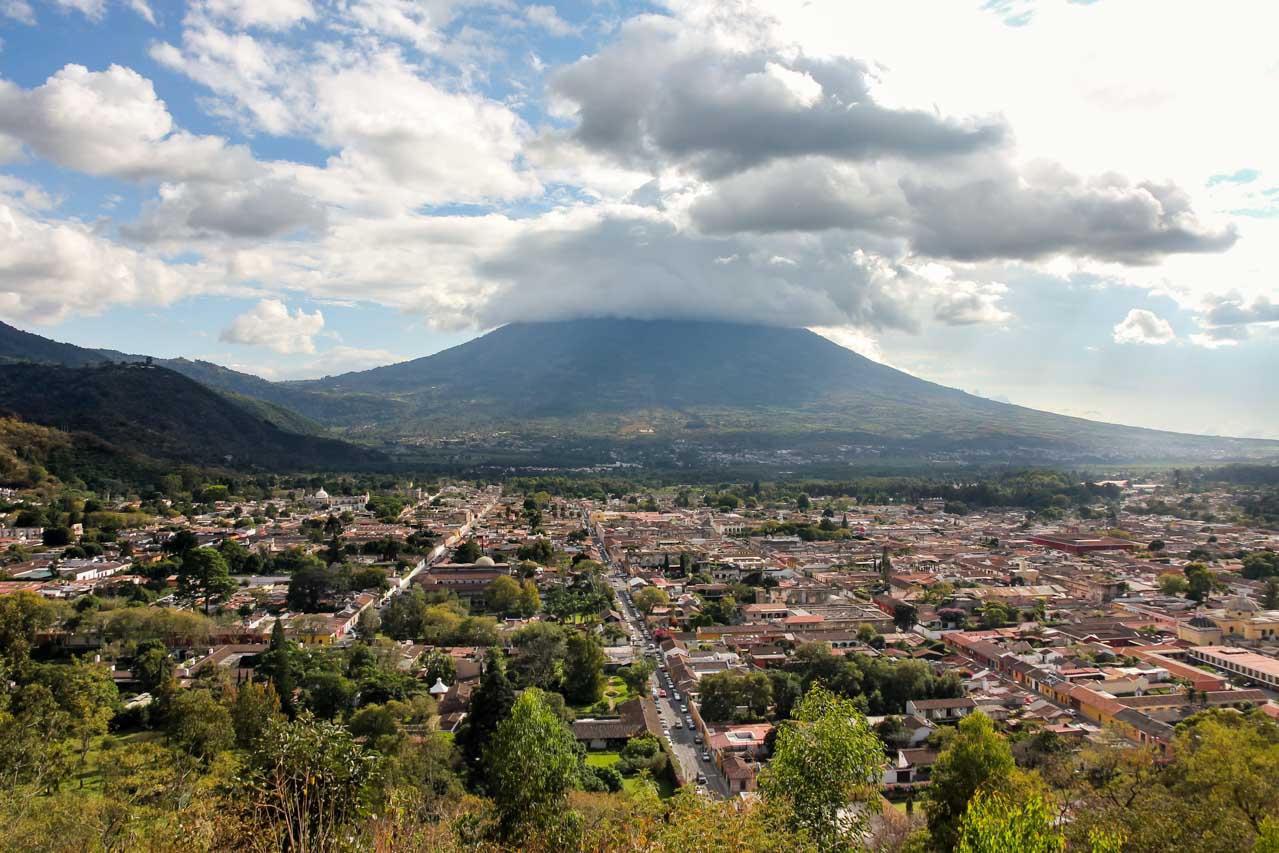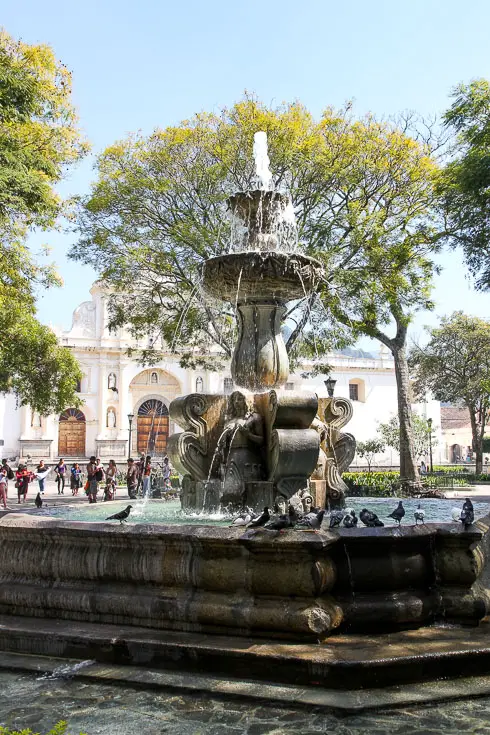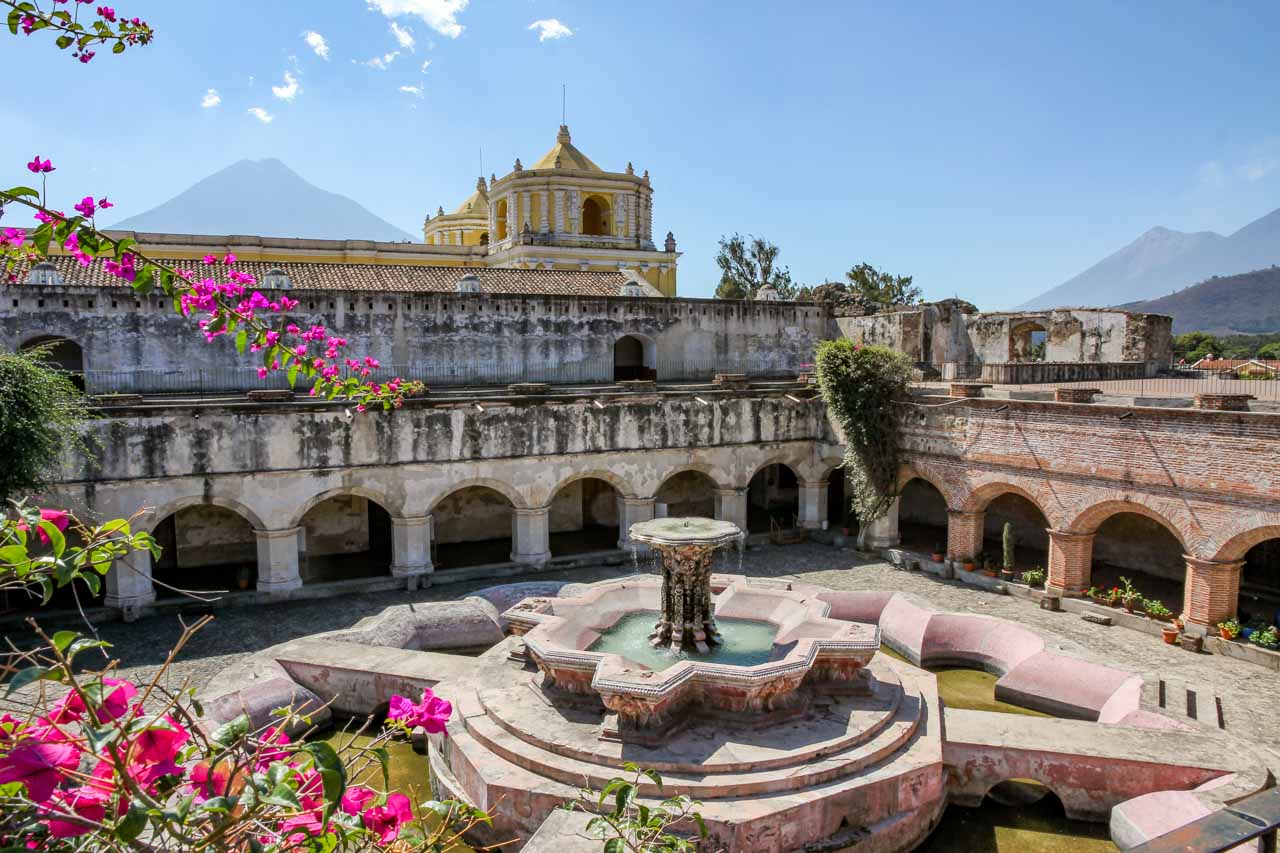 Explore colonial ruins
Some of the exquisite colonial buildings of yore that fell prey to the 1773 earthquakes and left abandoned have been restored to a point where visitors can safely walk through them. These churches and monasteries are now open-air museums exhibiting felled architecture and blooming with well-tended gardens. It will cost you a couple of dollars to get into each, so just pick a couple to roam around inside. See more stunning details of Antigua's colonial ruins here.
Take in the view from Cerro de la Cruz
On a green hillside on the northern edge of the city is Cerro de la Cruz, "Hill of the Cross", a scenic lookout where you can enjoy views over the city and Volcán Agua. The hill trail gained a reputation for muggings, so take a friend and travel between 8am-4pm when it is patrolled by local police. Earlier is better before the sun really heats up.
Take in the Barroco antigueño architecture
Antigua's simple to navigate north-south, east-west grid layout of streets was inspired by the Italian Renaissance and was at the forefront of town planning in Latin America for its day. Wander the cobblestones and take in the beauty of Antigua's architecture. The surviving civic, religious and residential buildings mostly hail from the 17th and 18th centuries. Barroco antigueño refers to the local architectural style from this period, which was an adaption of Baroque trends out of Europe tweaked for better earthquake resistance. Find out more on the must-see architecture of Antigua in this post.
Where to stay in Antigua, Guatemala
We fell in love with the Hotel Eterna Primavera Antigua, from the comfy rooms to the exquisite courtyard garden and rooftop views of the surrounding volcanoes. The town is compact and able-bodied people can walk anywhere from its location.
Are you planning a trip to Guatemala? Don't leave Antigua off your itinerary, there are so many incredible things to do and experience in this stunning colonial town.
Peace, love & inspiring travel,
Madam ZoZo