Take time out from sightseeing in Paris and explore two enchanting châteaux, that will transport you to a world of elegance and grandeur. Fontainebleau and Vaux-le-Vicomte, are located just a stone's throw away from the French capital, and offer a glimpse into the opulent lives of French aristocracy. As you step foot into these majestic estates, you'll be struck by the intricate architecture, meticulously manicured gardens, and rich history of these two castles—from the lavish halls of Fontainebleau, where kings and emperors once held court, to the breathtaking gardens of Vaux-le-Vicomte, the inspiration for Versailles. Here's how to plan the perfect day trip from Paris to Fontainebleau and Vaux le Vicomte.
The history and significance of Château de Fontainebleau
Château de Fontainebleau, located just 70-km (45-mi) drive southeast of Paris, holds a significant place in French history. The UNESCO World Heritage-listed palace began as a Medieval hunting lodge. It had fallen into disrepair towards the 16th-century when King François I discovered he enjoyed hunting the abundance of game in the surrounding forest.
The King ordered Fontainebleau's redevelopment with the idea of creating a "New Rome". He took advantage of the recent Sack of Rome (1527) to lure a bevy of renowned architects, artists and artisans away from Italy to create his vision—a spectacular, Renaissance-style residence.
Generations of French royalty following King François I extended, altered and left their mark on the Château. From his son and successor Henry II through Henry IV, Louis XVI and Marie-Antoinette, and Napoleon Bonaparte—each contributed to the opulent 1500+ room palace it would become. Through this history, the Château has been infused with evidence of the countless political events and artistic movements it has witnessed.
Highlights of Fontainebleau – The Château, Gardens, and Forest
Château de Fontainebleau (pronounced: fohn-ten-bloo) will captivate history enthusiasts, aesthetes, and nature seekers alike. The Château itself is a treasure trove of architectural marvels and artistic masterpieces. There are two interior spaces open to the public to explore unaccompanied: the Napoleon I Museum which houses a fascinating collection of artifacts from the emperor's reign; and the elaborately furnished Grand Appartements. Don't miss the beautifully preserved Renaissance frescoes in the Gallery of Francis I—Fontainebleau's answer to the Versailles' Hall of Mirrors and the opulent Pope's Aparment. Additional rooms can be viewed by joining one of the guided tours.
Beyond the Château, Fontainebleau is renowned for its sprawling gardens and the vast forest that surrounds the estate. Take a leisurely stroll through the English and French style gardens, exploring the formal, Grand Parterre by landscape architect and gardener, André Le Nôtre. Wander around the carp pond for nature-framed views back at the Palace. This is especially beautiful when the autumn leaves are at peak colour.
The history and significance of Vaux-le-Vicomte
Located just 55-km (35-mi) southeast of Paris, Vaux-le-Vicomte is a masterpiece of 17th-century architecture and landscape design. Built for Nicolas Fouquet, the Superintendent of Finances under the reign of Louis XIV, Vaux-le-Vicomte was a symbol of wealth and power. Fouquet's lavish lifestyle and the grandeur of the Château ultimately led to his downfall and imprisonment.
Despite his misfortunes, Vaux le Vicomte remains a testament to Fouquet's vision and the talents of three remarkable men who brought it to life: royal architect Louis Le Vau, painter Charles Le Brun, and aforementioned landscape designer André Le Nôtre. In fact, Vaux-le-Vicomte was so impressive, it became the inspiration for the Palace of Versailles. It remains a stunning and worthwhile day trip from Paris to this day.
Highlights of Vaux-le-Vicomte – The Château and Gardens
Vaux-le-Vicomte (pronounced: voh-luh-vee-komt) is a masterpiece of architectural harmony and landscape design. At the time of its construction, the Château's French Baroque architecture was a new style—a unique combination of Italianate and Classical architecture. This set the tone for French architecture for more than a century afterward. Marvel at the symmetrical façade, adorned with intricate sculptures and elaborate details. Architect, Le Vau, was especially proud of his ovoid-shaped dome which was a great innovation at the time.
Step inside to explore four floors of the Château from Fouquet's private apartments, through the frescoed Grand Salon and down to the basement kitchen. The lavish interiors are decorated with all the glimmering gold leaf, crystal chandeliers, rich brocades and antique furnishings you can imagine. Not to mention the incredible art that lines the walls and ceilings! For a few Euros extra you can also take in 360-degree views of the estate from the lantern at the top of the central dome.
Wander the gardens of Vaux le Vicomte for elegant fountains, flower-embroidered parterres and meticulously manicured lawns, all backed by woodland expanding to the horizon. Also on the grounds, is a carriage museum full of antique coaches and horse equipment.
NOTE: Throughout the summer, special candelit evening events are held, showcasing the Château after dark as it might have looked to its original inhabitants. The evening includes a water show by the garden fountains and culminates in a pyrotechnic display.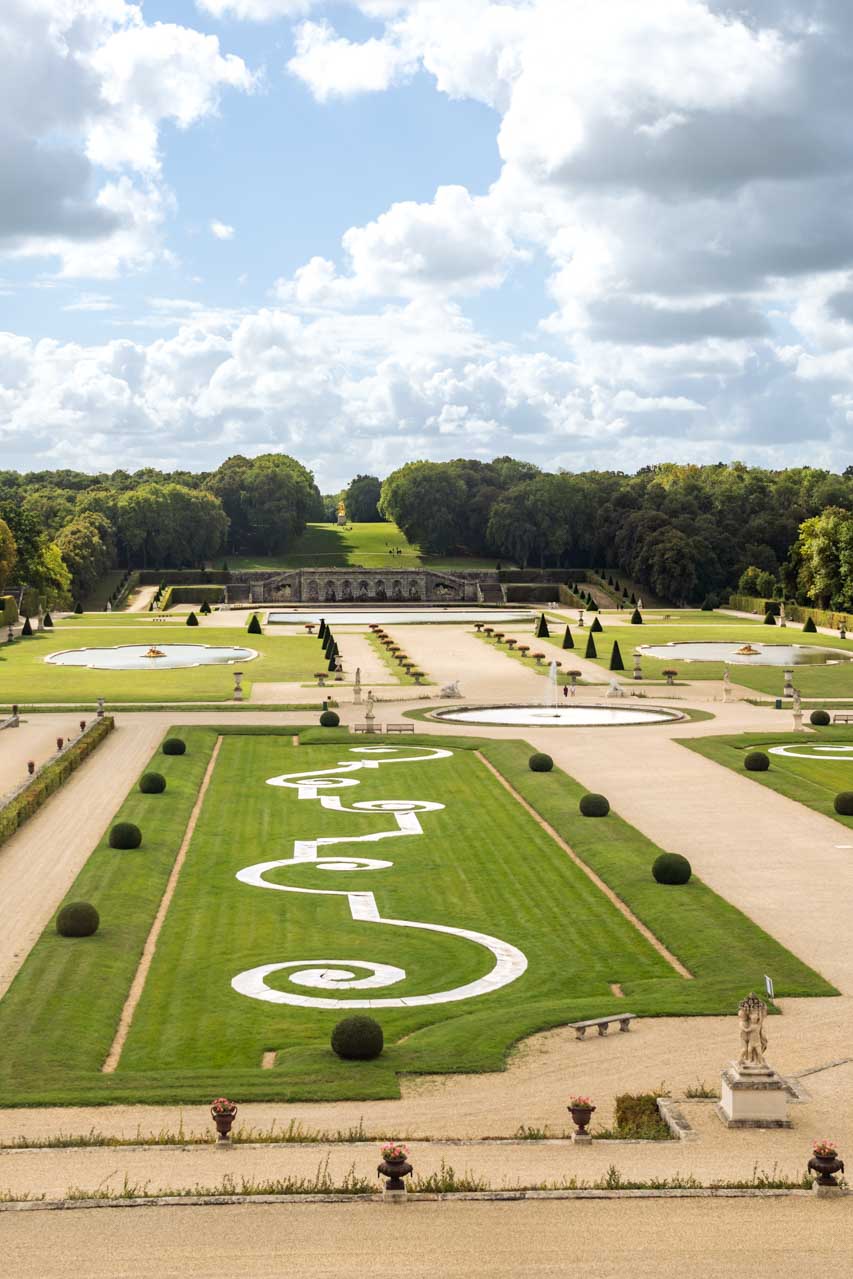 Planning your Vaux-le-Vicomte and Fontainebleau day trip
The proximity of these two incredible Castles, both to Paris and each other, make them easy to combine into a day trip from the capital. You can self-drive, take public transport or there are various tours that offer this itinerary including Paris CityVISION and Bluefox Travel (neither of which I have personal experience with).
If you are arranging your own trip, try to visit mid-week for fewer crowds. We visited on a Monday in September and practically had both castles to ourselves. Note, like many museums in France, Fontainebleau is closed on Tuesdays.
I recommend starting your morning with Château de Vaux-le-Vicomte, as this is the shorter of the two experiences. Plan to arrive right on opening time and allow yourself a maximum of 2-hours to see the property. From Vaux-le-Vicomte, continue to the town of Fontainebleau. Here you'll have more dining options for lunch.
Spend the afternoon exploring Château de Fontainebleau. You will probably be there right until close as there is so much to see! Begin with the interior of the Château and then proceed into the gardens. The palace generally has slightly shorter opening hours than the grounds (depending on the season) so ensure you explore indoors first. The park is open 24-hours.
How to get to Fontainebleau and Vaux le Vicomte from Paris on public transport
Getting to Fontainebleau and Vaux-le-Vicomte from Paris on public transportation is relatively easy.
Vaux-le-Vicomte can be reached on public transport by taking the R line at Gare de Lyon (Paris) to Gare de Melun (Melun Station). The direct train takes roughly 30-minutes.  From the Melun Station you will need to either get a taxi or Uber ride another 15-minutes to château's doorstep. There is a shuttle bus that runs from Melun Station on weekends and public holidays – see the website for the latest shuttle timetable.
Once you depart Vaux-le-Vicomte, return to Gare de Melun and continue on the R Line for another 20-minutes to Fontainebleau Avon Station. From the station it is a 3-km (1.9-mi) walk to downtown Fontainebleau and the Chateau. You can walk along the street, or take a slightly longer walk via the park and gardens of Château de Fontainebleau.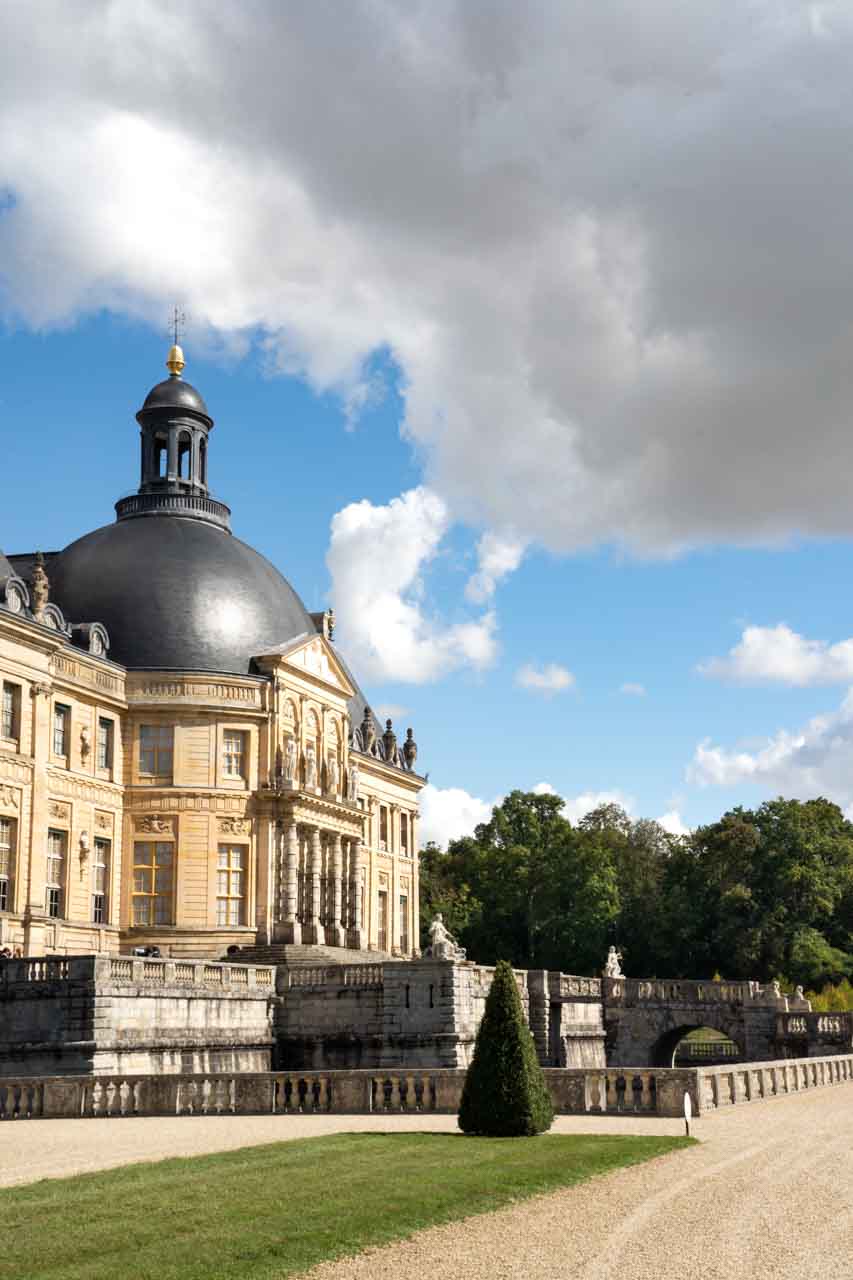 Last tips for a successful day trip
To ensure a smooth and comfortable day trip to Fontainebleau and Vaux le Vicomte, here are some essential tips:
Double check opening days and hours before your visit, as they vary seasonally and special event hours may apply.
Dress comfortably and wear sturdy footwear, as you'll be doing a fair amount of walking across different surfaces. As historic residences, there are also stairs at both castles.
Enjoy a big breakfast before you depart Paris and pack some snacks, as there are limited dining options onsite at Vaux-le-Vicomte.
Bring a hat, sunscreen, and insect repellent, especially if you plan to explore the Fontainebleau Forest. Also pack a warm layer and lightweight rain jacket.
Take advantage of the visitor information at both Châteaux, where you can find maps, brochures, and additional information to enhance your visit.
I hope you enjoy an amazing day trip to Vaux-le-Vicomte and Fontainebleau from Paris. If you have any questions, please let me know in the comments below.
Peace, love & music,
Madam ZoZo