Holi, the Indian Festival of Colour is a celebration of love, fertility and the victory of good over evil, all shared in a rainbow-hued cloud of scented powder. Holi, pronounced like "holy" in English, takes place on the full moon day in the month of Phalguna (late February – late March on the Gregorian calendar). The springtime festival usually takes place over two days, in a unifying féte that purportedly sets aside caste and ethnicity. If you love colour and don't mind getting a little messy in the name of experience, then Holi is one festival to add to your bucket list.
Holi festival history
Though attributed to the Hindu religion, Holi is more of a secular celebration that has many regional variations. Its origins are linked to a number of tales from Indian mythology we'll delve into briefly below. Records of festivities exist in ancient religious books, are carved in aged temples and are painted into medieval art. Holi is depicted in centuries-old poetry and a theatrical script for the play "Ratnavali" written by Indian emperor Harsha.
Holi mythology – the death of evil
Let's begin with the story of King Hiranyakashipu, an ancient demon who wanted to avenge his brother's murder by Lord Vishnu. He prayed to gain great power, and when his wishes were granted he began to believe he himself was a god that should be worshipped. His defiant son Prahalad, continued to worship Lord Vishnu, angering the King. Hiranyakashipu in cahoots with his sister Holika plotted to kill Prahalad. The murder plot involved Holika, who possessed immunity to fire, sitting on a pyre holding a young Prahalad in her lap. However, the plan backfired when Prahalad's unwavering belief in Lord Vishnu saved him from the flames, and his evil aunt was instead burnt to a crisp. The death of Holika is where Holi gets its name, and in some places, the lighting of a bonfire is an important part of celebrations to represent the demise of evil.
More Holi legend – a love story
The throwing of perfumed clouds of coloured powder that we associate with Holi celebrations is derived from the story of Krishna, the reincarnation of Lord Vishnu with blue skin. He was in love with the beautiful Radha but embarrassed by his azure appearance. His mother suggested that Krishna even out their contrasting colours by smearing Radha's face with paint. Krishna won Radha's affections and so Holi begins in some Indian homes when the eldest male sprinkles coloured powder over each of his loved ones.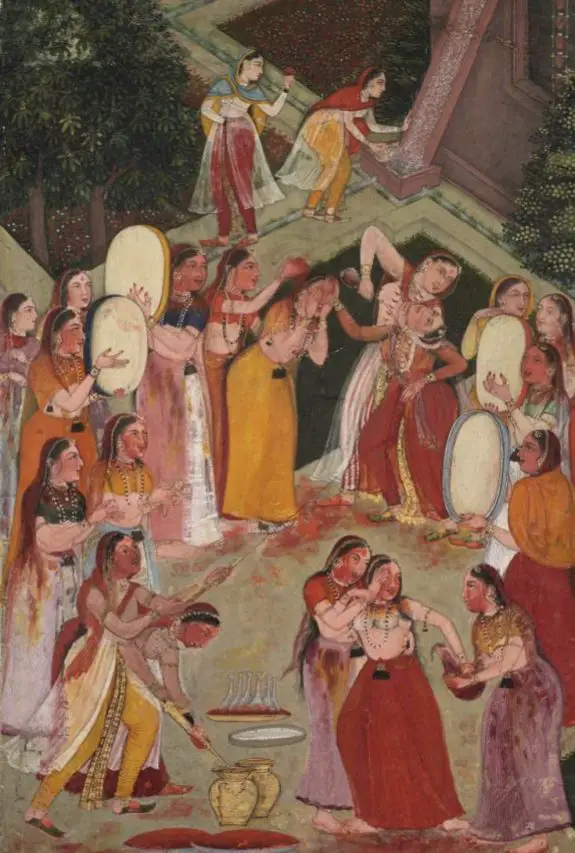 Happy Holi
Holi is generally a two-day event depending on the location in India. Day one takes place on the evening of the full moon day, referred to as Holika Dahan, and involves the lighting of bonfires to remember the story of Holika. Women with babies will walk around the bonfire in a clockwise direction five times to get the blessing of the God of Fire. On day two, Rangwali Holi, is when the action takes place and people "play Holi" using water and coloured powder.
Indian Festival of Colour
Traditionally Holi powder, called gulal, were reds and yellows created from the leaves of the 'tesu' tree and turmeric respectively. Revelers would use syringes made from bamboo called pichkaris to douse each other in water before throwing coloured powders and smearing one another with sandalwood paste. These days natural dyes have largely given way to synthetic powders of a much broader spectrum, many of which can be irritants to the skin and respiratory system.
Tips for experiencing Holi
Moisturise beforehand so the powder is more easily removed. You may like to use coconut oil or almond oil.
Apply sunscreen.
Paint your nails to prevent discolouration, even a couple of layers of base coat will do.
Protect your eyes with sunglasses.
Similar to your skin, oil your hair or wear a hat/bandana. Tie up long hair.
Colours are more easily removed from the skin while still wet. Use oil to remove dried colour gently rather than scrubbing.
Leave your phone at your hotel.
Wear clothes that you are happy to be stained.
Natural gulals (powders) are available at neighbourhood shops and markets, however it's safer to purchase them from shops that sell certified organic products.
Once the gulal runs out, people tend to throw anything they can get their hands on. Celebrate and retire early.
Drink plenty of water.
Avoid clouds of gulal if you have are asthmatic or suffer allergies.
The customary Holi drink, Bhang Lassi is an intoxicating blend of yoghurt and cannabis paste. It's strongly advised to watch your intake.
Celebrate with a group and agree on a rendezvous point in case you get separated. If you are travelling alone, consider finding a private Holi party or join a tour group.
Use a waterproof camera, GoPro with a waterproof case, or seal your DSLR with plastic bags/rain cover and duct tape. Make sure you have an empty memory card, fully charged battery, and one all-around lens because you don't want to open anything up with all that powder in the air.
Resources
Find the best places to experience Holi in India with this Trip Savvy article, and because I always get a second (or third, fourth, fifth) opinion, this list.
Make your own eco-friendly Holi powders with recipes by My Little Moppet and Thought Co
Preserve your coloured clothes as a keepsake using these instructions.
Shoot great Holi photos with tips by Photo Blog.
Host your own Holi Party with these ideas.
Do you have any tips to add from your Holi experience? Please share them with the Duende community in the comments below and help us celebrate the Festival of Colour. See Thaipusam: Pins and Needles for more must-see Indian festivities.
Peace, love & inspiring travel,
Madam ZoZo