It happened by accident that our visit to Meiji Jingu (shrine) coincided with the 163rd anniversary of Emperor Meiji's birth and within the bounds of the Grand Autumn Festival that celebrates Emperor Meiji's legacy. While we explored the shrine buzzing with locals eager to pay their respects to the popular former leader and his wife, Empress Shōken, I was distracted by a pair of trees in the corner of the courtyard.
The two towering Camphor trees that had my attention were joined by a curious-looking rope embellished with zigzag-shaped streamers. I snapped away with my camera, unaware of the significance of the setting but certain a little research would reveal the meaning of shide and shimenawa.
Shide to the shimenawa
Shide (pronounced "she-day"), are folded, white streamers that are generally used in 3 ways, each with their own name:
Shide or o-shide if you are being super polite, are hung over public shrines and above private altars. Shide are usually attached to a sacred rope—shimenawa.
Harai gushi are when many strips are attached to a wand and waved by a Shinto priest to sweep away bad spirits. In Japan, it is common for a new car, or building site to be purified this way.
Go-hei again involves attaching the paper strips to a rod but must be made by the priest. They are stood inside a Shinto shrine both as an offering to and representation of the deity being honoured.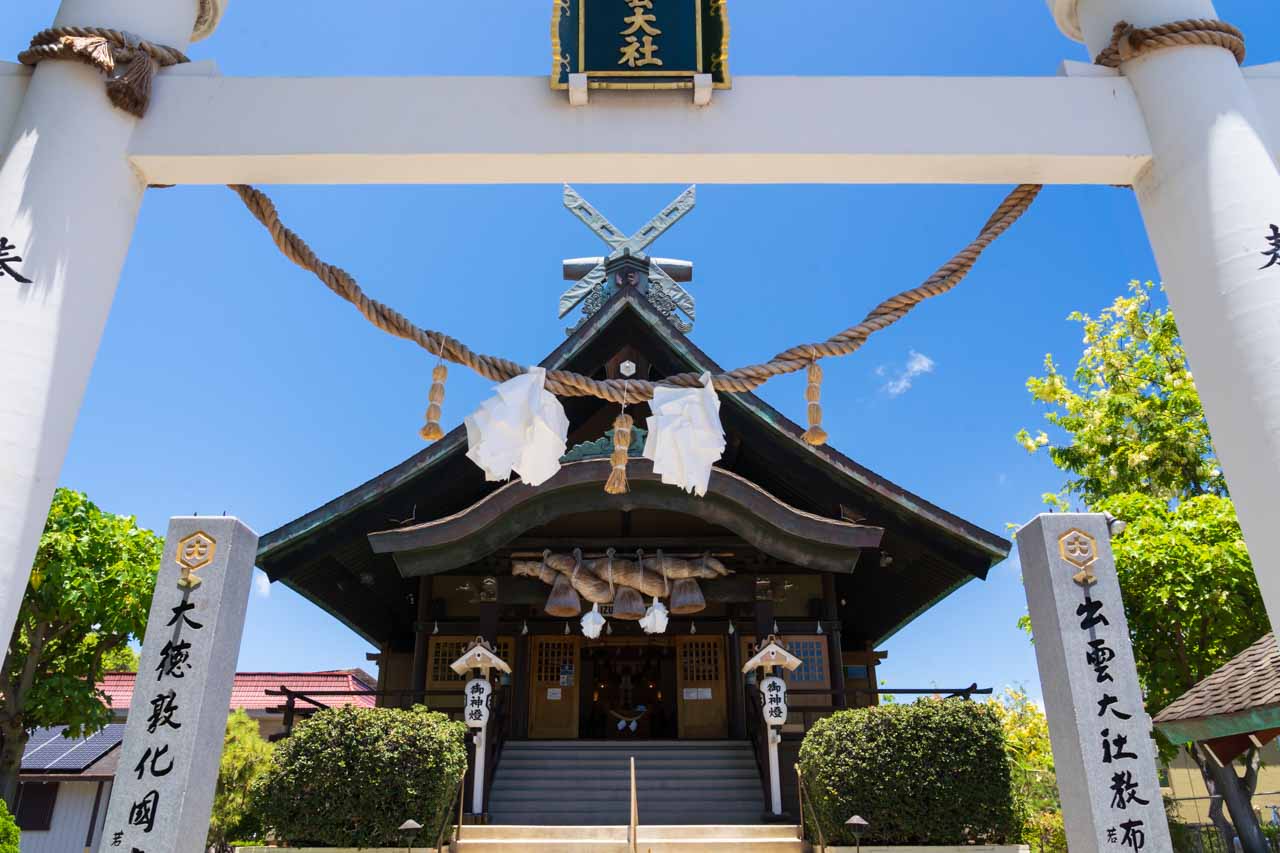 The meaning of shimenawa
Like the red velvet ropes strung along red carpets or nightclub entrances, in the ancient Japanese religion Shinto, shimenawa are rice straw ropes used to separate the rabble from the V.I.Ps. The sacred braids are used to cordon off areas of purity or significance, where heavenly and earthly worlds meet.
They are hung across Shinto shrine entrances, demarcate ceremony locations and are worn as belts by sumo grand champions as they enter the ring. Shimenawa can be found wrapped around statues, legendary trees, rocks and anything thought to be inhabited by god-like beings called kami.
This takes us back to the two camphor trees in the courtyard at Meiji shrine. The handsome pair have been married off as myotogi—couple trees—united through the earth. They are a popular place for singletons to pray for a good match, and couples for a peaceful union.
In Japan, it is believed that Emperors past become kami. It isn't clear to me whether the spirits of Emperor Meiji and his faithful Empress are thought to inhabit these trees, or whether it's just the cosy proximity of their growth that marries them. One thing is for sure, the camphor couple stand mighty in Meiji Jingu just as Emperor Meiji and Empress Shōken stand tall in the hearts of the Japanese.
How to make shide and shimenawa
In the following video, a Japanese gentleman demonstrates the traditional method of making shide and shimenawa.
I hope you enjoyed learning about the origin and meaning of shide and shimenawa. If you'd like to read more discoveries of Japan culture, check out Kawara: Decoding Japanese Roof Tiles and Even Samurai Grow Flowers – The Story of Japan's Chrysanthemums.
Peace, love & inspiring travel,
Madam ZoZo