See and experience the best of "The Gathering Place" with this shortlist of fabulous things to do on Oahu, Hawaii. Don't limit yourself to Waikiki—go out and explore the mist-covered mountain ranges, North Shore beaches and climb-worth volcanic craters. Whether you are looking for less-visited alternatives, free things to do or Insta-worthy spots – I have them for you, starting now!
1. Wipe out on Waikiki
Ok, so maybe you don't need to wipe out and this definitely isn't a less-visited alternative, but you should absolutely visit Waikiki at least once. There is no substitute for the original, so spend a day checking off a few of these must-dos:
Stop by the statue of Duke Kahanamoku, father of modern surfing
Go for a dip in his home waters – water shoes recommended as there are a few rocks and reefy bits along the seabed.
Grab a Kai Coffee and a poke bowl and have a beach picnic.
Stop by the Royal Hawaiian for the quintessential "pink palace" photo.
See the stunning 19th-century Moana Surfrider – Waikiki's first hotel.
Drop by the Royal Hawaiian Centre for a free cultural display or workshop such as lei-making or a ukulele lesson – also a great thing to do on Oahu when it rains!
Watch the sunset from the pier.
2. Tour the United States' only royal palace
In the most unexpected of places, downtown Honolulu, you'll find the only royal palace on United States soil. The regal structure was constructed in 1882 by the "Merrie Monarch", King David Kalakaua, on the grounds of an older palace and ancient burial site. The unique hybrid of European and Hawaiian architecture was inspired by Kind Kalakaua's overseas travel.
Iolani Palace was the official residence of the Hawaiian monarchs until Queen Liliuokalani, its last royal resident, was overthrown by the US government in 1893. Iolani Palace tours run Wed-Sat only. There are guided or self-guided options available – see the Iolani Palace website for details.
3. Hike the Ka`ena Point Trail
To reach the most northwest corner of Oahu with its exceptional coastline, (almost) untouched dunes and wildlife spotting, you'll have to pull on your hiking boots. The trail can be tackled from two points: 1. Keawaula Section of Ka'ena Point State Park (7.8km/4.8mi return) to the point and back or 2.5 Mokule`ia (8km/5mi return) to the point and back.
Beginning at the Mokule`ia trailhead, the trail follows an old railroad bed and dirt road to a remote stretch of Oahu's coast. In winter, whales are frequently spotted off the Point. I was really looking forward to this hike—the views look extraordinary—but they had closed off the area to film the reboot of Magnum P.I. the day we were there.
From all reports Ka`ena Point Trail can be dry, hot and has no shade, so ensure you pack plenty of water and sun protection.
4. Sample some shave ice
Next on our list of cool things to do on Oahu, Hawaii, is a visit to the North Shore town of Haleiwa, which looks like the wild west meets the Pacific. The historic town is a great place to pick up some food, but a special mention is reserved for Matsumoto's Shave Ice—a local institution since 1951. The family-owned and operated store is reputed for their shave ice and though you'll find plenty of other travellers here, the line moves quick and the prices are reasonable.
5. See/swim/surf some of the world's most famous breaks
Surf fan or not, you are sure to know names like Waimea and Pipeline – they are almost inescapable. You'll find these famous breaks along with others on the North Shore of Oahu. In summer, the swell is just about nonexistent and is quite comfortable for a swim. In winter, you'll want to sit back and watch the professionals surf the waves. Either way, don't miss the incredible North Shore beaches including Laniakea, Waimea Bay, Banzai (Pipeline) and Ehikai.
6. Drop into the Pu`u o Mahuka Heiau State Historic Site
For outstanding views of Waimea Beach and the North Shore coastline stretching westward, pop up to the Pu'u o Mahuka Heiau State Historic Site. This lesser-known spot is a hilltop archaeological site that dates back to the 17th century and is a National Historic Landmark. The stony remains of a Native Hawaiian religious site has some premium views over Waimea Bay that should not be missed. The site is open daily and is free to enter. Best still, it's quiet—the day we visited we were the only ones there.
7. Drive through the Valley of Temples Memorial Park
Yup, this is technically a cemetery. On the eastern (windward side) of Oahu you'll find wonderfully lush vistas and architecture in the Valley of the Temples Memorial Park. The Valley's most famous sight is Byodo-In Temple—the replica of a historic Buddhist temple in Japan. Though it is a lovely building in a beautiful mountain-backed setting, the $5 per person admission is only worth it if you've never been to Japan. Otherwise, settle for a free drive around the Valley to take in all the amazing views.
8. Wander the Ho`omaluhia Botanical Garden
Translating to "a peaceful refuge", Ho`omaluhia Botanical Garden is just that. Explore the 400 acres of tropical gardens at the foot of the Ko'olau Mountains. The Botanical Garden is divided into areas representing different equatorial regions of the world including Malaysia, Melanesia, Africa and of course, Hawaii. Don't miss the views from Kaua Kukui. This is a good, free alternative to another well-known and high-priced viewpoint in the area. Ho`omaluhia Botanical Garden is open 9am-4pm every day except for Christmas Day (25 Dec) and New Year's Day (1 Jan).
9. Watch Halona Blow!
Halona Blowhole alone isn't worth the stop off Kalaniana'ole Hwy, but when combined with a walk through the nearby lava tube and spotting sea turtles in Halona Beach Cove, you have an excellent trifecta.
You can see the sandy Cove to the south side of Halona Blowhole Lookout. In order to reach the little beach, you need to scramble down the rocks, so wear covered footwear and be careful. The lava tube extends under the highway from the rear of the Cove. The day we were there, four sea turtles were feeding off rocks in the Cove.
10. Hike Koko Crater Railway
You may have heard of or seen pictures of Oahu's Stairway to Heaven (aka Ha`iku Ladder). The problem with these enticing steel steps to a former US Navy communication facility with crazy-amazing views, is that it actually isn't a public trail and is technically illegal. The steps are accessed through private property and you could earn a fine for trying to reach them. Not to mention the poor condition of the steps themselves. Do not be discouraged though, I have an alternative for you—the Koko Crater Railway Trail.
Koko Crater Railway is challenging 1000+ "stairs" up to the rim of Koko Crater and the WWII pillboxes at its summit. Follow the old railroad ties that once supplied these concrete bunkers and you'll earn incredible views over the Crater, Hanauma Bay and all the way to Waikiki. Though it is a heavily trafficked hike, it's free.
Just note, that it isn't a groomed trail, but a disused railway maintained on an ad-hoc basis by volunteers. You need steady footing, a sense of adventure with plenty of sun protection and water as there is no shade. Make sure you have plenty of time, as you don't want to be rushed on more challenging parts of the trail where the railway ties are further apart and you have to take larger, more careful steps.
11. Snorkel Hanauma Bay
Hanauma Bay is a marine life conservation area in a naturally sheltered Bay not far from Honolulu. You must book a time slot to visit Hanauma Bay Nature Preserve (HBAY) and reservations only open 2-days in advance at 7am. They sell out fast too! Passes were gone in under 3-minutes and we missed out. When checking in on the day, you must present ID (original, not a copy) at the admission window.
Hanauma Bay is open at 6:45am and last entry is 1:30pm. You can hire a snorkel, mask and flippers through the official onsite provider, Dive Oahu, online. They also offer wetsuits, life vests, and lockers for your valuables. See their rates and book your snorkelling gear here.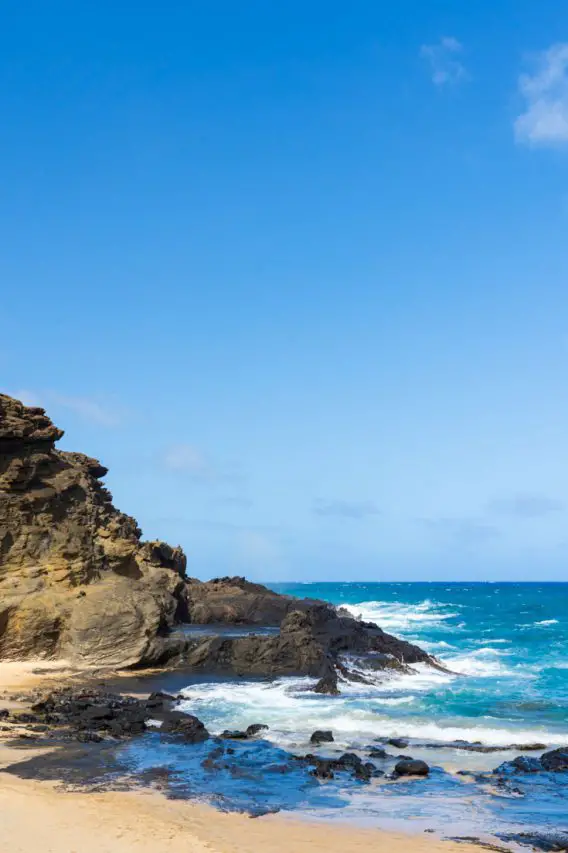 12. Try some Leonard's Bakery malasadas
There is no question why these custard-filled doughnuts, introduced to Hawaii by the Portuguese, are a hit. Leonard's Bakery is one of the highly recommended places to pick up your fresh, sugar-dusted morsels. However, the original outlet in the back blocks of Waikiki can get crazy-queue-down-the-block busy. My tip is to skip the long wait by visiting the Leonard's Bakery Truck at the Koko Marina Center while you are out near Koko Crater and Hanauma Bay.
13. Hike Diamond Head
One of the signature features of Waikiki Beach is its view of Diamond Head, a volcanic crater that marks the eastern end of the Waikiki coast. The crater was formed around 300,000 years ago with a single, explosive eruption. The Summit Trail is a short, steep but well-groomed hike (but a much easier and safer alternative to Koko Crater) and a popular thing to do on Oahu, Hawaii.
From the top you will be treated to coastal views to the east and west, as well as the inside of the Crater itself. Explore the remnants of military bunkers and be prepared to take lots of photos. Parking at Diamond Head costs $10, and there is a $5 fee for each hiker taking to the Crater trails. For more details, see the Diamond Head State Monument website.
14. Pay your respects at Pearl Harbor
Pearl Harbor is infamously known as the site of the Japanese military strike which brought the USA into WWII. The Harbor remains a working Navy and Air Force Base today. There are also Memorials and Museums to honour those lost in the attack of 1941 and to educate future generations.
There are three memorials: USS Arizona, USS Utah and USS Oklahoma. The USS Arizona and USS Oklahoma can be accessed by the public. The USS Arizona involves a short boat trip requiring a timed ticket, and the USS Oklahoma by shuttle bus from the Visitor Center.
Please note that that the Pearl Harbor National Memorial is a solemn site of remembrance, therefore you are required to dress and behave respectfully. Furthermore, this is a current military site so you will need to clear security and there are limits on what you can take inside including bag sizes. For more information, see the National Parks Service Pearl Harbor website.
15. Shop for an original aloha shirt
Seek out boutiques specialising in locally made aloha shirts, or as those of us from outside the archipelago refer to them: Hawaiian shirts. Some of the best places to find contemporary styles, largely made on the islands, are those belonging to brands: Kahala, Tori Richard, Na Mea, Reyn Spooner and Roberta Oaks. I picked up a special edition Kahala shirt that supports the Nature Conservancy and features only endemic wildlife and flora species in the design.
Have a great trip and enjoy these cool things to do on Oahu, Hawaii. See my packing guide for a list of things to take on your Hawaii vacation.
Peace, love & inspiring travel,
Madam ZoZo