With a leisurely 10 days to explore Tokyo, I covered a lot of ground and uncovered plenty of inspiration. I've written before about how impressed I was at the attention the Japanese give to the smallest details from the cherry blossom motifs decorating the city's utility covers, to delicately formed sushi rolls and manicured gardens. To my joy, every street I ventured down and even dreaded public bathrooms, were clean and neat as a pin. When it comes to sightseeing you'll be spoilt for choice, but if you're creatively inclined my – where to go in Tokyo – may help to narrow the field.
Gardens
I visited various gardens all over Tokyo city, and my pick of the bunch is Shinjuku Gyoen National Garden. This is largely owing to the spectacular Chrysanthemum display that was in full bloom during my autumnal visit. The Chrysanthemum exhibit is one of two big floral events in the Garden's calendar, the other being cherry blossom season. The garden is divided into a number of themed landscapes and includes a greenhouse blossoming with tropical flora. Wear walking shoes, pack a picnic and be prepared to pay an entrance fee of 200yen per person.
Museums
Ueno Park is Tokyo's largest city park and contains, among other attractions, the National Science Museum, Tokyo National Museum and the National Museum of Western Art. I spent an entire afternoon in the Tokyo National Museum alone and didn't make it through the entire collection of swords, samurai armour, kimono, pottery, scrolls and Buddhist artefacts – to name a few. It's hardly a surprise considering the Museum holds the largest assemblage of Japanese art in the world.
Sewer's and crafter's delight
If you are a sewer, crafter or DIY fashionista, you are going to want to make it to Nippori Fabric Town in the northeast of Tokyo. The "town" is easily reachable on the JR Yamanote line, with a further two-minute walk to where a host of fabric and notions stores are concentrated along a short strip of Nippori Chuo Dori. Many stores specialise in specific types of textiles or accessories, such as leather or silk. There is a mix of traditional Japanese fabrics and modern fashion and craft materials. You'll also find second-hand kimono for sale. If you're the type that could spend hours in Spotlight/ Lincraft/ Jo-Ann's, then Nippori Fabric Town is a must-visit.
Meiji Jingu (Meiji Shrine)
Meiji Jingu won my heart instantly by its towering torii gate leading into a tranquil forest that shelters the shrine from the city hustle. The 100 000+ trees were planted during the shrine's construction to surround the complex. The original shrine completed in 1920 and dedicated to Emperor Meiji and the Empress Shoken, was destroyed during World War II and was promptly reconstructed. Meiji Jingu is a Shinto shrine, Shinto being the religion of Japan prior to Buddhism's arrival, with an emphasis on living in harmony with nature. Note the sacred camphor trees married together by shide and shimenawa, along with the Emperor's chrysanthemum motif incorporated into design elements such as doors and lanterns.
Sensoji Pagoda & Asakusa Shrine
The Buddhist pagoda that originally stood on this site was constructed in the Edo Period circa 942 AD but unfortunately, it was destroyed during air raids in WWII. Sensoji has since been rebuilt and stands in a lovely parkland with Asakusa Shrine. The experience opens with the dramatically proportioned lanterns in the Karminarimon "Thunder Gate." From the gate, continue down a street lined with vendors peddling all sorts of soulful souvenir goodness and some yummy snacks. Arriving at the Shrine complex there are a number of buildings to explore, scattered around a well-tended Japanese garden. Though this is a popular tourist sight, you will observe plenty of local activity as well. I stumbled upon some sort of mother-daughter day, with ladies young and old dressed in their traditional finery.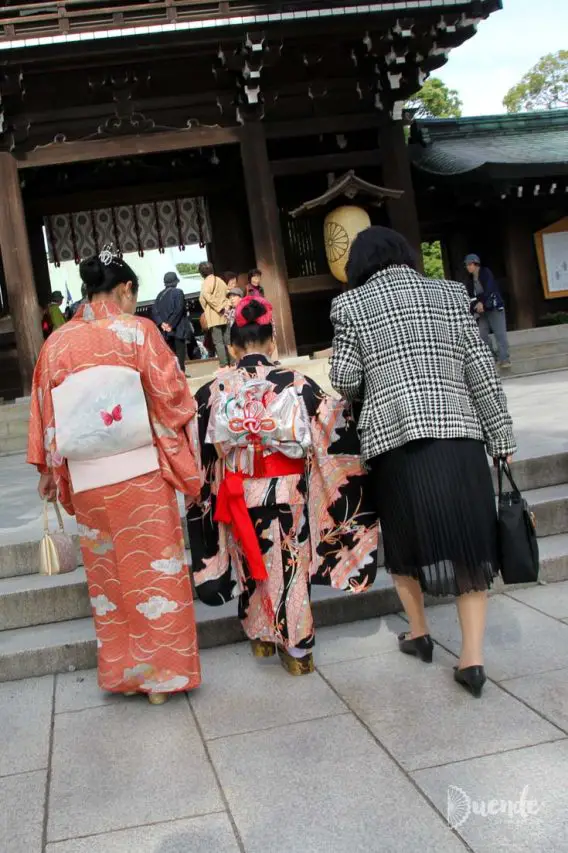 Shopping
Some visitors to Tokyo enjoy the plastic-fantastic Takeshita Dori, the epitome of every Western person's impression of Harajuku – thank you, Gwen Stefani. Some will prefer the slick designer wares of the main street. I prefer the back roads of Harajuku, filled with unique boutiques and cafes to explore as they sprawl back into the surrounding residential area. If you're starting out before 10am, you can probably get into Bills for breakfast without the hour-long queue. Then with a belly full of fluffy ricotta pancakes, you'll have the energy to work your way through the streets behind the Plaza.
When your feet get sore, stop in for coffee at Café Luigi, a cafe named after famous Swiss-born industrial designer Luigi Colani. Urban legend recalls that in the mid 1980's, whilst working in Tokyo, Colani frequented the café originally named Petit Faune. The owner eventually renamed the café in honour of his favourite customer and has since decorated his coffee shop with sketches and images of Colani's designs.
Yanaka
Where to start? This is hands down my favourite part of Tokyo. Yanaka exhibits a much older, more traditional feel than the skyscrapers and mega-malls. Wander the residential streets dotted with fascinating temples, saunter through the Cemetery where the last shogun is buried, and stroll through the quaint boutiques and eateries of the Ginza.
Make sure you visit the Asakura Choso Museum, the former home and studio of Japanese sculptor Asakura Fumio. The home built in 1936 is a blend of western and traditional Japanese architecture that reveals stunning surprises at every turn. You absolutely must climb to the rooftop garden for a 360-degree view of the surroundings. Sadly, no photos are allowed in the Museum. Replenish your energy afterward at Oshimaya, a noodle shop at 3-2-5 Yanaka.
Drop me a line in the comments if this "where to go in Tokyo" guide helped you decide where to go in the Japanese capital, I'd love to hear your thoughts. Don't forget to also check out Even Samurai Grow Flowers for Tokyo's spectacular autumn Chrysanthemum display.
Peace love & inspiring travel,
Madam ZoZo