So, you're considering a trip to Alaska and wondering how you will fill your time. Or maybe you already have some ideas and you want to make sure you don't miss anything. Well, you've come to the right place. Let's talk about the best things to do in Alaska, especially if this is your first (maybe only) trip. This is a no-fluff list of places to see and experiences to pursue on your once-in-a-lifetime Alaskan adventure.
Why visit Alaska?
Fair question. Here are just a few fun Alaska facts to pique your interest and put our list of things to do in Alaska, in context:
Alaska is the United States' largest State (greater than twice the size of Texas).
Alaska has the largest concentration of glaciers in North America. About 3% of the State is covered with Glaciers
Kayakers, rafters and fishing enthusiasts take note, Alaska has over 3000 rivers and 3 million lakes.
Alaska has a diverse range of natural habitats and incredible biodiversity. Its land mammals include 30,000 grizzly bears, 175,000 moose and 900,000 caribou and 10,000 wolves. The ornithologists among you will also appreciate the 500+ bird species.
Alaska is home to North America's tallest mountain, Denali (aka Mount McKinley). In fact, it has 17 of North America's 20 highest peaks.
Alaska has the second most National Parks of all US States with eight in total–second only to California which has nine.
The northernmost, easternmost and westernmost points in the US are in Alaska.
One-third of Alaska is within the Arctic Circle.
It's not all nature, Alaska has history and culture too. From Alaska Natives through the Russian settlement and sale to the US, the Klondike Gold Rush and WWII, Alaska has a fascinating human side too.
Best time to visit Alaska
For the majority of visitors, summer is the best time to visit Alaska. Summer is of course the warmest time of year and has the most daylight hours for exploring. From late May to early September there is more wildlife activity and better road conditions than the rest of the year. Also, note that May-June sees the least rainfall.
Top things to do in Alaska
Drop into the Anchorage Museum
This facility combines art gallery, history museum and science centre in one terrific space that you can experience in a couple of hours or spend a half-day. If Anchorage is your starting point for exploring Alaska, then let the Anchorage Museum be your introduction to the 49th State.
Visit amazing National Parks
As I mentioned, Alaska has eight National Parks (listed below in alphabetical order). Though some of these are difficult to access, there are a couple within relatively easy reach. Most visitors to Alaska will visit Kenai Fjords and Denali National Parks at the very least.
Denali National Park, Alaska
Gates of the Arctic National Park, Alaska
Glacier Bay National Park, Alaska
Katmai National Park, Alaska
Lake Clark National Park, Alaska
Kenai Fjords National Park, Alaska
Kobuk Valley National Park, Alaska
Wrangell-St. Elias National Park, Alaska
See brown bears in the wild
Lake Clark and Katmai National Parks on the Alaskan Peninsula have a high concentration of grizzly bears (aka brown bears). These two Parks aren't the simplest or most cost-effective to access, but if you really want to see brown bears, then this is a place you absolutely must visit in Alaska. Of course, there is no guarantee you will see bears or how many, but a bear viewing trip will give you the best chance. You can also stay overnight at privately-owned "bear camps" within the National Parks. If you want to learn more about bear viewing in Alaska, check out this post.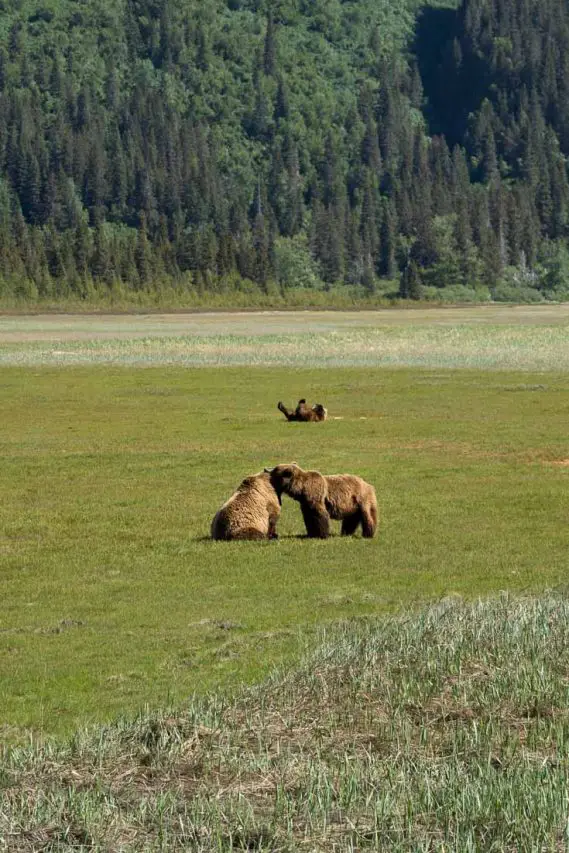 Go glacier trekking
Since Alaska has a lot of glaciers, this is one way to get up really close and personal with these fascinating rivers of ice. Hiking on a glacier is not like hiking anywhere else and unless you have experienced at it, you absolutely should go with a reputable guide. Crevasses, moulins and other hazards are interesting but also deadly—you need to know where is safe to tread and have the right kind of footwear. Adventurous spirits might also like to try ice climbing, which is included in various different tours.
The most accessible glacier for exploring is Matanuska Glacier, about 2-hours drive northeast of Anchorage in the Mat-Su Valley. This may be the only glacier in Alaska where you can drive right up to the terminus providing unrivalled accessibility. The terminus is on private land and requires you to hike with a guide which, again, is a really good idea anyway. They'll also provide the helmets and crampons you need. See more of our Matanuska Glacier hiking experience here.
Witness the northern lights (aurealis borealis)
Yes, you can see the northern lights in Alaska. Fairbanks (north of Denali) is considered the best spot to see the lights because it balances visibility with accessibility. Fairbanks has a regional airport, can be accessed by paved roads and has enough infrastructure and amenities to make visitors comfortable. However, you don't have to visit Fairbanks. You can also see the Northern Lights in places like Denali National Park and even the outskirts of Anchorage.
Timing tip: If the auealis borealis is on your bucket list, best to leave your summer visit to late August through September because the sky does not get dark enough in the earlier summer months. Another consideration is the amount of time you have. On average, skies are clear one day in every three and you will need cloudless skies to see the lights.
Experience a flightseeing tour
One of the most memorable things to do in Alaska is to get an aerial view of the incredible landscapes by small plane or helicopter. Flightseeing is mostly offered over Denali and Wrangell-St Elias National Parks. Denali flights generally depart from the gorgeous little historic town of Talkeetna, halfway between Anchorage and the Denali National Park entrance. Get more detailed information on flightseeing here.
Money-saving tip: Flightseeing is not the most affordable way to see Alaska, but it is unparalleled. Consider combining it with another experience such as bear viewing or glacier trekking. Flightseeing tours over Denali National Park usually offer an upgrade to land on a glacier for 15-minutes or so. For the more active adventurers, look for a helicopter hiking tour. These involve a scenic flight by helicopter to a higher, less-accessible point on Matanuska Glacier or Exit Glacier/Harding Ice Shelf for guided glacier hiking (rather than at the terminus of the glacier as mentioned above).
Get out on the water
When many people think about visiting Alaska, they think of a cruise. A cruise is not the only way, nor necessarily the best way to see Alaska, but exploring some of the great Alaskan coastline is definitely something you should do. If you are cruising, the coastal landscapes and wildlife are naturally part of the program. However, if you are on a road trip or maybe exploring via the Alaskan Railroad, I highly recommend taking a day trip out on the water.
Our experience combining a wildlife cruise with a kayaking tour allowed us to see the highlights of Kenai Fjords National Park in a single day. Our trip was a combination of passive wildlife spotting from a boat and more active kayaking to the terminus of Aialik Glacier, which is just an unbelievable wall of ice calving icebergs into a beautiful bay.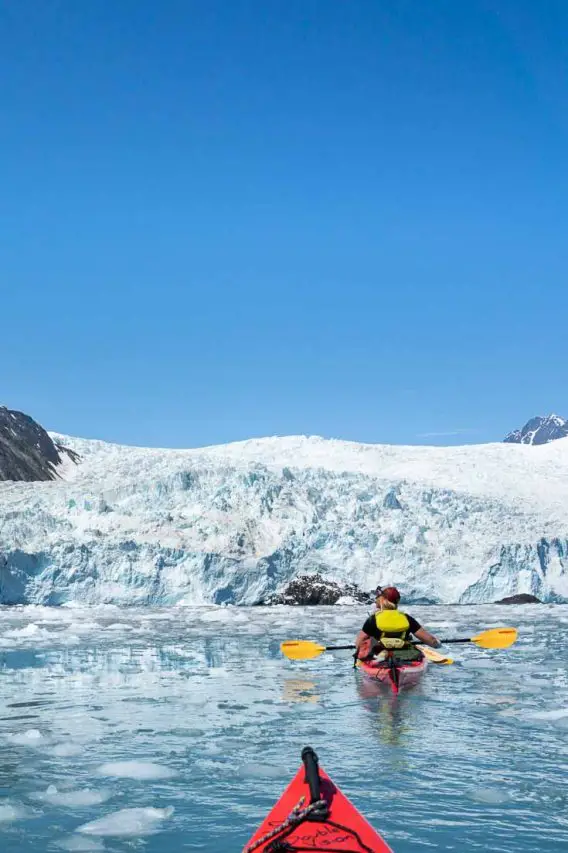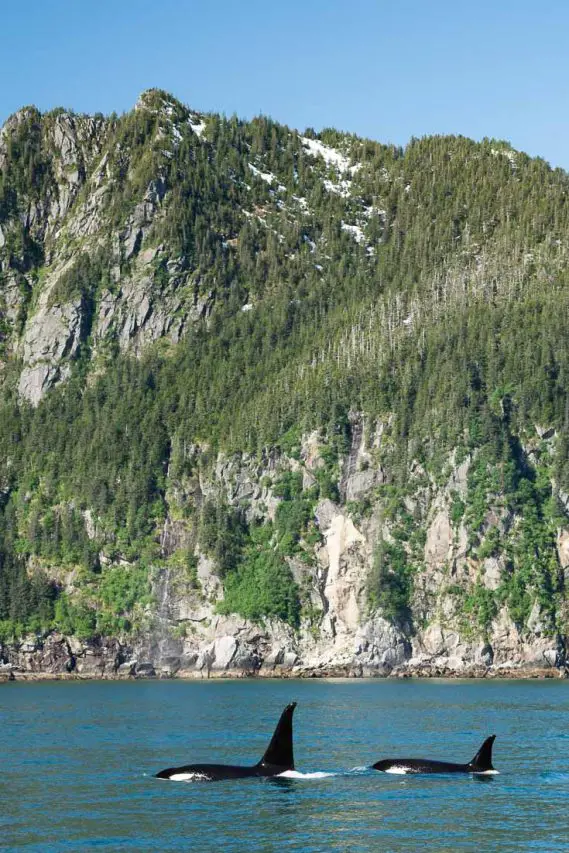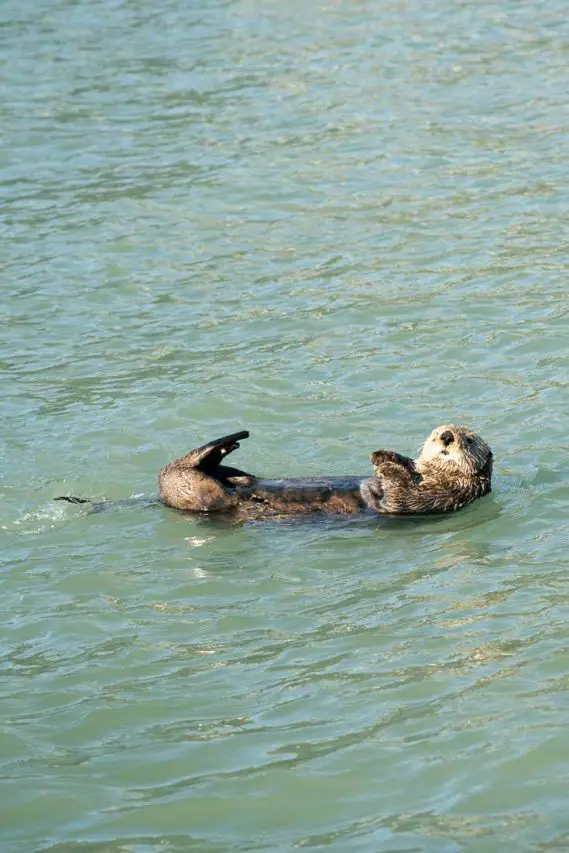 For more on Alaska, see these posts:
Glaciers to Grizzlies: A 10-Day Alaska Road Trip Itinerary
How to Pack for Alaska in Summer
Peace, love & inspiring travel,
Madam ZoZo