While you can bump into a brown bear almost anywhere in Alaska, your best chance of (safely) getting up close to a grizzly is on a guided bear viewing trip. With the coastal town of Homer as your starting point, you can take a memorable day trip to areas where large populations of brown bears will give you the best chance of seeing these amazing creatures—here's how!
For more Alaskan adventures and advice, see these posts:
Land, Sea & Sky: Top Things to do and see in Alaska
Jaw-Dropping Denali Flightseeing From Talkeetna (with Glacier Landing)
Experience Cool Icescapes Glacier Hiking in Alaska
Why take a bear viewing trip from Homer?
Two key areas for viewing brown bears in Alaska are Katmai and Lake Clark National Parks and Preserves. Both are home to high concentrations of grizzly bears but are also remote wilderness areas that can be more costly and complicated to reach.
Homer, "the halibut fishing capital of the world", is a stunning, coastal town where the Kenai Peninsula meets Kachemak Bay and the broader Cook Inlet. It can be reached by road from Anchorage in about 4.5 hours, or from Seward in roughly 3.5 hours.
If there is one place I wish we had more time on our Alaska road trip, it would be Homer. The town and its surrounds are not only beautiful, but it is within small aircraft range of the coastal areas of those bear-heavy National Parks. That means you can do your bear viewing on an easy day trip.
In contrast, some of the other bear viewing areas deeper into the National Parks, require a flight to King Salmon and require more of a time and dollar commitment as you will need to camp or lodge overnight.
Beary beautiful National Parks
The important thing to note about a bear viewing trip from Homer is that you don't get to decide where you are going, the bears do. Well, the bears, the tides and weather etc. Your tour operator will determine where it is safe to travel on a particular day given the conditions, paired with where bears are active at that time. So don't expect to be prescriptive about your destination.
Katmai National Park & Preserve
Though Katmai National Park and Preserve on the Alaska Peninsula was initially created to protect a region that had been devastated by volcanic activity, it is also haven to over 2000 brown bears, important sockeye salmon habitat and around 9000 years of human history.
The bear viewing area in Katmai National Park that you are probably familiar with is around Brooks Camp. You've likely seen those classic photos of bears catching leaping salmon as the fish try to navigate upstream at Brooks Falls. In fact, you can watch live footage from various spots in the Park including Brooks Falls, right here.
Brooks Camp operates in the summer months from the beginning of June to mid-September each year. Most people will access Brooks Camp by small float-plane or ferry from the Park's HQ in King Salmon (rather than Homer). King Salmon cannot be accessed by road and as I mentioned before, you will need to take a flight from Anchorage.
Bear viewing excursions from Homer also visit Katmai National Park, but to the coastal areas—namely Hallo Bay.
Lake Clark National Park and Preserve
Like Katmai, Lake Clark National Park and Preserve was created to protect an area rich in human history along with pristine landscapes and wildlife habitats. The Dena'ina people have lived on this land for over a thousand years, partly nourished by the massive sockeye salmon population. While two active volcanoes and numerous glaciers shape the incredible landscapes.
Bears can be viewed in Lake Clark National Park and Preserve around the Chinitna Bay, Crescent Lake, Silver Salmon Creek, Shelter Creek and Tuxedni Bay. Our bear viewing trip from Homer took us to Chinitna Bay where bears dig for clams at low tide and graze in the nearby meadows.
Lake Clark NP cannot be accessed by road. Small planes are permitted to land on appropriate lakes, rivers, beaches and open ground. Boats may access coastal areas and inlets.
What to expect on your Alaska bear viewing trip
Here's a rundown on what to expect from a logistical perspective based on our bear viewing day trip from Homer by plane.
After a safety briefing and allocation of any provided gear, you'll board your small aircraft to your destination for the day. It will take 1-1.5hours to reach coastal areas of either National Park and the scenery is horrendous. That's sarcasm, it's absolutely exquisite.
Your pilot will also be your tour guide and you should follow their instructions at all times. They are experienced in reading bears' behaviour, know the terrain, are versed in National Park rules and will generally keep you safe as possible. Plus, they are generally cool people with a job that yields lots of interesting stories and information if you care to listen.
Once you land, travel will be by foot and you need to be prepared to walk several miles between bear viewing sites. This may entail fording small streams, crossing mudflats, sandy beaches and generally uneven ground. Depending on your tour operator, they will likely provide waders to keep your feet and legs clean and dry.
That said, the pace is generally pretty relaxed. After all, you don't want to move too quickly around bears. They need to be able to predict your behaviour to be comfortable with human presence.
You are generally not advised to take food and if you do, you must carry it around with you. Bears have been known to dismantle a plane in order to get at food inside. The most important thing is not to take anything containing seafood. This is not a time for sushi or a tuna sandwich. Bears know the smell of seafood better than any.
We saw a number of bears. Some were grazing and interacting in the meadows, others digging for clams in the bay at low tide, and a couple snoozing on the beach. The bears generally were either curious or couldn't have cared less that we were there. We felt safe following our pilots/guides' instructions and got close enough to really appreciate how big those bears are!
On the return journey, we got another superb look at the landscape including a lap around Iliamna Volcano, which was letting off some steam from a side-vent. Overall, this day was a highlight of our trip and I couldn't recommend it more.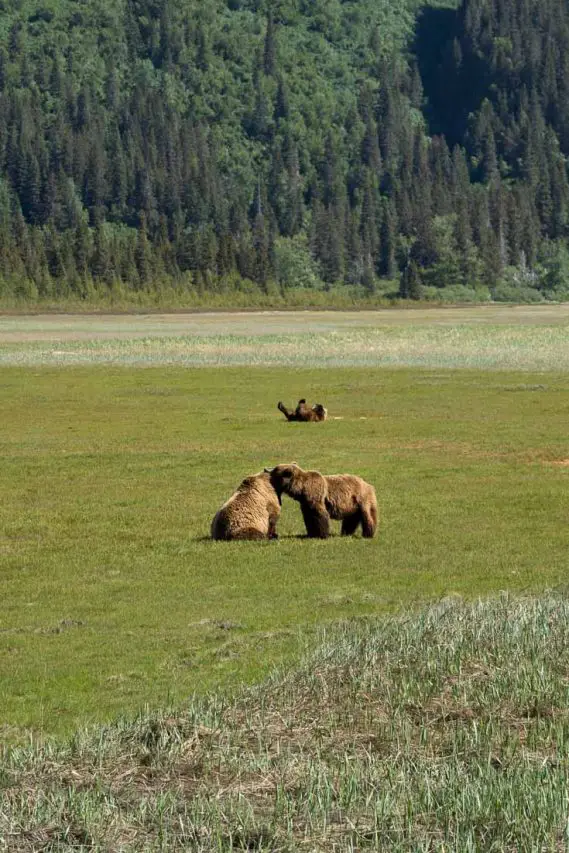 Tips and advice
Note these things to wear, do and take on your bear viewing trip. I won't go into bear safety, as that information is better coming from your guide.
Have a hearty breakfast the morning of your trip.
Dress in layers and ensure you take a rain jacket and pants. For more advice on packing for Alaska, get my summer travel packing guide.
Guides often carry binoculars but if you own a pair, take them along.
Camera, duh! Don't forget a spare battery, SD card etc.
Keep your personal items to a minimum. There is generally room in the plane for a small backpack per person.
Take drinking water, maybe a thermos of tea or coffee and a non-fishy snack.
If you get motion sick, take precautions. Small aircraft are prone to turbulence.
Minimise disposables—you will need to pack out all your own rubbish.
Do not bring firearms or bear spray.
Enjoy your Alaska bear viewing, it truly is an amazing experience and just one of the many great things about Alaska.
Peace, love & inspiring travel,
Madam ZoZo