Whether you like to hike, bike, tip-toe through the tulips or museum hop, there is a day trip out of Seattle for you. Check out this growing list of tried-and-true day trip destinations.
Disclosure: I may earn compensation from the purchase of any product or service linked on this website, at no extra cost to you. I only link to products I use and love, therefore feel comfortable recommending.
First up, a couple of notes
I define "day trip" in this post, as a destination requiring four hours or less round trip driving. All of the day trips from Seattle listed below are listed in order from shortest to longest non-stop driving time (sans allowances for traffic hold-ups and detours), so you can decide what constitutes a reasonable amount of time in the car for you and yours. If you're looking for 2-day or longer weekenders, check out this selection.
If your route includes a ferry trip, make sure you book well in advance, particularly in the summer. Where there is a drive or ferry option, I recommend the ferry so you can take time out of the car and enjoy the scenery instead of on the interstate.
5 Day trips from Seattle
Tacoma (1hr 30mins)
Take a short, day trip from Seattle, south to Tacoma. First, drop in at the LeMay American Car Museum, which stemmed from the world's largest private car collection. The Museum aims to preserve and promote America's automotive heritage. Check the American Car Museum website for a preview of their latest exhibits.
Next stop is the Museum of Glass where you can not only enjoy glass artworks by artists such as Tacoma-native, Dale Chihuly, but also witness glassmaking live in the Hot Shop glass studio.
For teens of the 90s, no day in Tacoma is complete without a visit to Stadium Highschool where 10 Things I Hate About You was filmed—yeah, you know the one! You won't be able to go inside, but let's face it, the outside is what you came for. You can get plenty of photos from the front of the castle-like secondary school with views over that oh-so Hollywood-esque football field. Cue, Heath Ledger…
Snoqualmie Pass (1hr 55min return)
Looking for day hikes or a chance to chase waterfalls? Head for Snoqualmie Pass. There is a cluster of short to medium-length hikes in this area, just perfect for a day trip from Seattle. When you reach Snoqualmie Pass, it's time to do an about-turn and head home. Snoqualmie town is a great place for lunch and of course, you must stop in at the Snoqualmie Falls overlook while you're in the area.
Trail suggestions: Get your waterfall fix with the Denny Creek (bring your swimsuit), Franklin Falls or Teneriffe Falls trails. For mountain vistas, try Little Si, Cedar Butte, Dirty Harry's Balcony or Rattlesnake Ledge.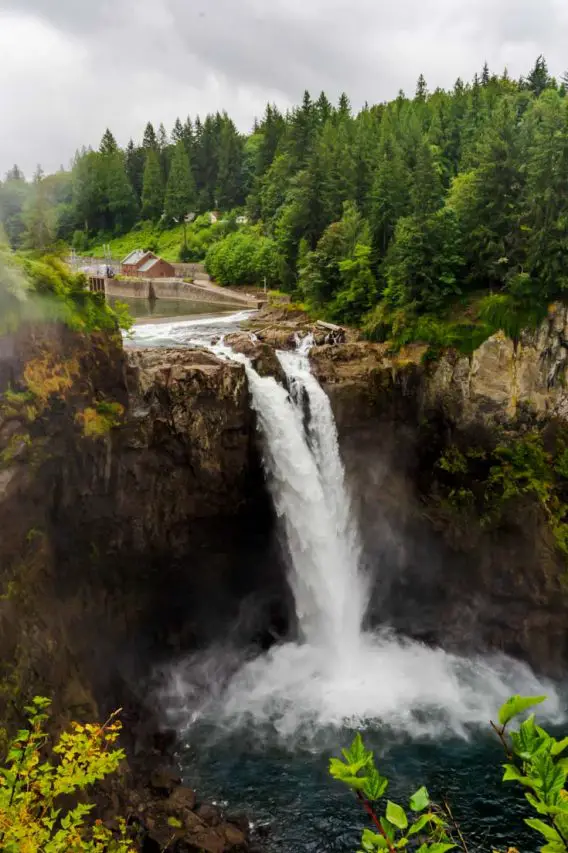 Bainbridge Island (2hrs 30mins return)
Take the ferry to Bainbridge Island for a day in the slow lane. Explore the town of Winslow on foot or by bike. If you have a car or bike, you might also like to explore more of the Island. I recommend starting with a lap around Eagle Harbor. Make your way down to the Japanese American Exclusion Memorial for a history lesson in a lovely setting. Continue out to Creosote Park and Rockaway Beach Park for views back to Seattle. Stop at Halls Hill Lookout and Labyrinth and wander the short trail at Blakely Harbor Park.
If you're looking for a fun, alternative way to experience Bainbridge Island and discover hidden gems around Winslow, try a Mystery Picnic with the AmazingCo.
Skagit Valley (3hrs 15mins return)
The Skagit Valley is an easy, scenic day trip from Seattle at any time but especially if you time it for the daffodil and tulip blooms. Head north of Seattle to Mount Vernon, then turn westward through the Valley and its beautiful flower fields on your way to the gorgeous town of La Conner.
Enjoy lunch in this riverside town and walk it off on the historic main street. Pop over the Rainbow Bridge to visit the Swinomish Cedar Hats on the opposite river bank. Here you'll learn about the local Native American community—the Swinomish People—and take in lovely views of La Conner township with the North Cascades in the background.
Hug the coast as you turn south, dropping in at Snow Goose Produce for ice cream and farm-fresh veggies to take home for the week ahead. Continue along the coastal road and rejoin the I-5 at Marysville for your return to Seattle.
Wallace Falls State Park (2hrs 5mins return)
For hikers and waterfall lovers, Wallace Falls State Park is a favourite day trip from Seattle. Pack a picnic and take to the main trail for various waterfalls along Wallace River. There are three main waterfall overlooks along the path, with steady elevation gain to the furthest one. In my opinion, the Middle Falls Overlook is the best view of the Falls and is the nicest spot to picnic. So don't feel any FOMO if you don't make it right to the top.
Mount Rainier National Park (4hrs minimum return)
Mount Rainier is a very long day trip and ideally would be a minimum 2-day round-journey from Seattle. However, I know there are a lot of people out there that only have a day to spare while in town, so I wrote an entire post on how to tackle this mammoth day trip successfully.
Enjoy your time exploring Washington State with these day trips from Seattle.
Peace, love & inspiring travel,
Madam ZoZo