Often overlooked for its world-famous cherry blossoms, autumn sees Japan's chrysanthemums, a powerful cultural symbol, bloom into radiant glory. Even fierce samurai warriors planted particular varieties of chrysanthemums or in Japanese, kiko, to practise discipline. Let's face it, we are talking about Japan, clean and neat as a pin! You don't just plant and water, maybe give it an occasional pruning. This is the land of taming nature into sculptural icons, like the restrained art of cultivating bonsai, or meticulously raked zen gardens. You will be spellbound by the weird and wonderful ways kiko have been hybridized, coaxed, crafted and presented in the land of the rising sun.
Disclosure: I may earn compensation from the purchase of any product or service linked on this website, at no extra cost to you. I only link to products I use and love, therefore feel comfortable recommending.
China to Japan
Kiko are native to Asia and north-eastern Europe. The Chinese have cultivated them as flowering herbs since the 15th century BCE. The perennials' stems are used in Chinese cuisine, the blooms brewed into tisanes and in Korea their petals are used to flavour rice wine.
Chrysanthemums were introduced into Japan for medicinal purposes during the 8th century CE. Japanese royalty in particular marvelled at their apparent ability to bring about longevity and rejuvenation. Not long after, a stylised kiko design was adopted as the seal of the Emperor.
Over 150 chrysanthemum designs exist, therefore the motif with two layers of sixteen petals was eventually standardised to exclusively represent the Emperor. Members of the royal family are signified by versions with differing petal numbers. The chrysanthemum remains an imperial symbol today, with a 14 petal version appearing on sovereign authorised documents, such as passports.
The Chrysanthemum Throne
The Emperor of Japan is said to hold the Chrysanthemum Throne. The highest honour bestowed by the Emperor is called the Supreme Order of the Chrysanthemum. So you can see this little flower holds a lot of symbolic weight in the island nation known globally for its sakura (cherry blossoms).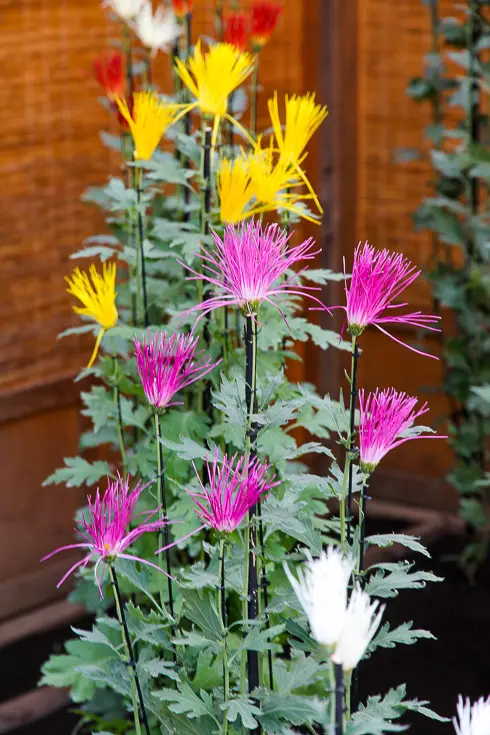 Experience Japan's autumnal chrysanthemums
If you want to experience the full spectrum of kiko varieties and presentation, best to visit Japan when the leaves are turning. Shinjuku Gyoen National Garden in Tokyo has a yearly display of kiko from around Japan in early November. To experience the waning art of kiku ningyo (chrysanthemum figures or dolls), Nihonmatsu has a reputation for the best exhibition which has continued since its initiation in 1930.
If you'd like to read more about Japan, check out: Where to go in Tokyo, Kawara: Decoding Japanese Roof Tiles and The Meaning of Shide and Shimenawa.
Peace, love & inspiring travel,
Madam ZoZo