Neighbouring National Parks, Grand Teton and Yellowstone, are the perfect location for a summer adventure, digital detox and getting back to nature. If you're planning a summer adventure in either or both of these spectacular Wyoming Parks, you'll need to consider the variable weather conditions, activities and amenities when packing your bag. Don't worry, I've done most of the groundwork for you. Just use this Grand Teton and Yellowstone packing list to help you prepare and you'll be done in no time.
Disclosure: I may earn compensation from the purchase of any product linked on this website, at no extra cost to you. I only link to products I use and love, therefore feel comfortable recommending.
Activities and amenities
I thoroughly researched the climate conditions and our activities when deciding what to pack for Yellowstone and Grand Teton National Parks. We planned a week of day hikes, seeing the key sites and some evening wildlife spotting – see our full itinerary with tips on booking last minute, here.
Our accommodation was reasonably basic, but comfortable, including a mix of cabins and lodge rooms located inside and outside the park. Depending on the location and style of accommodation, they offered varying amenities ranging from no fridge, tv or internet, to full kitchenette, cable and wifi.
Cooking and eating
For the majority of the trip we made our own breakfasts and packed lunches then ate at local cafes and restaurants for dinner. We took along our picnic set as listed below, to give us the basic tools to prepare sandwiches, wraps and salads while minimising single-use plastics.
NOTE: Remember, if you flying into the region and plan to pack items such as kitchen knives, you will have to check your baggage. See which items you can and can't take carry-on here.
Altitude
Yellowstone National Park lies at an average elevation of 8000ft. Not only do you need to consider altitude sickness at this elevation, but you're also much more vulnerable to sunburn. According to WebMD, "UV exposure increases about 4% for every 1000ft (305m) gain in elevation." So whether or not you think you need sunscreen protection, use it anyway.
Electronics
International visitors should note that electricity in the US is delivered at 110/120 volts, 60Hz. Depending on where you are travelling from and what kind of appliances you are bringing, you may need a voltage converter. Generally, modern phones, tablets and laptops are made for both 110-127V and 220-240V, but it is best to check. The USA uses Type A and B plugs and sockets, so you will almost certainly need an international adaptor.
Environment
Remember you are travelling to a National Park to appreciate nature! Try to minimise packaging and disposables as much as possible. A refillable water bottle and a travel thermos or mug for your tea/coffee are a great place to start. These guides will help with further suggestions: 8 Essential Eco-Friendly Travel Products and 5 Steps to More Sustainable Travel.
Travel Documents
Domestic travellers will need a State-issued ID such as a driver's license to board your flight. Remember as of May 2023, a REAL ID is required for air travel.
International travellers, ensure your passport has at least 6 months of validity and plenty of blank pages for your new passport stamps. Check whether you require a visa for entry into the USA – it will depend on the country of your passport. There is a Visa Waiver Program for nationals of some countries, but even if you fall in this category, you will still need an ESTA (Electronic System for Travel Authorization) to enter.
All travellers, don't forget to pack copies of your travel reservations, details of your travel insurance, Covid-19 vaccination record and your National Parks pass if you already have one.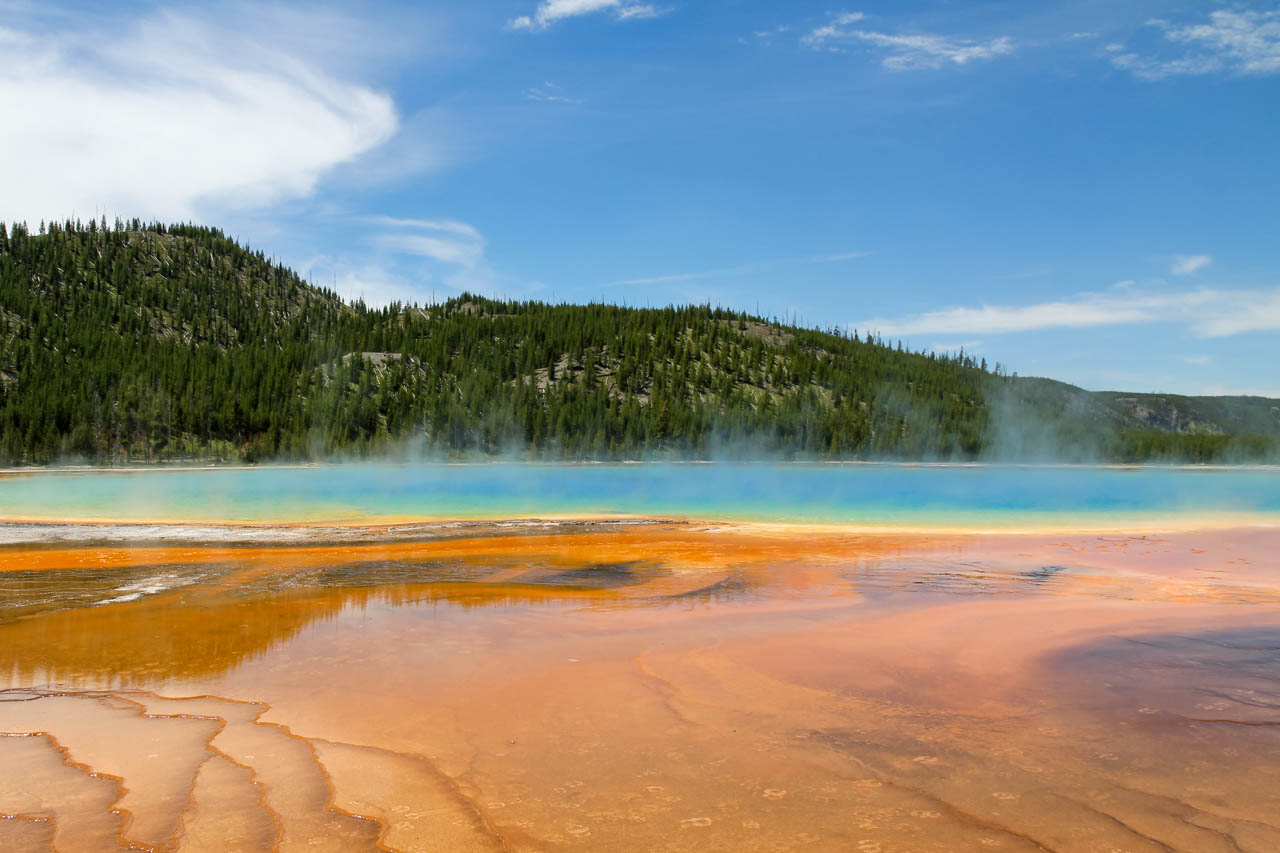 What to pack for Yellowstone
Basics
Underwear
Socks
Sleepwear
One shirt for each day if you're hiking. Depending on the temperature/hiking intensity, we were able to recycle some shirts across two or more days. A mix of t-shirts and light, long-sleeved shirts will allow you to adjust your clothing to the activity and the weather.
Several pairs of shorts and/or light pants that will be cool, provide sun protection, and be comfortable for hiking. Zip-off style cargo/khaki pants are perfect, especially for longer treks starting in the cool of the morning and moving into the heat of the day.
A fleece jumper (sweater) for cooler mornings and evenings, or when the weather turns.
Scarf, gloves and a warm hat.
One evening outfit, something warm to wear each night to dinner and go wildlife spotting. I found jeans, a full-length wool thermal top and a down vest worked perfectly. I wore these every evening for just a few hours after I had showered from my day hiking. I sprayed insect repellant on my clothes rather than my skin when the mosquitoes got bad at dusk.
Rain gear, which should live in your daypack for those regular afternoon storms.
Swimsuit
Sun hat and sunglasses, preferably UV rated to protect your eyes and polarised to cut glare.
Toiletries
Deodorant
Toothpaste and toothbrush
Shampoo and conditioner
Sunscreen
Lip balm with SPF 15+ minimum
Insect repellant
Aloe vera – doubles as sunburn relief and body moisturiser
Face wash
Moisturizer
Hair accessories (ties and pins)
Menstrual products
A cake of laundry soap to wash underwear and socks in the hotel basin if required.
Gadgets
A camera and accessories including charger, spare batteries; SD cards; and tripod.
A waterproof camera is ideal if you plan to kayak, whitewater raft etc.
Phone and charger
Yellowstone & Grand Teton GyPSy Driving Tour – GPS Tour Guide is a fantastic travel companion for guiding your self-drive tour. Download this before you leave, because wifi in the Park ranges from slow to non-existent. The app provides driving directions and informative narration triggered by your location. It uses GPS, so you don't need wifi to run the app (only to download it). You just have to remember to open the app and press "Start Tour" each day, and it will make sure you don't miss any highlights on your journey. At US$16.98 the app is worth every penny.
Kitchen
Travel mugs for coffee/tea
Small cutting board
Vegetable knife
One set of cutlery each (fork, knife, spoon)
Reusable plastic plate each
Cloth napkins
Lunchboxes or cloth bags as well as reusable lunch wrap.
2 insulated cooler bags that fold flat. We put all our cold food items in these bags along with plastic shopping bags of ice we filled from the hotel ice machine. The ice would melt and leak out throughout the day, so I recommend putting a towel underneath. All food went into hotel fridges overnight where available, or we freshened up the ice and placed the bags in the shower/bath to contain any leakage.
Day bag/ backpack
Refillable water bottle. Bladder-style bottles are excellent for saving space.
Hand sanitiser
Bandana/cloth napkin
Toilet paper in a ziplock bag to keep it dry
Headphones
Binoculars
First aid kit
Medications and prescriptions
Warm and wet weather gear (mentioned earlier)
Sunscreen and insect repellant (mentioned earlier)
Bear spray as recommended by the National Parks Service – read more important information about bears and bear spray here. You won't be able to take bear spray on the plane, so purchase or rent it when you arrive. Before you leave, remember to donate it to a ranger or drop your used/unused can at a recycling station.
Making memories and filling spare time
Book
Sketchpad and pencils/paint
Notebook or diary
Tablet device
Pack of playing cards
Download a printable version of this list here:
Inside my suitcase
If you're still wondering what to pack for Yellowstone, here is a snapshot of the key pieces I took and that worked really well. Our trip was a few years ago now, so in some cases, I have subbed in more up-to-date versions of these items.
Kathmandu Kanching Women's Zip-off Pants
Prana Leda Pant
Everlane Cotton V-neck Tee
Jets Parallels Low Back Infinity One Piece
Everlane cashmere crew in navy
Woolerina Short Sleeve Crew
Kathmandu Eqip Women's 550 Fill Down Vest
Patagonia Mainstay Tee
Columbia Women's Arcadia II Rain Jacket
Abeo Brynn Sandal
Aleader XDrain Water Shoes
Salomon XA Kuban Trail Runners
Joyce Oh So Spotty scarf
Solbari Resort Sun Hat
Tori Burch polarised sunglasses (gifted by a friend, no longer available)
Enjoy your time exploring the wilds of Yellowstone National Park and remember to take only photos, leave only footprints.
Peace, love & inspiring travel,
Madam ZoZo