Summer is an exciting time to visit Grand Teton and Yellowstone National Parks – snow has receded to the highest peaks, wildflowers are blooming, wildlife is active and the weather is warm. With two great National Parks in such close proximity, it makes sense to visit both on your summer road trip. This Grand Teton and Yellowstone summer road trip guide will assist those planning well in advance—which I highly recommend—and those who are doing things relatively last minute (as we did). I'll walk you through how to get there, what to see and where to stay in and around these two wonderful National Parks.
Disclosure: I may earn compensation from the purchase of any product or service linked on this website, at no extra cost to you. I only link to products I use and love, therefore feel comfortable recommending.
Our experience
Due to some travellers' indecision, we found ourselves planning our Grand Teton and Yellowstone road trip only six weeks out. Additionally, we planned to visit for a week starting on the busiest weekend of the year—the 4th of July. Booking your road trip last minute is challenging, but not impossible. However, you will have to be flexible and accept a higher price tag—so plan well in advance if you can.
How long do you need?
If you are planning to see both parks, I would advise a minimum of five days (plus travel time there and back) which will allow you to see the key sights but no time for any real hiking. For those wanting to do some day hikes and get into the backcountry beyond the well-trodden trail, then you are going to need a full week or more.
Getting there
Fly
There are a number of airports you might fly into, within reasonable driving distance of Grand Teton and Yellowstone National Park as follows. We hunt for the best deals on flights using Skyscanner.
Drive
Below are approximate drive times to the closest National Parks entrance. The direction from which you are travelling will determine which of the Parks it makes the most sense to visit first:
Salt Lake City International Airport to the Granite Canyon Entrance at the south of Grand Teton National Park is about 5.5-hrs taking the I-15 N through Idaho. You might also drive through southern Wyoming on the US-89 N, which will add another half hour.
Seattle to West Yellowstone will take just over 11-hrs driving via the fastest route on the I-90 W.
Denver to Grand Teton via the Moran entrance is under 8-hrs drive taking the US-287 N.
Chicago to Grand Teton's Moran entrance is under 21-hrs drive using the I-80 W.
Navigating the Parks
Once inside the National Parks, your route is relatively simple and straightforward. Grand Teton's main roads run roughly north-south, and Yellowstone's in a figure-8. You will generally be given a map for each Park when you pay your National Park fees at the gate.
I highly recommend downloading the GyPSy Guide which will not only provide you with directions as you move around the Parks but valuable commentary and recommendations for stops and sites. There is very little phone and internet coverage in the Parks, therefore ensure you download the app before you leave home. Then just open it when you arrive and the GPS will trigger the app appropriately as you move about.
Tip: Be alert for wildlife while you are driving around the Parks. Be prepared to spend time waiting for wildlife jams to clear – in particular, bison seem to prefer crossing roads slowly and in single file!
Best day hiking trails in Grand Teton and Yellowstone National Parks
If you plan to road trip around the Parks and just take short hikes around the key sights, the GyPSy Guide is really all you need to systematically move through the Parks and see the highlights. That of course, and my things to do in Yellowstone printable list.
However, if you want to do some longer trails, you will need to plan further ahead. Research hikes that will interest you before you leave and allocate appropriate time in your schedule. The below are trails we enjoyed in the two National Parks, there are links to sources for more recommendations at the end of this post.
The 2km (1.3mi) trek round trip to Hidden Falls is one of the busiest in the Park, but a lovely way to start your time in Grand Teton. You can take an extra 3.8km (2.4mi) hike each way on the Jenny Lake Trail to reach Hidden Falls trailhead or make use of the shuttle boat service. We split the difference by taking the boat over and hiking back. The Jenny Lake Trail is a lot quieter than Hidden Falls and we saw deer and other wildlife along the way.
Death Canyon Trail, Grand Teton
This 13km (7.9mi) trek offers more than one stunning view of Phelps Lake and the glacier-carved valley, along with Death Canyon itself. However, the cost is a long, steep climb. We're not exactly at peak fitness, so combine that with the altitude and it was a struggle at times but worth the views and quiet trails.
Storm Point Trail, Yellowstone
A relatively easy 3.3km (2.1mi) loop through open meadows and lodgepole forest via Storm Point. The trail offers scenic views of Indian Pond and Yellowstone Lake.
Fairy Falls Trail
Unfortunately. when we reached this 8km (5mi) trail it was closed for maintenance. I was so disappointed not because we missed the Falls, but because the views of Midway Geyser and particularly Prismatic Spring from the trail are supposed to be wonderful.
Ribbon Lake Loop
This route strings together a number of other trails to create a loop of about 9km (5.8mi) encompassing lakes, geothermal features and stunning vistas of the Grand Canyon of Yellowstone.
Mount Washburn Trail
There are wildflowers, bighorn sheep and panoramic views to be had on the 10km (6.2mi) trek to the top of Mount Washburn and back. Start early in the morning to avoid regular afternoon storms at the peak, and take some warm layers to wear when you get to the top – it's windy up there!
Trout Lake Trail
A short 1.4km (0.9mi) hike taking you through Douglas fir woods to the shores of Trout Lake where you may see otters fishing for a meal, spawning cutthroat trout and foraging bears. The wildflowers in July are exquisite too. This is touted as a popular spot, but we only ran into one small photography group the morning we were there.
Tip: When you arrive in the Parks, double-check your planned hikes with a ranger at a visitor centre, as some trails may be closed due to weather or maintenance.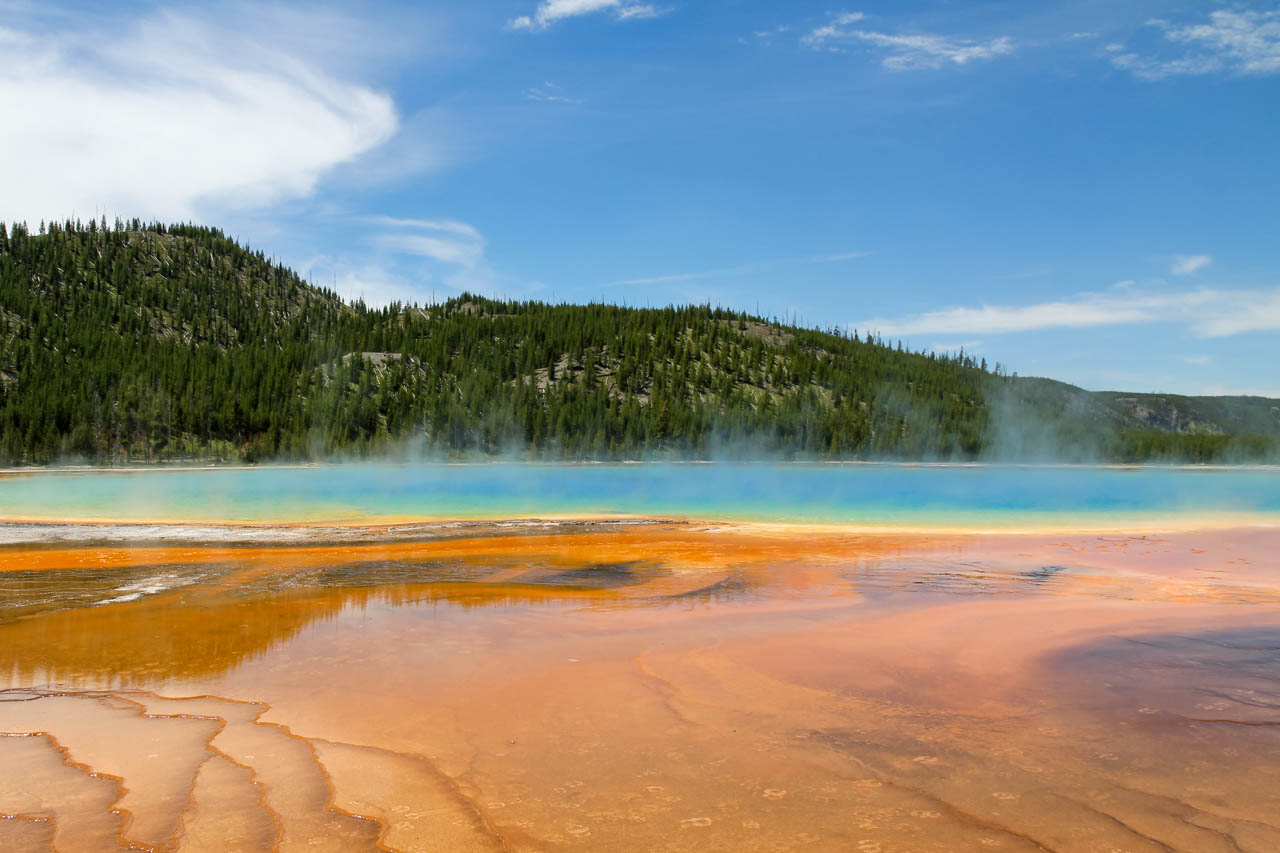 Places to stay
There are a variety of places to stay inside and outside the Park, that offer various types of accommodation from basic lodge rooms to self-contained cabins. Here I'll give you a rundown on some of the options and locations available.
We had to be flexible and allow accommodation availability to somewhat dictate the order of our itinerary. There was some serious juggling involved, but it was worth it. We stayed almost every night in a new place which gave us a really good feel for hotels and townships both inside and outside the Parks. You may choose to move around a little (not as much as us) or base yourself in one or two central locations and do a little extra driving.
Best places to stay in Yellowstone and Grand Teton National Parks
Staying inside the National Parks is a convenient way to enjoy more time sightseeing and less time commuting, including avoiding the long lines at entrance stations during the height of summer. Parks offer a variety of accommodations that address a number of price points, from luxurious lodges to rustic cabins and campgrounds.
However, you should note that staying inside Yellowstone or Grand Teton (excluding camping) is still more expensive. You will not only spend more on overnight stays but have limited, more pricey food and supply options. Also, accommodation books out quickly during peak periods. You need to book months in advance to guarantee a room/cabin.
Here are some accommodation highlights in the Parks, for a full list including campgrounds see here for Yellowstone, and here for Grand Teton.
Lake, Yellowstone
Lake Lodge, located in the township of Lake on Yellowstone Lake's northern shore, provides a very comfortable stay. Rooms appear recently furnished and well maintained. There is no television or wifi available, but rooms do have a bar fridge.
Canyon Village, Yellowstone
Canyon Lodge is located in Canyon Village, which offers the Park's largest number of accommodation rooms and cabins. The Lodge was opened in 2016, with spacious, modern rooms. Again, rooms have bar fridges, but no TV or wifi. We did have some patchy AT&T coverage while we were staying there.  There are restaurants and gift shops nearby.
Mammoth Hot Springs Historic District, Yellowstone
Mammoth Hot Springs Historic District is the administrative centre of Yellowstone National Park. Before the National Parks Service existed, the US Army was charged with running and maintaining the Park, therefore Mammoth looks more like a barracks than a town. It encompasses the original Fort Yellowstone, 35 structures dating back to the 1890s and early 1900s. We passed through Mammoth, only using the post office to send postcards and take a few snaps of the heritage buildings. The town is lovely and only within walking distance to Mammoth Hot Springs Lower Terraces. There is no wifi here as far as I could tell.
Old Faithful Inn
Touted as the "world's largest log structure", the historic Inn in Upper Geyser Basin is moments walk from its namesake Old Faithful Geyser. Even if you don't stay here, go take a look inside this unique building while you're in the area. There are also log cabins near the hotel.
Tip: If you are booking late and want to stay inside the Parks, keep checking back with the online central booking system. Availability changes by the hour and we nabbed our accommodation by checking back 3-4 times a day and pouncing on cancellations as they happened. Book online rather than by calling as there is often a long queue and someone ahead of you will get the cancelled room while you're on hold.
Where to stay (just) outside the National Parks
I have listed population figures for each town major outside Grand Teton and Yellowstone National Parks to illustrate the town size and extent to which amenities may be available. I have also made notes on some specific places we stayed on the nights we couldn't get affordable/available rooms inside the Parks.
Jackson, Wyoming (Population 10,529)
Jackson (or Jackson Hole as it is sometimes inaccurately referred) is the gateway to Grand Teton National Park all year round. The town is well developed, with many accommodations and dining options. This is the place to stop and refuel or pick up supplies before you enter the Park.
Moran, Wyoming
We stayed at Hatchett Lodge on US-287 in Moran, outside Grand Teton National Park. There are several lodges along this road, close to the Park entrance. There's no town nearby, so be prepared to eat at the food outlet within your accommodation as there aren't other options.
West Yellowstone, Montana (Population 1,353)
Yellowstone's western gateway on the US-191 N is West Yellowstone. The town is situated right outside the Park's borders about halfway up the western side, making it a good midpoint for accessing park (particularly if want to base yourself in one place). West Yellowstone is the next biggest town after Jackson, therefore it's where you should pick up supplies, refuel and can find a variety of accommodation and food outlets.
Gardiner, Montana (Population 875)
Gardiner is a town on Yellowstone's northern border on the US-89 N. This is the third-largest centre after Jackson and West Yellowstone. Again, there are plenty of accommodation and food options, along with many adventure tour companies offering activities such as rafting, fly fishing and horseback riding. Gardiner is home to iconic Roosevelt Arch, built in 1903 to welcome visitors to Yellowstone.
Silver Gate-Cooke City, Montana (Population 140)
Silver Gate and close neighbour Cooke City, are the two first townships you will come across when exiting the north-eastern side of the Park on the US-212 E (Beartooth Highway). These quaint towns have fewer facilities including very little wifi. Staying in this area means you will be close to the Lamar Valley for evening wildlife watching in Yellowstone. Also, one of my favourite short trails in the Park for its wildflowers and wildlife is Trout Lake, not far inside the north-eastern entrance. There are more food and beverage options in Cooke City than Silver Gate, though it is only a short drive between the two.
Tip: If you are staying outside the Parks, make sure you leave before 9am to avoid the horrendous queues to get through the entrance gate. There are no express lanes for those who have already purchased their National Park passes and the line starts to get long after about 9am.
Grand Teton and Yellowstone road trip map
Soulful Souvenirs
I found the gift shops at Canyon were the best for picking up souvenirs that are locally made. My favourites were handmade pottery, silver jewellery and glass tumblers made from recycled wine bottles. There were also some terrific kids books on offer such as "Do Princesses Wear Hiking Boots?"
Resources
Here are some more resources to help you plan your Grand Teton and Yellowstone road trip:
Grand Teton National Park – official website
Yellowstone National Park – official website
Yellowstone and Grand Teton GyPSy Guide
The Top 10 Hikes in Grand Teton National Park
Trail Mix: 12 Awesome Day Hikes in Yellowstone
Grand Teton and Yellowstone summer packing list with printable checklist
If you are travelling through Utah, you might want to add a trip to Spiral Jetty and the Golden Spike National Historic Site to your itinerary.
For those with questions or further advice to add, please leave a comment below.
Peace, love & inspiring travel,
Madam ZoZo