Enjoy these inspiring travel quotes while reminiscing over past wanderings or looking forward to future travel. These quotes capture the wonder, adventure and life-changing potential of travel. They are perfect for reflection, motivation, travel photo captions or accompanying your next Instagram post. Inspirational travel quotes also make awesome inclusions in your travel photo books.
I have divided these inspirational travel quotes into themes to help you find exactly what you are looking for, just click the links below and they will take you to the relevant section:
Adventure travel quotes
Adventure is worthwhile. – Aesop
If you think adventure is dangerous, try routine, it is lethal. – Paul Coelho
Jobs fill your pocket but adventure fills your soul. – Jamie Lyn Beatty
Life is either a daring adventure or nothing at all. – Helen Keller
We live in a wonderful world that is full of beauty, charm, and adventure. There is no end to the adventures we can have if only we seek them with our eyes open. – Jawaharial Nehru
Adventure without risk is Disneyland. – Doug Coupland
Travel is glamorous only in retrospect. – Paul Theroux
Life begins at the end of your comfort zone. – Neale Donald Walsch
It is not the destination where you end up but the mishaps and memories you create along the way. – Penelope Riley
Our happiest moments as tourists always seem to come when we stumble upon one thing while in pursuit of something else. – Lawrence Block
I travel a lot; I hate having my life disrupted by routine. – Caskie Stinnett
Actually, the best gift you could have given her is a lifetime of adventures. – Lewis Carroll
The word 'adventure' has gotten overused. For me, adventure is when everything goes wrong. That's when the adventure starts. – Yvon Chouinard
Climb the mountain not to plant your flag, but to embrace the challenge, enjoy the air and behold the view. Climb it so you can see the world, not so the world can see you. ― David McCullough Jr.
Inspirational quotes about travel with friends
There is an unspoken bond you create with the friends you travel with. – Kristen Sarah
Never go on trips with anyone you do not love. – Ernest Hemingway
I have found out that there ain't no surer way to find out whether you like people or hate them than to travel with them. – Mark Twain
The more I travelled, the more I realized fear makes strangers of people who should be friends. – Shirley MacLaine
A journey is best measured in friends rather than miles. – Tim Cahill
We are all travellers in the wilderness of the world, and the best we can find in our travels is an honest friend. – Robert Louis Stevenson
One of the great things about travel is that you find out how many good, kind people there are. – Edith Wharton
Short travel quotes
Once a year, go someplace you've never been before. – Dalai Lama
Never let your memories be greater than your dreams. – Douglas Ivester
It is better to travel well than to arrive. – Buddha
Wherever you go, go with all your heart. – Confucius
Travel makes one modest, you see what a tiny place you occupy in the world. – Gustave Flaubert
Travelling – it leaves you speechless, then turns you into a storyteller. – Ibn Battuta
Oh, the places you'll go. – Dr Seuss
To awaken quite alone in a strange town is one of the most pleasant sensations in the world. – Freya Stark
The world is a book and those who do not travel read only one page. – Saint Augustine
The gladdest moments, methinks, is a departure into unknown lands. – Sir Richard Burton
The real voyage of discovery consists not in seeking new landscapes, but in having new eyes. – Marcel Proust
Do not go where the path may lead; go instead where there is no path and leave a trail. – Ralph Waldo Emerson
I haven't been everywhere, but it's on my list. – Susan Sontag
To travel is to discover that everyone is wrong about other countries. – Aldous Huxley
My favourite thing is to go where I've never been. – Diane Arbus
Wherever you go becomes a part of you somehow. – Anita Desai
Only those who risk going too far can possibly find out how far one can go. – T.S. Eliot
Little by little, one travels far. – J.R.R. Tolkien
Not all those who wander are lost. – J.R.R. Tolkien
All journeys have secret destinations of which the traveller is unaware. – Martin Buber
We travel not to escape life, but for life not to escape us. – Robyn Yong
Travel is not reward for working, it's education for living. – Anthony Bourdain
So much of who we are is where we have been.  – William Langewische
Take only memories, leave only footprints. – Chief Seattle
Inspirational quotes for world travellers
Travel isn't always pretty. It isn't always comfortable. Sometimes it hurts, it even breaks your heart. But that's OK. The journey changes you; it should change you. It leaves marks on your memory, on your consciousness, on your heart, and on your body. You take something with you. Hopefully, you leave something good behind. – Anthony Bourdain
I can't think of anything that excites a greater sense of childlike wonder than to be in a country where you are ignorant of almost everything. Suddenly you are five years old again. You can't read anything, you have only the most rudimentary sense of how things work, you can't reliably cross a street without endangering your life. Your whole existence becomes a series of interesting guesses. – Bill Bryson
If you are thirty-two, physically fit, hungry to learn to be better, I urge you to travel – as far and as widely as possible. Sleep on floors, if you have to. Find out how other people live and cook. Learn from them – wherever you go. – Anthony Bourdain
Travel is fatal to prejudice, bigotry and narrow mindedness, and many of our people need it sorely on these accounts. – Mark Twain
Man cannot discover new oceans unless he has the courage to lose sight of the shore. – Andre Gide
I would rather own a little and see the world than own the world and see a little of it. – Alexander Sattler
Perhaps travel cannot prevent bigotry, but by demonstrating that all peoples cry, laugh, eat, worry, and die, it can introduce the idea that if we try and understand each other, we may even become friends. – Maya Angelou
Broad, wholesome, charitable views of men and things cannot be acquired by vegetating in one little corner of the earth all of one's lifetime." – Mark Twain
To my mind, the greatest reward and luxury of travel is to be able to experience everyday things as if for the first time, to be in a position in which almost nothing is so familiar it is taken for granted. – Bill Bryson
Travel is rich with learning opportunities, and the ultimate souvenir is a broader perspective. – Rick Steves
Once the travel bug bites there is no known antidote, and I know that I shall be happily infected until the end of my life. – Michael Palin
When overseas you learn more about your own country, than you do the place you're visiting. – Clint Borgen
Once in a while it really hits people that they don't have to experience the world in the way they have been told to. – Alan Keightley
Nobody can discover the world for somebody else. Only when we discover it for ourselves does it become common ground and a common bond and we cease to be alone. – Wendell Berry
Twenty years from now you will be more disappointed by the things you didn't do than by the ones you did do. So throw off the bowlines. Catch the trade winds in your sails. Explore. Dream. Discover. – Mark Twain
Though we travel the world over to find the beautiful, we must carry it with us or we find it not. – Ralph Waldo Emerson
Travelling is a brutality. It forces you to trust strangers and to lose sight of all that familiar comforts of home and friends. You are constantly off balance. Nothing is yours except the essential things — air, sleep, dreams, the sea, the sky. All things tending towards the eternal or what we imagine of it. – Cesare Pavese
For my part, I travel not to go anywhere but to go. I travel for travel's sake. The great affair is to move. – Robert Louis Stevenson
The travel impulse is mental and physical curiosity. It's a passion. And I can't understand people who don't want to travel. – Paul Theroux
Distance and difference are the secret tonic of creativity. When we get home, home is still the same. But something in our mind has changed and that changes everything. – Jonah Lehrer
The whole object of travel is not to set foot on foreign land; it is at last to set foot on one's own country as a foreign land. – G.K. Chesterton
Road trip quotes
Sometimes all you need is a great friend and a tank of gas. – Thelma and Louise
Stop worrying about the potholes in the road and enjoy the journey – Babs Hoffman
When you're travelling, you are what you are right there and then. People don't have your past to hold against you. No yesterdays on the road. – William Least Heat-Moon
Sometimes, the most scenic roads in life are the detours you didn't mean to take. – Angela N. Blount
Because the greatest part of a road trip isn't arriving at your destination. It's all the wild stuff that happens along the way. — Emma Chase
Look for chances to take the less-travelled roads. There are no wrong turns. — Susan Magsamen
If you don't know where you are going, any road will get you there. – Lewis Carroll
I climb behind the steering wheel… I drive off immediately without once looking back; it's a long journey but it leads to freedom. – Corinne Hofmann
God made the world round so we would never be able to see too far down the road. – Isak Dinesen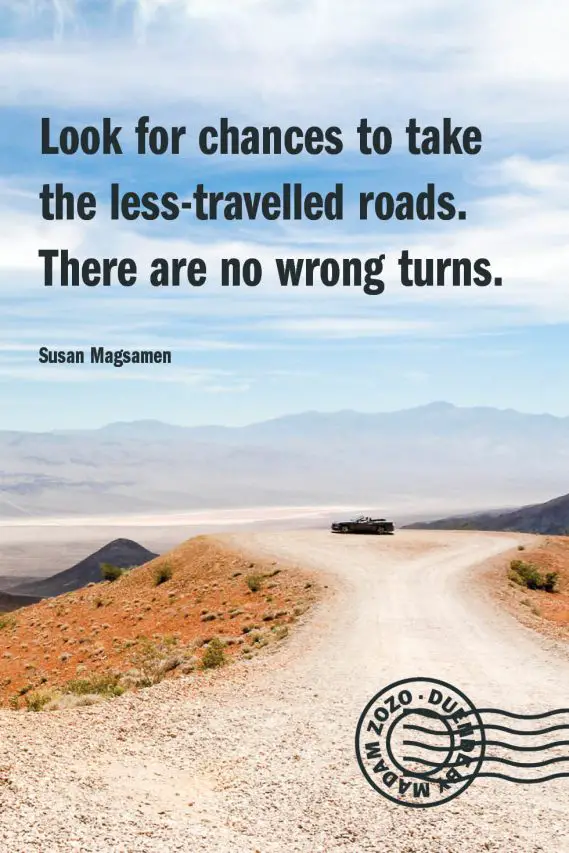 Quotes for a travel-filled life
When preparing to travel, lay out all of your clothes and all of your money. Then take half the clothes and twice the money. – Susan Heller
It is good to have an end to journey toward; but it is the journey that matters, in the end. – Ernest Hemingway
Because in the end, you won't remember the time you spent working in an office or mowing your lawn. Climb that damn mountain – Jack Kerouac
Like all great travellers, I have seen more than I remember and remember more than I have seen. – Benjamin Disraeli
The important thing is to never stop questioning. Curiosity has its own reason for existing. – Albert Einstein
Live with no excuses and travel with no regrets. – Oscar Wilde
To travel is to live. – Hans Christian Anderson
I'm in love with cities I've never been to and people I've never met. – John Green
Travel… the best way to be lost and found at the same time. – Brenna Smith
I'm in love with cities I've never been to and people I've never met. – John Green
We wander for distraction, but we travel for fulfilment. – Hilaire Belloc
Travelling is not something you're good at. It's something you do, like breathing. – Gayle Foreman
Travel has a way of stretching the mind – Ralph Crawshaw
We travel, initially, to lose ourselves; and we travel next, to find ourselves. – Pico Iyer
The only people who ever get anyplace interesting are the people who get lost. – Henry David Thoreau
We travel, some of us forever, to seek other places, other lives, other souls. – Anais Nin
I am not the same, having seen the moon shine on the other side of the world. – Mary Anne Radmacher
He who would travel happily must travel light. – Antoine de St. Exupery
To travel by train is to see nature and human beings, towns and churches and rivers – in fact, to see life. – Agatha Christie
Normality is a paved road; it's comfortable to walk, but no flowers grow. – Vincent Van Gogh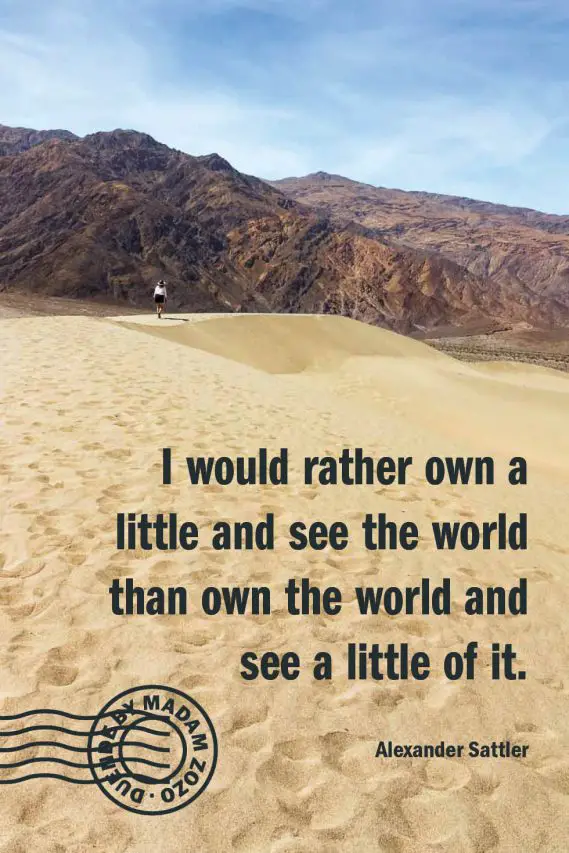 The use of travelling is to regulate imagination with reality, and instead of thinking of how things may be, see them as they are." – Samuel Johnson
Travel and change of place impart new vigour to the mind. – Seneca
With age, comes wisdom. With travel, comes understanding. – Sandra Lake
Stuff your eyes with wonder, live as if you'd drop dead in ten seconds. See the world. It's more fantastic than any dream made or paid for in factories. – Ray Bradbury
Travelling tends to magnify all human emotions. — Peter Hoeg
A mind that is stretched by a new experience can never go back to its old dimensions. – Oliver Wendell Holmes
Remember that happiness is a way of travel – not a destination. – Roy M. Goodman
Investment in travel is an investment in yourself." – Matthew Karsten
Life is short and the world is wide, the sooner you start exploring it, the better. – Simon Raven
Travel far enough, you meet yourself. – David Mitchell
Live your life by a compass, not a clock. – Stephen Covey
I travel because it makes me realize how much I haven't seen, how much I'm not going to see, and how much I still need to see. – Carew Papritz
We travel for romance, we travel for architecture, and we travel to be lost. – Ray Bradbury
Wherever you go, go with all your heart! – Confucius
A good traveller has no fixed plans and is not intent on arriving. – Lao Tzu
If we were meant to stay in one place, we'd have roots instead of feet.  – Rachel Wolchin
We wanderers, ever seeking the lonelier way, begin no day where we have ended another day; and no sunrise finds us where sunset left us. Even while the earth sleeps we travel.  – Khalil Gibran
I hope you connected with some of these inspirational quotes about travel and they give you the motivation to keep moving and exploring this wonderful world. If you know a great travel quote that isn't on this list but should be, let me know in the comments below or on social media.
Peace, love & inspiring travel,
Madam ZoZo