Traditional batik textiles are exquisitely decorated resistance-dyed cloths, produced by a time consuming, and hand-cramping technique. These revered threads have a long history, and make the perfect souvenir of travel in Indonesia and broader Southeast Asia.
What is Batik?
During my primary school years, I began to learn the Indonesian language of Bahasa. Part of our education involved participation in a cultural day where I was first introduced to the art of batik. Batik is a resistance dye method produced by finely applying wax to cloth before it is stained with colour. My clumsy splodges of wax applied by paddle pop stick (that's Aussie for popsicle stick), rendered nothing more than a wonky polka dot design. It didn't take me long to realise the patience, artistic vision and fine motor skills it would take to master this artisanal craft.
An international history of mystery
The history of Batik and resistance dyeing, in general, can be traced back to a variety of ancient civilizations, each with their own variation on the technique, motifs, and traditions.  It's difficult to place a map pin on the exact location where it all began. However, Indonesia possesses the most well-developed batik industry and produces the most intricate designs. Throughout the 19th century, Dutch colonialists occupying Indonesia sailed samples of the ornamented fabric all over the globe, generating an international appreciation for the art.
The batik process
To craft a swatch of batik old-school style you would need wax at the right temperature, not too syrupy hot or sluggishly cold. The wax would be held in small copper spout maneuvered with a handle and used to spot tiny dots and lines across absorptive cottons, silks and other natural fibres. The material would have been painstakingly handwoven to high thread counts, tight enough to hold the wax in its tiny filigree formations. A cold bath of water sets the wax before it is soaked in pigments, which preceding modern chemicals, were natural dyes such as indigo. After drying in the tropical sun, another bath in warm water along with some light scraping removes the wax, revealing the design. You might repeat this process countless times to create intricately layered designs in a palette of colours.
Traditionally batik was produced in 2.25 metre lengths for use as sarongs that are part of Indonesia's customary dress. Their designs have distinct borders which are worn to the front of the body. Wax applied through stamping has sped up the process and driven down the cost of some batik allowing larger bolts to be produced for use in fashion and home furnishings. Not to mention the ultimate cheat—machine printing—which can hardly be called batik at all. It uses a batik-style motif, but not the technique. You will see machine produced batik-esque prints used for mass-produced items or even the signature uniforms of Singapore Airlines and Malaysian Airlines.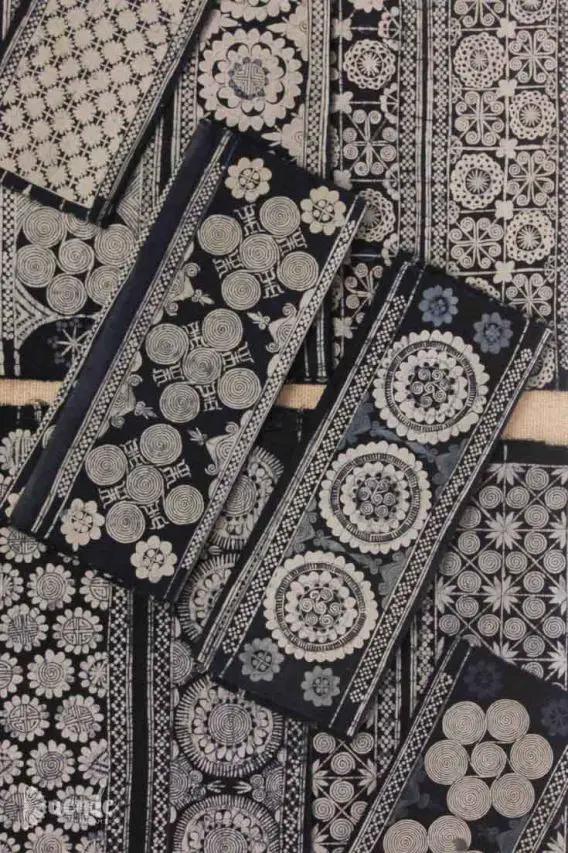 Revered threads
With so much skill and time absorbed in its creation, it is easy to see why batik became a prized possession. The textiles are used for ceremonial purposes, are worn to show off a person's societal standing and to ward off bad spirits. You may have a "casual Friday" ritual in your office, for Indonesians, it's "batik Friday," in an effort to preserve the textile's great cultural tradition. Furthermore, October 2nd is National Batik Day. UNESCO World Heritage recognises batik as Intangible Cultural Heritage of Humanity and supports its preservation.
Batik motifs and colours
Motifs and colours vary regionally, even within the 128,297 km² island of Java one can spot the distinct difference between batik produced along the coastline and those crafted inland. The most common designs have names such as the latticed Kawung, geometric Ceplok or knife-like Parang. External cultural influences throughout history have seen the introduction of additional motifs and styles.
Tips for buying batik textiles
Batik has undergone much evolution and has been somewhat corrupted by modern technology. However, if you're travelling Indonesia, more specifically the island of Java, you will find a host of traditional artisans, proudly staying true to their waxy tradition. If you are looking for a unique, practical and beautiful souvenir, here are my five tips for buying batik:
Buy from a batik workshop. Once you have witnessed the technique you will quickly learn to spot the difference between hand painted and batik cap (stamped batik). Plus you will appreciate the effort and artisanal craftsmanship involved.
Tulis batik is made entirely by hand and is the highest quality. It may set you back a pretty penny, but still great value considering the hours and skill required to create the material.
Stamped designs will be easier on your wallet, or you might find a combination piece that incorporates handwork and stamped elements together.
Turn it over! In a true batik process the dye will soak into both sides of the fabric so there is no front or back. Machine printed batik will only have colour and design on one side.
Traditional batik is done on natural fibres because it absorbs well. You will want a natural fabric if you are wearing it, especially as a sarong, though there are plenty of synthetics and natural/synthetic blend batiks out there. One easy way to tell is through touch: does the fabric feel like it would absorb water readily or would it tend to bead up and run off? Or put another way, does it have a matt texture or a shine? The absorptive, matt textured fabrics are more likely your natural ones.
Batik textiles are a fine example of the history, tradition and artisan craftsmanship that we are throwing away with the modern world of machine-woven, chemically-dyed fast fashion. Enjoy the legacy of Batik and treasure it as a soulful souvenir of your adventures. For more souvenir ideas, sign up to the Duende newsletter over in the sidebar and receive my Soulful Souvenir Guide for free!
Peace, love & inspiring travel,
Madam ZoZo