Follow the Country Way down the Great Dividing Range from Brisbane to Tamworth and discover some of Australia's best wine, scenic hiking trails and country hospitality. Scale the Southern Hemisphere's biggest granite rock and walk in the footsteps of Australia's longest roaming bushranger. There's tonnes to do, see and eat—so pack the car, grab this all-Australian road trip playlist and lets hit the road!
Disclosure: I may earn compensation from the purchase of any product or service linked on this website, at no extra cost to you. I only link to products I use and love, therefore feel comfortable recommending.
Why Australia's Country Way?
The Country Way is a touring route stretching 1615km (1003mi) from Sydney to Rockhampton, linking jewels of the countryside along the Great Dividing Range. Joining the road as it passes close to Brisbane, and travelling the section from Warwick to Tamworth, encapsulates one of the most densely packed stretches of things to do and see. This makes it the ideal short-haul road trip. It also forms part of an alternate route between Brisbane and Sydney, if you are looking for a scenic drive between the two-state capitals.
Special notes
Country towns (especially midweek), are most active in the mornings and early afternoon. Many cafes, shops and attractions close at 3-4pm, so it's best to start your days exploring towns and then move to hiking or driving to the next location in the afternoons. The pubs and restaurants also close early midweek, so don't get into town too late if you want dinner.
Brisbane to Tamworth road trip itinerary
Day 1: Southern Downs – Brisbane to Warwick
From Brisbane, make your way out through Ipswich to the Boonah area. Kooroomba Vineyards and Lavender Farm makes a lovely first stop, especially if you're feeling a little peckish. The cellar door and restaurant looks out over the vineyards and lavender fields to the Scenic Rim mountains beyond.
Continue on to "Best little town on the Downs" – Allora. In summer, the farms around this area are radiant with sunflowers and are a worthy sight all on their own. Be careful when pulling over to take photos of the fields, ensuring you are not blocking the road.
On the way into Allora you will also find Glengallen Homestead, a restored historic sheep station home turned heritage museum. The Homestead is open 10am-4pm Wednesday to Sunday, and try as we might, we always seem to be passing through on a Tuesday, so take a look at Tripadvisor for reviews of museum.
Wander the main street of Allora and you'll find the former home of Mary Poppins author P.L. Travers. The writer lived in the beautifully maintained, Federation house during her childhood from 1905-1907. Mary Poppins House is privately owned, so appointments are necessary to take a tour of the interior. My visit was too impromptu for bookings, but I have a couple of exterior photos to share.
You'll also find PL Travers Park on the corner of Herbert and Drayton Street, which houses a granite sculpture in memorial to arguably the town's most famous resident.
Lastly, on to Warwick which claims the title of "Australia's Rose and Rodeo Capital." The rodeo is apparently one of the oldest in the country, and the streets are lined with rose gardens. The red Arafuto rose was cultivated as a symbol of the town. Another delightful surprise is the heritage architecture, with a variety of styles represented. Stand-outs are the sandstone government buildings, classic Queenslander (Tropical Federation) style homes and the Abbey of the Roses where you might also stay the night. For more on Warwick and surrounds, see this weekend getaway on the Darling Downs.
Day 2: Granite Belt – Warwick to Tenterfield
Enjoy breakfast at one of the many wonderful eateries in Warwick (my personal favourite is the café at Warwick Gardens Galore). Don't fill up too much though, we have a wonderful day of eating and wine tasting ahead. The Granite Belt is known for apples and wine because of its subtropical highland climate and fertile, volcanic geology.
An hour down the New England Highway from Warwick and you'll find yourself in the Granite Belt capital, Stanthorpe. Fifteen minutes before you reach town, you'll spot an oversized red apple. This signal your turn left to make a stop at Sutton's Farm for cider and juice tasting, not to mention a slice of their apple pie.
As you continue through Stanthorpe and out the other side you'll find a plethora of opportunities to taste cheeses and wines, and pick/eat berries (when the season is right) – try as many as your belly can take on your way to Tenterfield for the night.
Day 3: Granite Belt – Tenterfield, Bald Rock, Glen Innes
After breakfast in Tenterfield, check out the Tenterfield Saddlery (open between 9am-1pm) made famous by the grandson of former saddler George Woolnough, none other than Peter Allen. Then we're backtracking slightly up to Bald Rock National Park for some hiking. If you're fit, take on the summit trail to the top of the largest granite rock in the Southern Hemisphere – Bald Rock. From there you'll enjoy 360-degree views of the surrounding landscape.
Note: Don't attempt this climb if it is wet or icy – the rock is extremely slippery under the wrong conditions. See more on the NSW Parks website. Ensure you take $8 cash to pay the National Park fee for your visit.
On Mount Lindsay Road between Tenterfield and the Bald Rock Park entrance, you'll also come across the first of several Captain Thunderbolt sights – his hideout. Thunderbolt was Australia's longest roaming bushranger and this short, 300m walk takes you to a cave-like shelter formed by several large granite boulders he used as a camp and lookout. History buffs might also like to visit the WWII tank traps in the same area.
Return to Tenterfield and push on to Glen Innes for the night. After breakfast (we loved Cuisine Café), wander the main street and take in the historic architecture of the highlands town, before making your way up to the Australian Standing Stones and Martins Lookout. The Standing Stones are a memorial to the Celtic immigrants that have contributed to Australia. It sure isn't Stonehenge, but if you have Celtic heritage it is worth a short stop. The most interesting part of the monument, in my humble opinion, is the Celtic Family Wall that houses stones brought by people from their Celtic homelands.
Proceed from Glen Innes to Armidale with a short side trip to Thunderbolt's Cave—another rock shelter used by the Bushranger—located in Black Mountain down a dirt road accessible by car (no 4WD necessary). Take plenty of bug spray, because the bitey insects are out in force along the 400m return trail. This is also a great spot for wildlife sightings, so keep your eyes peeled.
Finish the day at the Drummond Apex Lookout in Armidale before spending the night in town.
Day 4: Armidale, Uralla, Tamworth
Seesaw Coffee, on the edge of Central Park, is a charming place to start the day with a leisurely breakfast. Drift around town and you'll find there is no shortage of heritage architecture or good coffee shops. If you have the time and are so inclined, Armidale Tourism offers a free daily heritage bus tour departing at 10am from the Visitor Information Centre.
Trot onward to Uralla. Here you'll find Thunderbolt's Grave, a statue of the bushranger and take a self-guided walk around town for a dose of history. You can pick up a heritage trail map and information at the Visitor's Centre.
Another 10 minutes down the New England Highway, there is our final Thunderbolt attraction, a pile of boulders he used as a lookout. Unfortunately, the rocks are covered in graffiti, but the spot offers a nice view of the surrounding farmland, whether you scramble up the rocks or not.
Finally, we arrive in our overnight location—Tamworth—home of country music in Australia.
Day 5: Tamworth
Spend the day in Tamworth before your onward or return journey. Get a photo with the Big Golden Guitar and visit the Country Music Hall of Fame. Take to Oxley Scenic Lookout for a great view of the city and surrounds.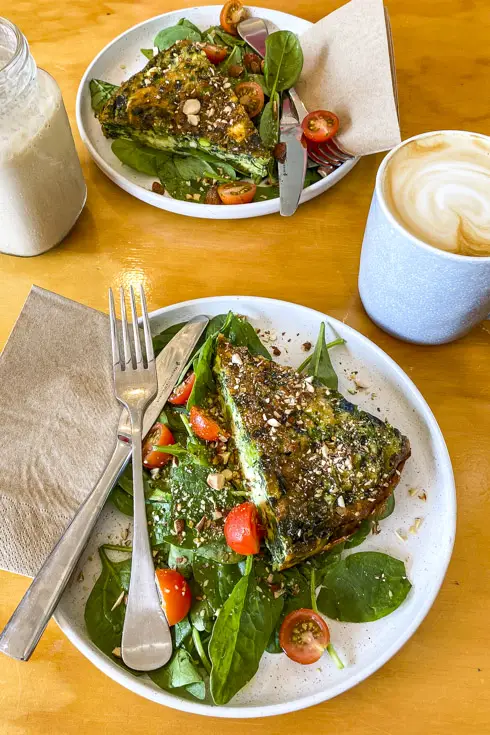 Enjoy your Brisbane to Tamworth road trip and let me know your favourite sight or stop in the comments below.
Peace, love & inspiring travel,
Madam ZoZo