Spend two-days in Redwoods National and State Parks in northern California, exploring groves of earthly giants. Experience the awe-inspiring trees, among the world's largest as well as other coastal highlights with this weekend-sized itinerary. This Californian Redwood Forest road trip is also a great add-on to the Oregon road trip itinerary here.
Full Disclosure: I may earn compensation for my endorsement, recommendation, testimonial, and/or link to any products or services from this website. I only recommend products/services that I use and love, therefore feel comfortable recommending.
Where is the California redwood forest located?
As the name suggests, Redwood National and State Parks (RNSP), is a complex made up of various Federal and State managed Parks (just like North Cascades National Park). The complex is located along the coast of northern California, edging into southern Oregon. RNSP is comprised of four Parks: Del Norte Coast, Jebediah Smith and Prairie Creek Redwoods State Parks along with Redwood National Park.
This conglomerate spans 157.75 km2 (38,982acres) across Del Norte and Humboldt Counties. The Parks protect tracts of old-growth forest containing around 45% of the remaining redwoods, along with rugged coastline, rivers, flora and fauna such as Roosevelt Elk.
Fun fact: Redwood National and State Parks were the filming location for the Forest Moon of Endor in Episode VI: Return of the Jedi.
What's the difference between redwoods and sequoias?
Redwoods (Sequoioideae) are a sub-family of the cypress family (Cupressaceae). There are three types of sequoia trees in the redwood sub-family. The first is the Giant Sequoia (Sequoiadendron giganteum) which include the world's largest trees by volume and are found in California's Sierra Nevada mountain range, including Sequoia and Kings Canyon National Parks. The second type of sequoia is the Coastal Redwood (Sequoia sempervirens) which include the world's tallest trees and are found in coastal California and Oregon, including Redwood National and State Parks. The third type is the Dawn Redwood (Metasequoia), which is much smaller and native to the Hubei Provence of China.
Which is better, Coastal Redwoods or Giant Sequoias?
Both are equally impressive! Due to its closer proximity to San Francisco and Los Angeles, Sequoia and Kings Canyon National Parks see higher levels of tourism. If you prefer somewhere less crowded, be prepared to travel a little further and see the Californian redwood forest. Either way, you won't be disappointed.
Getting to Redwood National and State Parks
Redwood National and State Parks is about a 6-hour drive from both San Francisco, California and Portland, Oregon.
The closest airports include three regional airports:
California Redwood Coast – Humboldt County Airport (ACV) offers two daily, direct flights to/from San Francisco International Airport on United Airlines subsidiary, United Express.
Del Norte County Regional Airport (CEC) in Crescent City has two daily flights to/from Oakland International Airport (OAK) provided by Contour Airlines.
Rogue Valley International-Medford Airport (MFR) in Oregon has direct flights to/from Seattle, San Francisco, Phoenix, Portland, Denver, Salt Lake City and Los Angeles. However, it is an additional 3hr drive over Grants Pass to reach the Californian Redwood forest from this airport.
General itinerary notes
Due to various natural occurrences such as landslides, fallen trees and washouts, check conditions on the official Parks website here before setting out.
There is next to no mobile phone service in the Parks, so ensure you download any required maps, notes, permits and information in advance.
Entry to Redwood National Park is free and there are no entrance stations.
California State Parks including Jedediah Smith, Del Norte Coast and Prairie Creek Redwoods State Parks collect day-use fees at entrance stations. These three State Parks will honour "America the Beautiful" annual, interagency passes, providing discounts and California State Parks passes.
The road accessing Fern Canyon and Gold Bluffs Beach in Prairie Creek Redwoods State Park requires an $8 day-use fee which can be paid in cash or cheque only at the pay station. The fee is waived for "America the Beautiful" pass holders.
While it may seem ideal to stay as close to the trailheads as possible, there aren't a lot of amenities in the area. Crescent City and Trinidad are the closest centres that offer plenty of options. We travelled in winter and opted for staying in Klamath to cut down travel time, not realizing the only thing open in town, beyond the Holiday Inn Express, was the gas station! If we did this again, we would pack up some groceries and stay at the Elk Meadow Cabins
This itinerary assumes travel from the north with accommodation in Crescent City of Klamath. If you are travelling from the south, you may wish to reverse the order of the two days and stay in Trinidad instead to create an easier/shorter homeward journey.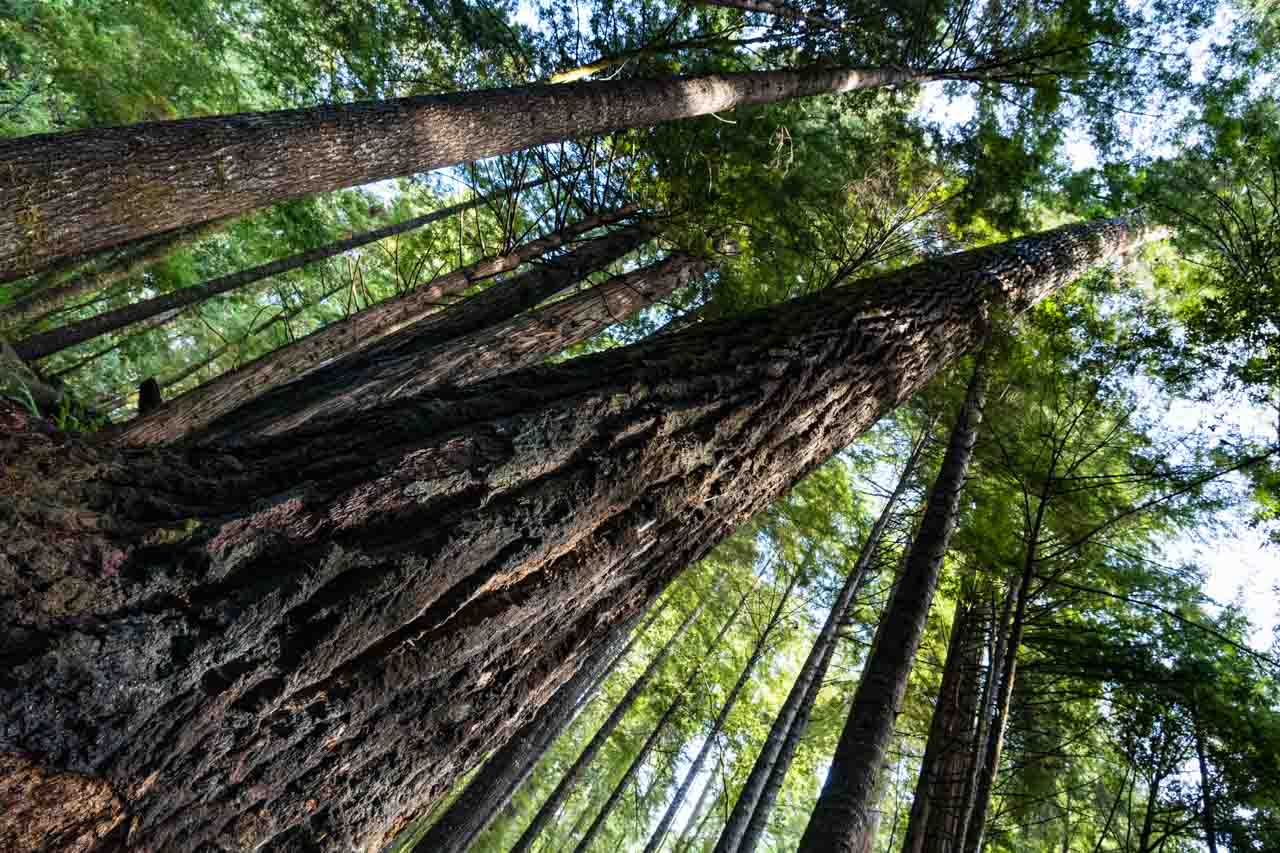 Californian redwood forest 2-day itinerary
Day 1
Pull on your hiking boots and pack a picnic we're heading for the Tall Trees Grove, a stand of magnificent redwoods that you won't want to miss. The Grove includes, as I mentioned before, two trees formerly deemed the world's tallest.
Let's tackle this trail first while you're fresh and before the crowds arrive. Crowds, being a relative term given you will need a permit to access this trail and only 50 car-loads are given out per day. The permits are free, you can check availability and obtain one for the Tall Trees Grove here. Note, it is best to apply as far in advance as possible (especially in the busier summer months) and no less than 48-hrs in advance. We had no trouble obtaining a pass with only a few days notice in mid-January.
The trailhead is about 1hr 30mins drive from Crescent City or 1hr 10mins drive from Trinidad. Along with your permit, you will be given the code to a padlock (changed daily) on the gate leading to the trailhead, located off Bald Hills Road. There is a small amount of parking and a bathroom at the trailhead.
The trail is a lollypop-loop of about 6.5km (4mi) with a 487m (1600ft) elevation change. It begins with a descent into the valley, which you will climb out again at the end. This may not be suitable for all hikers. Allow 4hrs to really enjoy this hike with plenty of time to take in the breathtaking trees and if you're lucky, some incredible sunbeams filtering through the forest.
Ensure you have food, water, rain gear, flashlight and your camera with you for this trail. Another reminder: don't forget to download or print your permit in advance as there is no cell phone service in the area.
Follow up with a saunter through the Lady Bird Johnson Grove. The 2km (1.5mi) loop is an easy trail with a large volume of redwoods in amongst the Douglas firs and rainforest ferns and rhododendrons. Allow 45-60mins for this trail and note that parking can be hard to come by in the summer.
We'll finish today with an absolute gem, an emerald to be precise. You will fall in love with Fern Canyon in the Prairie Creek Redwoods State Park. So picturesque is this fern-lined canyon framing Home Creek, that Steven Spielberg chose it as a location for Jurassic Park 2: The Lost World.
The trailhead can be reached by turning off Highway 101 onto Davison Rd. Continue through the Elk Meadow onto a dirt road for a further 9.6km (6mi) at which point you will reach the day-use fee station at Gold Bluffs Beach. Follow the beach road for another 5km (3mi), fording across 3-streams to reach the carpark at the end. This marks the trailhead for the short 0.5km (0.25mi) hike to Fern Canyon. Due to the streams crossing the road, be sure to check conditions with Park authorities. There are times when this road is closed to traffic.
I highly recommend rain boots or at least water shoes for this trail as you will need to wade through Home Creek. During the summer, footbridges are installed over the creek in some places but still expect to get wet.
Day 2
This morning we take the Newton Drury Scenic Parkway through Prairie Creek Redwoods State Park, pulling off at the various highlighted redwoods along the way such as Big Tree Wayside.
If you are looking for the drive-through tree experience, look for signs to the Tour Thru Tree in Klamath. This redwood tunnel was carved in 1976 and is only suitable for smaller vehicles. There is a $5 fee which can be paid at the entry booth. If there is no-one there, an honour system is in place.
We continue to Crescent City and take Howland Hill Road into Jebediah Smith Redwoods State Park. Make sure you stop 0at the very least for the Boy Scout Tree Grove and Stout Tree Grove Trails. These are magnificent!
The Boy Scout Tree Trail is 8.8km (5.5mi) of old-growth goodness with a 250m (750ft) elevation change. Stout Tree Grove is a 0.9km (0.6mi) trail which is mostly flat and packed with redwoods including quite a few fallen trees, giving you a different perspective on their size.
Continue driving down Howland Hill Road until you reach Douglas Park. Here you'll cross the Smith River using Nels Christensen Memorial Bridge and make your homeward journey along the Redwood Highway (US Highway 199).
Californian redwood forest road trip map
When to visit Redwood National and State Parks
Northern California is classified part of the Pacific Northwest, so expect typical PNW weather: mild temperatures and frequent clouds and rain. Snow is uncommon but not impossible.
Temperatures range daily from around 4°C (39°F) to 12°C (54°F) in the coldest month, January. While in the warmest month, August, the daily temperature range is 10.5°C (51°F) to 19°C (67°F). So the Redwoods are a great place to escape the heat and wildfires don't usually impact this part of California. You can check current conditions on the National Parks Service website.
October through April sees the most rain. We travelled to the Redwoods in January (the second wettest month after December) and experienced mixed days of sun and rain–mostly drizzly rain. Rainfall drops off steeply in May and July-August are the driest time of year.
What to take to the California redwoods
Be prepared for your visit by taking and wearing these things to the California redwoods forest:
Wear layers that you can take on and off to adjust to temperature changes. Ensure you have a waterproof outer-layer.
Sturdy walking shoes that are waterproof and spare socks are ideal. If you want to explore Fern Canyon, a pair of gum boots or water shoes are also good to have.
Pack plenty of water and snacks, along with lunch for each day in the Park. There aren't a lot of food outlets in this area and a visit to the nearest town might be an hour or two round trip.
Don't forget your camera. A tripod is also helpful given the low light conditions in the forest, especially on a cloudy day. I wish I had packed mine!
Pack your America the Beautiful Pass if you have one, to take advantage of those waived State Park fees mentioned above.
Enjoy your time in California's magnificent redwood forests and remember to leave no trace.
Peace, love & inspiring travel,
Madam ZoZo