In an effort to curb the cold weather blues, my husband and I decided to start celebrating winter solstice! Though ours was an intimate dinner party for two, it can easily be multiplied to host a group. Below are all the details–you can copy them to a tee or use them as an inspirational diving board for your own winter solstice celebration. See more opportunities to celebrate here in December Holidays Around the World.
Disclosure: I may earn compensation from the purchase of any product or service linked on this website, at no extra cost to you. I only link to products I use and love, therefore feel comfortable recommending.
What is winter solstice?
Winter solstice is the shortest day of the year with regards to daylight hours. It's the day that one of the earth's poles reaches its maximum tilt away from the sun. There are two winter solstices every year, one each in the northern and southern hemispheres.
In the northern hemisphere, it's usually around December 21-22 varying slightly each year and in the southern hemisphere, it falls around June 20-21. Technically, a solstice happens at the exact same moment for everyone but the time/date is based on the local time zone. Also, note that at the same time the northern hemisphere is experiencing the winter solstice, the southern hemisphere is transitioning through its summer solstice, and vice versa.
Winter solstice may be referred to as "Midwinter" especially in more temperate climates, while in other parts of the world it is considered the first day of the season.
The 2021 winter solstice dates are: June 20 in the Southern Hemisphere and December 21 in the Northern Hemisphere.
Why celebrate winter solstice?
Why not? Winter solstice is largely a secular affair in the modern world therefore it's open to everyone. It is really a celebration of the cycles of nature, which I think we can all agree are pretty special and worthy of our focus. This is especially true at a time in history where we are often increasingly disconnected from our natural environment.
Winter may not be your favourite time of year (I'm more of a warm-weather gal myself) and you need some pepping up. Celebrating winter solstice is perfect for that!
Alternatively, you may not participate in December's many religious holidays, and this helps you feel included in the festivities. Maybe your group of friends come from many different religious backgrounds so you don't want to hold a specific holiday party – winter solstice is the answer! There are many reasons to celebrate winter solstice, so go ahead and have fun with it.
Winter solstice traditions around the world
Throughout history, winter solstice has been marked worldwide with varying traditions – here are a few ways different cultures celebrate winer solstice around the world.
Yule
Germanic cultures including the Viking-era Scandanavians referred to this time of year as Yule (also spelt Jul or Juul). Yule is associated with Odin (sometimes known as Wōden), god of poetry, war and wisdom among many things. At this time people would have decorated with evergreen boughs and mistletoe; they exchanged gifts; and feasted for 12 days.
Old Man Winter, a mythological personification of the season with a long white beard, was believed to visit homes to join in the festivities – sounding familiar? Viking children would put their shoes by the fire filled with sugar and hay for Odin's eight-legged horse to nibble on.
The yule log was an important tradition, where a tree was specially selected to be burnt for the length of the celebration. A piece of this log was kept afterwards as good luck and was reused to light the next year's log.
Alban Arthan
The Celts version of Yule was called Alban Arthan, meaning "light of winter" or Alban Arthuan "light of Arthur", referring to the legend of King Arthur. The Celts believed that the sun came to a standstill for 12-days over the winter solstice.
They had a version of the Yule log that had to be burnt for the entire celebration until the sun started to move again. To let the fire go out was thought to be bad luck. The Celts also thought mistletoe had healing powers and placed it over doorways to ward off any lurking evil spirits.
Saturnalia
Ancient Romans partied under the banner of Saturnalia for 7-days. As the name suggests, the festivities were in honour of Saturn, god of agriculture. Saturnalia grew over time from a single-day celebration to a weeklong festival leading up to the winter solstice on December 25 (according to the Julian calendar) – a date later to be adopted by the church to represent the birth of Jesus.
During the festival, businesses, courts and schools were closed and slaves relieved of work as everyone spent time with family and friends. Everyday togas were shed in favour of colourful synthesis, the name for one's fancy-pants, dinner clothes.
There were masquerade balls that disrupted the social order. Romans feasted, played music, danced, exchanged gifts and spent time with family. They decorated their homes for the occasion with wreaths and other greenery.
Dōngzhi
Dōngzhì translating to "extreme winter" is the Chinese celebration of the winter solstice. Modern Dōngzhì is not as important as it was historically in China. Taiwan is actually known for some of the biggest festivities in modern-times.
Customs including food are highly regional because of variations in climate. Depending on where you are in China or Taiwan, you might tuck into foods or ingredients such as: dumplings, wontons, glutinous rice balls, mutton, ginger, daikon radish and other warming foods.
Celebrating winter solstice is also a time to worship the heavens and ancestors, in Chinese cultures. People attended clan tombs to clean and tend their ancestor's spirits with offerings. Afterwards, they gather for hot food and drink.
In Taiwan, people also visit ancestral tombs and offer them a nine-layer cake usually shaped as animals. Overall winter is seen as a time to nourish the body and rest, as modelled by hibernating animals–now I'm down for that!
Shab-e Yaldā
In Iran, the Persian festival Shab-e Yaldā or "Yaldā night" is another winter solstice celebration harking back to ye olde times. It is also celebrated in countries such as Tajikistan, Afghanistan, Azerbaijan and Armenia. Shab-e Yaldā marks the last day of the Persian month, Maah e Azar also the last day of autumn. It was celebrated from sundown on that final day of fall, all night through to sun up of the first day of winter.
Similar to other winter solstice celebrations, Shab-e Yaldā is considered the birthday of the sun god Mithra and a triumph of light over dark. It's celebrated with family, friends, eating, drinking and poetry. Nuts, watermelon, pomegranate, persimmons, apples, pears, tea and other foods thought to boost immunity for the winter, are commonly served up at this time.
Soyal
The Pueblo, Zuni and Hopi Native Americans of the United States' Southwest, call their winter solstice feast, Soyal. At his time, the sun is enticed back from where it is thought to have wandered far away, and protective spirits called kachinas are welcomed. Rituals, prayers, blessings, feasting and dancing are performed over a 16-day festival.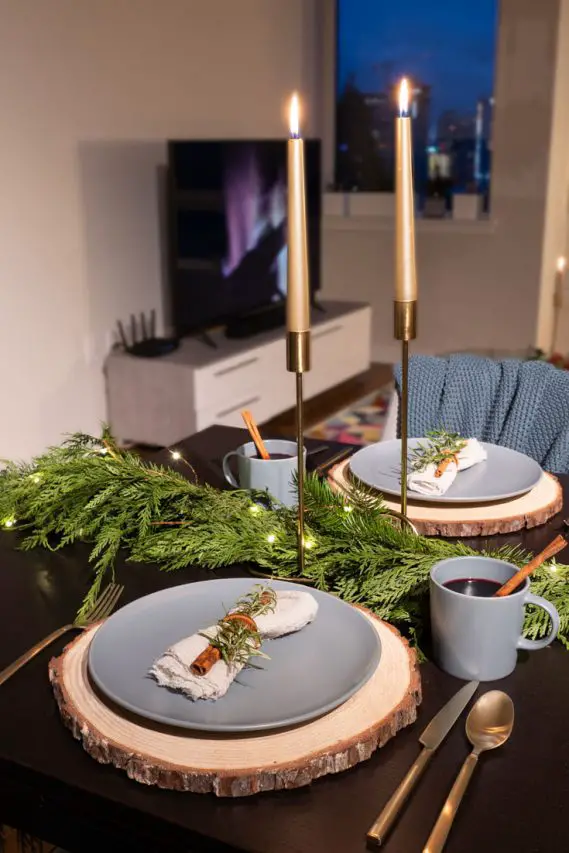 Decorating for winter solstice
Since winter solstice is a celebration of the natural world, I looked for inspiration in seasonal plants and natural textures. Also, the longest night of the year calls for lots of warm light!
You might recognise a lot of crossover between what we know as Christmas decorations and those used for winter solstice. That's because many Christmas traditions did in fact originate as older, solstice traditions especially those from the Ancient Roman's Saturnalia. Use this to your advantage and decorate with items you might already own to keep your winter solstice celebration budget-friendly.
We live in an apartment with not much room to spare, so my décor centred around the table. You can forage branches and greenery from your yard to create decor that is affordable and compostable. Being inner-city dwellers, I purchased a 9ft pre-made garland from the supermarket and a few sprigs of holly to use as highlights.
I divided by garland in two. I wrapped the longer section with battery-operated dew-drop lights and ran it down the centre of the table. I used the shorter length of garland to embellish a macrame hoop and create a wreath.
I liked the dark wood of our table as a base for the winter solstice look. So I simply used wood slices as chargers under each plate. I chose wood slices that were about 2 inches in diameter bigger than my plates so that there will always be a little peeking out from beneath. Select a wood type and size that works for you, such as these vintage Acacia chargers for a warmer, redder wood.
Stylist's tip: A circle of thin crafting felt laid underneath a rough wood charger will help to prevent any potential scratching to your tabletop.
If you prefer to use a tablecloth, I suggest forest-green velvet which will provide your table with a luxurious look and feel, with a nod to moss that maintains our theme of natural textures.
Mark each place setting with a raw-edged, natural coloured napkin, wrapped in tan leather cord (or heavy jute twine) with a sprig of greenery and a cinnamon stick. My windowsill garden yielded fragrant rosemary stems perfect for this.
Since I'm serving Glögg which is usually drunk from small stone or ceramic mugs, I used our regular Ikea set of blue-grey mugs that matches our dinner set.
An alternative might be copper mugs (like these for serving Moscow Mules), which bring warmth and a reflective glow to the table. Don't feel the need to buy anything special though – get creative with what you have. Also, your local thrift shop is a great resource for filling the gaps.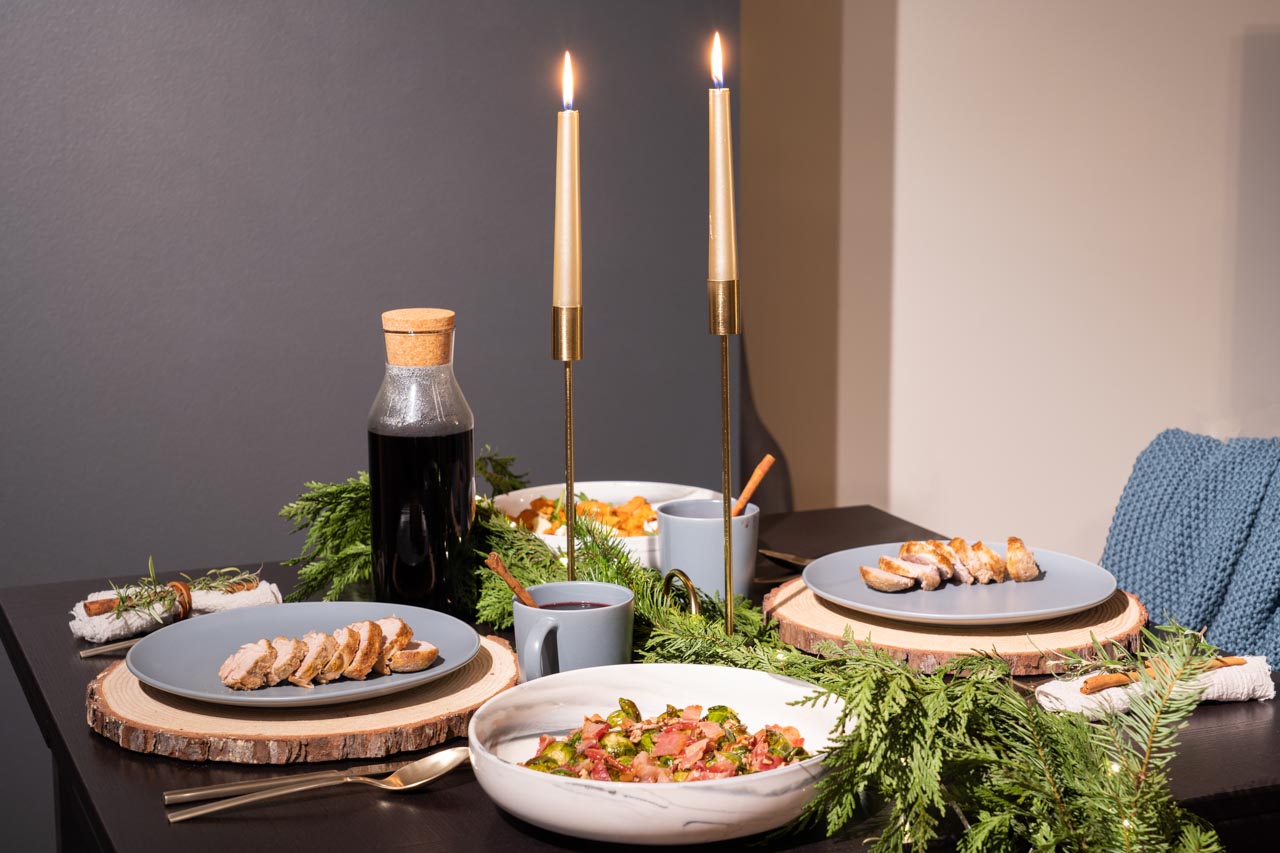 If there's room on your table, you might like to add some candles. For a long rectangular table, I would select this birch branch with candle holders. For a smaller or circular table, a cluster of these bark wrapped candles in various sizes are a better fit. I used my favourite taper candle holder.
Stylist's tip: Ensure any candles you use are fragrance-free. You don't want the scent to conflict with the delicious smell of your winter solstice meal.
If you have a fireplace, light it up! Otherwise, load up on candles around the room for a fiery effect. You can also tune into Netflix's "Fireplace For Your Home" or Prime Video's "Crackling Fireplace" for added effect without the smoke or need to chop wood.
Lastly, what's a celebration without music? Grab my winter solstice dinner playlist here.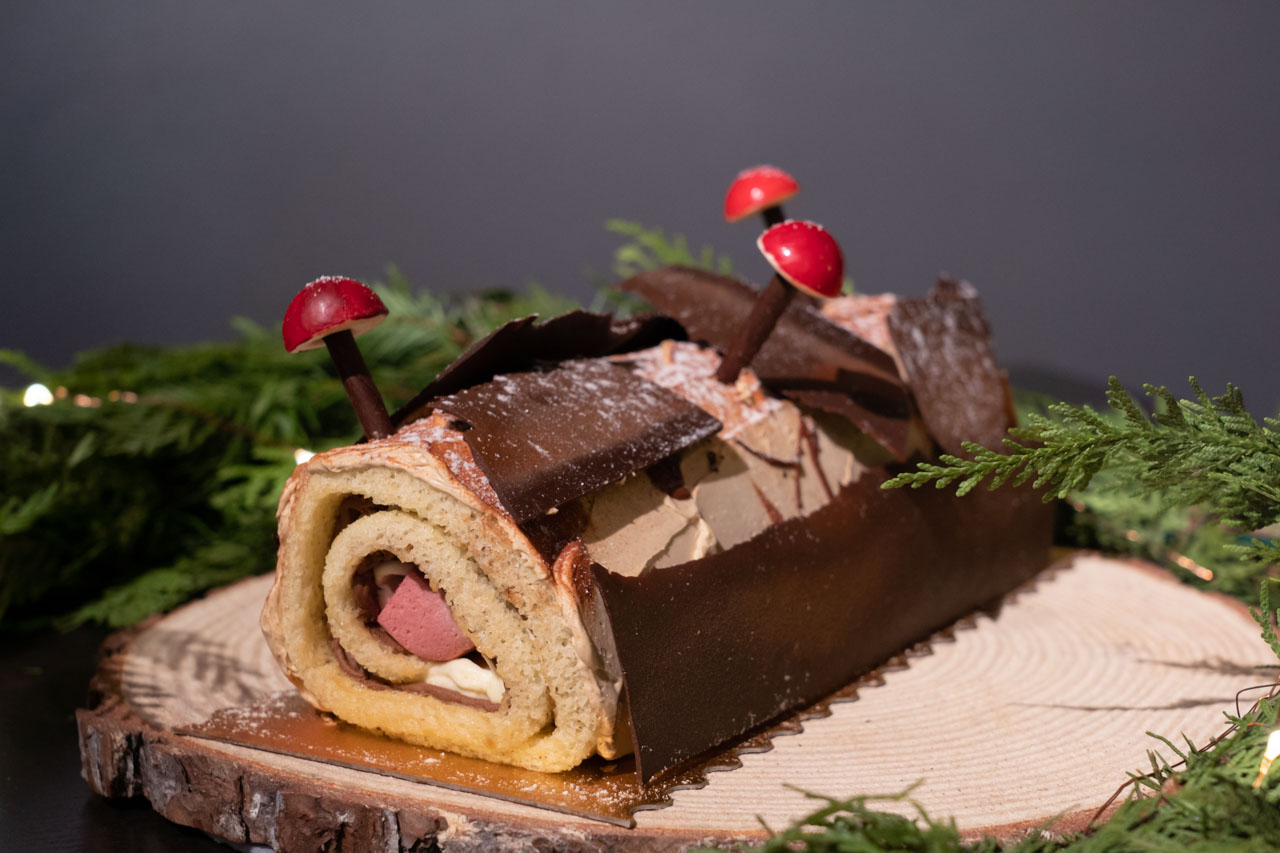 Winter solstice food ideas
Winter solstice falls at the end of the harvest season. Historically, livestock were also culled at this time so they didn't need to be fed over the winter. That meant autumn veggies, nuts, berries and meat were in abundance.
Here is the menu I lined up for our winter solstice dinner. Don't feel pressured to cook, it's not cheating to buy some or all of your menu pre-prepared – this is supposed to be fun, not an exercise in added pressure. Even the ol' Romans gave their servants time off over Saturnalia.
I will purchase pumpkin soup from the supermarket because I haven't bought a blender for our new place yet (we've been living out of a suitcase for over a year) and have ordered the buche de noël from our local French bakery.
Drink
Glögg – a Swedish mulled wine – grab a spice mix like this one or make your own from scratch. You can probably tell by the ingredients list, but Glögg is strong with a capital "S". You won't need much to get tipsy. Hot apple cider makes a great alcohol-free alternative.
First course
Spicey pumpkin soup like this one, if you're cooking. As I mentioned, I will shamelessly serve store-bought soup, adding a dollop of heavy cream with fresh herbs to garnish for a homemade feel and upgraded presentation.
Main course
Pork roast served with sides of warm brussel sprout salad and roasted sweet potato and feta salad. There were plenty of leftovers to enjoy for lunch the next day!
Dessert
The Bûche de Noël (aka Yule Log) was created by the French as a yule log substitute when burning a giant piece of wood fell out of favour or simply became impractical in smaller homes. Substitute a platter of cheeses, nuts and fruit as a seasonal alternative or you might just make a larger version and have an entirely grazing-style affair.
Happy yuletide revellers! Be sure to let me know how your winter solstice celebration goes in the comments below.
Peace, love & inspiring travel,
Madam ZoZo