Lunar New Year or Spring Festival is 15 days of festivities ringing in the new lunar year. Why not welcome a new season by throwing a Chinese New Year dinner party for close family or friends using this cheat's guide to a simple and stylish celebration.
Disclosure: I may earn compensation from the purchase of any product or service linked on this website, at no extra cost to you. I only link to products I use and love, therefore feel comfortable recommending.
Chinese New Year origins
Lunar New Year celebrations can be traced back to the Han Dynasty (202 BC – 220 AD). Legend tells of a formidable creature known as the Nian (also the word for "year" in Mandarin), with the body of a bull and head of a lion. Each year the Nian would descend on a mountain village, eating farm animals, snacking on small children and being a destructive nuisance.
One year, a brave elderly gentleman is said to have stood up to the Nian using by waving red banners, employing fire and making loud noises to successfully scare the Nian away, never to return. Since that time the colour red, firecrackers and noise-making have been an important part of Chinese New Year rites, used to scare away bad vibes and poor fortune.
Chinese New Year (CNY for the initiated) is chock full of symbolism and story. You'll find more of these 9 lucky objects, gifts, decorations and foods in this Decoding CNY post.
When is Chinese New Year?
Chinese New Year runs for 15 days, from Lunar New Year's Eve to the 15th day of the first lunar month (which is also the day of Lantern Festival or Yuan Xiao). Each day historically has a different purpose and associated traditions. For example, on New Year's Eve people travel back to their homes/families for a big reunion dinner. On New Year's Day, people eat dumplings shaped like gold ingots, symbolizing wealth and noodles representing a long life. They would set off firecrackers and older generations gift red envelopes of cash to children and young singles.
The best part about this is you can hold your Chinese New Year dinner any time in those 15 days. Don't have time midweek? Wait until the weekend – you'll still be in season!
Chinese New Year dinner party decorations
I took inspiration from different traditions of Chinese New Year for my modern table décor, with pieces symbolic of gold luck, prosperity and spring. To create this look, start with a cluster of spring-coloured paper lanterns. I like these more unusual accordion-style, cylindrical lanterns, they remind me of lanterns from Hong Kong we had when I was a kid. I centred them with one of these vintage-esque gauze lanterns for variety. Renting? So are we, I used these adhesive hooks and this macrame ring to suspend the lanterns above our dining table without making any holes in our ceiling.
Line the table with a deep red table runner studded with eight mandarins and eight gold mercury candle votives (eight is a lucky number in China if you hadn't guessed). I found a set of these votives at my local thrift store, but you can get them everywhere including Amazon. I utilised them both as candle holders and bud vases for pink orchids I got from the supermarket. These types of orchids are expensive, but I only needed one stem (about $15 worth) to create this look. Orchids and magnolias both symbolize Spring in China, but go with whatever flowers are available to you in hues of pinks and red.
I set the table with soft pink plates and bowls, originally from Ikea but also sourced from my local thrift store. My husband and I lived in Singapore for almost 3 years, so we are fairly adept with chopsticks, but I recommend setting knives and forks as well, if you are hosting guests.
Chinese New Year-inspired cocktail
Being a simple Chinese New Year dinner, my only real hands-on culinary contribution was a Chinese 5-Spice Old Fashioned. Here's the recipe for one cocktail, multiply by your number of guests.
Ingredients:
60ml (2oz) Bourbon
3 dashes Angostura Bitters
Orange or mandarin peel
250ml (8.5oz) water
1 cup of brown or turbinado sugar
1 teaspoon Chinese 5-spice powder (can be found in the spice section of your most supermarkets)
Method:
Make 5-spice sugar syrup by combining water, sugar and 5-spice in a small saucepan and bringing to a gentle boil, stirring until sugar dissolves. Once dissolved, take off the heat and allow to cool. This will be enough sugar syrup to make up to about 12 cocktails and can be stored in the fridge for up to 2-weeks.
To make the cocktail, combine 15ml of 5-spice sugar syrup with the bourbon and bitters.
Serve over ice with orange or mandarin peel twist to garnish.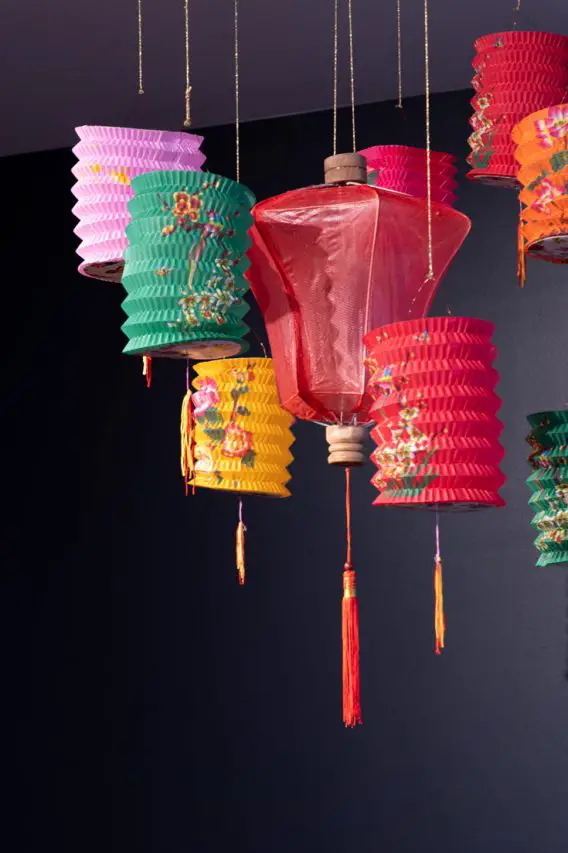 Lucky Chinese New Year foods
Since Chinese New Year rituals are all about setting you up for a spectacularly lucky year ahead, here are some dishes and foods you should consider eating at this time:
Fish – In particular carp or catfish., traditionally prepared by steaming.
Dumplings – Usually shaped like silver or gold ingots. It is said that the more dumplings you eat on Chinese New Year, the more money you will make throughout the year ahead – in that case, I should be able to retire after this year!
Spring rolls – The "spring" in spring rolls come from the time of year they are eaten. Spring rolls are a particularly popular CNY dish in East China.
Tangyuan (sweet rice balls) – Also a featured food of the winter festival Dongzhi and the Lantern Festival Shangyuan, are glutinous rice ball usually filled with sweet red bean paste, sesame paste, or peanut butter.
Niangao (glutinous rice cakes) – Usually consumed on Chinese New Year's Eve, glutinous rice cakes are thought to bring a promotion or pay rise in the new year.
Longevity noodles – For a long and happy life, indulge in some noodles, a New Year's Day food popular in North China.
Citrus fruits – tangerines, oranges and pomeloes are all considered lucky Chinese New Year foods for their golden colour – hence I added them to my table decor.
Wishing you a happy and prosperous lunar year and a delicious Chinese New Year dinner party.
Xin nian kuai le!
Madam ZoZo